Hello! I'm Polly, the growth marketer at Dashly. Our landscape, the business world, is constantly changing. To stay ahead in this dynamic environment, my growth marketing team leans on the insights of industry leaders — business growth experts whose names are cornerstones in their respective fields. We don't just admire them — we learn from them.
In this article, I have curated a list of eight major business growth experts that have been instrumental in shaping our growth trajectory at Dashly. These experts have their unique brand of strategies and innovative techniques that are tested by business owners all around the world and proved to be successful. Our team draws inspiration from these growth experts for our growth marketing experiments. I'm eager to share their wisdom with you. 
You can start collecting insights with the Dashly newsletter where we share useful hacks and tried-and-tested strategies twice a month.
Subscribe to the Dashly newsletter and get valable insights regularly
Thanks! Insights and updates are on their way 💌
By following them, they can guide you, just as they have guided us, to growth opportunities. Propel your business ahead by learning from these growth professionals ⬇️
8 Major Business Growth Experts
This list is significantly steeped in profound expertise from industry leaders. These growth experts have transfigured the business landscape with their in-depth knowledge and pioneering strategies. 
They have become a beacon for businesses worldwide, each bearing unique and impactful perspectives on a range of growth-related aspects including, but not limited to, marketing, SEO, product development, customer engagement, and brand building. Our team at Dashly draws inspiration from these growth experts, employing their insights to shape our growth experiments and foster success.
Gary Vaynerchuk
Gary Vaynerchuk is a well-known entrepreneur, author, speaker, and growth expert. Vaynerchuk has reshaped how businesses approach growth with his unconventional ideas about personal branding, social media usage, and entrepreneurial hustle, inspiring countless business owners to achieve exponential growth. If you're looking for ways to grow your business or product organically, Vaynerchuk's content, which teems with innovative strategies and genuine advice, is a must-follow.
Steve Blank
Steve Blank, known as the godfather of Silicon Valley, has revolutionized growth approaches within the technology industry. His customer development model and theories on Lean Startup principles have become a pathway to success for many aspiring entrepreneurs and established companies.
Blank's digital content is typically rich with insights on entrepreneurship, startup methodologies, and lean startup principles. His reflections on customer development are particularly enlightening.
Clayton M. Christensen
The late Clayton M. Christensen was a revered author and Harvard professor. His works have been pivotal in understanding and implementing disruptive business innovation strategies. Christensen's insights mainly focus on disruptive innovation, business strategies, and management. His writings encapsulate decades of research and observations, offering invaluable insights for your growth development.
Jay Baer
Jay Baer, a hall of fame speaker and emcee, is a leading expert on customer service and experience, digital marketing, and reputation management. Businesses keen on growth have benefited significantly from his advice.
Baer gives insights on various topics, but primary focuses include customer service, growth marketing analytics, digital strategies, and reputation management. His works are an excellent resource for businesses of all sizes.
Ann Handley
Ann Handley has mastered the art of creating compelling content and engaging brand stories. Businesses seeking to stand out in the saturated market will find her expertise invaluable.
Handley's tips and insights span the areas of storytelling, brand development, and content design and creation. Following her will equip you with growth marketing services and tools to enhance your content marketing performance significantly.
Guy Kawasaki
Guy Kawasaki is a marketing prodigy. His dynamic approach to marketing strategies has contributed to the rapid expansion of numerous startups and small businesses. Kawasaki shares a wealth of knowledge on marketing, startup advice, evangelism, and innovation. Following him promises rich returns in learning and business growth.
Mari Smith
Mari Smith, often referred to as the "Facebook Queen," boasts an extraordinary understanding of social media strategies. Business owners looking to leverage social platforms for growth will find her expertise truly beneficial. Mari's insights mainly revolve around social media marketing, with a special emphasis on Facebook. Her insights can help your business maximize the potential of your socials.
Neil Patel
Neil Patel, one of the top growth influencers on the web and amongst Forbes' top ten marketers, offers advanced SEO and digital marketing techniques that catalyze growth.
He shares tips and insights on various digital marketing facets, such as SEO, content marketing, link building, and conversion rate optimization. His resources, coupling innovative strategies and perceptive advice, could be the growth catalyst your product needs.
10 Rising Stars of Business Growth Expertize
These emerging experts, equipped with fresh insights and cutting-edge strategies, are disrupting conventional business norms, driving exponential growth and demonstrating exceptional acumen in their respective fields. Each one offers unique perspectives on business growth, thereby presenting a veritable gold mine of actionable advice and strategies to propel your business to new heights.
So, whether you're an entrepreneur looking to boost your start-up's growth, a seasoned business leader eager to infuse new life into your operations, or a curious mind yearning for the latest in business innovation, you'll find these rising stars' views both enlightening and inspiring.
Nir Eyal
Nir Eyal's expert credentials run deep, he is not only a lecturer at Stanford's Graduate School of Business but also the author of the bestselling book, "Hooked: How to Build Habit-Forming Products". He has firsthand knowledge of tech startups, having founded two tech companies which were later acquired. Nir is also an active angel investor in various habit-forming products. 
Following him will provide you with insights directly from a seasoned entrepreneur and investor. Nir consistently shares tips and insights revolving around product development, user psychology, and habit-forming products. So if you have a product-led business, follow Nir for useful insights.
Sophia Amoruso
Sophia Amoruso founded of Nasty Gal, an American retailer that she transformed from an eBay store into a multi-million dollar empire. Amoruso's real-world experience of turning a small operation into a thriving business is a valuable lesson for budding entrepreneurs. Today with her successful media company named Girlboss, she continues to inspire.
Amoruso's valuable digital content reflects concepts such as entrepreneurship, product growth in the retail industry, and personal development.
Rand Fishkin
Rand Fishkin is the co-founder of Moz, a leading SEO software company, and the founder and CEO of SparkToro, a software and data company. With a solid background in creating successful startups and an extensive knowledge of SEO optimization, he provides substantial value for anyone looking to grow their business online.
Fishkin often shares tips and insights on the nuances of SEO, digital marketing, and startup growth.
Brian Halligan
Brian Halligan, co-founder of HubSpot, a leading platform for inbound marketing, and author of two books on the same topic, has practical experience driving explosive growth. His innovative ideas have reshaped the modern marketing landscape. His insights on inbound marketing can provide businesses an edge to attract, engage, and delight customers.
Halligan's primary focus in his content is around inbound marketing and sales, startup and small businesses growth, and customer service.
Read also: Get your free example of a Growth Marketing Strategy Template
Experts Danielle Weisberg and Carly Zakin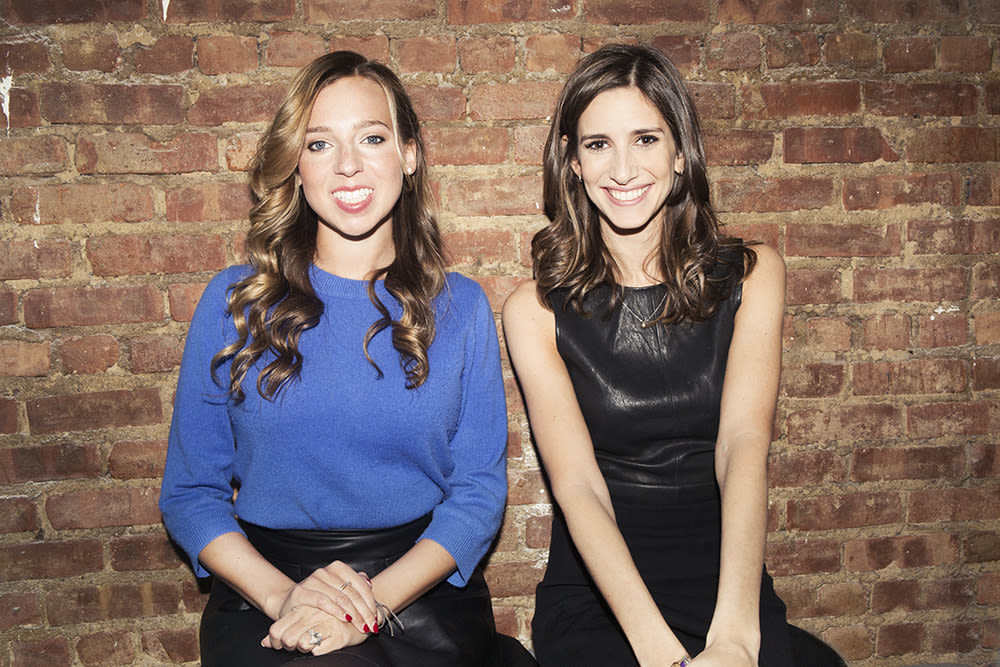 Danielle Weisberg and Carly Zakin, co-founders of theSkimm, a newsletter company, revolutionized how millennials receive news with their unique business model. Their innovative approach in presenting complex news topics in a digestible form has driven the exponential growth of their business.
Weisberg and Zakin provide insights on media operations, startup and small business growth, and engaging content design and creation, making their entrepreneurial journey a valuable case for those wanting to make an impact in the media space.
Andrew Chen
Andrew Chen, currently working at Uber on their Supply Growth team, has contributed to the successful growth of the company. Besides Uber, Chen is an advisor/investor for tech startups and small businesses including AngelList, Tinder, Gusto, etc. His first-hand experience with rapid-scale startups offers invaluable perspectives to his followers.
Chen gives an in-depth view of growth strategies, user engagement, and SaaS business models.
Seth Godin
Seth Godin, a legendary marketing guru, entrepreneur, and best-selling author, has been shaping the world of marketing for years. Godin has also founded multiple companies including Yoyodyne and Squidoo. His innovative ideas, presented in a straightforward and accessible way, resonate with beginners and industry veterans alike.
Godin writes on an extensive array of topics from marketing, leadership, how ideas spread, and most importantly, challenging the status quo in all areas. His work enlightens and motivates, encouraging entrepreneurial thinking.
Tim Soulo
As the CMO and product advisor at Ahrefs (a leading SEO toolset), Tim Soulo has a wealth of knowledge in SEO and digital marketing. His unique approach and practical insights can serve as a valuable guide for small businesses aiming to enhance their online visibility. Soulo's content showcases his mastery of SEO, digital marketing strategies, and content marketing.
Joanna Wiebe
Joanna Wiebe, known as the original conversion copywriter, founded Copy Hackers and Airstory. She's successfully grown these from scratch to multi-million dollar businesses. Her innovative methodologies have proven to boost conversions across various industries.
Wiebe knows content marketing like a back of her hand. She is an authority in creating and honing content strategies that drive user engagement and conversions. She constantly shares fresh perspectives on copywriting and conversion optimization:
Read also: Demand Generation vs Growth Marketing: Where to focus?
Amy Porterfield
Amy Porterfield, a seasoned marketer and successful entrepreneur, is an expert in online marketing strategies and the masterful use of webinars for lead generation. Her lessons are a valuable asset for businesses aiming to enhance their online presence and convert leads to loyal customers. Porterfield regularly shares tips on digital marketing, online courses, and email list building.
Deepen your understanding of business growth strategies with insights from influential experts like Gary Vaynerchuk, Neil Patel, Rand Fishkin, and more. Our team at Dashly meticulously follows and learns from these wizards of growth, incorporating their winning tactics into our growth experiments. Benefit from these expert methodologies to turbocharge your company's growth.
For more insights, updates, and growth hacks from the world's brightest minds in business, subscribe to the Dashly team newsletter today. Let's explore, learn, and accelerate success together.
Frequently Asked Questions on Growth Specialists
Who is a business growth specialist?
A business growth specialist is someone dedicated to devising, implementing growth marketing tools and analyzing strategies to drive business growth. They leverage knowledge, innovative thinking, and industry trends to guide the business towards sustainable growth loops.
How can a business growth expert help my business?
These experts can provide valuable insights, suggest strategic reforms, technological innovations, create effective marketing strategies, and drive operational efficiencies to expand your market presence and boost your product led growth marketing and customer led growth.
How do I choose which growth expert to follow?
The choice of a growth expert to follow largely depends on your business's nature, its growth stage, challenges, and objectives. Assess the expertise of the growth specialists, their previous work, their style of problem-solving, and the relevancy of their strategies to your situation.
Is it costly to hire business growth consulting experts?
The cost can range vastly based on the specialist's reputation, industry expertise, and the complexity of your business needs. Some experts offer a value-based fee, while others may charge on an hourly or project basis. However, consider this an investment into your business's growth.

Read also: