Secret collection of Growth Hacking Tools from Dashly experts
Discover the secrets of rapid business growth from a growth marketing expert. What people to hire, how to manage a team, launch experiments, what tools to use, and a list of proven examples to inspire you.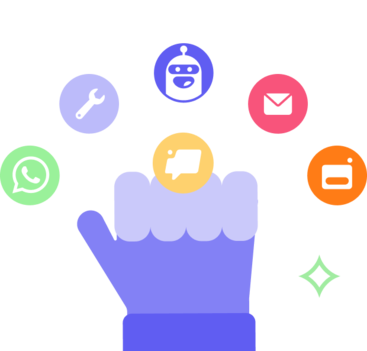 Part 10: A secret collection of growth hacking tools
Are you looking to grow your business quickly and efficiently? Look no further than growth hacking tools. Growth hacking has become a buzzword in the business world, as companies are looking to scale their operations at a rapid pace. 
However, growth marketing isn't just about quick fixes and shortcuts. It's a strategic process that requires the use of targeted tools and resources to help businesses optimize their marketing efforts, increase user engagement, and ultimately, drive growth.
So, in this article, we collected a suite of top-notch growth hacking tools to help you identify weak spots in your funnel, understand user behavior, and make data-driven decisions.
What are growth marketing tools
Growth marketing tools are software applications designed to help businesses boost conversions, generate leads, and increase revenue. These tools can be divided into two main categories:
Research tools to help you analyze user behavior, identify bottlenecks, and create hypotheses for optimization.
Implementation tools to implement your growth hacking ideas, test them, and choose the most effective ones for hacking growth of your business.
What to look for in a growth marketing tool
When selecting a growth marketing tool, you need to consider several factors to ensure it's the right fit for your business. Here are some key criteria to keep in mind:
GDPR compliance. Make sure the tool you choose respects user privacy and is fully compliant with GDPR regulations. For example, do the pop-ups, forms, and chatbots they provide have a customer agreement link and checkbox?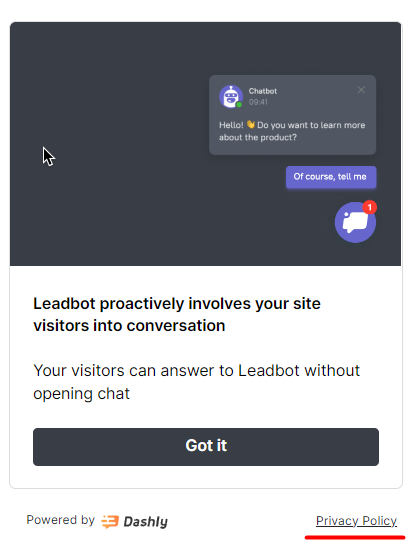 Security. Since you'll be working with user data, it's important to choose a tool that guarantees the safety and security of that data.
Integrations. Check whether the tool can be easily integrated into your existing tech stack to ensure seamless and effective work of your growth marketing team.
❗ This collection is unbiased — we made sure to choose the best growth hacking tools for startups and enterprises. And you'll find Dashly on this list. Our team is proud of the product we develop since it helped over 5000+ companies boost conversions and sales on their websites. You can check out our cases with SaaS and e-learning companies.
We've scoured the market to bring you the best growth hacking tools that fit businesses of all sizes, from startups to enterprises. These tools will help you gather analytics data on your funnel, marketing campaigns, and website performance, so you can identify bottlenecks and grow your business.
Ready! Set! Go!
Dashly
Unleash your marketing potential with Dashly, a conversational marketing platform. As a marketer, it is essential to have access to the right tools to gather data, optimize your conversion rate, and analyze your website's performance. 
Dashly offers a suite of growth hacking tools that help you in this regard.
Real-time website visitor behavior tracking. Track users' data and activity like page views, clicks, and save all the necessary info in a lead card automatically. This data will help you to understand your website visitors' behavior better.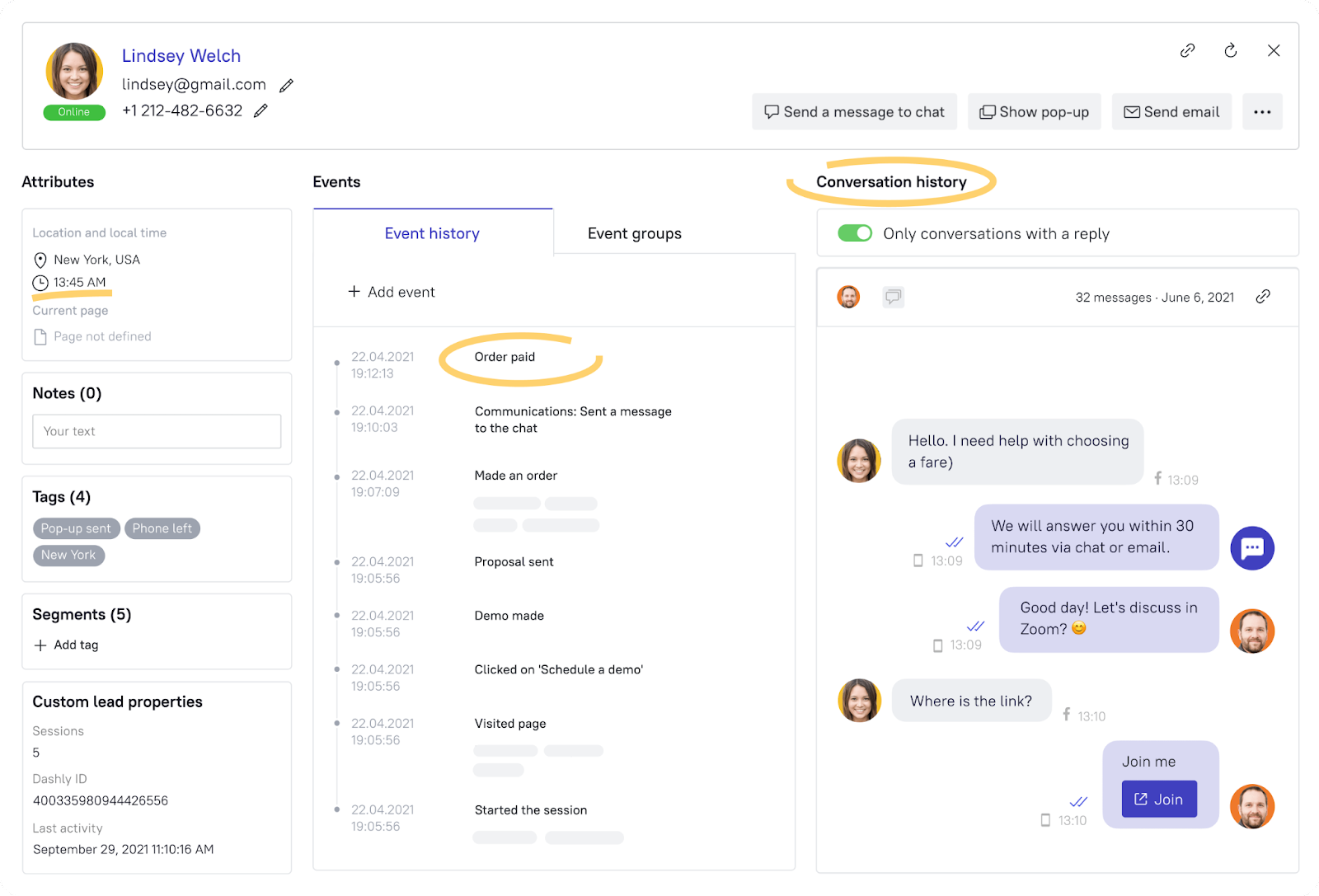 Funnel analytics. Understand your website visitors' journey through the funnel and identify the bottlenecks in the conversion process. This feature will help you identify the areas that require improvement and growth marketing test.
Marketing campaign reports. Get real-time performance updates for your campaigns, including chatbot, pop-up, and triggered email tools. Visualize your campaigns' performance on a dashboard for better analysis.
Live chat. This tool helps you create a direct communication channel between your agents and customers. The chat is empowered by socials and messengers integrations.
Pop-ups to target various segments with specialized offers.
Chatbot. These automated assistants will capture, qualify leads, and automatically engage them in the conversation at different stages of the funnel.
You can also use chatbots to carry out user research and collect feedback 👉
Integration. Dashly's integration with your CRM and analytics tools will help you transfer all the data collected to your analytics tool for further analysis.
If you require help with tool setup, you can use ready-made campaigns or ask for help from experts of the Dashly's expert team. It's a separate service Dashly offers.
These guys launched over 450 successful projects, testing hypotheses to boost conversion to payment/signup/subscription etc.
First, our experts will help you analyze the funnel. Then they'll develop a marketing growth strategy, so you could increase conversion rate at each stage of the funnel.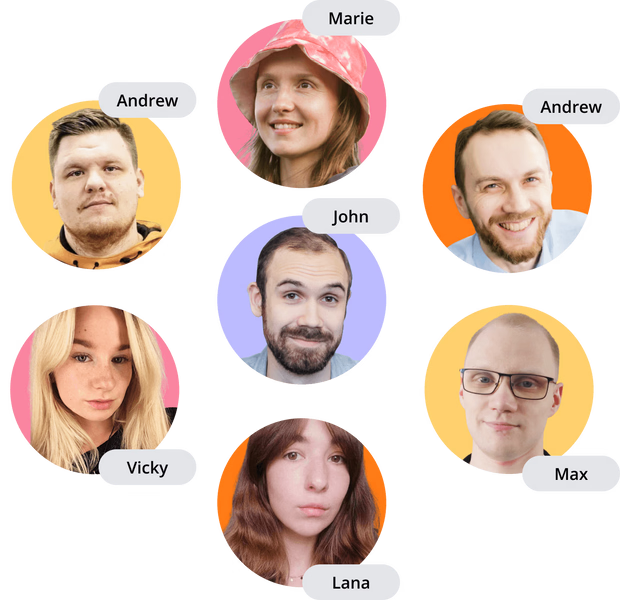 Pricing
Dashly offers three paid plans starting at $39/month, with each plan offering website visitor behavior tracking. The price depends on your website traffic and add-ons you choose to include in your plan.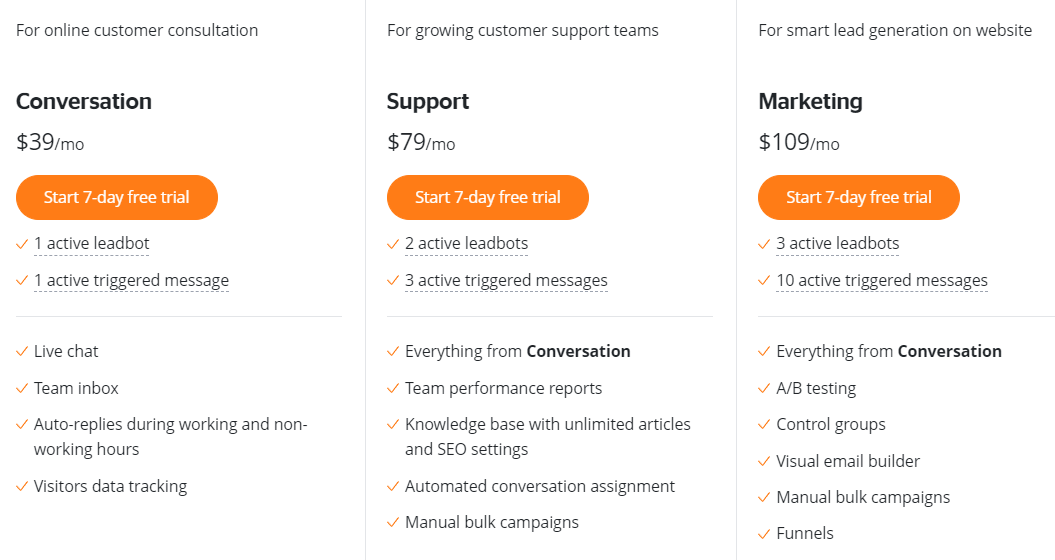 You have access to the full functionality of the platform for free for 7 days.
Dashly pros and cons as one of the best growth hacking tools
✔️ Modern and intuitive interface.
✔️ Friendly support that is always ready to help.
✔️ A lot of integrations to include Dashly in your existing tech stack.
✔️ Essential features for hypothesis testing and analytics are included in all the paid plans.
❌ No AI or email assistant.
❌ Some complex tasks might require developers' help.
Hotjar

Hotjar is an indispensable tool growth hacking managers will be thankful for. This platform provides heatmaps and session recordings to evaluate the level of engagement and identify the number of visitors that scroll till the end of a page.
With the ability to walk in the shoes of your website visitors, you can pinpoint pain points, including which pages are most difficult to navigate. You can use this insight to improve your strategy and increase growth marketing metrics.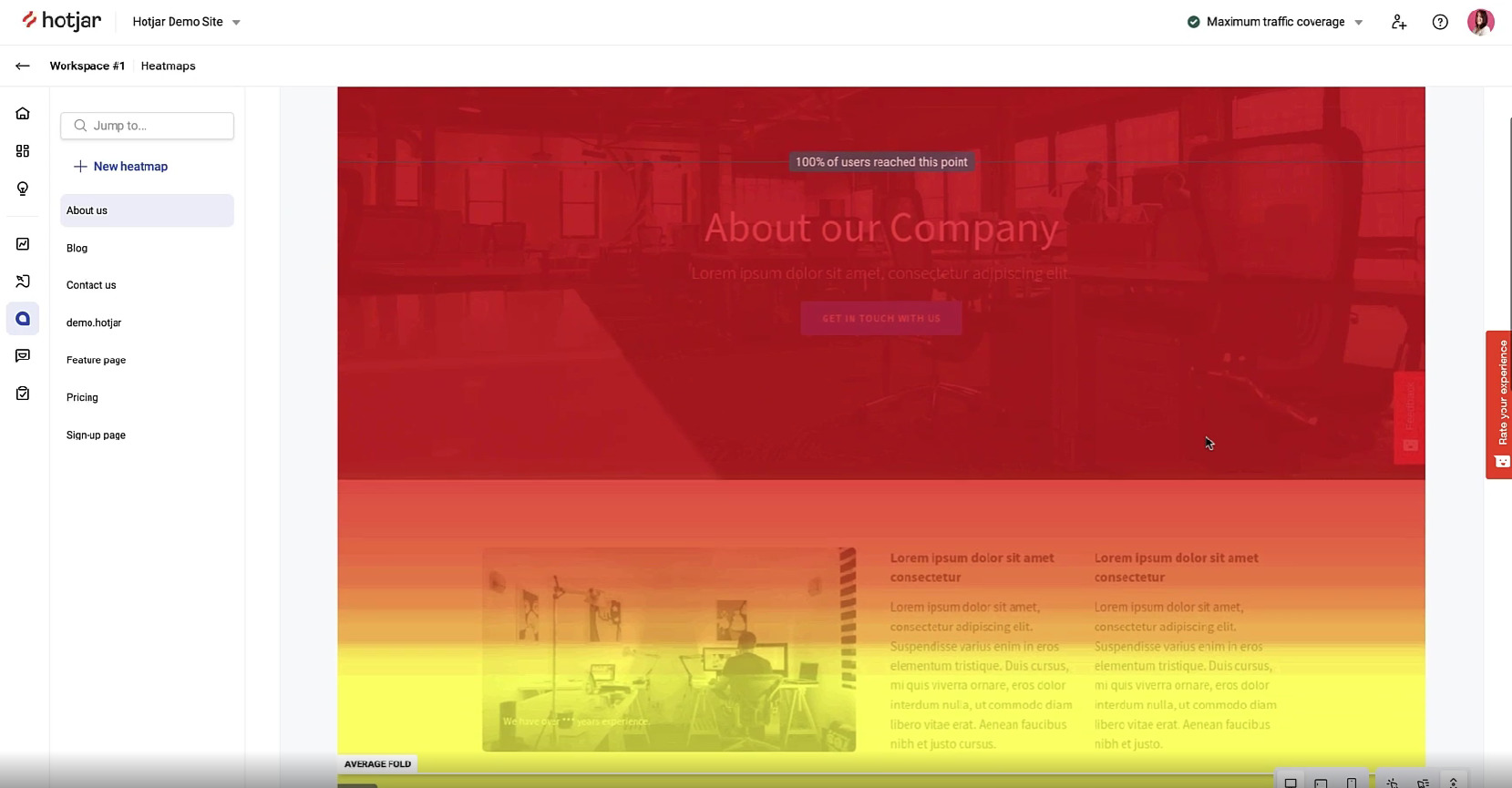 Additionally, Hotjar provides customer feedback forms, allowing you to gather direct comments from your audience and gain further insight into conversion optimization ideas.
Pricing
Hotjar offers a free version, as well as three paid plans. The choice depends on the features you need and the number of sessions required. Hotjar also offers a 15-day free trial, enabling you to test all its features for your SaaS growth hacks.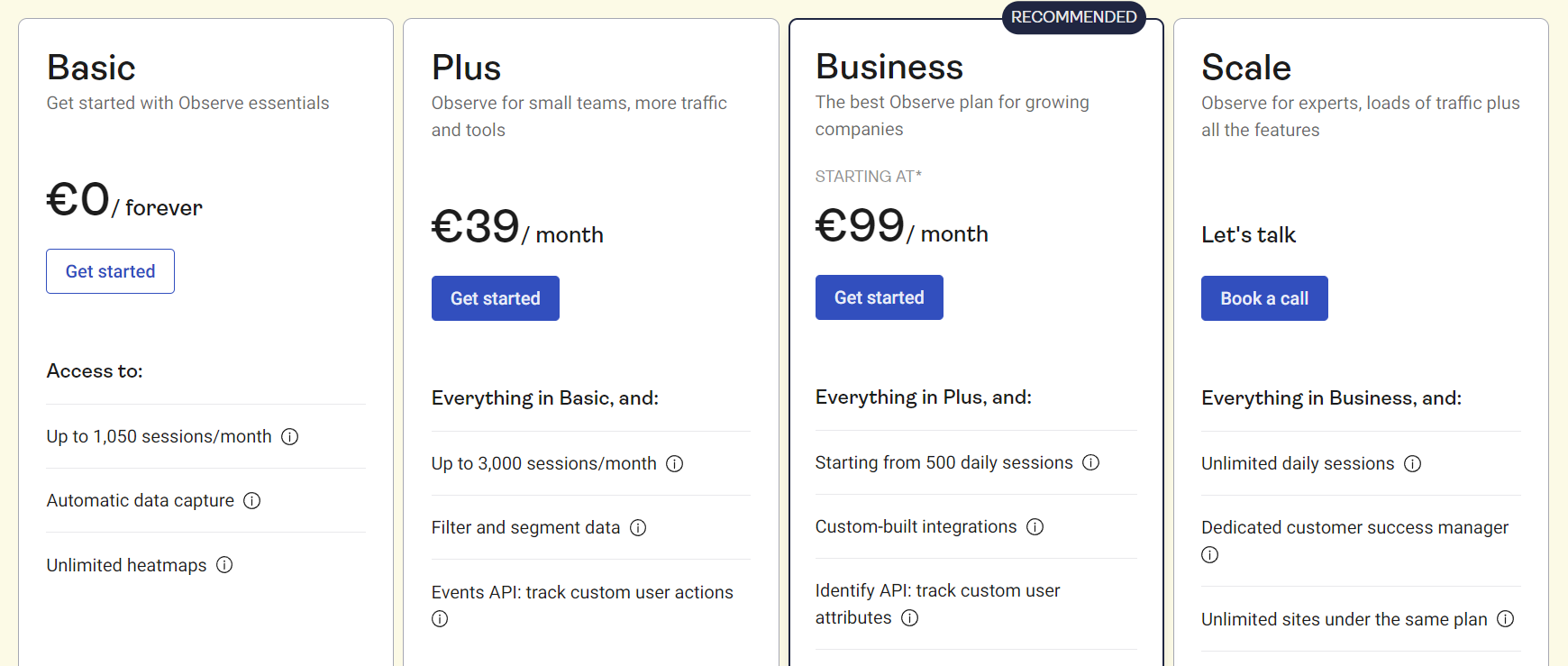 Hotjar's pros and cons as a growth hacking tool
✔️ Easy to set up tool you can use on multiple websites of yours.
✔️ Provides a comprehensive view of your customer's journey, which is essential for planning your growth marketing strategy.
✔️ Friendly customer service.
❌ The limit of the page size that can be captured.
❌ Might slow down your website.
❌ Lacks some integrations that could improve the tool's functionality (like Google Analytics).
Crazy Egg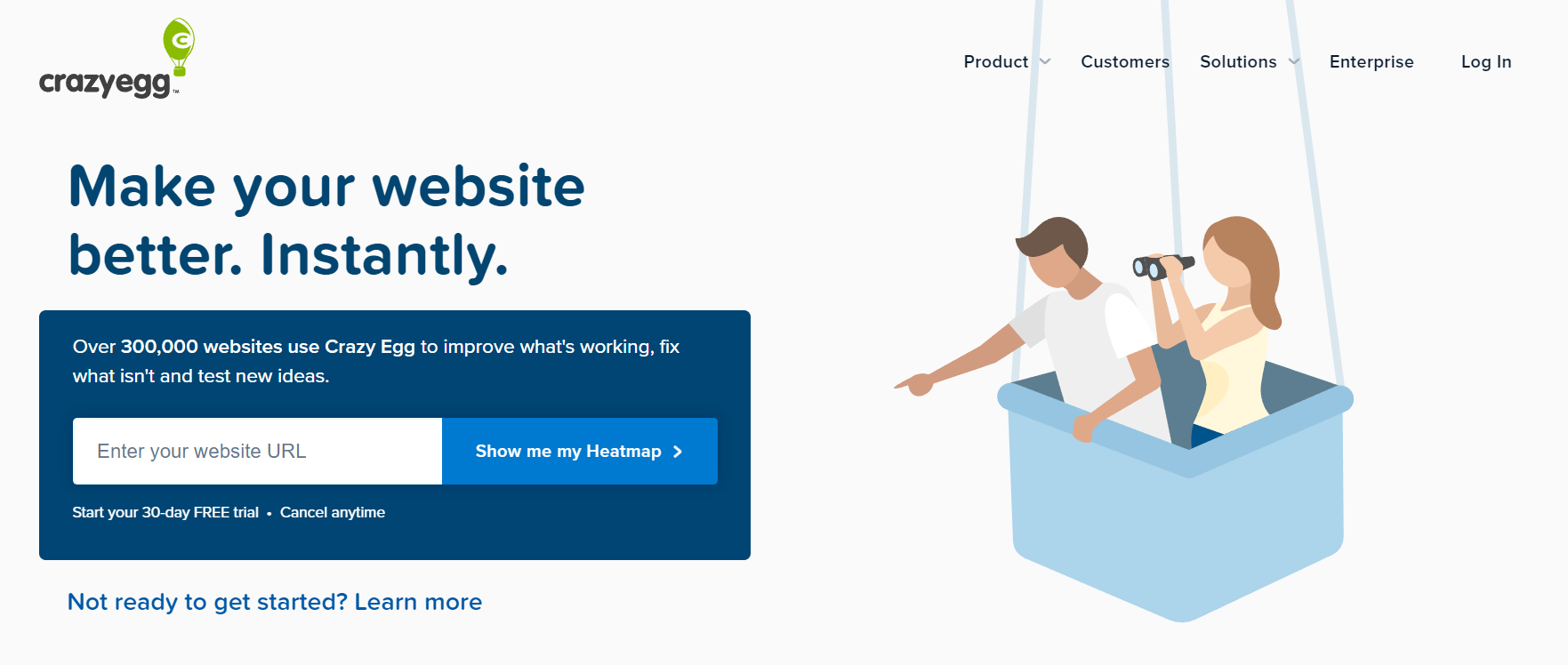 Crazy Egg has a lot in common with Hotjar, as they both offer heatmaps and session recordings to analyze user behavior on your website. However, Crazy Egg has some unique features, such as its scroll map, which shows how far visitors scroll down a page. This way, you'll have more data for your growth hacking canvas.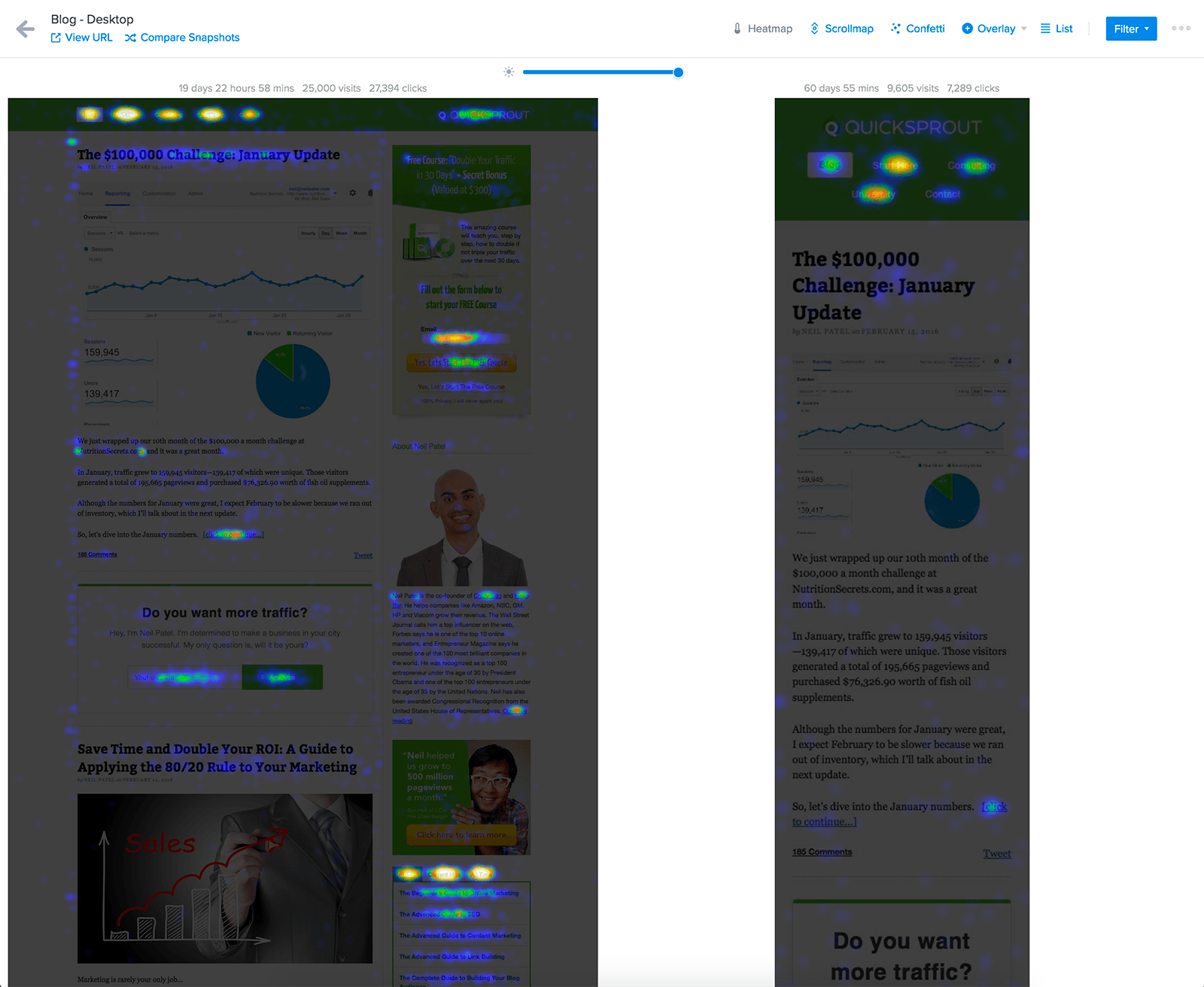 Crazy Egg also offers A/B testing and an editor for creating and modifying website pages without coding. These tools allow you to make changes and quickly test their impact on conversion rates.
Pricing
Crazy Egg has five paid plans that start at $29 per month, billed annually. The price varies depending on the number of tracked page views, snapshots, and recordings you require.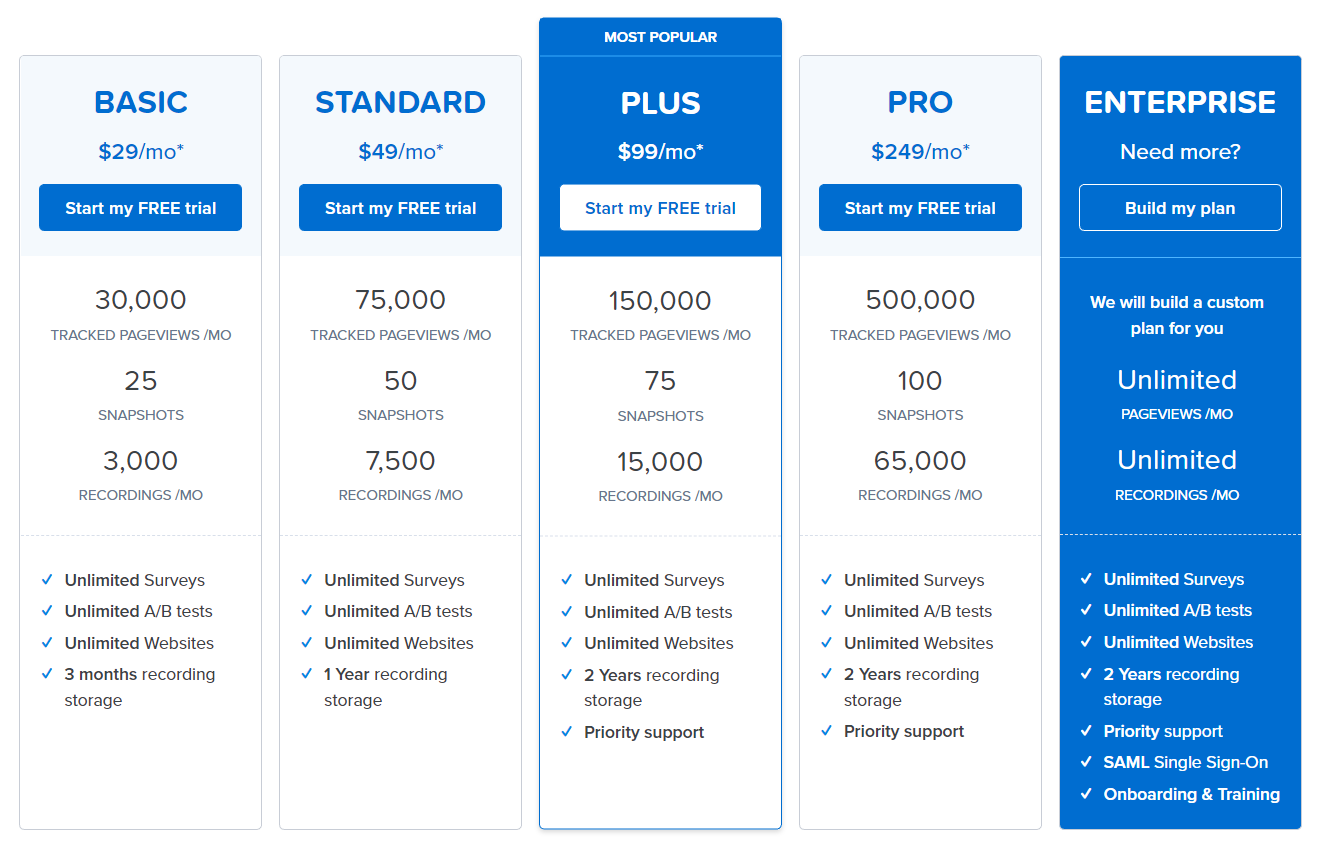 The platform also offers a 30-day free trial, so you can test if their insights are valuable for your B2C and B2B growth hacking strategies. 
Crazy Egg's pros and cons as a growth marketing tool
✔️ Provides valuable insights into user behavior and website performance.
✔️ Offers A/B testing and an editor for creating and modifying website pages.
✔️ Integrates with a variety of third-party applications.
❌ Limited data visualization options.
❌ Pricing may not be suitable for small and mid-sized companies.
❌ Occasional bugs can impact the effectiveness of the tool.
Mixpanel

Mixpanel is a top-notch analytics tool that helps you get a comprehensive understanding of your funnel and customer journey. By analyzing each step of your funnel with any user attribute, you can identify which prospects convert better and evaluate how new releases affect your audience. 
Tracking user activity is one of the most invaluable growth marketing tips.
You can also keep track of critical metrics like Churn or Retention Rate to fine-tune your conversion optimization strategy.
So it can become of the best free growth hacking tools in your tech stack.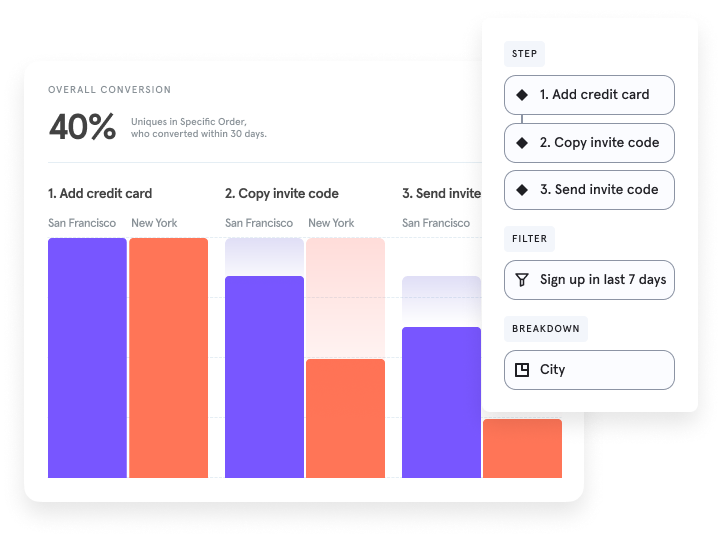 Pricing
Mixpanel offers three plans to its users, with the paid plan starting at $25/month. Even on the free plan, Mixpanel provides rich data, but if your B2B growth marketing strategy requires more advanced analytical tools, you might want to consider the paid plans.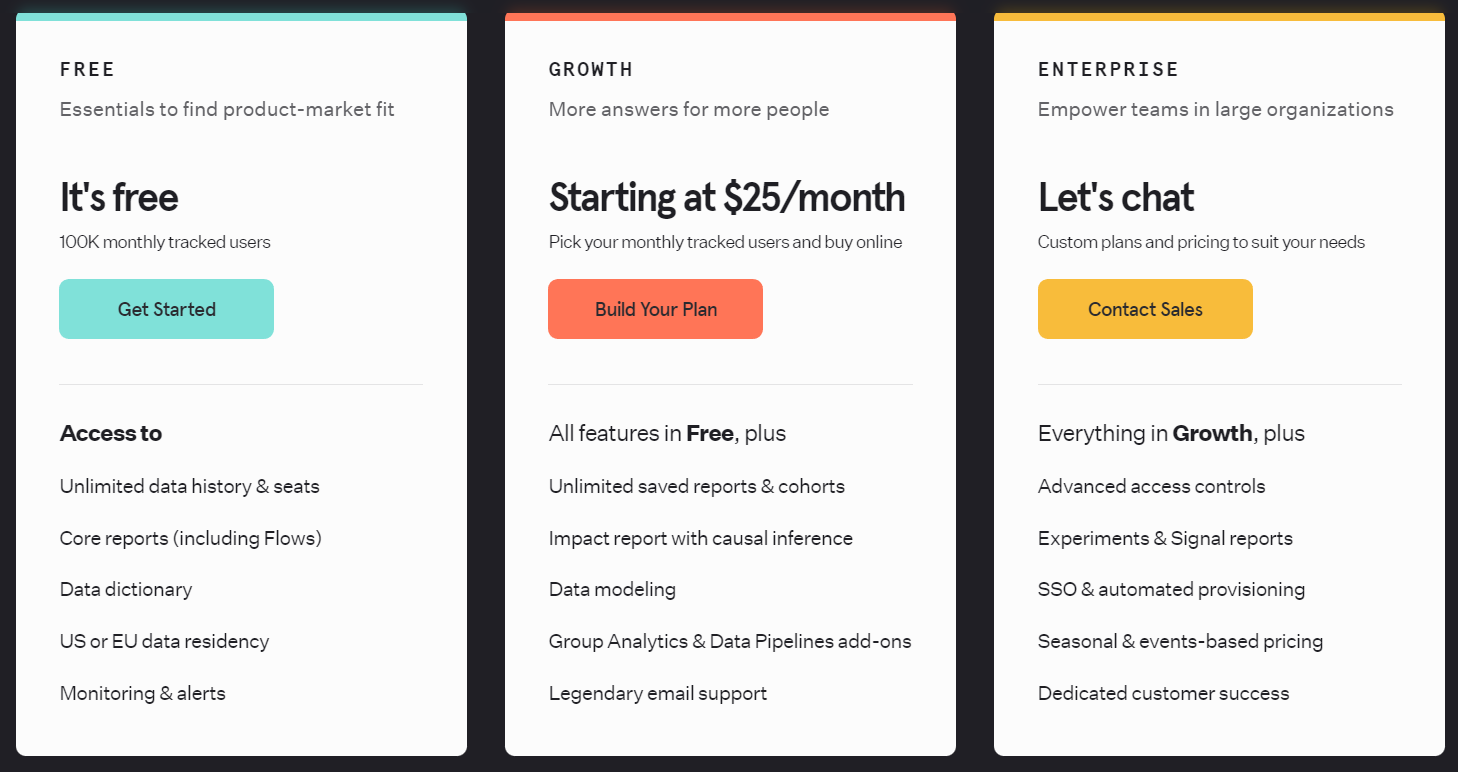 The price is custom and depends on the number of monthly tracked users and add-ons. You'll find it out after a meeting with a sales rep.
Mixpanel doesn't have a free trial, but you'll get access to all the main growth hacking tools on a free plan. 
Mixpanel's pros and cons as a growth marketing tool
✔️ One of the best analytics tools for enterprise-level companies.
✔️ Reliable software with a wide range of features for data analytics.
✔️ Easy-to-use platform with responsive support.
❌ Quite an expensive tool for small and mid-sized businesses.
❌ Very limited data range for user flows (only 2 weeks).
❌ Some data may be missing from the reports.
💡 Useful hack
You can integrate Mixpanel with Dashly to enrich your data. Choose the events you'd like to have a deeper analysis of in Dashly and send them to Mixpanel in a few clicks. 
VWO testing

VWO is a powerful tool for hypos testing, specifically designed for running A/B and multivariate tests, making it perfect for companies looking to increase their key metrics.
Using this tool, you can easily test minor changes on your website, such as CTAs and page designs. Additionally, VWO features visual builders, which allow you to create widgets with ease.
Btw, if you need more ideas for your experiments, check out our growth marketing playbook with over 40 marketing campaigns from Dashly and our customers.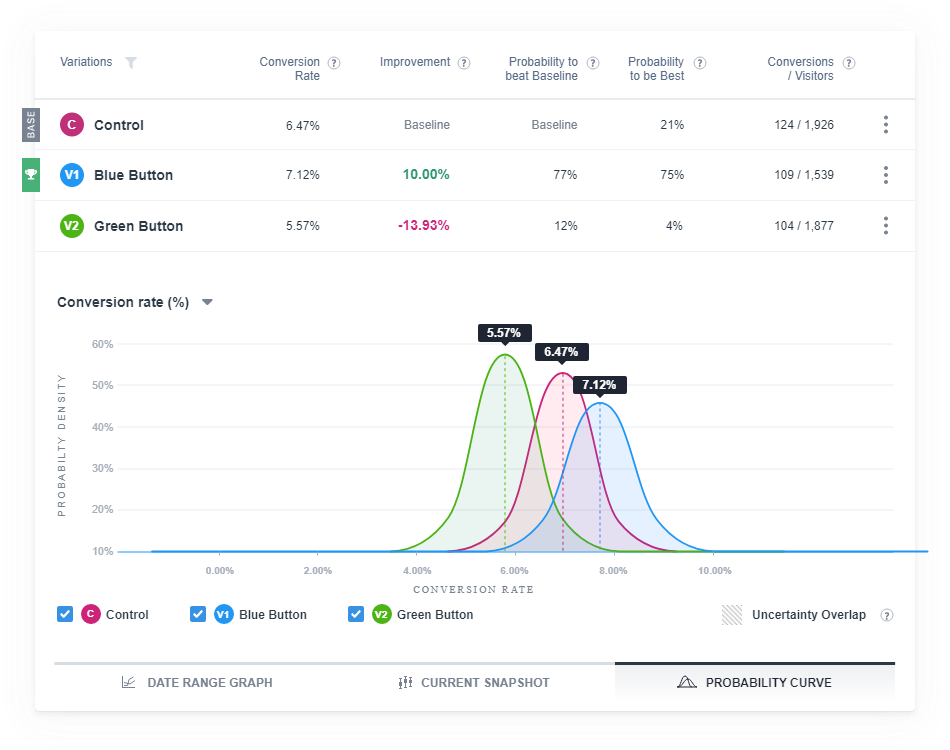 After conducting your experiments, you can track the results in the admin panel of this platform.
Pricing
Pricing for the VWO growth hacking tool is custom and only available by contacting their sales department. The plan choice depends on the features you need.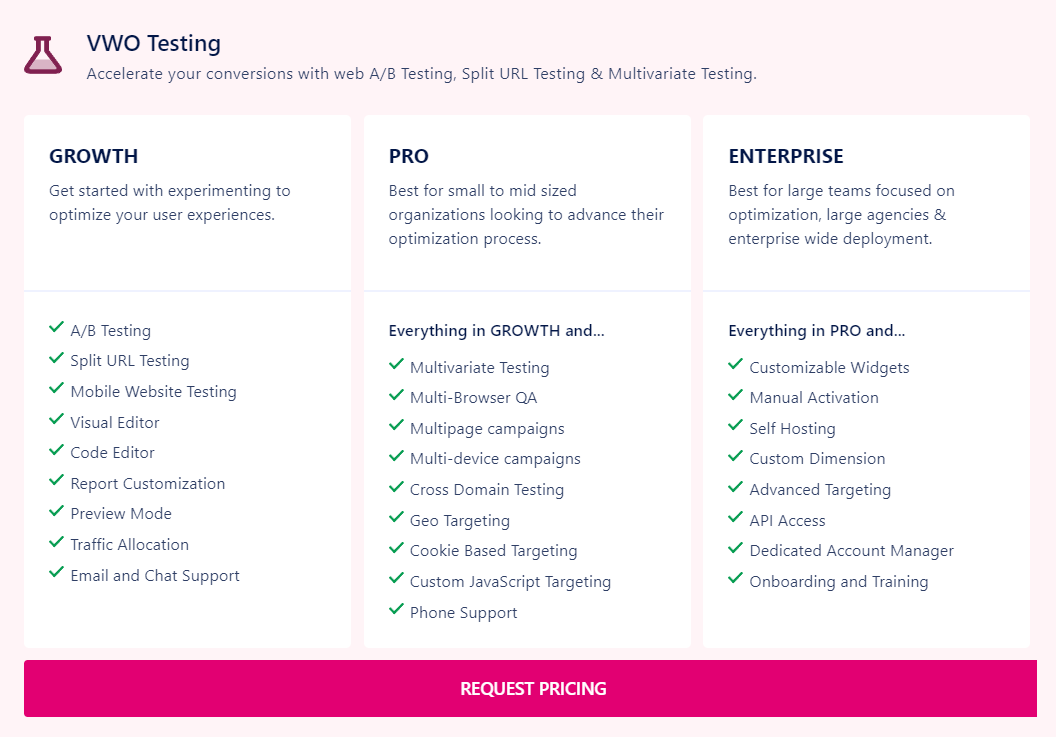 However, the tool does offer a 1However, the tool does offer a 14-day free trial for you to test its functionality. for you to test its functionality.
VWO Testing's pros and cons as a growth hacking tool
✔️ It is one of the easiest tools to test hypotheses, providing useful insights.
✔️ It includes many features for a lower price than its competitors, such as Optimizely or Adobe Target.
✔️ The customer service is excellent.
❌ Tracking is hard to set up without developers' involvement.
❌ Occasional bugs can break down the reporting system.
❌ Testing threshold may be too high for small and mid-sized businesses, as the traffic might not be sufficient to launch experiments.
UserTesting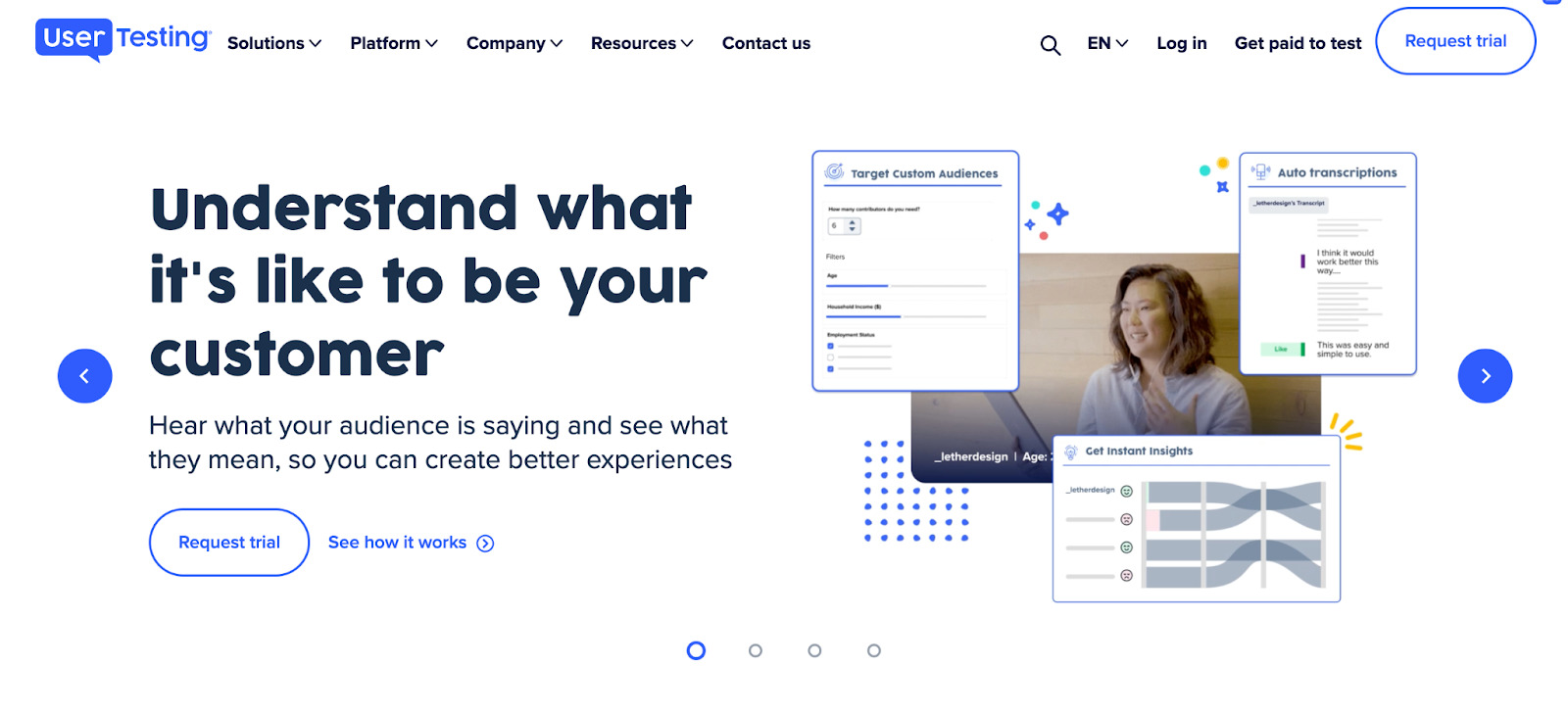 UserTesting is a user experience research and testing platform that provides businesses with valuable feedback on their digital products. Growth marketers can use UserTesting to gain insights into how customers interact with their websites, apps, and other digital products.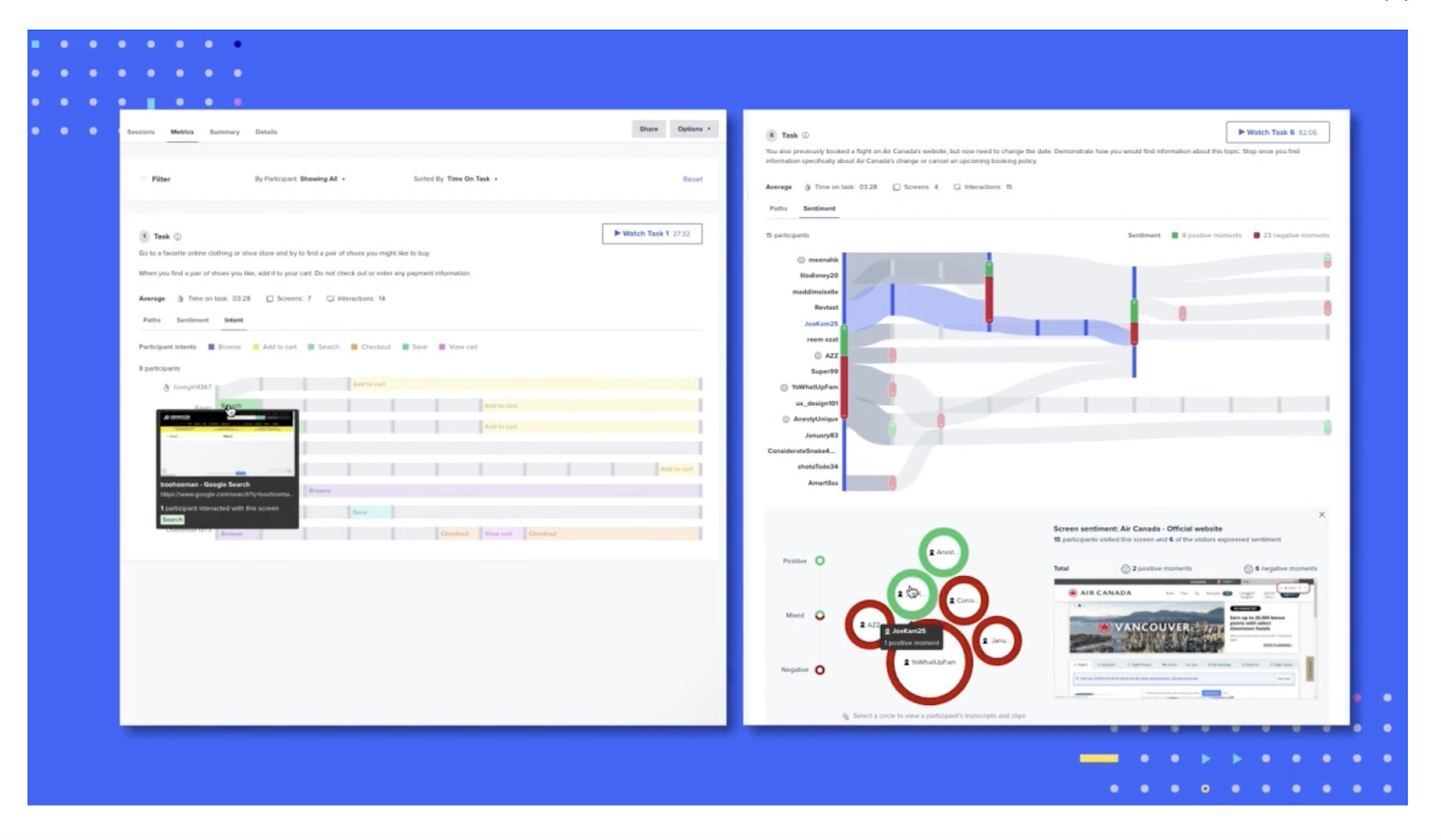 With UserTesting, companies can create custom tests and select their target audience to collect detailed feedback, including user behavior, opinions, and reactions. If you want to find a growth hacker for your startup, give them access to such a tool for more data-based decisions.
Pricing
The pricing for UserTesting starts at $1,500 per year, which includes access to a self-serve testing platform, an audience panel of over 1 million testers, and basic video recording and sharing features. The price increases with additional features and services, such as expert analysis and customer research support.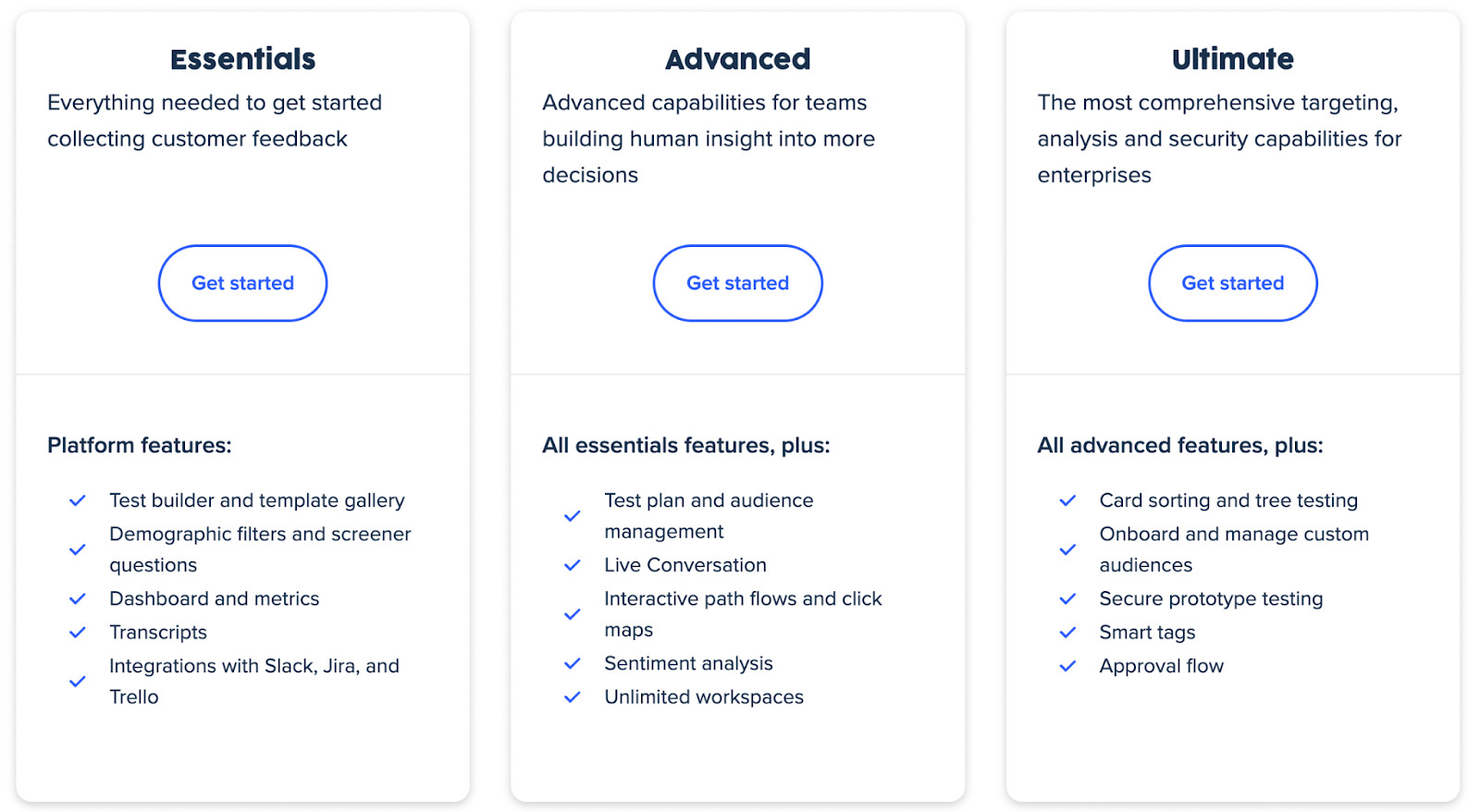 UserTesting pros and cons
✔️ Provides detailed and unbiased user feedback. 
✔️ Allows for easy test customization and targeting. 
✔️ Offers a large and diverse audience panel.
✔️ Provides quick turnaround times for test results. 
✔️ Integrates well with other marketing tools.
❌ Can be quite expensive for small businesses. 
❌ The user panel may not always represent the exact target audience. 
❌ Some users have reported occasional technical issues with the platform.
Optimizely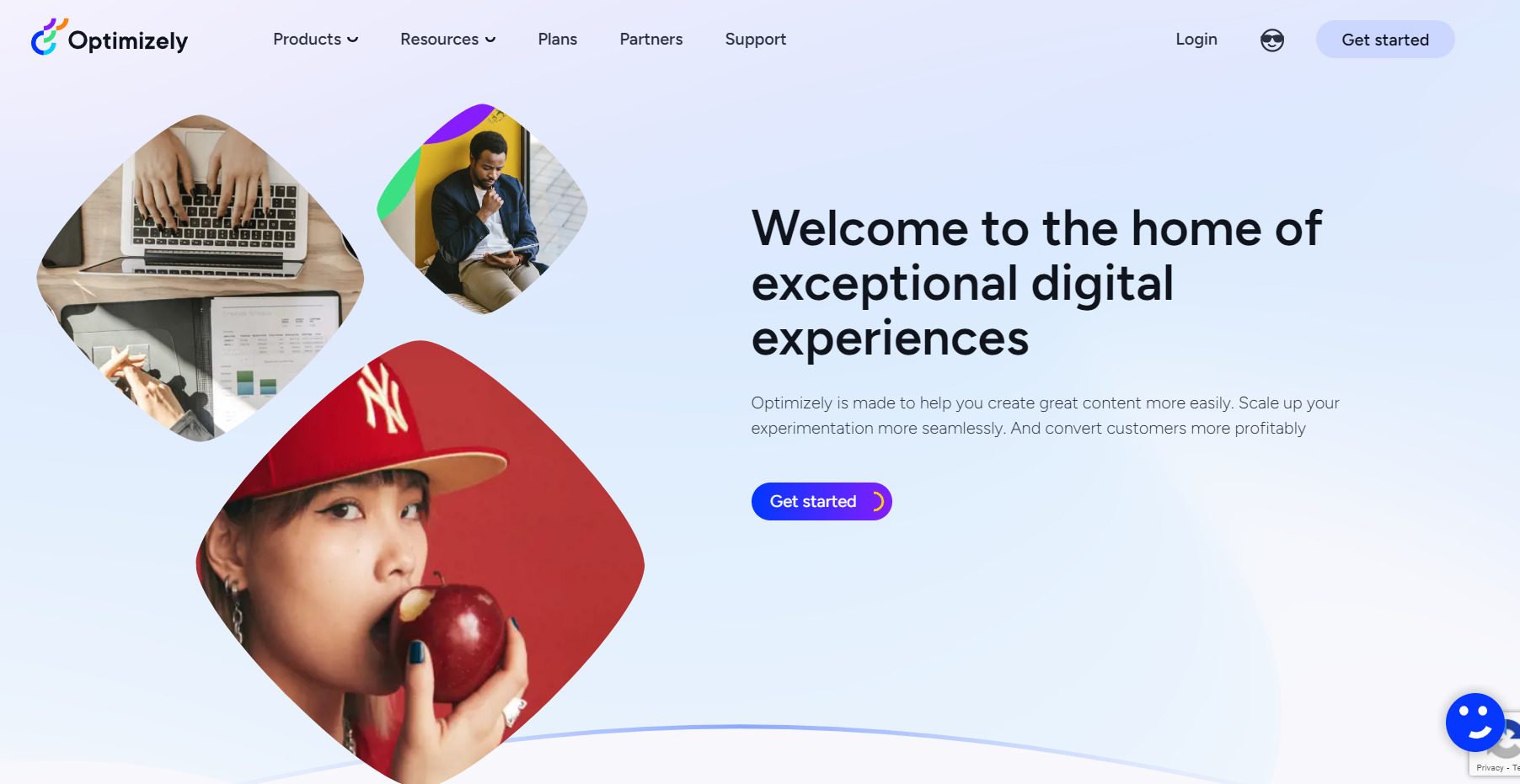 Optimizely is a platform designed to help businesses improve their digital experiences and increase conversions. It provides a range of growth marketing services such as A/B testing, personalization, and analytics to help businesses optimize their website and mobile app.
The platform allows businesses to test and optimize different elements of their website or mobile app such as the user interface, content, and design to see which variations result in higher engagement and conversion rates.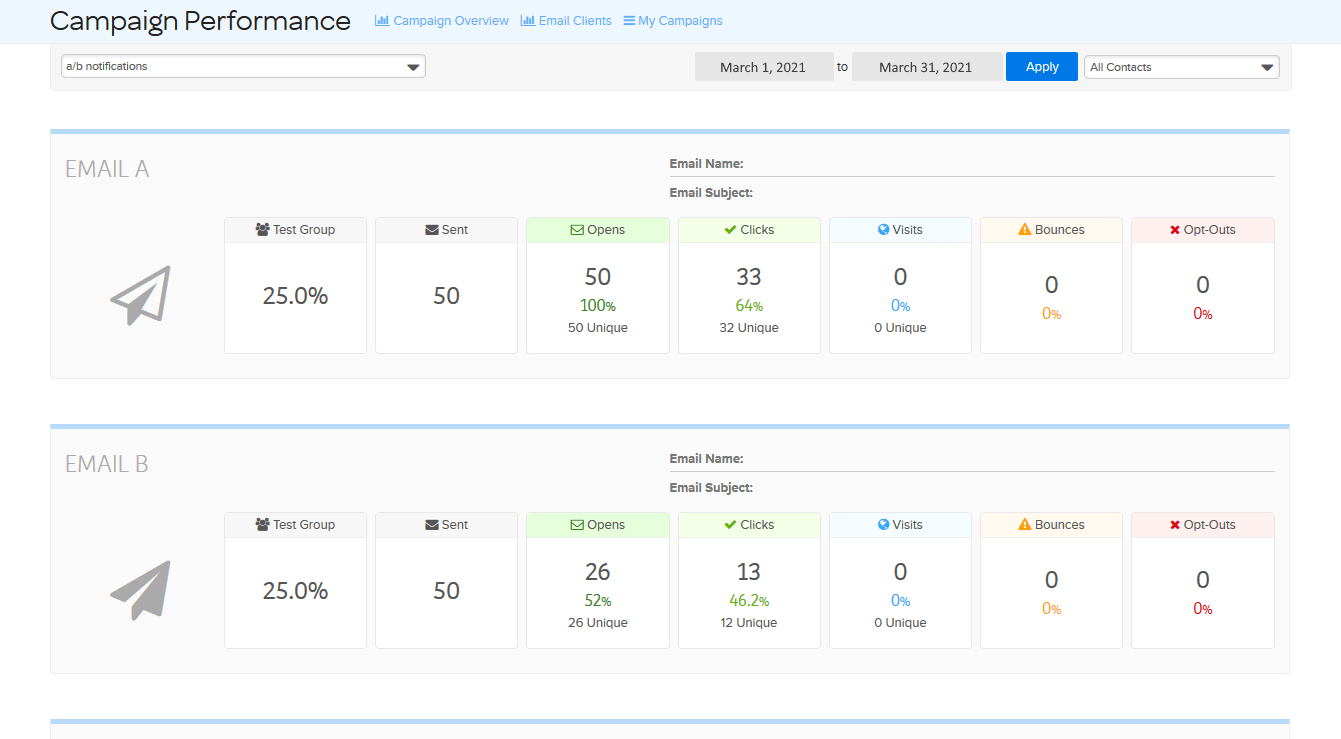 It also enables businesses to deliver personalized experiences to their users based on their behavior and interests.
Optimizely's pricing is based on a custom quote system, which means that the price will vary depending on the specific needs of the business. However, they do offer a free trial period to test out the platform before committing to a paid plan.
Optimizely pros and cons as a growth hacking tool
✔️ Offers a wide range of features for running experiments and personalization.
✔️ Easy-to-use visual editor for creating experiments.
✔️ Integrates with various third-party tools such as Google Analytics, Salesforce, and Segment.
✔️ Provides real-time reporting and analytics to help businesses make data-driven decisions.
❌ Pricing may be too expensive for small businesses.
❌ Some users have reported issues with the platform's stability and performance.
❌ The user interface may be overwhelming for new users.
Qualaroo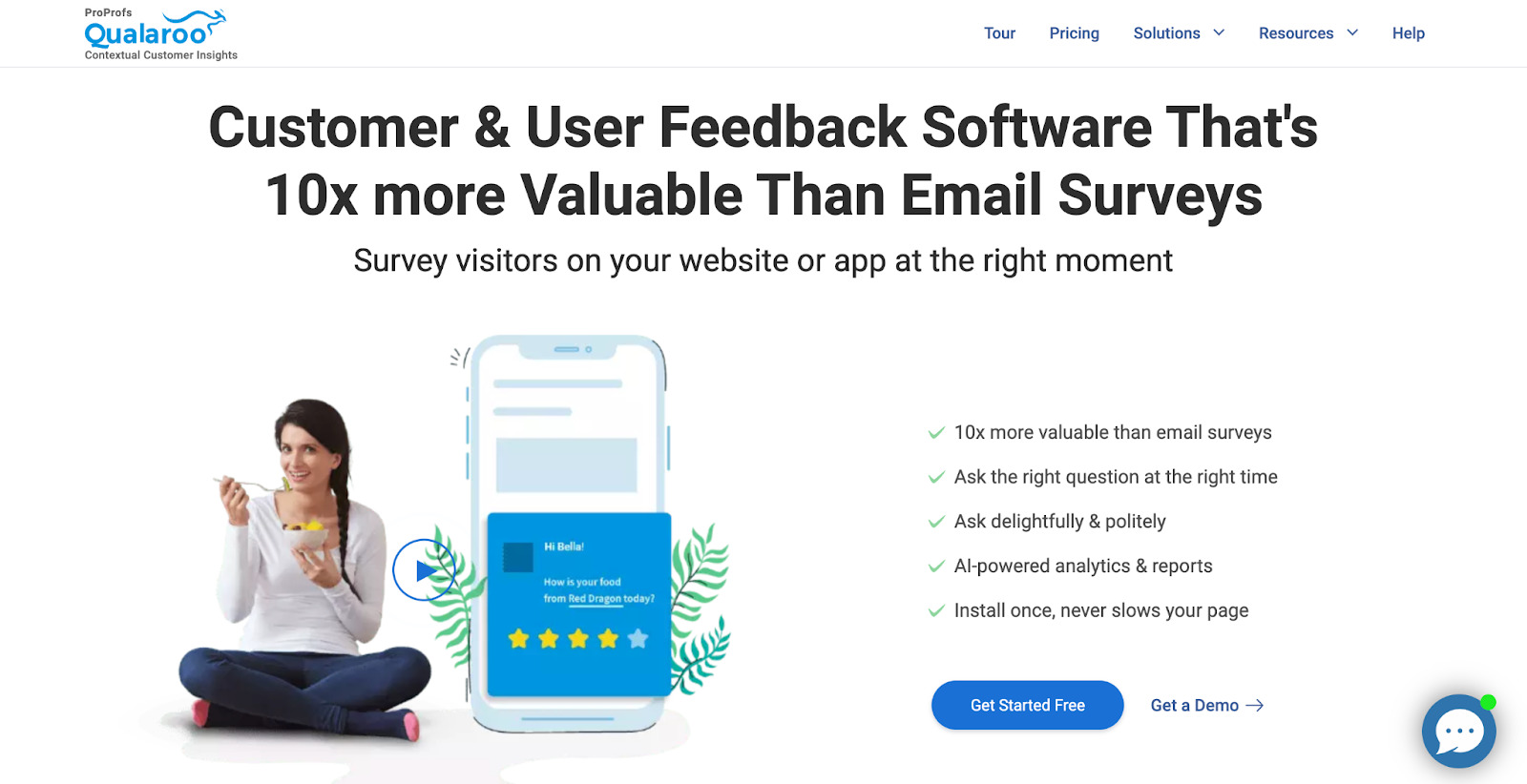 Qualaroo is a user feedback and survey tool that helps businesses understand their customers' needs and pain points. It allows businesses to collect user feedback through targeted surveys and NPS (Net Promoter Score) questions on their website, mobile app, or email.
For growth marketing, Qualaroo can help businesses collect feedback from their customers at different touchpoints in the customer journey. This feedback can be used to optimize marketing messaging, improve product features, and understand customer needs better. With this info, your next growth hypothesis will be more data-based.
Price
Qualaroo offers several pricing plans, starting from $80 per month for the basic plan, which includes 10,000 pageviews and up to 3 surveys. The price varies based on the number of page views, surveys, and features required.

Qualaroo pros and cons as a growth hacking tool
✔️ Easy to use interface and intuitive survey builder.
✔️ Highly customizable survey targeting and display options.
✔️ Integrations with popular analytics and marketing tools, such as Google Analytics and HubSpot.
✔️ Provides actionable insights into user behavior and needs.
❌ Some users may find the pricing plans too expensive compared to other tools for growth hacking.
❌ Limited question types in the survey builder.
❌ Limited data export and reporting options.
Unbounce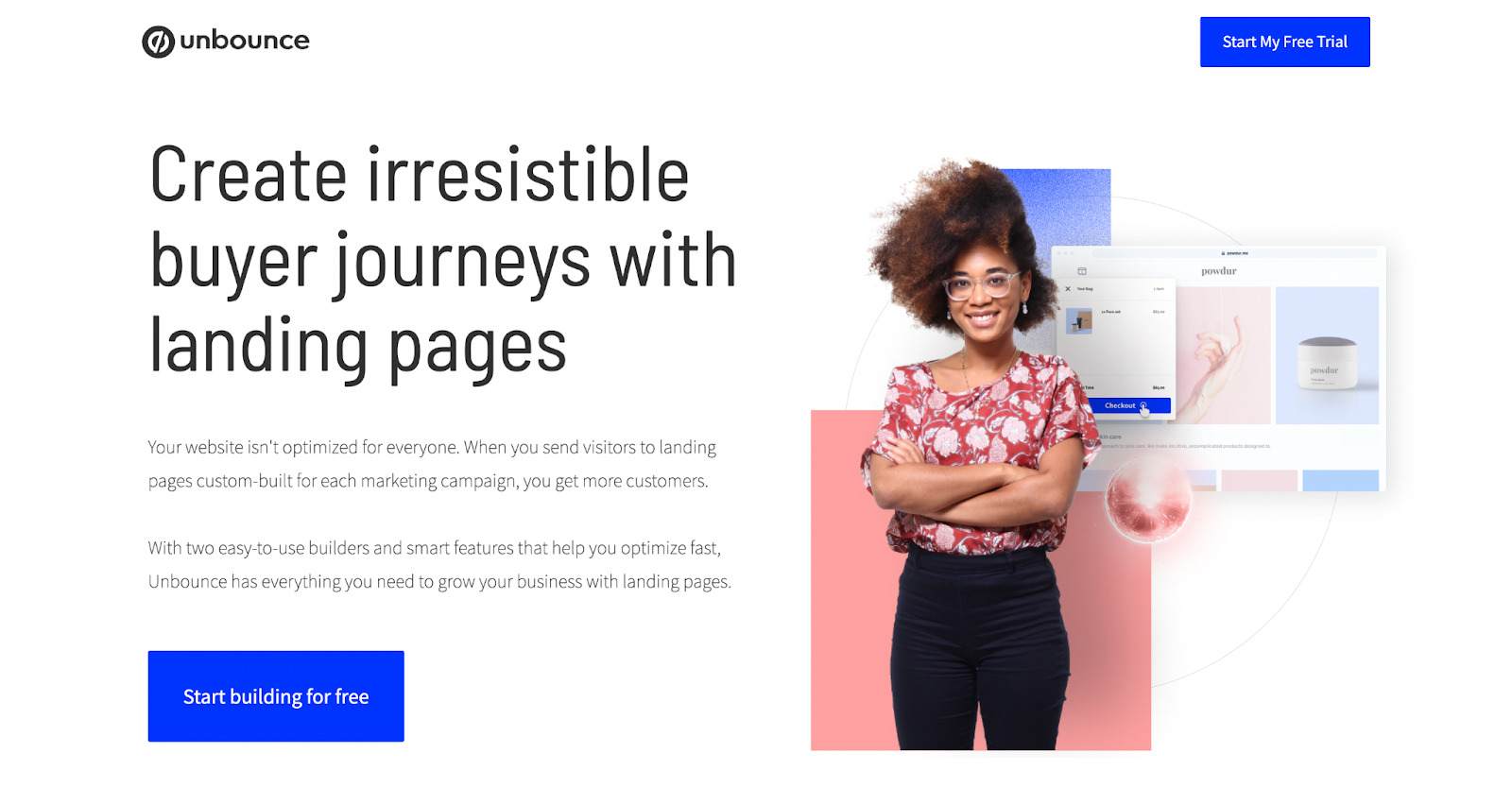 Unbounce is a landing page builder designed to help businesses create high-converting landing pages without any coding knowledge.
For growth marketing, Unbounce is used to create optimized landing pages that drive leads and conversions. With Unbounce, marketers can quickly create and publish landing pages that are tailored to specific campaigns or customer segments. The platform also provides A/B testing features to optimize landing pages and improve conversion rates.
Price
Unbounce's pricing plans range from $99 to $625 per month, depending on the features and level of support needed. The plans include features such as unlimited landing pages, A/B testing, popups and sticky bars, and integration with popular marketing tools.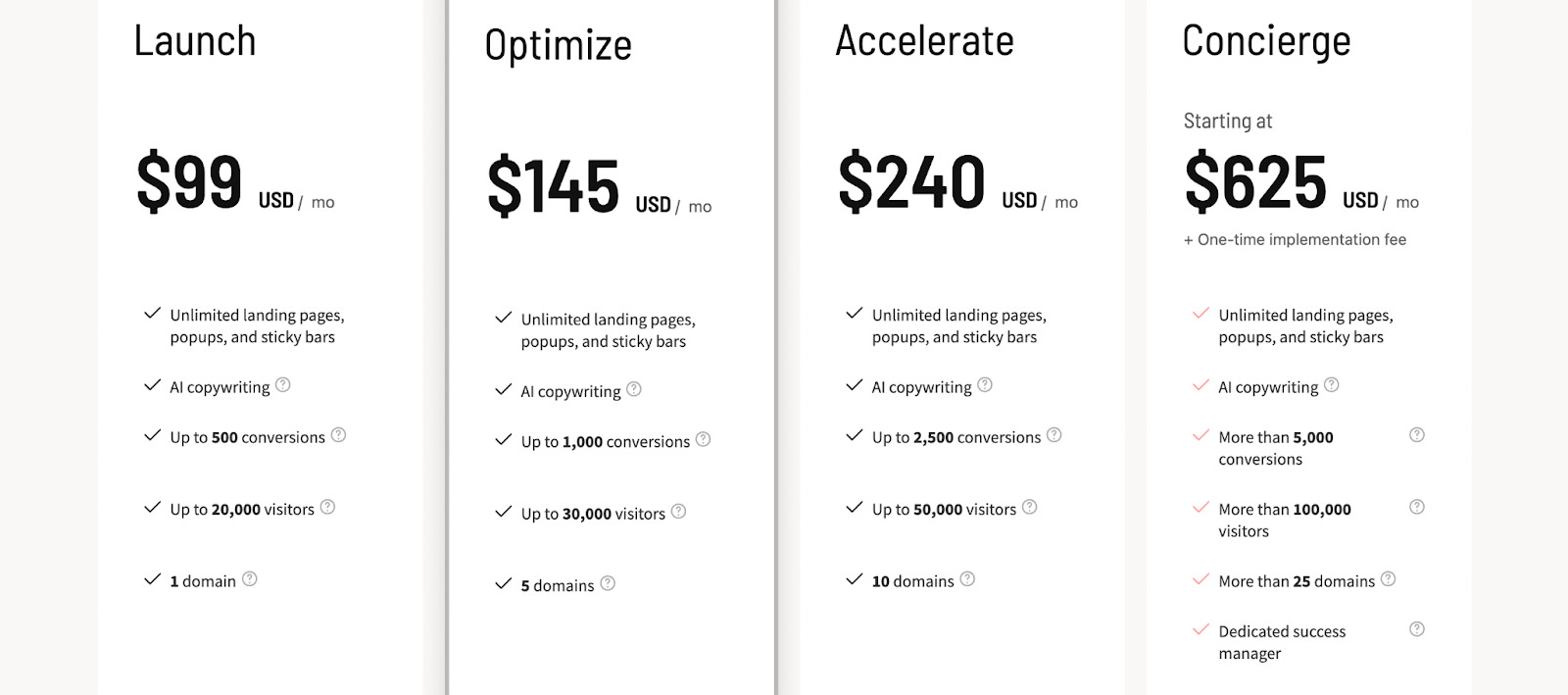 Unbounce pros and cons as a growth hacking tool
✔️ Easy-to-use drag and drop landing page builder.
✔️ A/B testing capabilities to optimize conversion rates.
✔️ Pop-ups and sticky bars to improve lead capture.
✔️ Integration with popular marketing tools like HubSpot, Marketo, and Salesforce.
❌Limited customization options compared to more advanced website builders.
❌No native integrations with some marketing tools.
❌Price may be too high for smaller businesses.
HubSpot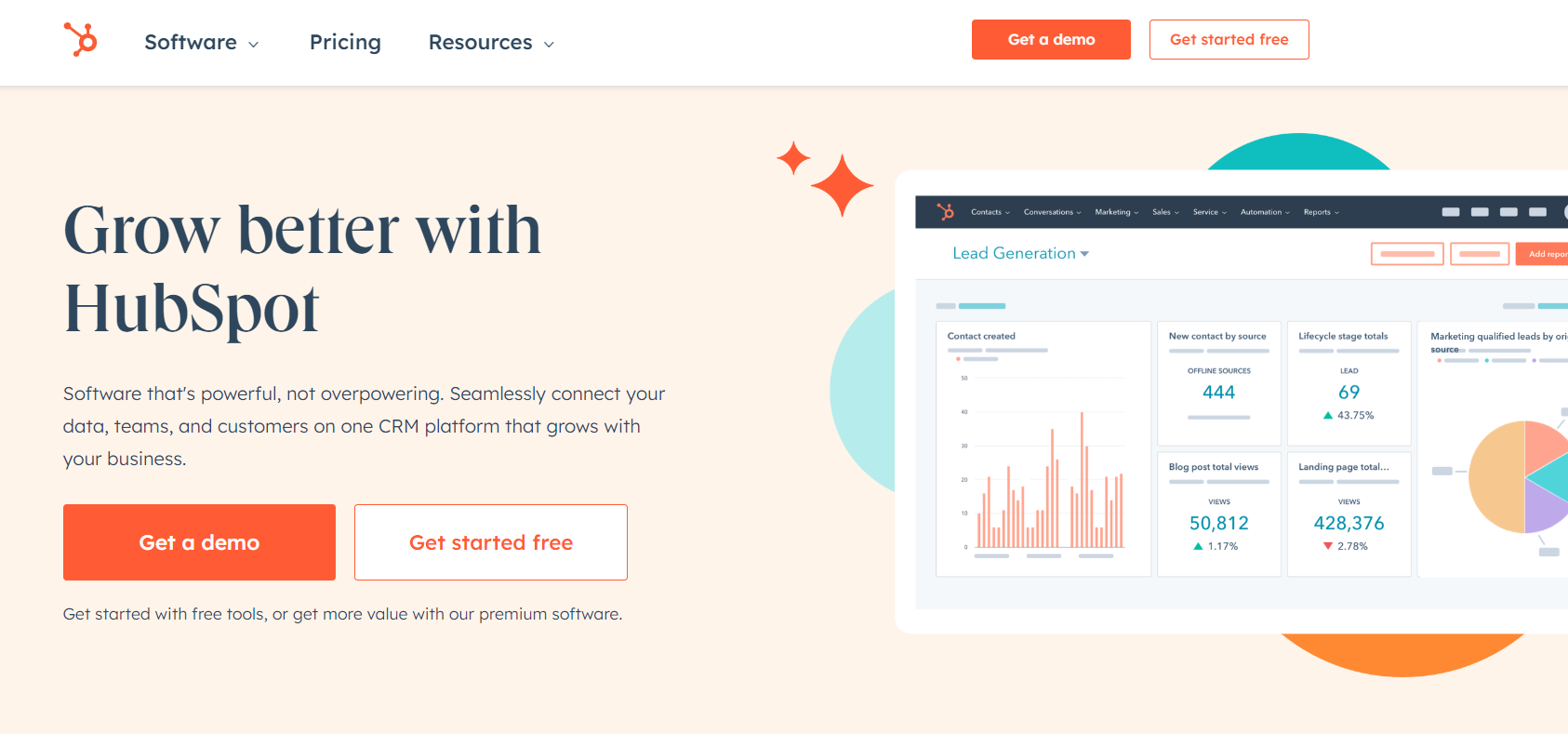 HubSpot is an all-in-one inbound marketing, sales, and customer relationship management (CRM) platform that helps businesses of all sizes to grow better.
In terms of growth marketing, HubSpot is used for lead generation, lead nurturing, email marketing, social media marketing, content marketing, and more. With HubSpot, businesses can create landing pages, email campaigns, and social media posts, manage their blog and SEO strategy, and track their marketing analytics all in one place.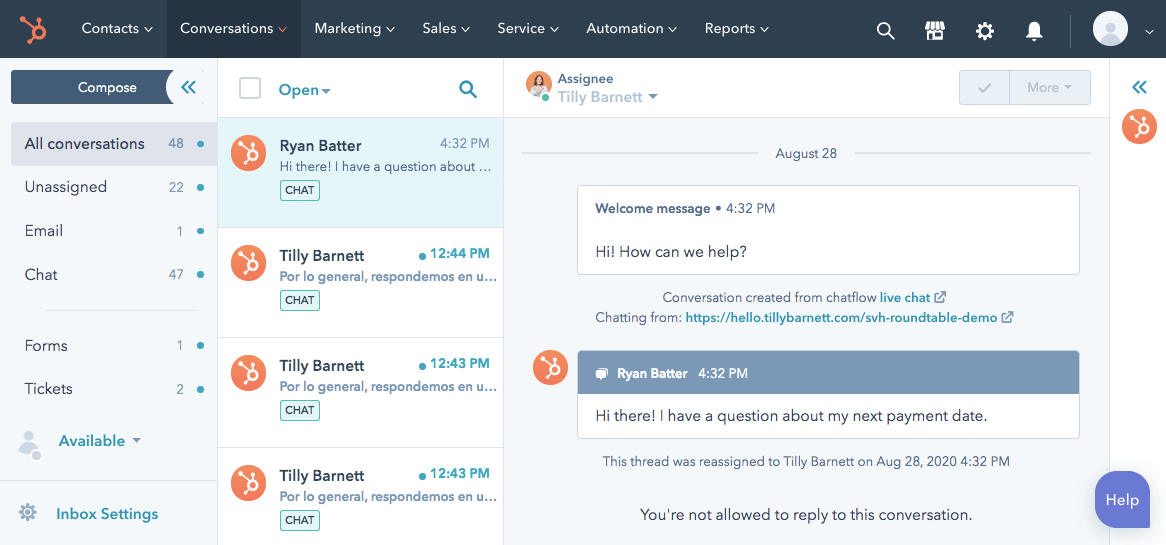 One of the core features of HubSpot is its CRM, which allows businesses to store and manage their customer and lead data, track their interactions with the company across channels, and manage their sales pipeline. HubSpot also offers a sales hub with tools like email tracking, meeting scheduling, and sales automation to help businesses close deals faster.
Price
HubSpot pricing varies based on the level of functionality required. They offer several plans for Marketing, Sales, and Service hubs, as well as a free CRM.
Prices start at $20/month for the Starter plan, which includes basic marketing tools, and range up to $3,200/month for the Enterprise plan, which includes advanced features for larger businesses.
You can count your own price using the calculator: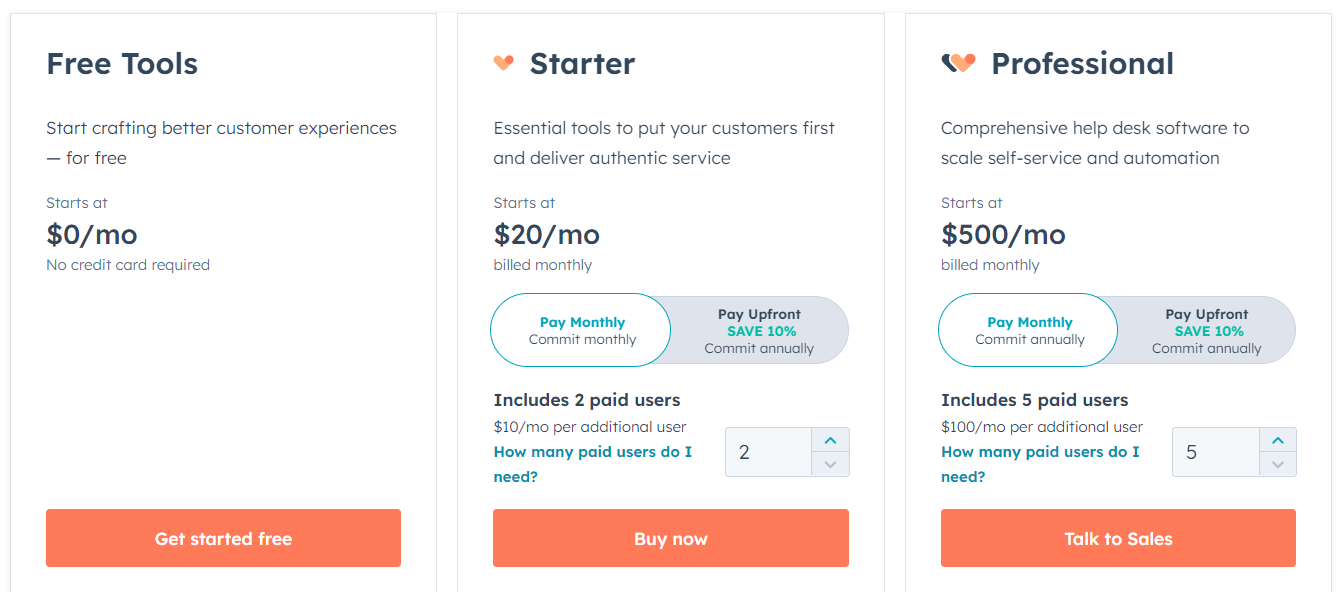 Hubspot pros and cons as a growth hacking tool
✔️ All-in-one platform for inbound marketing, sales, and customer relationship management.
✔️ Integrates with a wide range of other tools and platforms.
✔️ User-friendly interface with easy-to-use tools.
✔️ Offers a free CRM and other free tools like the email marketing tool and CRM database.
❌ Can be expensive for smaller businesses, especially as the number of contacts or leads grows.
Wrapping up…
Don't let the challenges of growth hacking deter you from unlocking the full potential of your business. With the best tools for growth hacking and a little bit of creativity, you can turn every visitor into a customer. 
And, as we mentioned before, Dashly is an excellent tool to help you achieve this goal.
You get access to: 
Analytics tools like visitor behavior tracking and funnel reports;
Features to test your growth hypotheses. 
Plus, you can empower it with integrations to make your workflow more efficient.
Test growth marketing hypotheses quickly and without developers with Dashly