Your website visitors are reluctant to provide their contact information in your complicated lead forms? Do users sign up for free trials only to leave when it's over? Or perhaps your website is intricate and offers a big choice, causing users to struggle with making a purchase?
In these cases, enhancing your website communication is crucial!
For this reason, we've compiled top-notch suggestions from our experts and Dashly clients into a growth marketing playbook with 41 templates for triggered pop-ups, chatbots, and email campaigns aimed at boosting your website's conversion rates.
We're offering a free PDF file containing pertinent examples of marketing copy and settings and predicted results. Every to change the way your growth marketing team:
Capture leads on a website
For instance, set up a chatbot helping visitors pick a product or discussing your solution's benefits on a webpage that compares your product with competitors, and gain +$22,414.
Here's a sample chatbot flow and settings that you can use for deployment:

Inside the growth hacking playbook PDF, you'll discover additional lead generation scenarios featuring pop-ups and campaigns for social media. For instance, when visitors:
navigate to a specific section of the page,
attempt to leave your site.
All you need to do is copy and paste the preferred scenario into the Dashly chatbot, pop-up, or email builder. No need for a developer! Sign up and enjoy a 7-day free trial.
Interested in other campaigns?
Get access to free growth hacking templates of pop-up, chatbot, and email campaigns for your website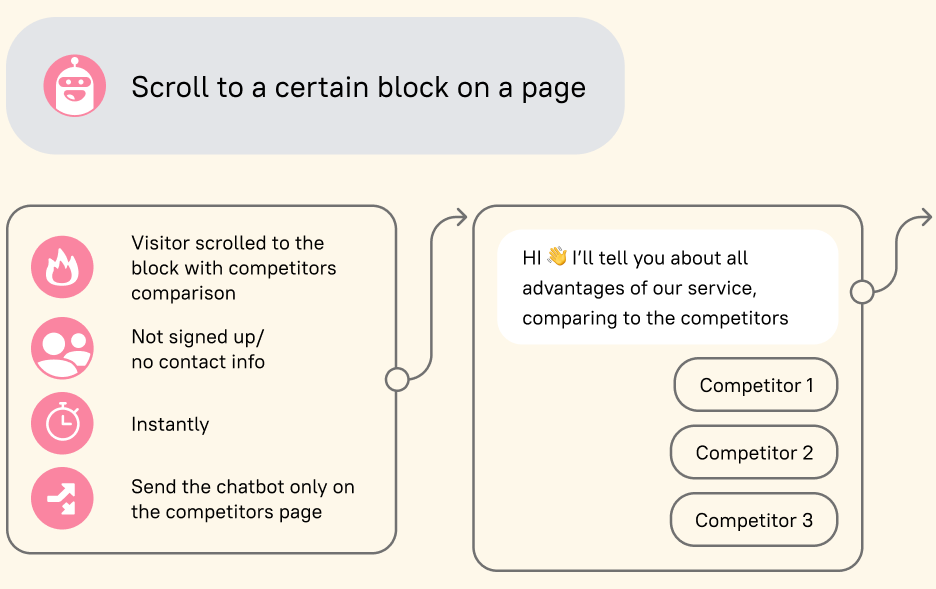 Lead visitors to signup or demo
There are recurring visitors to your site who leave your website without finishing the registration or arranging a meeting. 
Capture their interest using an exit-intent pop-up with an exclusive bonus, directing them to the pricing page, or engaging them with email campaigns. Typically, this strategy generates +$8,709 for Dashly clients:

Additionally, there are chatbot, email, quiz, social media, and messenger integration scenarios included in the customer led growth playbook for:
First-time site visitors, where the chatbot identifies potential users or buyers and guides them to the targeted action;
Those who require a final push (bonus or discount) to convert into customers;
Your email subscribers;
Visitors brought to your site by specific keywords or ad campaigns;
Those attempting to leave your site without signing up or making a purchase.
Each template comes with suggested triggers, time-outs, audience segments, and marketing copy to simplify the setup process for you 👇
Get 41 growth hacking templates of triggered campaigns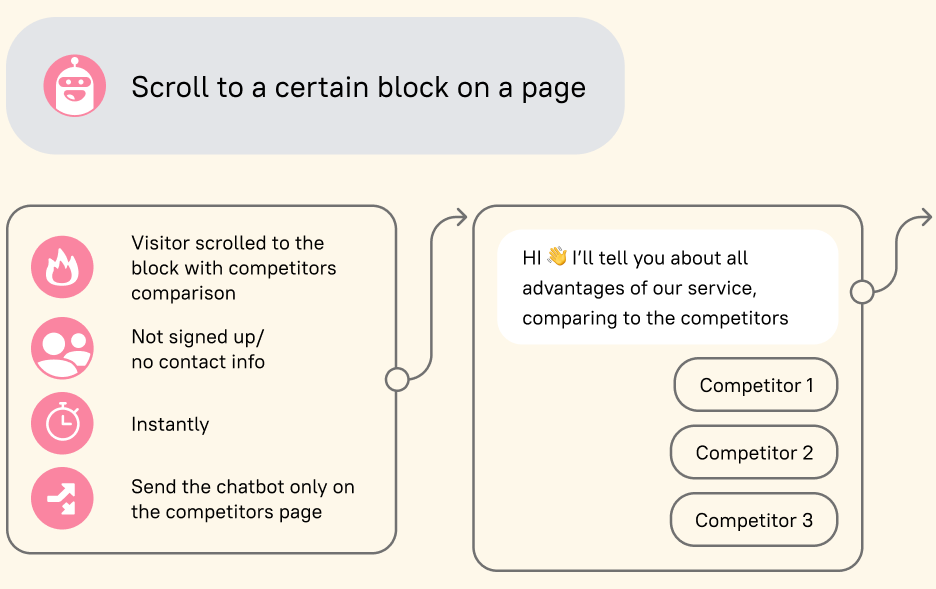 Activate site visitors
Here's our favorite strategy for helping users become proficient with your website:

This automated onboarding email campaign typically generates $8,453 in revenue for Dashly clients. Curious to explore more of our ideas?
In the growth marketer's playbook PDF file, we've incorporated two onboarding scenarios: for "Trial end" and lead qualification situations. Download it for free 👇
Get access to triggered campaign templates that fit your website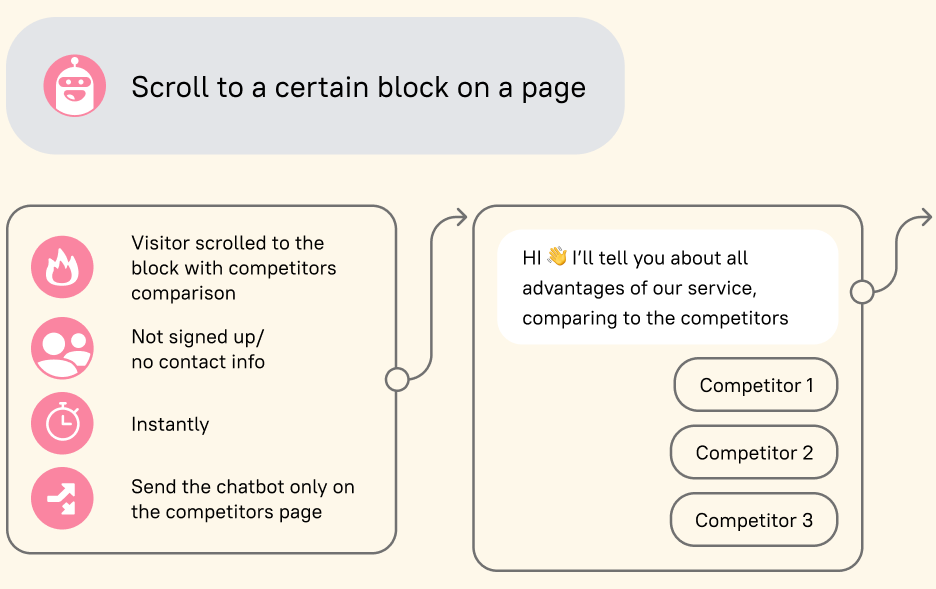 Enhance payment conversion rates
On the pricing page, you can activate one of the growth marketing tools — chatbot, for users who left their contacts but didn't purchase anything:

Other methods to convert them into paying customers include:
chatbot asking qualification questions that lead to a meeting with a sales manager,
pop-up or email with a payment/abandoned cart reminder,
nurturing sequence via email.
Discover them all in the free growth marketer's playbook below.
Get access to 41 templates of growth marketer's triggered campaigns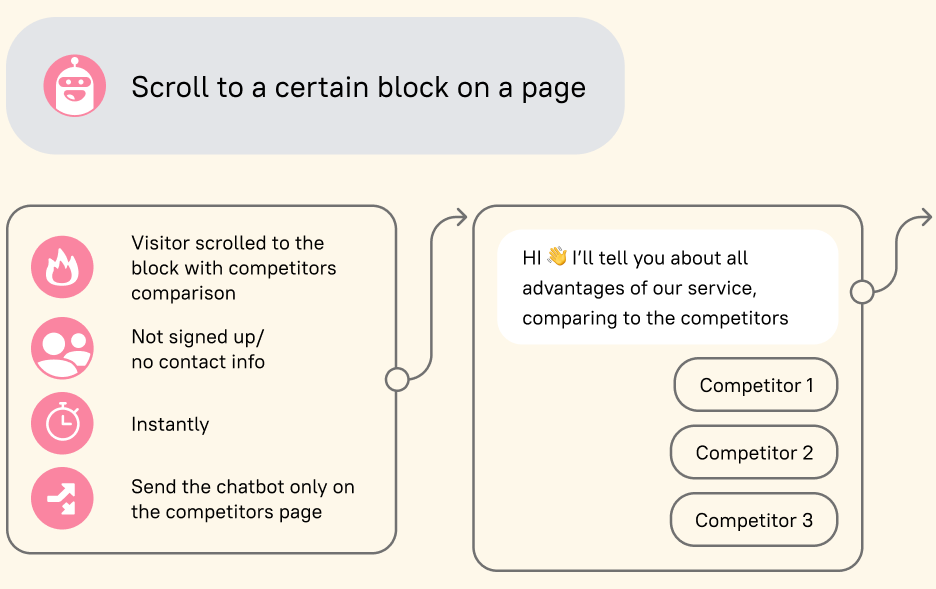 Increase your website retention with upselling strategies
For instance, you've introduced a new feature, product, course, etc. Encourage existing customers to utilize (purchase) it with a chatbot that shares this exciting update with a selected segment of your site visitors:

Additionally, you'll find marketing copy and settings examples for:
"Paid period ends" reminders,
Add-on sales,
Reactivation,
Manual campaigns via WhatsApp.
Get them all with a free growth hacking playbook below.
Skyrocket your company revenue with a complete guide to RevOps Revenue Operations
Gather user feedback
A chatbot can survey from your users by conducting a simple NPS poll.
Alternatively, it can present a question with a text response field or send an email follow-up to those who have cancelled their subscription to your service or didn't make any purchases for a long time.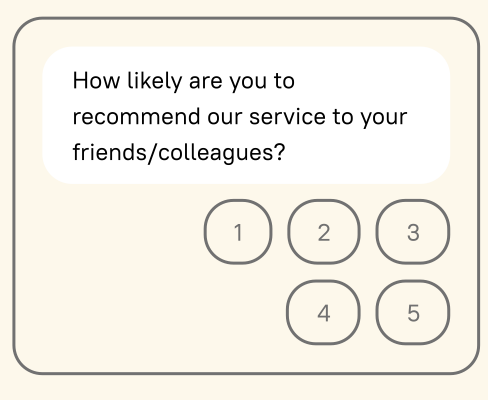 Get access to 41 templates of chatbot, pop-up, and email campaigns for your business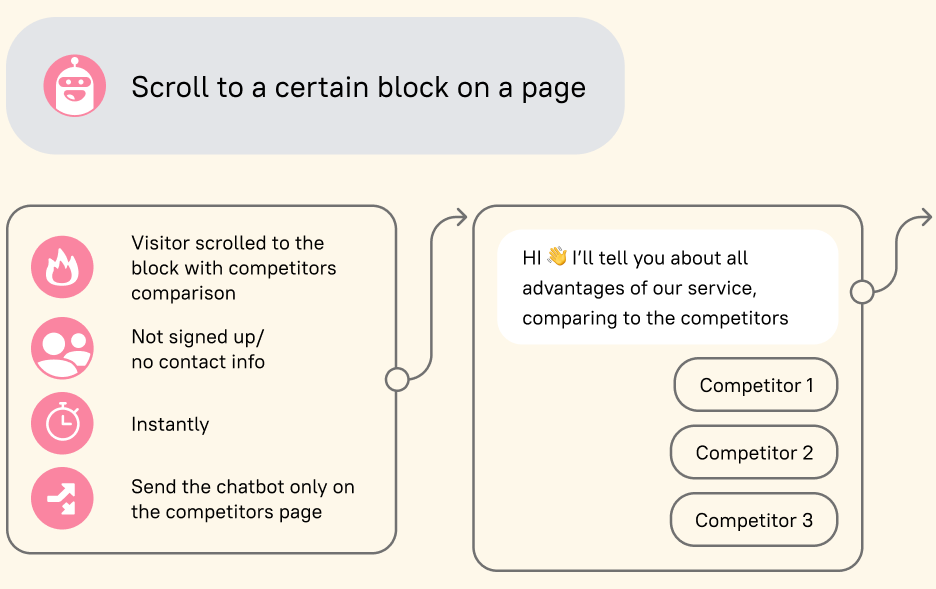 How to use the templates in the playbook to their full potential
Determine the objective of your marketing campaign (lead capture, qualification, onboarding, etc.) and the key metrics for measuring success.
Choose a suitable template (if you're new to setting up triggered campaigns, test the first one).
Customize the template to suit your requirements, ensuring message copy aligns with your brand's tone of voice.
Design the campaign in Dashly's visual builder, specifying triggers, audience segments, and time-outs.
Ensure that the new campaign doesn't disrupt any existing active campaigns on your website.
Test and deploy the scenario on your site.
Monitor key metrics and revenue growth.
If the results don't meet your expectations, optimize the scenario by adjusting the audience segment, offer, or time-outs. Analyze user interactions and progressively address any bottlenecks.
Test growth hypotheses quickly and without developers in Dashly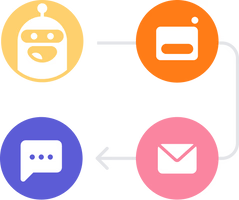 FAQ
What is a growth marketing playbook?
A growth marketing playbook is a list of insights on achieving growth in a business. It brings together all different channels, including:
website,
socials,
messengers,
email,
chatbots
to align them into a cohesive, goal-focused growth-driving marketing strategy.
What are the stages in the creation of a growth marketing playbook?
There are four main elements we used in its creation, which include:
experience of the Dashly clients,
growth experiments conducted by the Dashly marketers,
analytics of growth drivers,
best growth practices.
What is meant by achieving a product-market fit, for example for the United States CMOs?
Product-market fit refers to the process of ensuring your product or service fulfills a strong market demand. Once the product-market fit is achieved, it often serves as an indicator that the product or service is tailored for its intended market, offering high value to its clients.
How do you derive a growth model in a growth marketing playbook?
A growth model in this marketing playbook is derived by understanding key elements like:
acquisition,
activation,
revenue,
retention,
and referral models.
Understanding this allows CMO to understand the behavior and preferences of audience, which is crucial in growth driving.
What are growth marketers channels, and why are they important?
Growth channels are the various methods by which a growth leader reaches out to potential customers and drives traffic or sales. They are important because utilizing the right channels can lead to effective audience engagement and the subsequent growth of the business based on the insights from this marketing playbook.
How are the strategy insights in the playbook designed?
The strategy component involves:
defining your core metrics,
setting your goals,
running a brainstorm session,
and testing your strategies to see what works best.
This helps to create an effective roadmap to achieve your business growth goals.
What is the importance of running a brainstorming session in devising a growth marketing strategy?
A brainstorming session helps marketers to bring together different perspectives and innovative growth ideas from various team members. These ideas can fundamentally assist in crafting more effective insights.
How can testing help in the process of creating an effective growth marketing strategy?
Testing insights from this marketing playbook helps marketers determine what strategies are effective and which ones are not. It involves testing different strategies on a small scale before scaling it to a wider audience. This saves resources and ensures only effective methods are employed on a larger scale.
Is it recommended to revisiting and revise the growth marketing playbook?
Yes, it is an essential practice to revisit and revise your marketing playbook regularly to adapt to:
new market trends,
customer behavior changes,
and business growth targets.
It ensures your strategies stay current and relevant.
Read also: