Have you watched "The Minority Report"? There's a scene where Tom Cruise enters a clothing store, and a virtual assistant scans his eye, greeting him like an old friend:
"Hello, Mr. Yakamoto. Welcome back to the Gap.
How did those assorted tank tops work out for you?"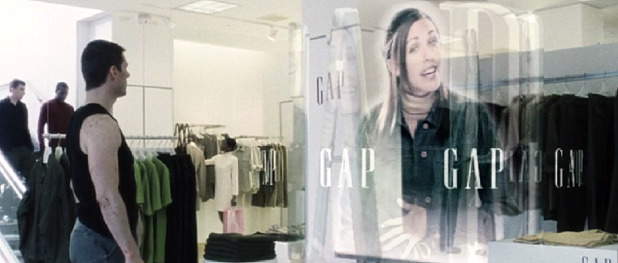 In 2002, that scene seemed futuristic.
In 2023?
It's reality (fortunately, minus eye scanning).
Consciously or not, Spielberg provided a striking example of engaging each customer. Inspired by the director, we'll present the top 14 B2B growth marketing strategies to boost your website conversion through improved customer experience and communication.
Hold on tight because we're diving deep into growth marketing!
Every B2B growth hacking strategy starts with discovering your client's journey
Fortunately for everyone, tracking eye movements remains a concept from a far-off dystopian future (we'll steer clear of conspiracies). However, that doesn't mean you can't gather information on your client's website activities. It's essential that you should do.
To develop a successful customer led growth strategy, you need to examine each client's step on your website. In terms of product metrics framework, tracking visitor behavior will enable you to understand your audience and identify their needs, allowing you to provide the most effective solutions.
Keep an eye on clients':
Page views, exit intentions, button clicks, and any form completion events.
Compile all the data in a single lead profile.
Supplement it with client information from your CRM and other services.
Design personalized workflows for your growth marketing strategy at various sales funnel stages.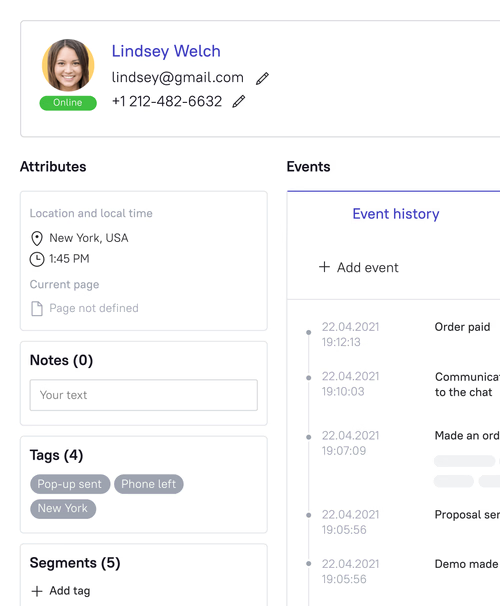 Welcome and support potential clients
Live chat
Initiate communication with potential clients by offering a warm welcome through live chat. Segment your audience and set up personalized, triggered messages for each group. A simple "How can we help? We're here for you 😊" might be sufficient for new visitors, letting them know where to turn if they encounter any issues.
Make proactive engagement an integral part of your growth hacking canvas.
For returning visitors, like Mr. Yakamoto, a more informal and friendly approach works well. Referring to a client's previous experience is also an excellent growth marketing strategy, as it helps continue the conversation from where it left off.
Creating a seamless and continuous experience is one of the best growth marketing tips.
Segment your audience and send proactive messages at various stages of the client journey. This is one of the most effective B2B growth marketing strategies! Our client, OpenCRM, implemented this and increased the overall number of conversations by 400% 👇
Pro tip: You can also follow the example of the Gap from "The Minority Report" and set up a virtual assistant. In our world, a chatbot is perfect for this task.
Chatbot
Here's a case study of how the Dashly chatbot assisted digital school visitors in deciding on a course. On the "Data Science from scratch" course page, the company's marketers engaged visitors in a conversation to address their concerns and communicate the value of the school's course.
The chatbot doesn't immediately suggest that students enroll in a course. Instead, it progressively qualifies and supports leads. 
This message occurs 29 seconds after customers visit the "Data Science from scratch" course page.
The chatbot assists SkillFactory customers in choosing an educational path and navigating personal career challenges. This way, clients don't have to browse the site to learn about the courses; they receive advice directly on the same page.
The results:
7.5% of visitors who saw the message shared their emails,
5.3% of visitors who saw the message shared their phone numbers.
It's one of the best growth hacking examples of the chatbot usage.
Attract leads with an enticing offer
Establishing mutually beneficial relationships with your clients is the cornerstone of a successful B2B growth marketing strategy and experience.
A little give and take goes a long way.
An easy way to achieve this is by implementing pop-ups on your website. Set up a triggered message and offer a valuable guide, product demo, or a 7-day free trial in exchange for a potential client's email.
Mofy.life employed this growth marketing test to boost client engagement on their website. On Black Friday, they offered a 50% discount in return for a client's email.
As a result, they expanded their marketing lead base and reached a larger audience.
This pop-up led to a 2x higher conversion rate into purchases than the previous year's period.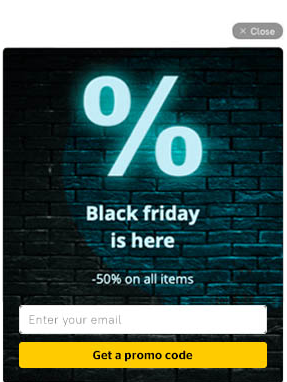 Dashly customer KVR, a mobile software developer, opted for a different marketing approach. They launched a chatbot to collect potential clients' emails.
This growth marketing strategy revolves around a chatbot. First, it asks visitors qualifying questions. At the end of the conversation, it offers a relevant PDF download.
All the gathered lead information was automatically sent to the sales team's CRM.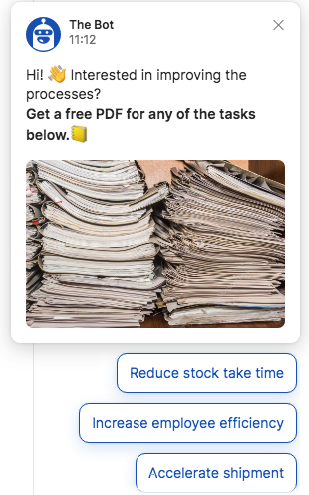 Discover a growth marketing playbook with over 40 ready-to-use campaign templates to boost conversion on your website and:
capture leads;
qualify leads;
convert them to payment;
onboard, etc.
Assist clients in getting acquainted with your brand and products using a chatbot
The first approach to boosting activation and hacking growth is more interactive and functions directly on your website. Introduce your company and critical features through a few brief chatbot messages, accompanied by instructions if necessary.
One of our clients operates a CPA network, which can be challenging to understand without assistance. So they set up an onboarding chatbot that:
provides basic information about the company;
qualifies potential clients with questions about their experience;
highlights the product's primary benefits.
As a result, user activation accelerated by 2.5 times!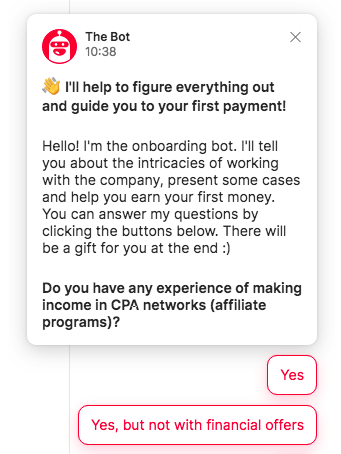 B2B Growth Marketing Emails
Triggered email campaigns are another fantastic tool for strategic B2B growth marketing. They're particularly well-suited for onboarding. We at Dashly use them frequently. Here's an example 👇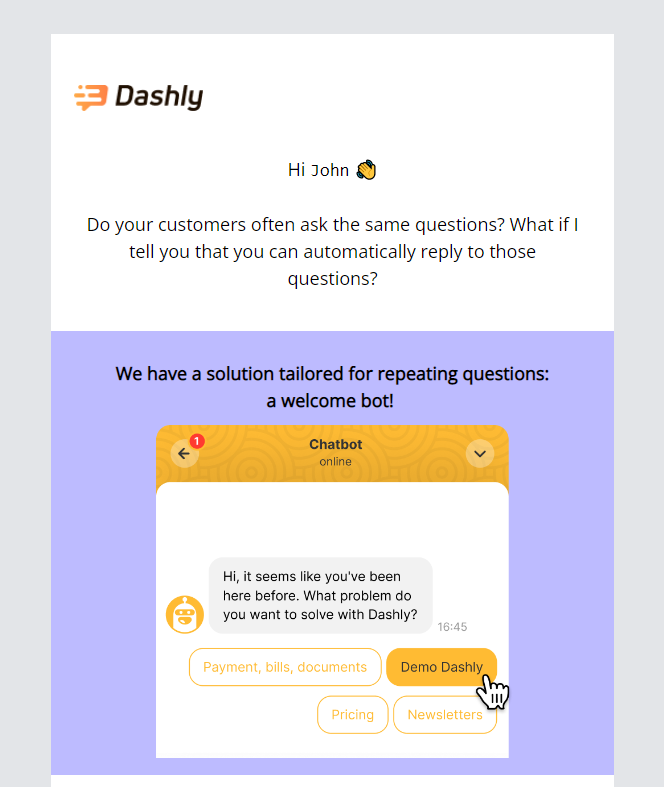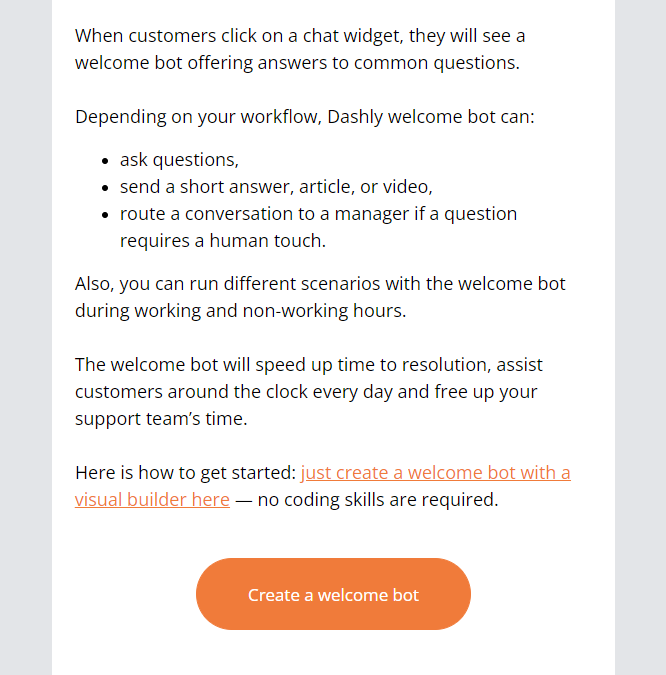 Inform clients about your product, its features, and its value. Share helpful resources, and include links to your website or social media! These activities will help you boost your growth marketing metrics.
Pop-ups to enhance the client onboarding experience
Freedom 24 is a platform where users can invest in stocks, ETFs, and bonds or purchase stocks at IPO prices. However, investing is a field that requires time for contemplation before diving in. Occasionally, this pause lasts too long. Some risk-averse clients with accounts defer their decisions and become "dormant."
To encourage these clients to complete the onboarding process and start investing, Freedom24's marketers tested a growth hypothesis with a multi-channel campaign. It features pop-ups on the website and in the app, combined with email newsletters, to convert registered users into paying customers.
This message pops ups on the website and inside 
the app for users who have an account.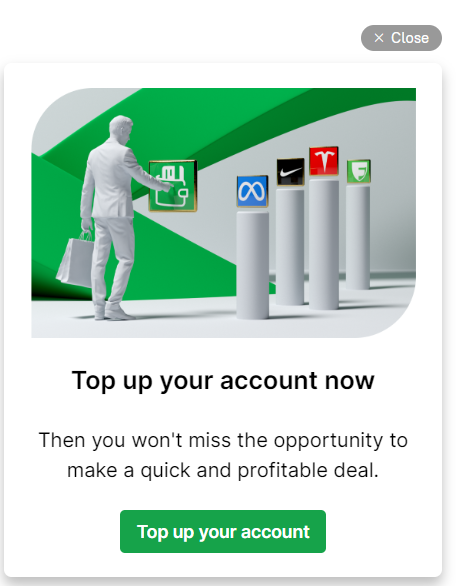 Those who top-up accounts get emails with investment benefits and next steps guide.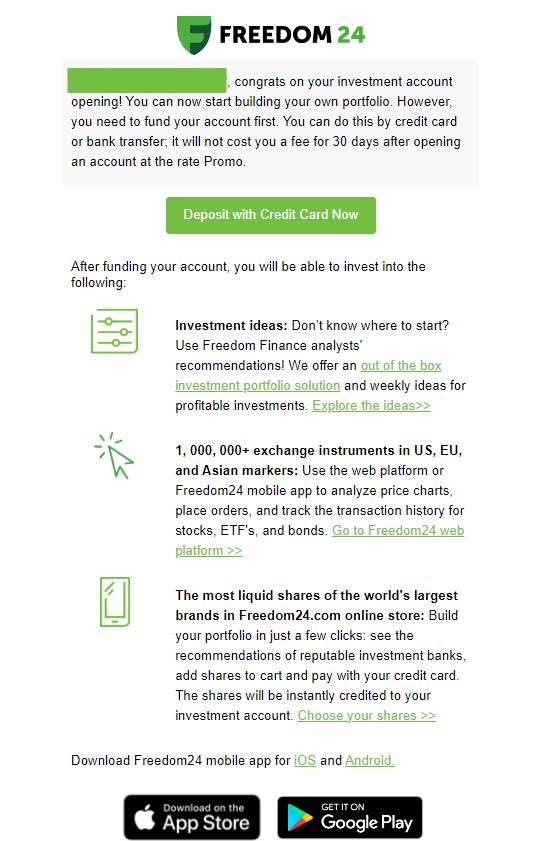 The result: Over a month, 18.6% of app users and 66.55% of website visitors see it.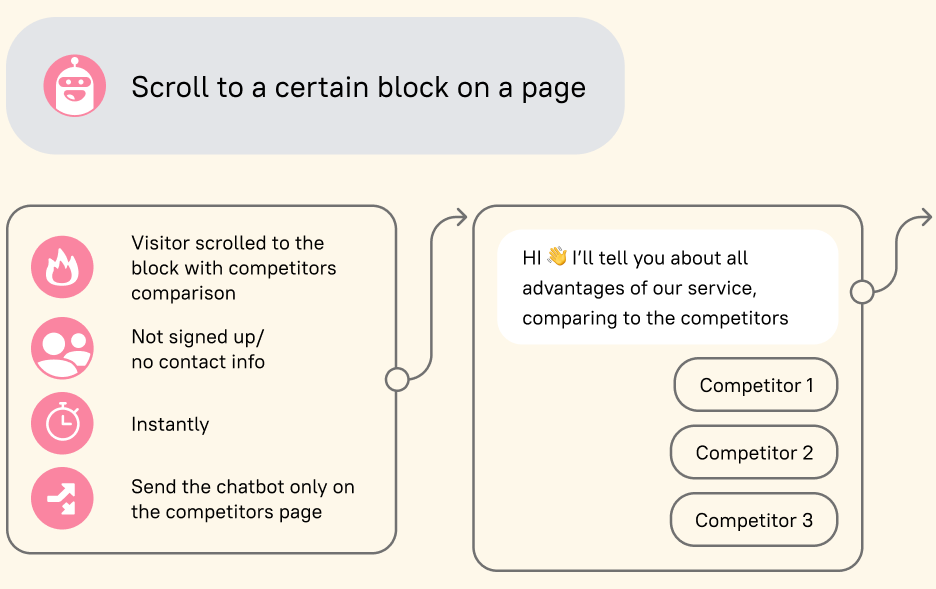 Lend a hand on the most challenging pages
In today's world, 88% of clients expect a company to offer self-service options. So, including this feature in your growth marketing strategy is crucial. Always provide potential clients with the opportunity to find answers on their own.
Enhance your client experience by introducing an FAQ chatbot. LeadGen App, a lead generation company, implemented a virtual assistant on their "HelpCenter" page to boost engagement and alleviate the workload for customer support agents. Here's what it looks like: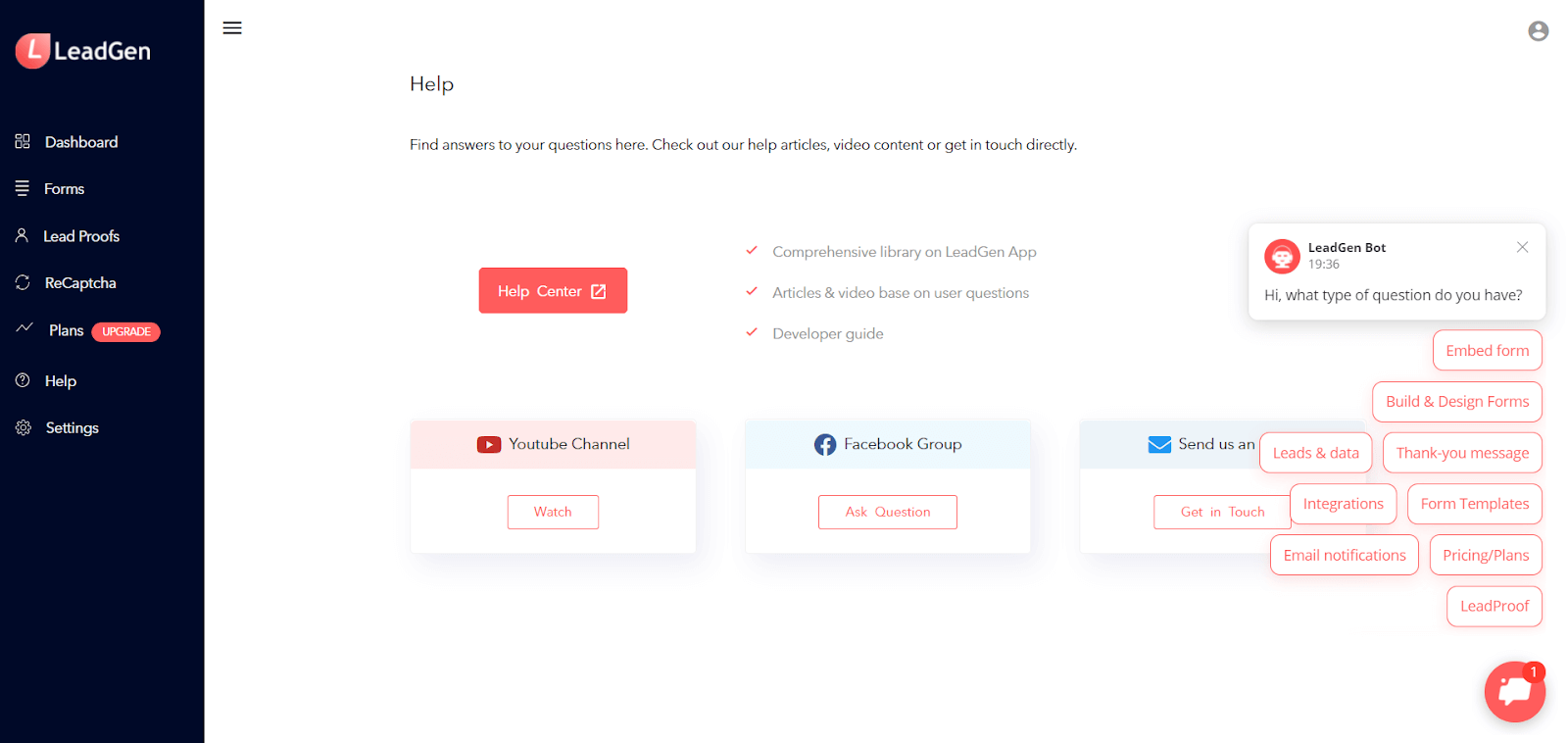 The chatbot swiftly addresses simple questions and shares tutorials and videos.
Pro tip: Integrate your chatbot with a knowledge base to share articles directly in the chat widget.
Within a month, 41% of clients interacted with the chatbot, nearly double the number of people who contacted a human agent via live chat. This customer support tool exceeded LeadGen's expectations.
Keep visitors engaged even when they're about to leave
Don't let any chance to engage clients slip by, even when they're planning to exit your website.
For instance, remind departing clients about a risk-free trial period to test your product without financial commitment. Another effective method to bring clients back is offering a free demo. No one can showcase your product better than your sales team.
Your growth marketing team can catch departing clients with pop-ups. Triggered messages can be a powerful tool in your growth marketing strategy.
Here's an example of an exit-intent pop-up for your marketing strategy.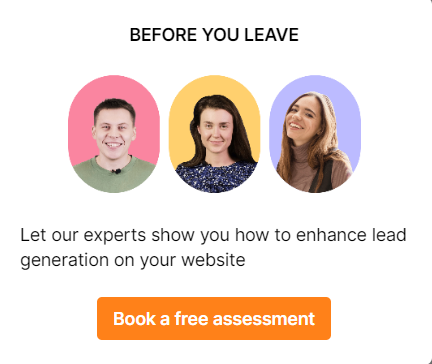 By the way, we provide a free growth marketing audit for your website 😉
The ideal way to regain client loyalty is by reminding them of your product's value and advantages over competitors. What sets you apart?
Get inspired with 100 growth ideas and boost your business development!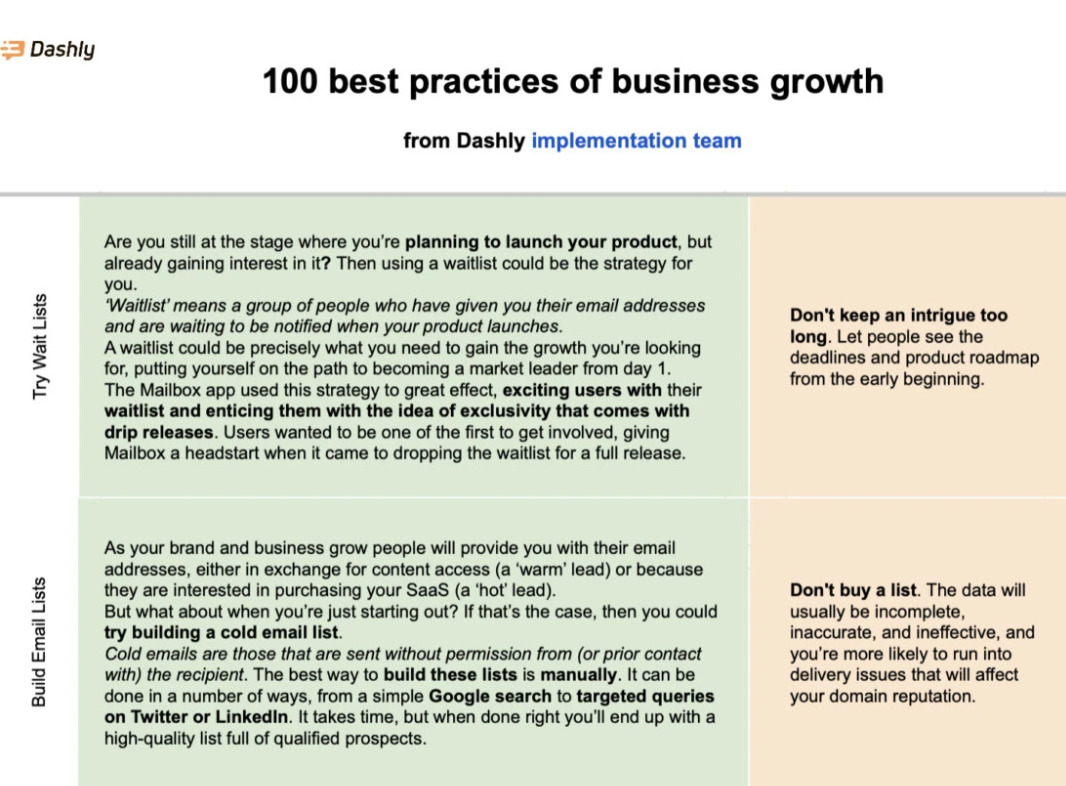 Re-engage dormant subscribers
A dormant lead doesn't signify the end of the road.
Send them a friendly follow-up email featuring your most enticing offer. This approach works well for those who enjoyed a free trial but later disengaged or clients who haven't visited your store in a while.
One of our clients, an online platform for Instagram growth, offered their inactive subscribers a free account audit via email. These re-engaging emails generated +$1.5k in revenue.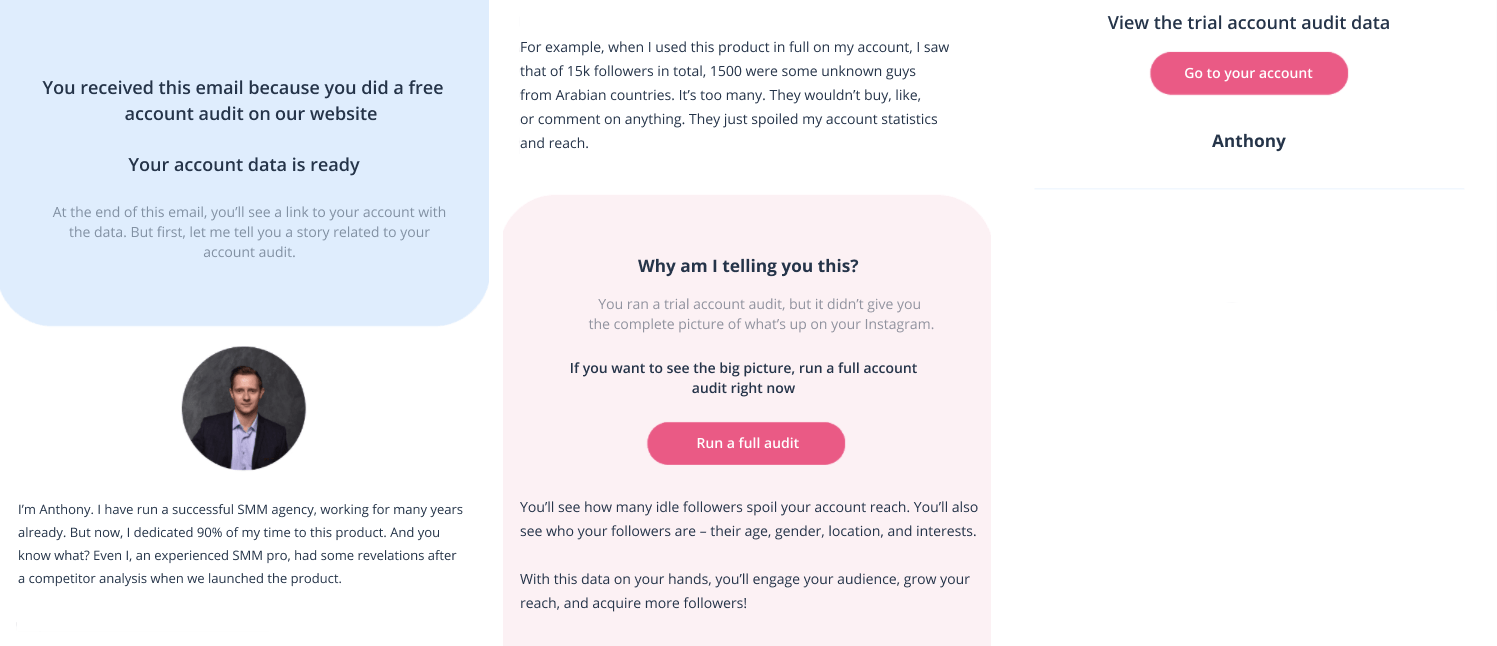 Reaching out to clients through email is among the most effective B2B growth marketing strategies.
Pro tip: Avoid bombarding clients with messages. One or two emails should suffice if they're genuinely interested in purchasing.
18 business growth experts you should follow this year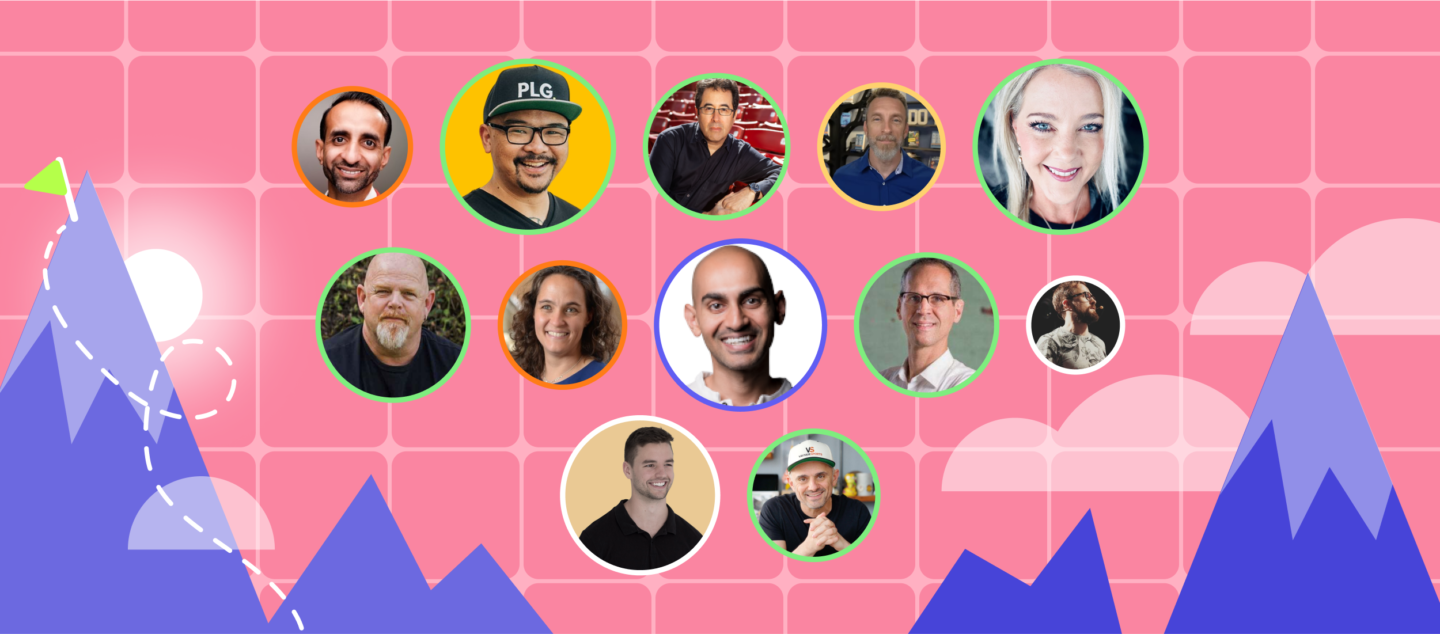 What are Growth Loops? How It Can Scale Your Company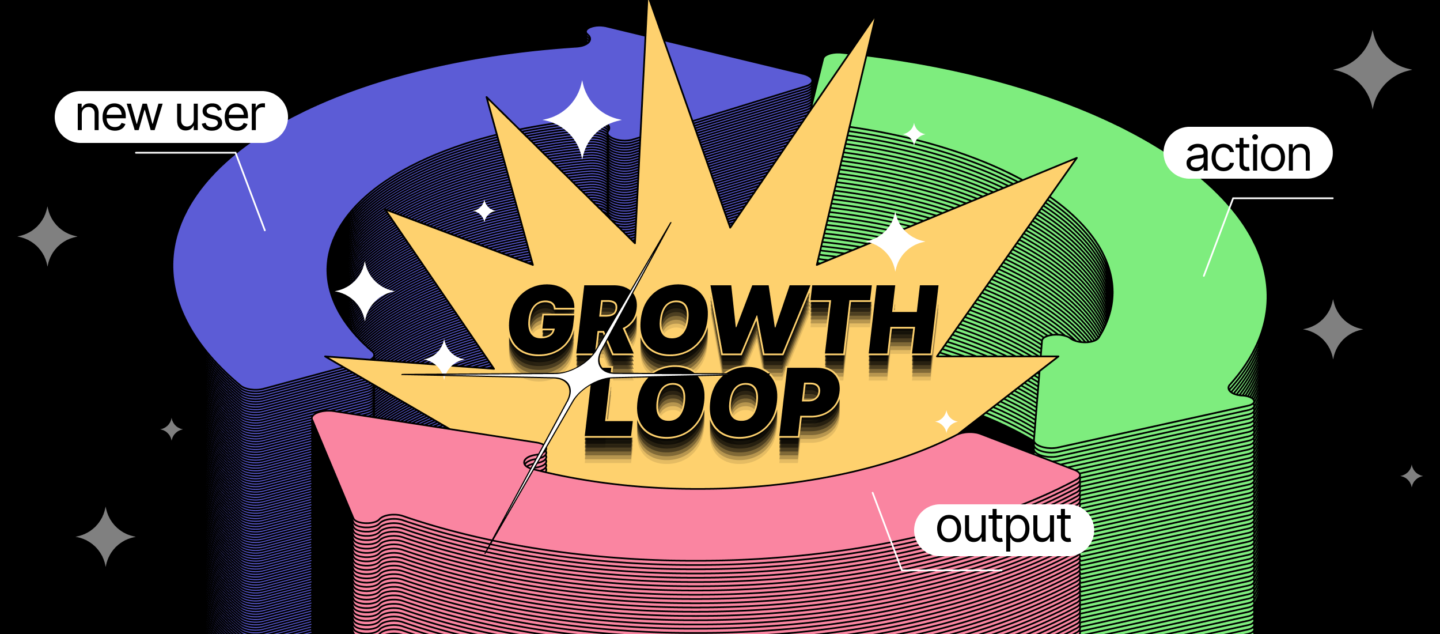 Product Led Growth Marketing: hack your product growth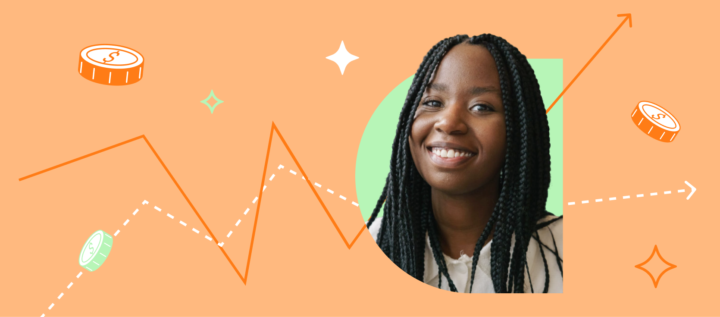 Stay visible with push notifications
They're brief, to-the-point, and keep website visitors and app users informed.
This feature is another valuable component of your B2B growth marketing strategy. If website visitors permit push messages, they've already taken the first step. Now it's your turn.
Special offers, sales, product updates — there are numerous occasions to remind clients about your brand and entice them back to your website.
Moreover, push messages are accessible on both desktop and mobile. Ensure your client service operates seamlessly at home and on the go. So there you have another instrument in your set of growth marketing tools.
Read also: A secret collection of growth marketing services Dashly team uses daily
Establish omnichannel communication on socials and messengers
Don't restrict your growth hacking strategies to just your website.
Initiate interactions in Instagram, Facebook DMs or assist via WhatsApp. All messages will be collected in a single inbox, enabling seamless omnichannel customer experience. Social media growth hacking tools will facilitate you in boosting growth.
How do these integrations function? Let's examine the Dashly example:
A customer DMs you on Instagram, mentions your account in their story, or reacts to yours.
This interaction is sent to your inbox as a message.
You reply to it in the same inbox widget.
The customer receives your reply in their DM on Instagram.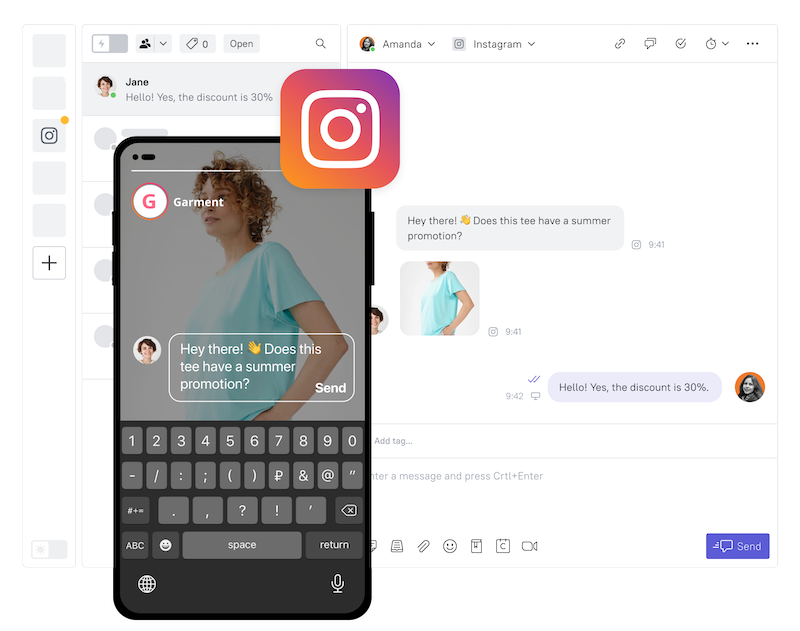 Alternatively, offer multiple communication channels yourself.
When someone visits the Dashly website, we engage them with a triggered message in a live chat. Afterward, they have four options: use the website widget or switch to Facebook, Instagram, or WhatsApp.
Here's what it looks like 👇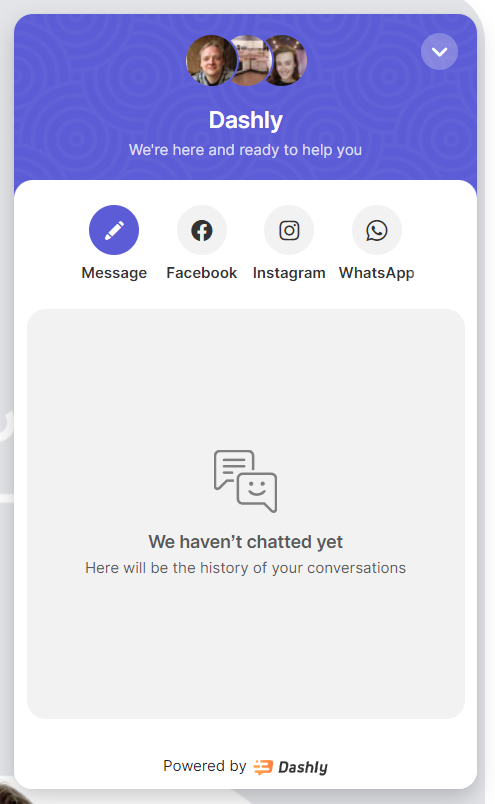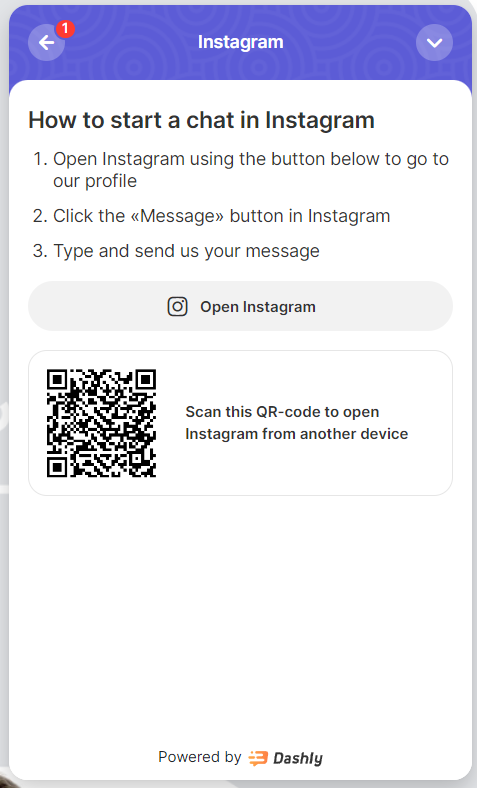 Sign up for Dashly to establish omnichannel growth hacking strategies for your business.
Personalize the customer experience by prioritizing their comfort and convenience. You can also check out these 22 growth hacking Facebook ideas for inspo.
Pro tip: For improved communication, choose a platform that integrates with socials and messengers, giving you access to a broader audience.
Remind customers about yourself with weekly newsletters
Share regular product updates and blog content via email campaigns. It's one of the greatest SaaS growth hacks for continuous engagement.
Dashly subscribers receive a new email every Thursday morning (or Wednesday evening, depending on your location).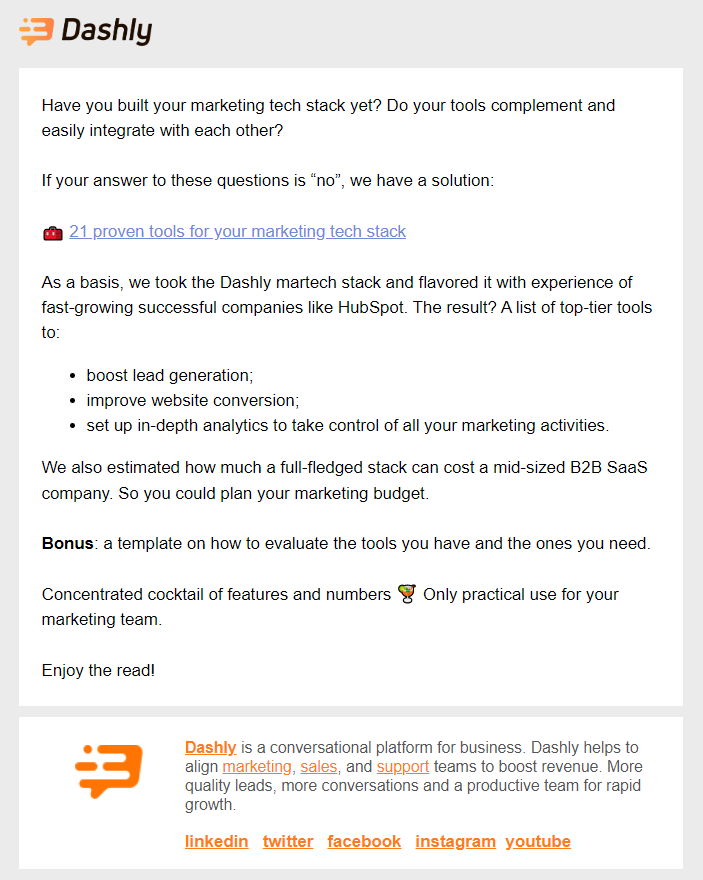 Enhance customer loyalty and product with customer feedback
Invite customers to test new, important features. Automate this process with a chatbot.
Launch a new feature (announced with a chatbot).
Collect feedback using predefined or open-ended responses.
Analyze customer responses to identify growth opportunities.
Voila! You got your food for thought, and customers engaged in developing their favorite product. 
Sign up to enhance your b2b growth hacking strategy with a chatbot.
Pro tip: Look for valuable feedback on social media, Capterra, and G2.
Read also: 25 Growth Marketing Books to Skyrocket Success
Include product recommendations in your growth hacking strategy
Returned customers spend 67% more than new visitors. Show them a relevant pop-up. Like this one: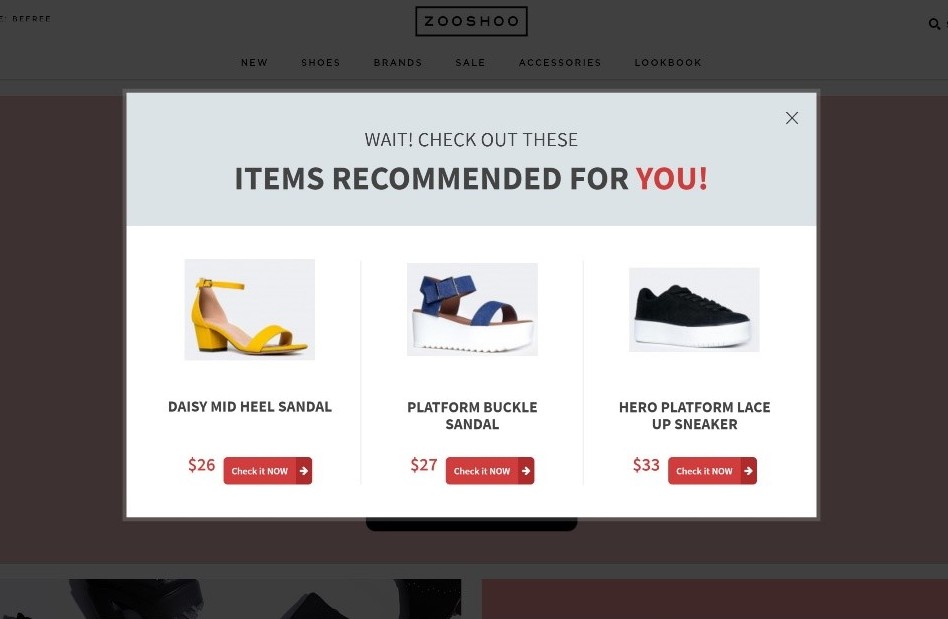 When customers complete their first purchase, encourage them to return. So, for example, if a girl purchases hills in an online store, she can find inspiration for her next purchase. 
Want more ideas for your growth experiments? 👇
Conclusion
The race is over! Ten tactics and just five growth marketing tools to activate your customers and level up your marketing growth strategy. I think we made Mr. Cruise proud.
Wrapping up, these are major tools that will help you create strong connections with your customers:
Push notifications
Start slowly, test hypotheses, and determine which growth hacking strategies work best for your business. Keep experimenting. Your race is just beginning. 😉
Read also: