There are billions of platforms, and no matter how good your UX/UI is or how good you planned your customer journey — users will always face problems with any of them. In every case, some users are dissatisfied with some features and need help. And I bet every company wants to build the best support and increase customer satisfaction metrics. 
This is why we decided to write this article. We've conducted research and found best practices that will help to provide the best customer support and hold as many users inside your product as possible. Let's go!
Maybe, you would rather watch this article? Check out the video below!
What is customer support?
Customer support is a service that improves the customer experience by providing help. 
The first customer support was a call center and occurred in the 1960s. This was when phones were widely spread, and companies started using this to help their customers. 
Then, in the 1990s, companies started using email as a customer support channel. Over time, the internet connection became world-spread and more convenient than calling by phone. 
Now, many companies use live chat to provide customer support. There is much software developed especially for these tasks and many approaches and tips. In 2021, companies need to understand how to use them to provide the best customer support. 
By the way, there are two ways of providing customer support:
Reactive — the customer support team reacts to the customer issue. When users write to live chat and ask how to set up the integration and your agents' answer — they provide reactive customer support. This is an essential part because not all users pay attention to manuals and guidelines.
Proactive or predicting customer issues before they appear. A narrow subset of the customer experience that provides proactive help is customer service (we'll talk about this a bit later). For example, proactive support could be sending messages to a customer at every stage of the funnel and providing some tips for a better experience. Proactive customer support is an essential part, as users will feel your care and are more likely to be loyal to your company. 
By the way, about 90% of American adults expect proactive customer support from companies.
Why does a business need customer support? 
It improves the customer experience and increases the possibility of making a purchase.
Imagine a typical office worker Tom. Recently, he decided to work from home. He needs to organize his workplace and buy several items: a laptop, a table, and a chair. Tom already purchased the table and the chair, but he still needs a computer. The research has found four shops where he can buy a laptop. 
Having opened the first shop from the list, he started placing an order. Everything was OK, until the moment when the technical issue appeared. Luckily, this happened before a payment. Although, he entered all the personal data and wanted to finish the order placement in this online shop. 
Tom decided to write to the support center. He described a problem in detail but didn't get a response — neither in one hour nor two days. Tom has to wait until he realized that there wouldn't be a response — and he's gone to this shop competitor. Do you feel this?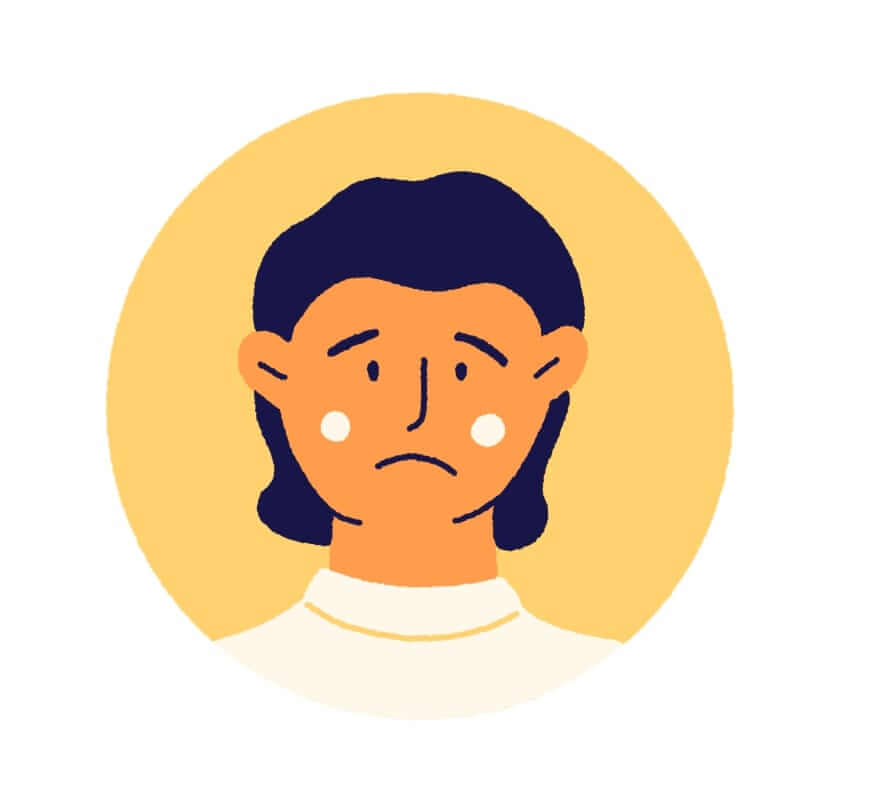 In case the customer support team of this shop replied to Tom, he would finish the order and give them money. And I bet Tom is not the only one who refused to buy from this shop because of the customer support quality. Could you imagine how much revenue this shop has lost? 
Take a look at these infographics: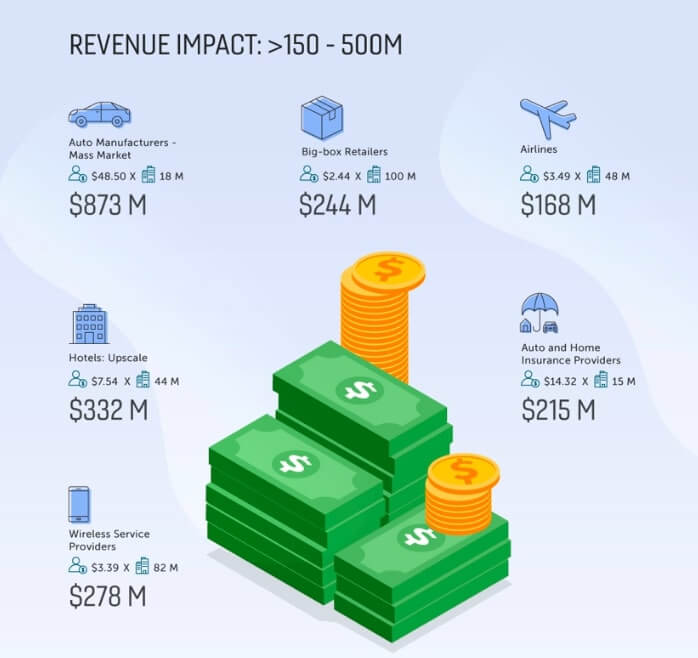 This is how good customer experience can affect the annual revenue in different industries. Here is some more: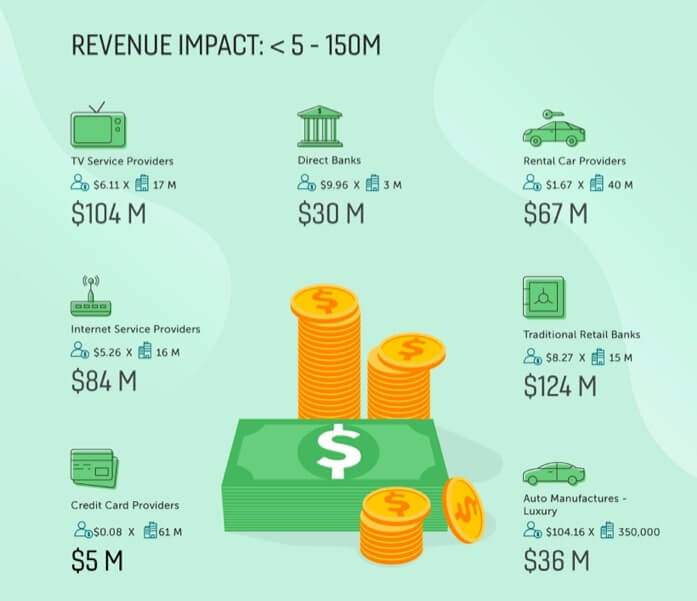 As the majority of companies set gaining more revenue as the primary goal, I guess there is nothing more to explain.
Customer support vs. customer service
These definitions are often confused. 
Customer support is usually a one-time reactive interaction that requires answering simple questions such as technical issues. A deep understanding of the product isn't a must for an agent to provide good customer service.
Customer service is about long-term proactive relationships and a wide range of questions the agent can cover. Customer service is about supporting and educating through all phases of the customer journey. It might include billing issues or GDPR concerns. So, the customer service helps get the most of the product. It and guides users throughout the entire journey and helps them get the most of the product.
Remember Tom? In this situation, the customer support manager's task would be to give manuals or instructions on how to get around bugs. The customer service task will be to follow Tom throughout his journey — to ask whether everything was OK, and he received the order, help choose the next item, and so on. 
Customer support vs. customer success
The main difference is that customer support is reactive, while customer success is proactive. 
Customer support works only after the problem appears, while customer success's main task is to avoid issues at every stage of interacting. 
Let's get back to Tom's example to make it more clear. In his case, the customer support manager's task would be to help with the payment issue — finish the transaction. The customer success manager's role would be to conduct an interview with the user, understand how the issue appeared, and pass the task to developers to prevent this problem in the future. In some way, customer success managers reduce the number of requests for customer support managers. 
Tips for best customer support
In case you're just starting customer support, you need to know some nuances. 
#1. Don't use complicated terms
This is an obvious tip, but many companies still make this mistake. When the user doesn't even understand what you're talking about, they will get almost the same experience as if you're not talking at all. The clear and personal conversation will make the user feel your care. They'll be more likely to forgive mistakes and stay with you for long.
For example, there may be two options of telling that you've received the order but can't send this right now for some reason. Let's take a look:
Bad: 
Hi!
We've received your inquiry on order number #12345, the item: Seagate Portable 2TB External Hard Drive Portable HDD — USB 3.0 for PC, Mac, PS4, & Xbox — 1-year Rescue Service (STGX2000400). This will be available in the store from February 15. Please save the order number and repeat the order on February 15.
All the best, the shop team.
Good:
Hi, Tom!
Thank you for your order. Unfortunately, the Portable Hard Drive you've ordered is unavailable in our store, and we can't deliver it to you. The closest delivery date is February 15. We'll write to you to make clear if you still want to make this order.
In case you have some questions, just reply to this email, and our customer support agent will help you.
All the best, the shop team.
The second example is easily understandable, so you'll increase the probability that the user gets what you are talking about.  
Get the Customer Support Ultimate Guide
Got It! Check Your Email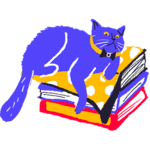 #2. Offer self-service
Self-service is a system whereby you can provide support without the involvement of a representative from your company. A customer will find a solution for their problem on their own — in the knowledge base, in articles, in FAQ, and so on. 
Why do companies and customers prefer self-service?
First, you need to consider that 75% of the users prefer self-service over messaging to the customer support service. However, there are several more reasons why more and more companies move to self-service:
It takes much less time than human interaction — users can find the answer on their own and don't need to wait until a customer support agent can answer. 
It reduces costs for a company. You'll need to hire fewer customer support agents because they'll need to answer only complicated issues. 
This is available 24/7, while agents are not.
So, how can you set up customer service in your company?
FAQs. This is one of the most popular and, at the same time, most straightforward ways to provide customer support. You need to collect questions from your customers and write a detailed answer to these questions. Don't forget to use screenshots to make the explanation more clear. 
Knowledge base. This is a collection of articles that include FAQs, how-to tutorials, videos, and so on. A well-structured knowledge base can help your customers and your agents as well — they will more quickly find a solution. 
How to create a knowledge base? For instance, you can use Dashly 😉
Free consultation with our specialists: get more leads collected in 30 minutes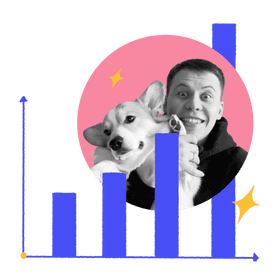 Log in to Dashly and move to the Knowledge base section.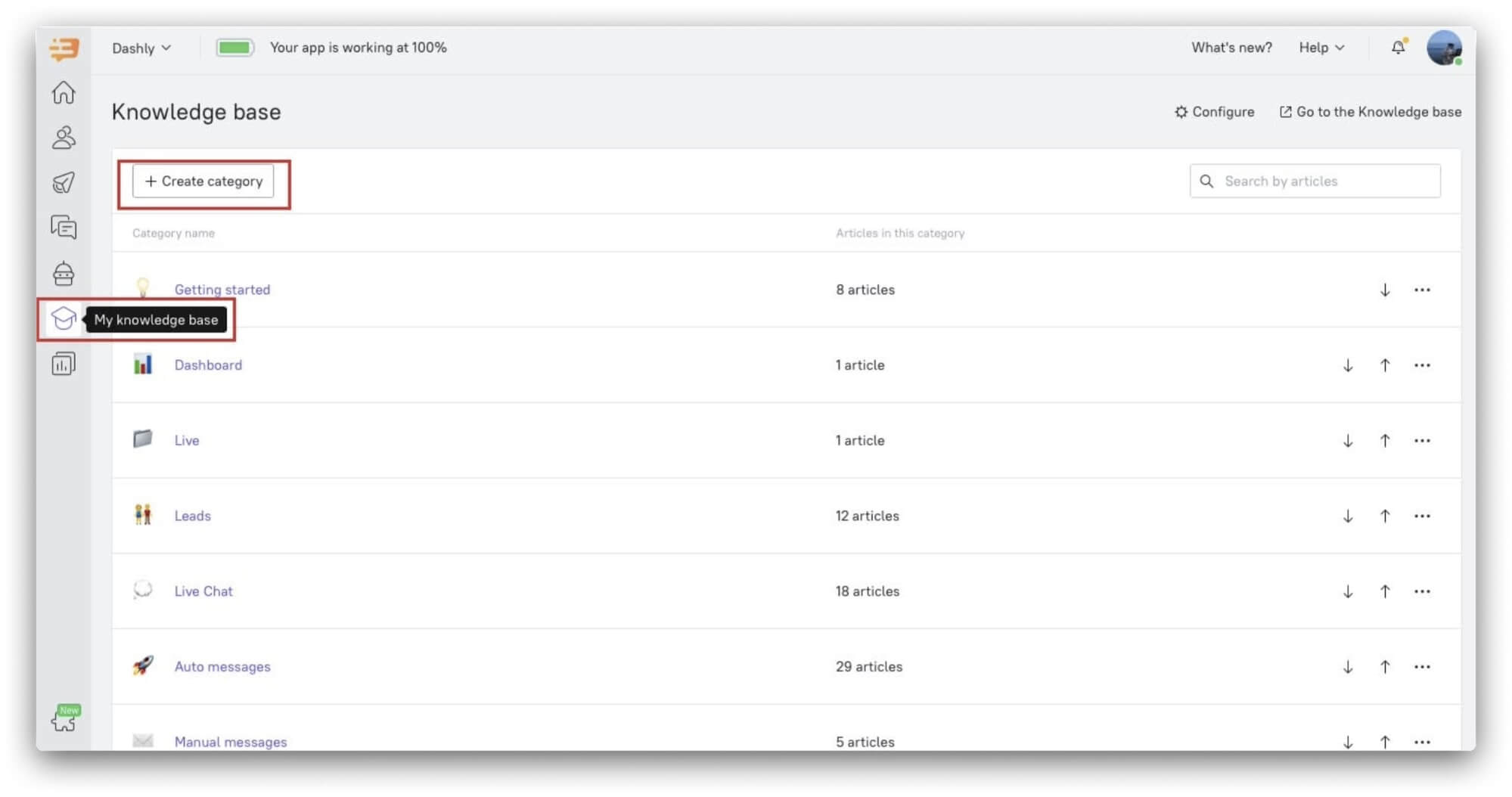 To create new articles, you need to create a new category first. 
Then, choose the category, click Create a new article, and start writing: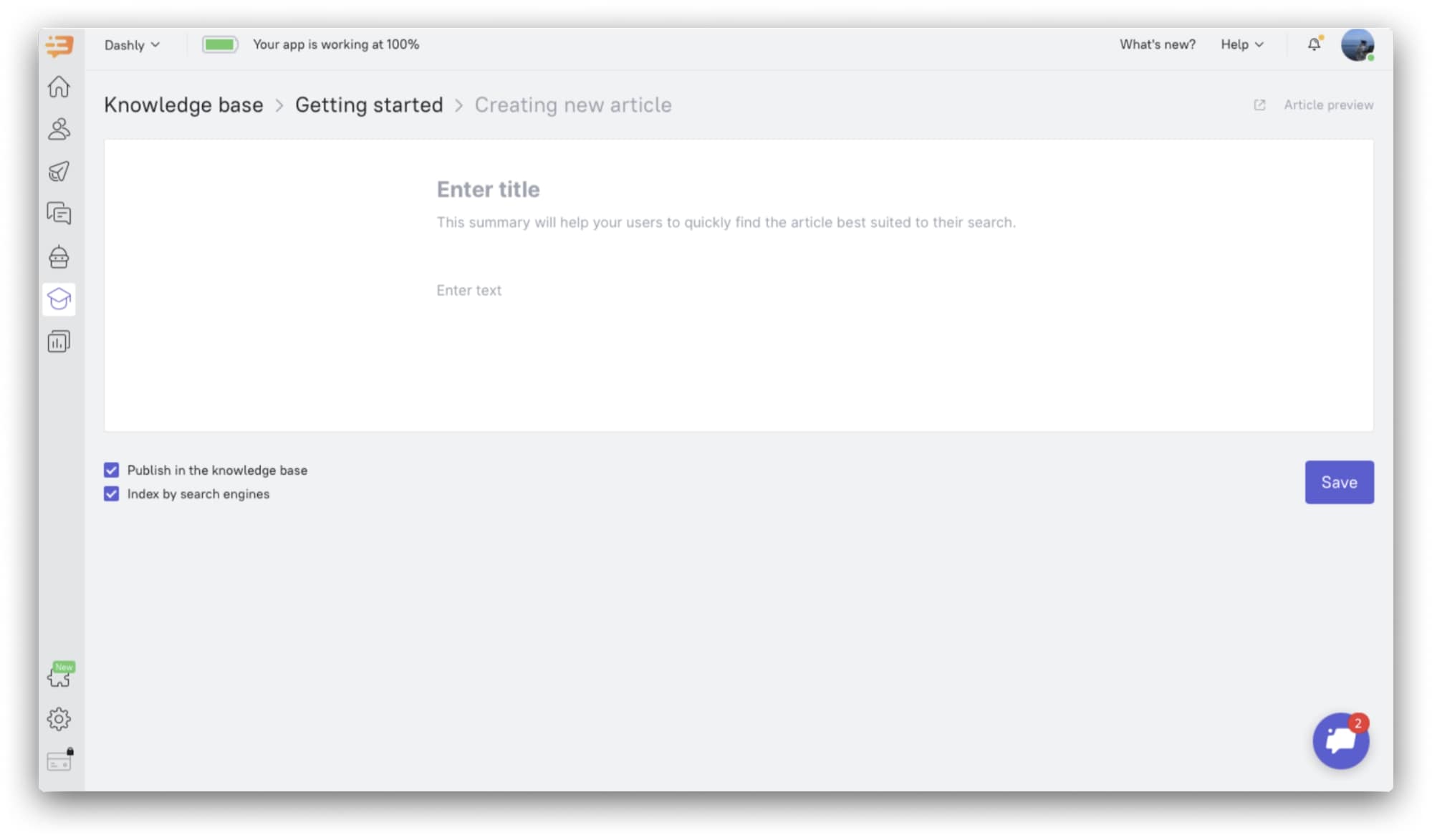 When chatting with users, agents can simply click the "Knowledge base" icon, pick an article and share it with a user right from the conversation window. Read more here.
#3. Saved replies
This is about saving time resources.
Many agents often receive repetitive questions. It takes a lot of time to type the same answer several times. Another problem is that users have to wait for this reply, which affects customer satisfaction. This problem's possible solution is to write down the most popular answers in Google Docs or notes and operate this whenever users ask typical questions. This is not the same as FAQ — not all the users are willing to read them and prefer asking for support. 
By the way, in Dashly, we have a solution for this. You can create saved replies and paste them right from the conversation. There is no need to switch browser tabs or open a new doc — just choose them directly from the live chat and send it to the user. 
How to configure Saved replies?
Go to Dashly Settings and choose Saved replies. Then click on Add saved reply.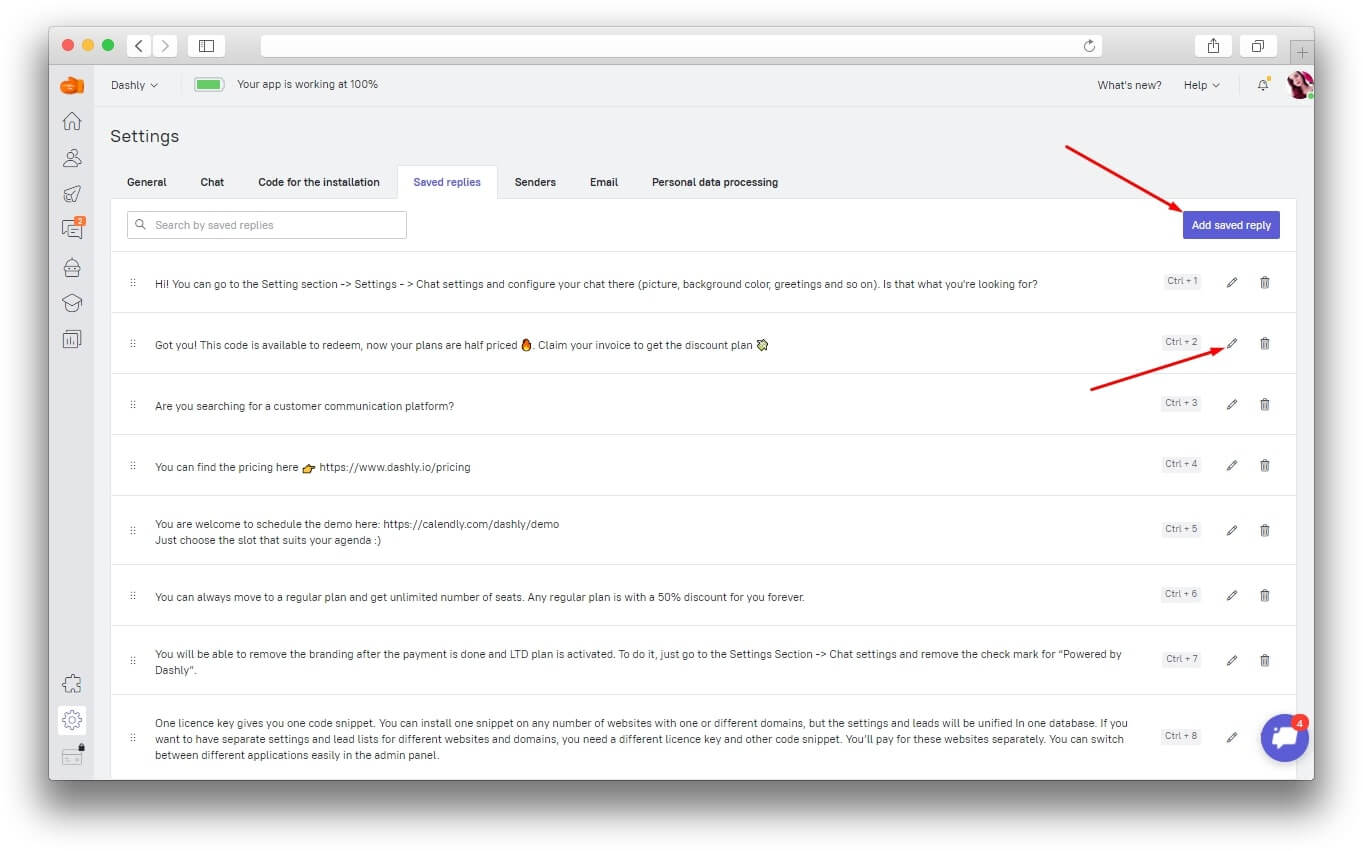 Now you only need to fill out this form.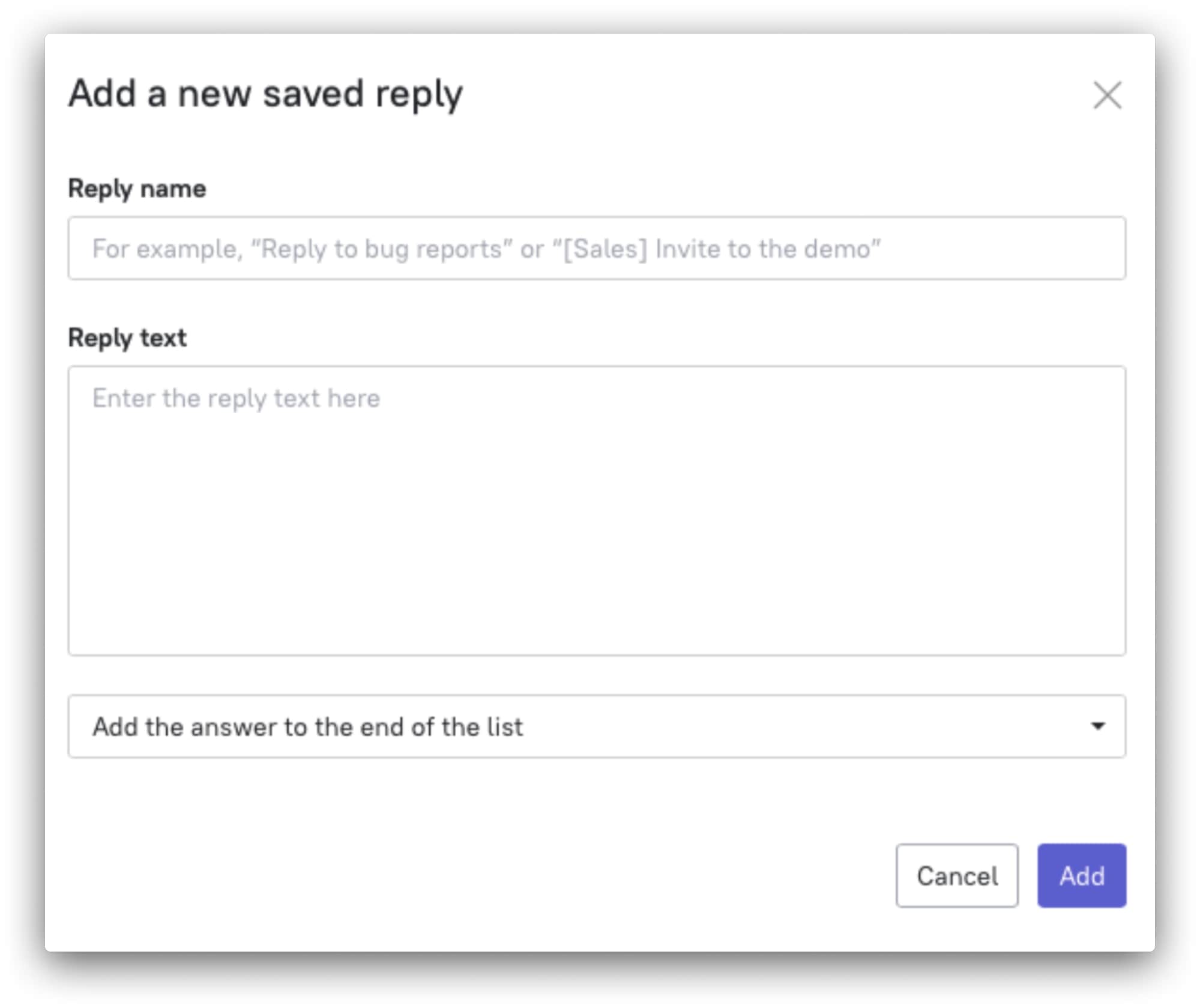 Bingo — you've just saved lots of time for your agents. Learn more about Saved replies here and try them out here.
#4. Chatbot
This is also about saving time and resources for your customer support team. A chatbot is a virtual assistant that helps to automate simple processes like lead collection or qualification. This reduces the workload on customer support managers, and they can work on more complicated issues. 
A chatbot is a perfect solution for cases where customers ignore manuals and ask customer support all the questions they've got. The chatbot will answer the simplest and the most common ones and free us agents' time. 
How to set up a chatbot?
You can use Dashly;) 
To set up a Chatbot, enter the Dashly admin panel, move to Chatbots. Then click on Create chatbot.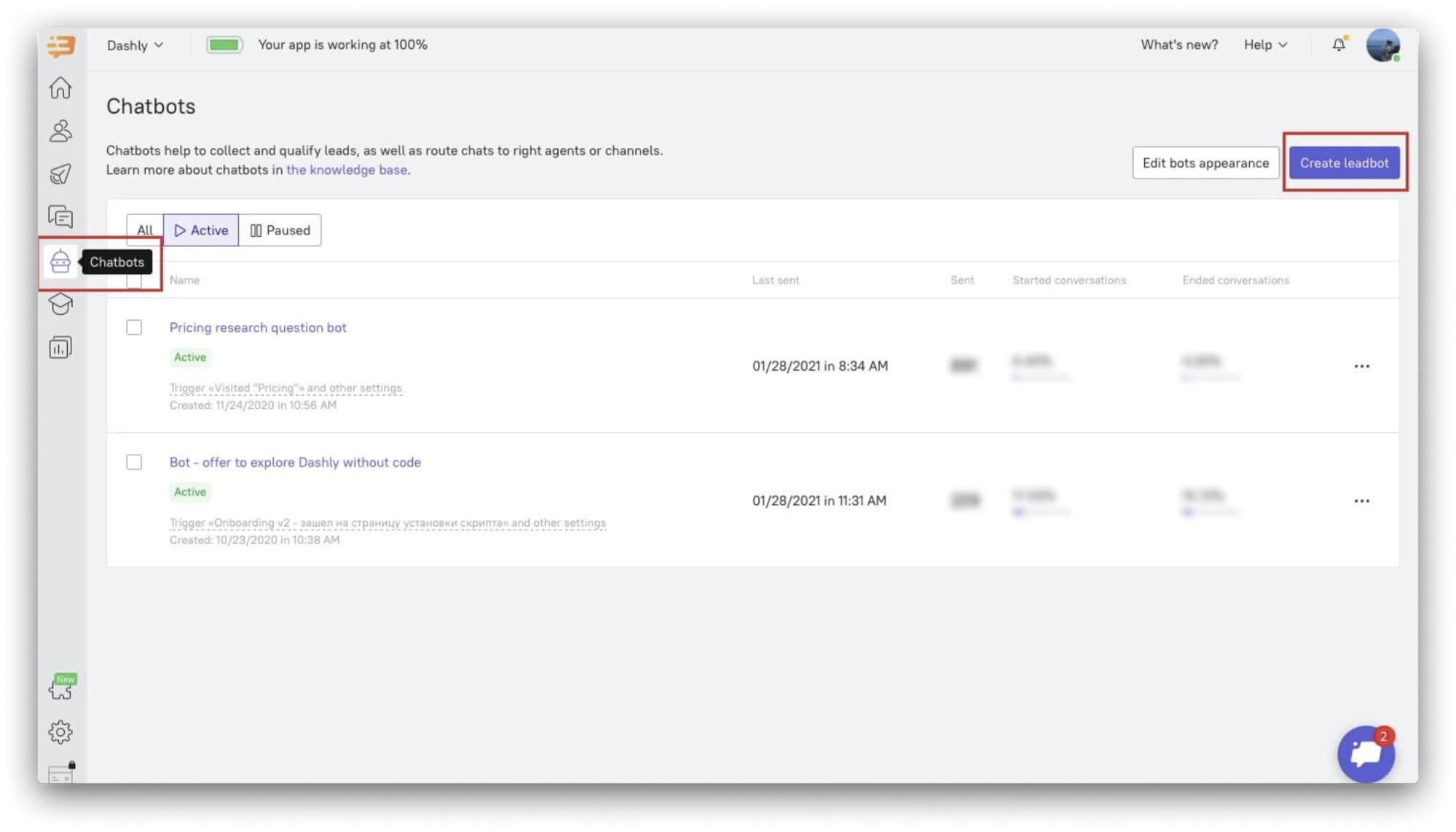 Once you start creating a new chatbot, you will see some default settings as an example: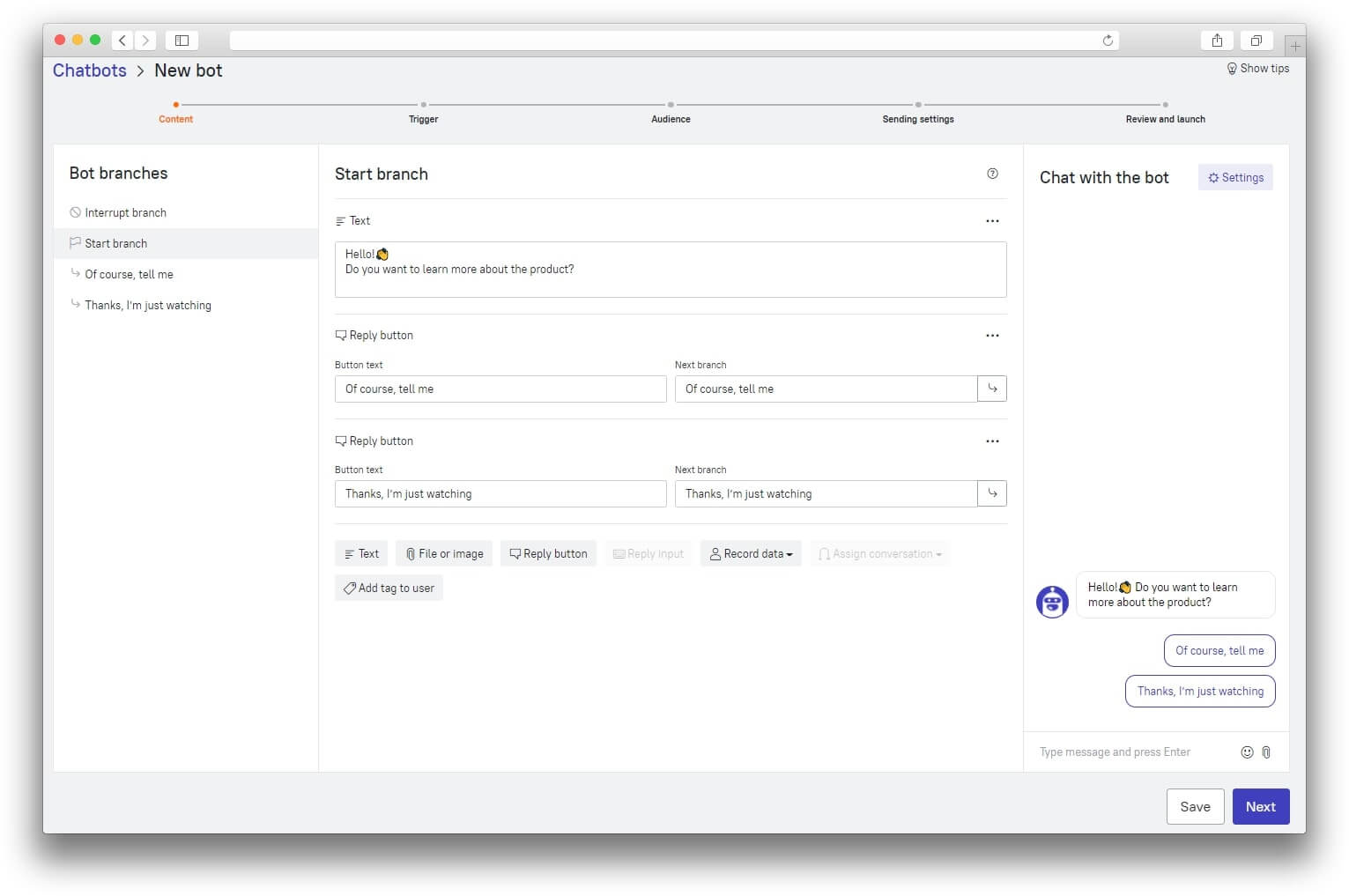 You can edit this anytime. 
The "Bot branches" section shows the structure of your bot. Every branch is a separate bot message. Once you set any action to the branch, there will appear the new bot branch. The number of branches for every bot is unlimited.
Here is how the bot with multiple branches will look like: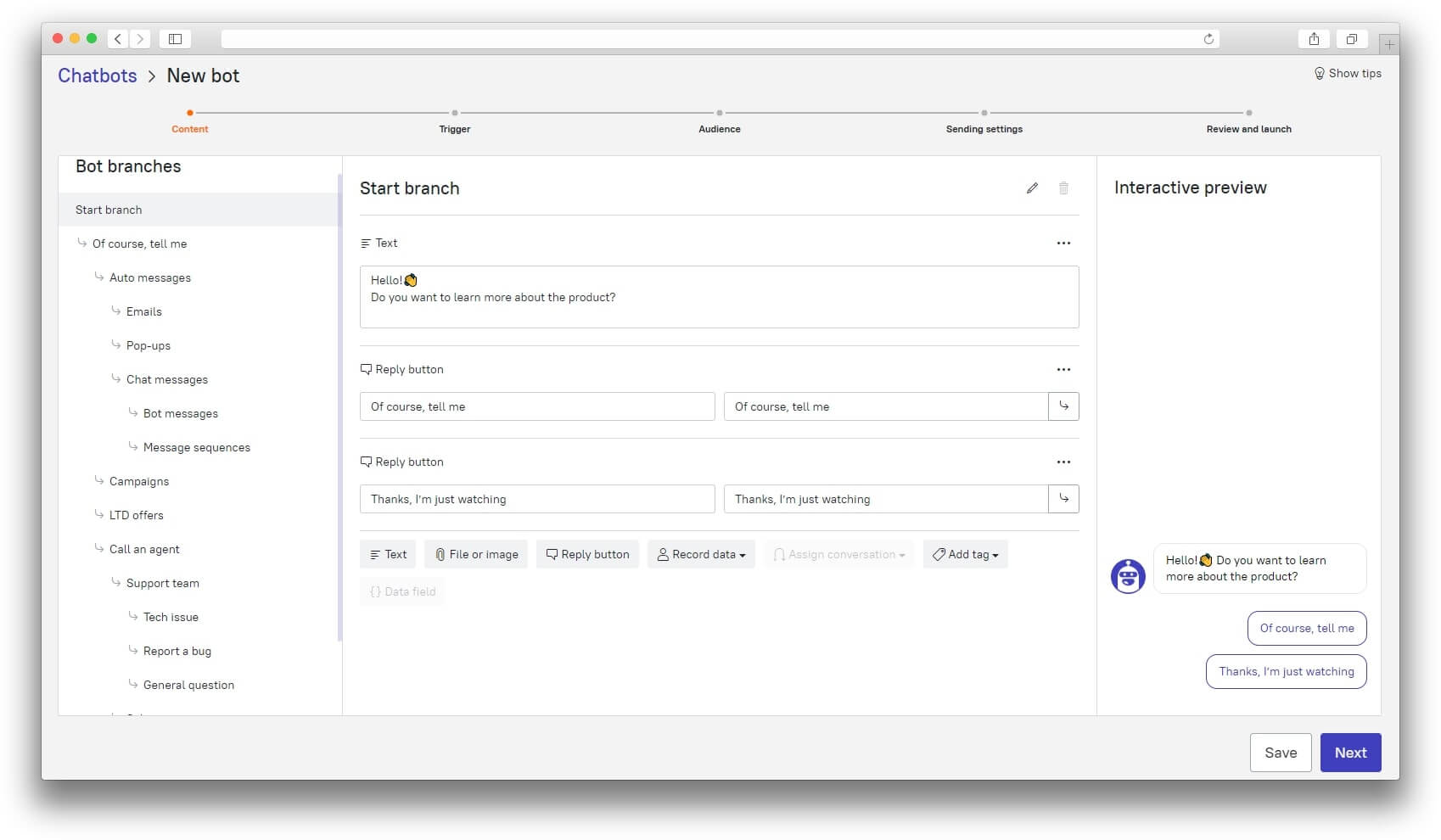 Then you need to set trigger, audience, and sending settings — just like with any other type of triggered messages. 
Learn more about chatbot setting up here and try to create your own here.
#5. Don't put personalized support by agents under automation
There are many ways to automate support. Automation is the right solution for repetitive tasks, such as notifying a user about non-working hours. For example, this is how we use automation in a live chat:

How we notice Dashly users about non-working hours through auto message
But sometimes, auto-replies can spoil the user experience and may them refuse your product. Sometimes bots don't understand a user's request and send them useless replies: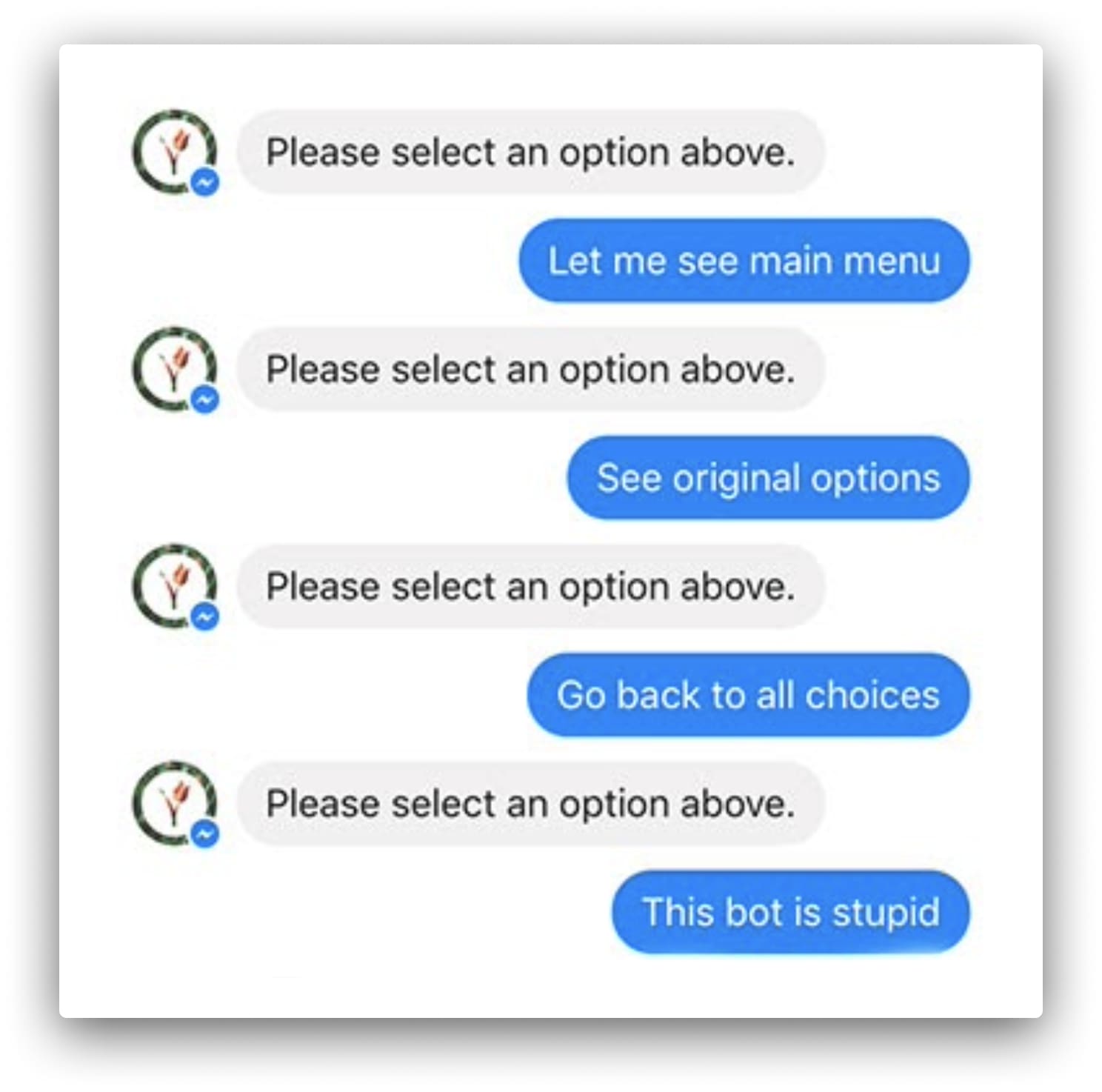 The user experience is screwed up; a customer will go and probably never get back. In such a case, it would be better to call a support agent. They would give better personal experience than any artificial intelligence.
#6. A call may be better than spending several days chatting with a client
Sometimes there are situations when explaining something through the chat may take several hours or even days. 
The customer support manager may tell about some issues. But the wording will not be apparent to a user, and they will repeatedly ask about the same problem. Anyway, sometimes it's better to suggest a call rather than explain this by text.
In Dashly, we have a rule — in case some issue takes over 30 messages to discuss, you need to arrange a call and discuss this in Zoom.
You can use this rule for customer–agent relationships. A short call will allow an agent to show how to resolve the question or give a more precise explanation. This will be rather more convenient both for an agent and a customer and may help to save the nerves of a user and agent. 
By the way, you can connect Zoom integration to the Dashly live chat and send invitations right from the chat
All you need is to move to Integrations, and click on Zoom integration: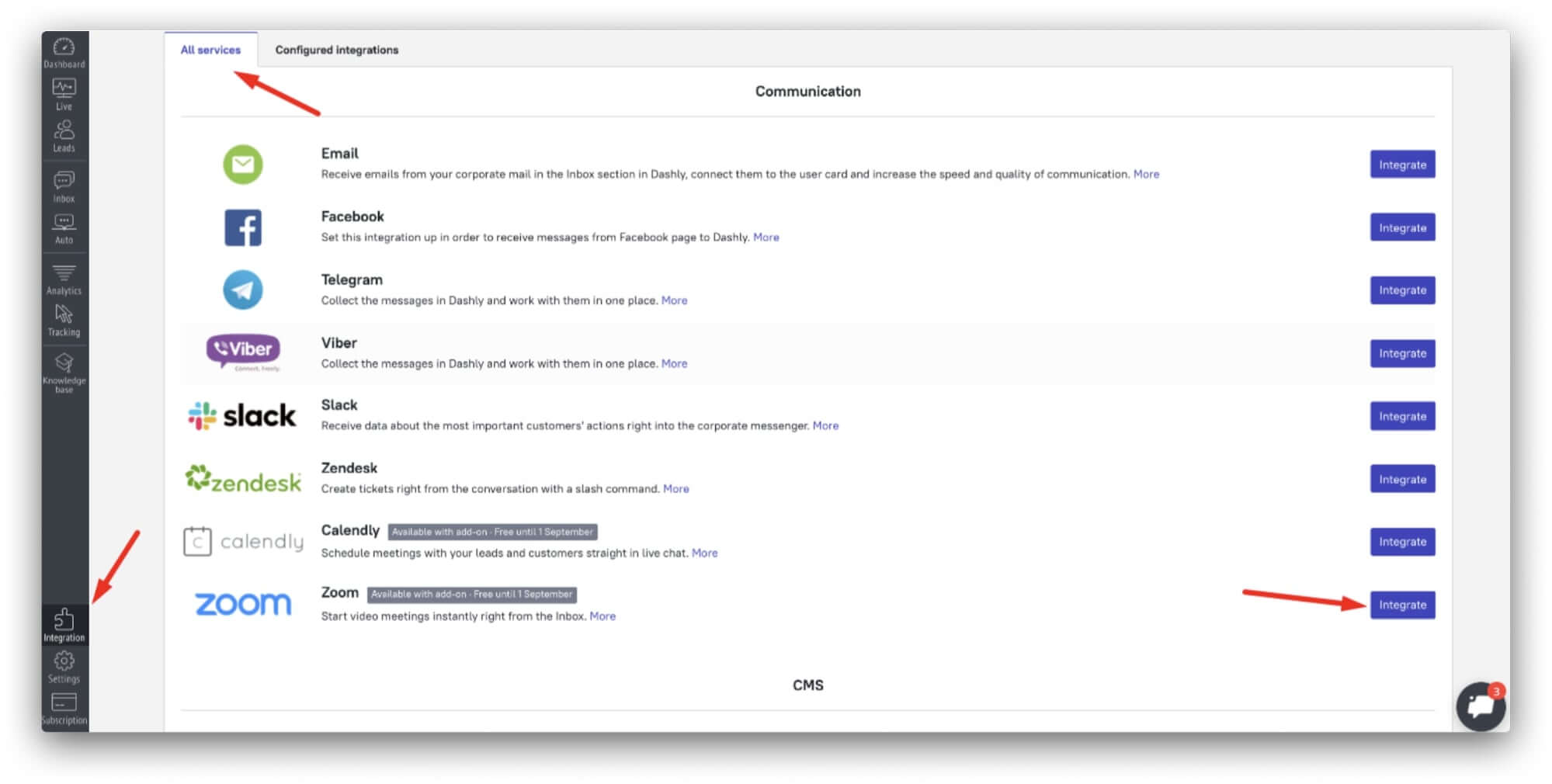 Then, follow instructions. See more about setting Zoom integration up here.
#7. Measure success
Customer support metrics can help you understand whether your agents work well. It doesn't matter how strong your trust is with your agents, and It's always valuable to get feedback on numbers and stats.
There are several metrics you can use to evaluate your customer support team's work. Here they are:
Customer satisfaction score (CSAT)
This is one of the most popular metrics. All you need is to directly ask your clients if they liked your service or not. CSAT is measured on a scale from 1 to 5, where five is satisfied, and one is entirely dissatisfied. Then you need to use this formula to calculate your CSAT:

Churn rate
This is the number of users who left during the given period. Below you can find a formula for churn rate calculation:

Note that the churn rate is different for different industries, and there is no universal benchmark for everyone. 
First response speed
This is the time that your agents take to reply to users' questions. This is a crucial metric, as it can directly affect users' satisfaction. The longer they need to wait, the less they'll be satisfied with your service and product. 
The KPI on agents' response time varies. For example, here is the average response time by industries from the Live Chat Benchmark Report 2020: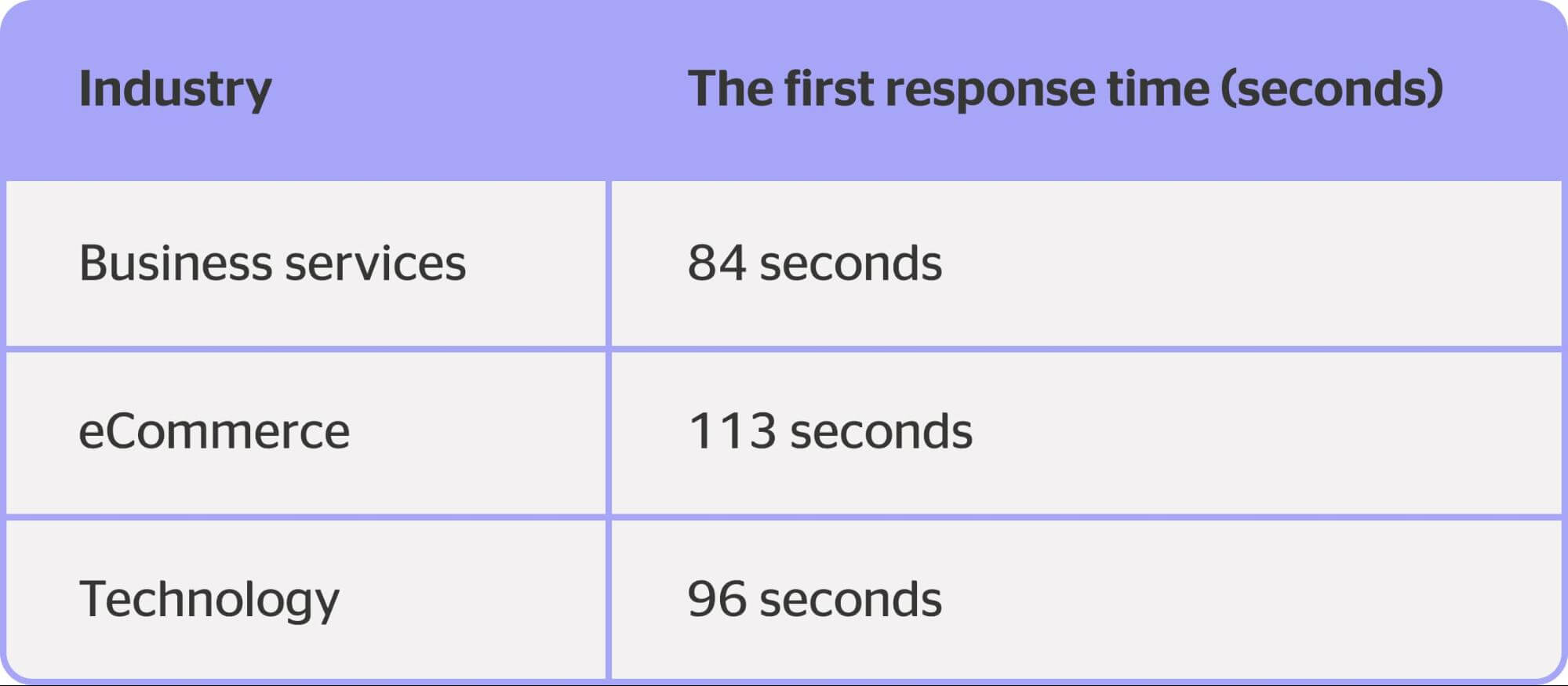 Average Handling Time (Resolution time)
This is the average time an agent spends on resolving a customer's issue. Here is a formula to find AHT:

Where:
Chat time is the time spent in the support channel.
Follow-up time is the time spent by the agent on resolving the customer's problem (e.g., searching for the answer in the internal knowledge base).
The number of requests is the total number of people written to you during a given period. 
#8. But don't put them under the real value you deliver to a customer
Sometimes agents forget about real customer satisfaction and only focus on metrics. Therefore, they don't help users but — according to metrics — provide the best service. 
Recently I wanted to transfer money from my bank account. The bank app showed an error, so I decided to ask a support center for help. I have recorded a screen video and sent it to chat. I received a standardized reply too fast, so it was evident that an agent didn't even open my video. And the response didn't help me resolve my problem. There might be several reasons: low qualification, heavy workload, or strict KPIs that agents need to follow to get a higher salary. 
Metrics may lie. Your agent may spend more time on question resolving, but they will help a user. Vice versa: your AHT maybe 2 minutes, but customers won't get an answer and won't feel your care and will leave. 
Ask yourself a simple question: what is more important to you — deliver more value or show ideal customer support metrics? 
Metrics can help you to understand whether you're doing well by comparing your metrics to industry benchmarks. Later, they may help you to fix the progress. But you don't need to believe them without understanding whether you give clients real value or not. 
Some more tips from our support team…
Xenia:
We have a conversations allocation — this allows us to distribute conversations between your competent operators and keep conversations in the correspondent channel. Different teams may work with different requests, and conversation allocation can help to keep everything in order.
Sergio:
Remember that in addition to resolving a particular user's problem, one of the most critical tasks is understanding why this pain appeared — why users didn't find an answer by themselves or why an error occurred.
Conversations with customers are a perfect chance to get valuable insights to fix some processes, customer journeys, or bugs. This will save lots of time for your team in the future.
Xenia:
We add small notes right in a conversation. Users can't see them, but when another agent opens this conversation, they see this note and quickly get the context.
Instead of a conclusion
Customer support may have a direct effect on your retention. The more effort you send to customer support, the more customers will feel your care and stay with you to the ends of the earth. Remember about this every time you have a new request in your customer support.