This year, WhatsApp's active user count reached 2 billion.
So far, over 50 million companies worldwide use WhatsApp for Business, and Facebook's doing its best to facilitate enablement and implementing other improvements for small and medium-sized businesses.
Facebook's intent to develop their business segment and the popularity of WhatsApp prove that this media is a high-potential tool for customer communication.
We merged Dashly's live chat with WhatsApp and other messengers. You can see messages coming from different channels in one inbox, talk to your customers, and close deals.
Collect customer contacts in one platform, not your employees' phones
With WhatsApp unintegrated with your communication channels, your employees have to use personal phones to talk to customers. This approach is risky for some reasons:
Your customer base is disorganized, chats are in different places, and you don't know the funnel stages of your customers.
If your sales rep resigns, you'll lose your customers and the chat history as they will only live on that person's phone.
You can't control the quality of communication. How quickly do your agents respond? What are they selling? How do they approach customer support? You simply cannot tell.
For complex issues, agents start new chats with other colleagues, and some information is simply diffused and lost.
You can't control the reply time. Customers often ask repeated questions, and WhatsApp doesn't have tools for covering frequently asked questions and reply templates.
Personal communication is mixed with work messages. Agents react slowly and burn out.
If customers text WhatsApp, live chat, email, and Telegram, agents switch between apps and confuse conversations.
The larger the business, the more critical these risks are. Use one platform to manage all communication, grow sales, and acquire more loyal customers.
Read also:
15 best lead generation services to grow your base in 2023
The 36 statistics on how chatbot for businesses grow your revenue in 2023
The secret weapon of your competitors or Why you should focus on customer service first
The official integration with WhatsApp Business API
Enable the official WhatsApp business account and collect messages in one place using the integration with Dashly.
Agents respond from the company account, not their personal phones. You can manage access rights, quality, and response time. Customer contacts and conversation history are not going anywhere. If your agent resigns, you can simply revoke their access to Dashly and that's it, your customer base is safe.Your agents won't have to give up their phones and be stuck at their desks with laptops. With our mobile app, they can chat with customers on the go. The only difference is that all messages stay in one app. If you don't have the Dashly app yet, download it to your iOS or Android.
All messages in one place
We now also have the official integration with Instagram. Using Dashly, you can keep and manage all channels — live chat, Facebook, Instagram, Viber, Telegram, email, and Whatsapp — in one inbox.
You can assign conversations to different agents or reassign complex requests. All chat history will be saved and available.
Make notes on users for other agents right in the conversation window.
Track the average response time, agents' workload, and frequent requests using conversation analytics.
If you have a mobile app, implement Dashly there as well. Your customers will be able to reach you via the in-app live chat or follow the links to their favorite messenger. The integration with WhatsApp is also available in Dashly for mobile apps.
Read also: 17 Zendesk alternative services and 13 live chat alternatives to try this year
When can you respond to users or text them first?
You can send order statuses, review requests, or promo offers to selected numbers. These messages are called an HSM template, and you should get approval from WhatsApp to send them. The approval usually takes a day. The HSM template is generated on the provider side but is not tracked in Dashly yet. Each HSM message delivered is billed separately on the WhatsApp side — you pay to the provider.
If a customer replies to your message or texts you on WhatsApp, you have 24 hours to talk to these users without limits. See why speed and quality matter so much? With this rule, WhatsApp is free from spam and unwanted messages.You can post your number or a link to your WhatsApp account to encourage users to reach you instead of sending them paid HSM messages. Don't forget to post the link next to the chat widget on your website: just check the box in live chat settings and set your number.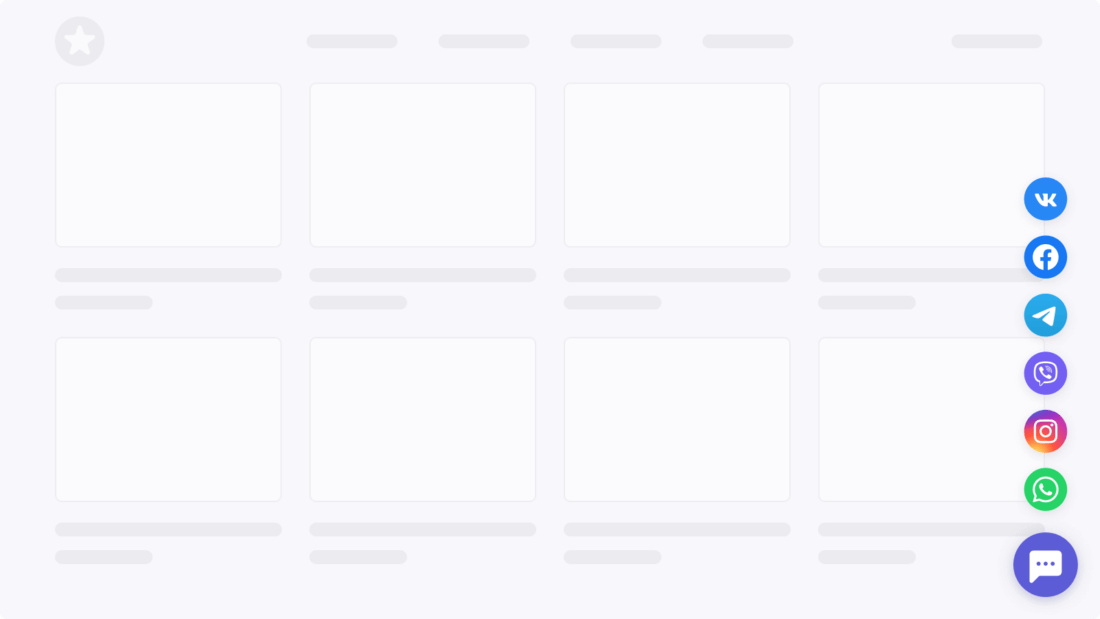 Don't be afraid of getting your business account blocked
We're working with the official WhatsApp API via Edna provider. With this integration, you can feel safe as all sides abide by the messenger terms of use.
Unlike shady schemes, the official integration is more stable. All messages are immediately delivered to your agents; they don't disappear due to poor connection or other reasons.
You can start using the WhatsApp Business API after getting WhatsApp's approval (Facebook). Our partner will help you get it.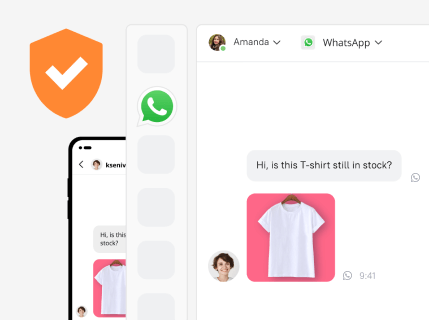 By the way, only the official integration users can get the Verified business account green badge. Keep in mind, however, that Facebook sets strict account requirements and the integration enablement doesn't guarantee a badge.
Read also: 10 conversion rate optimization tools to enhance your funnel and boost revenue
Enabling the integration
It's easy:
Sign up to Dashly.
Go to Integrations and find the one with WhatsApp in the list.
Follow the special link to the provider website and connect your phone number to the WhatsApp Business API.
Set your phone number with the WhatsApp Business API in the integration and save it.
You're good to go! Go to Conversations and start chatting with your customers.
Please note: your signup to Dashly should be the first step; after that, you'll get the personal link to signup for Edna with special terms.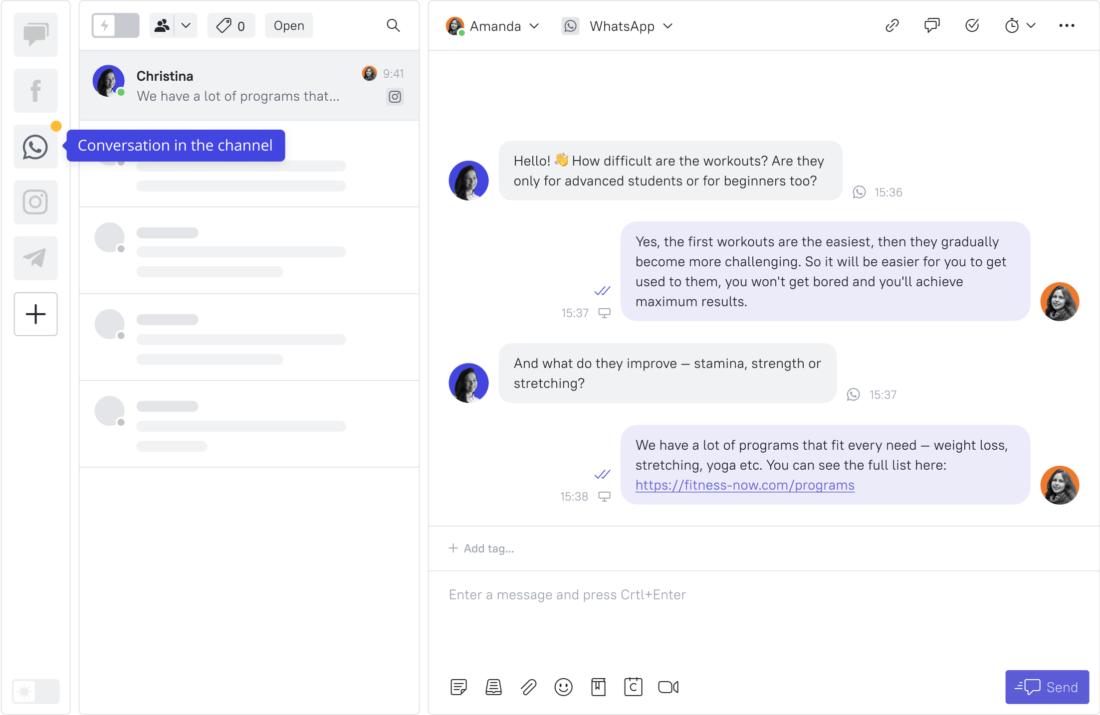 You can connect the WhatsApp Business API to any phone number, including landline and mobile phones and service phones that can receive SMS or verification calls.
Read also: Customer engagement strategy template to create omnichannel campaigns
It's better with Dashly than via the provider directly
Like all integrations in Dashly, the integration with WhatsApp is available on all plans with no additional charges.
However, you should pay the provider for the WhatsApp Business API (unlike all other social media and messengers). Therefore, we negotiated special terms for Dashly customers with the provider.
The WhatsApp Business API enablement is free (the regular fee is $200).
We added more affordable plans for Dashly customers with fewer active users so that you can test the channel or deal with a few requests.
For Dashly users, all plans are 25-50% cheaper than the provider's direct fare: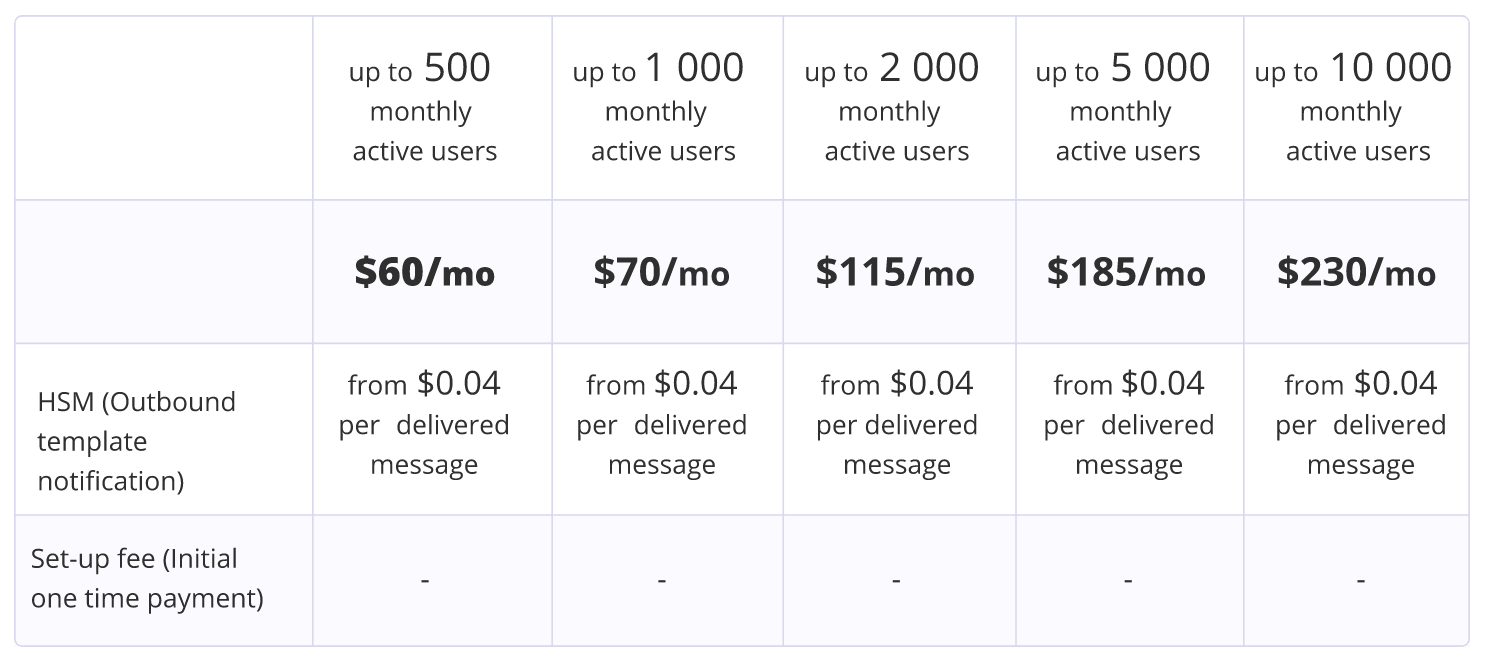 Follow the link in the integration settings to use the offer.
Need help with the integration? There are all settings step by step in our help center.