5 closest Intercom alternatives in 2021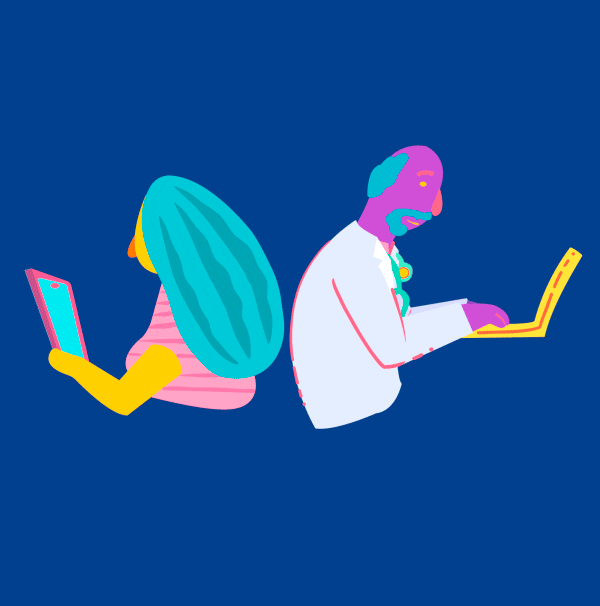 Intercom increases its prices regularly, so it's becoming simply unprofitable for small and medium SaaS teams to use it. We interviewed a lot of people who bought Intercom and used it for a long time. It turns out many of them decided to search for an alternative, and actually there are a lot of products that can solve the same problems. For this article, we chose the tools that were mentioned the most during our interviews.

The HelpCrunch team has already done a good job comparing Intercom with its alternatives, but we hope they don't mind us taking a crack at it ourselves.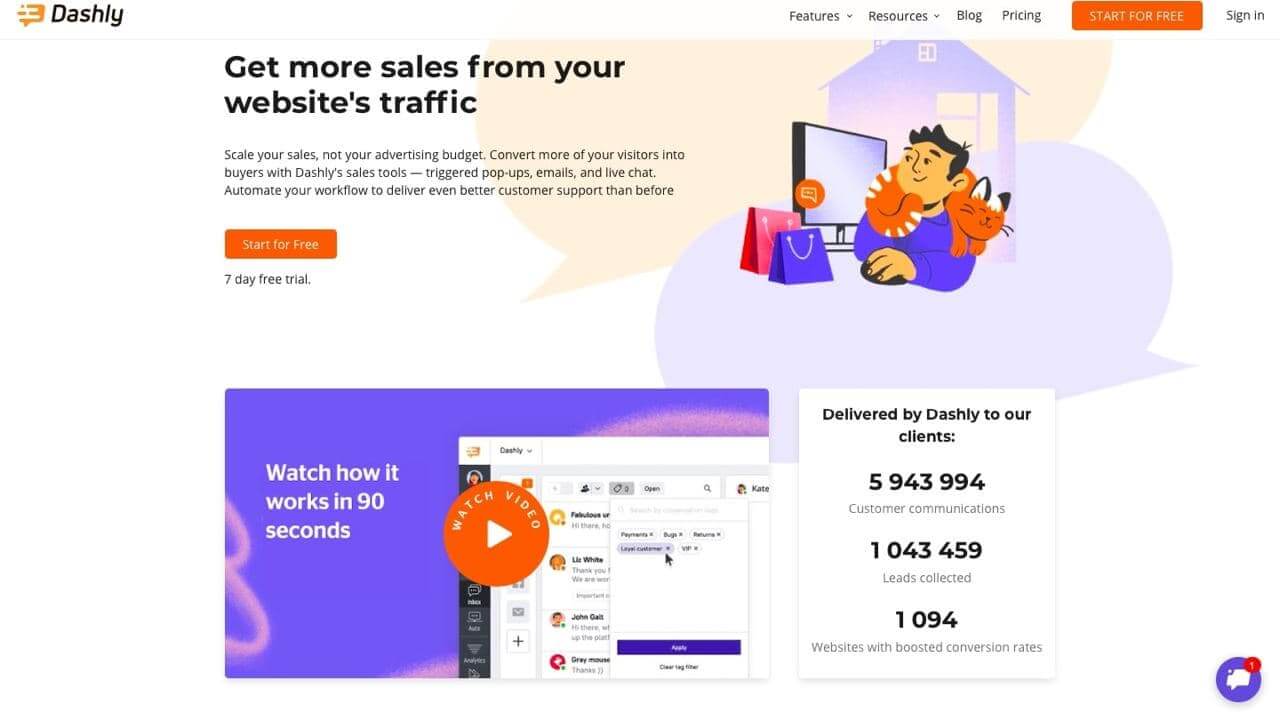 The Dashly team localized its tool for the international market two years ago. The whole history starts long ago with a team of five, which has now grown to 70. Before, we had no reason to position Dashly as an Intercom alternative, but there were so many people looking for an alternative, we decided that Dashly as an all-in-one solution might be a worthy substitute for Intercom.
The feature set in Dashly is close to Intercom regarding the features necessary to provide competent customer communication across the entire customer experience. That begins on your website with support communication and continues with engagement pop-ups, chat notifications and emails inside the platform.

Leadbot
Live chat
Team inbox
Knowledge base
User tracking
Email marketing
Targeted messages via chat widget and pop-ups
Dashly allows you to send personalized messages via Leadot, so that you'll automatically engage users into conversation, qualify them and offer something that will suit to their needs (for example, this could be a lead magnet or a demo). Therefore, this is a great option to increase the conversion rate to lead or even to buyer.
Customer support is enhanced by the Team Inbox with smart conversation routing among the Channels, like in Slack. The knowledge base makes your support quicker and saves time with self-service options.
It's easy to get started setting up automation in Dashly. With the Tracking Master, you can create custom events without any coding. It just takes a few clicks to create a «custom button click» event. Easy-peasy.
Subscribe to our blog updates and learn how to convert more visitors into sales!
Thanks! Now check your email to confirm the subscription
Pricing
Dashly has a flexible pricing system, which lets you pick your own plan based on expected visitor traffic and the volume of your planned email campaigns. Plus, there's always an option to go for extended visitor and email quotas by simply paying an additional fee at the end of your payment period.
There are three basic plans: Forever free, Business chat, and Automation. Let's see them in more detail.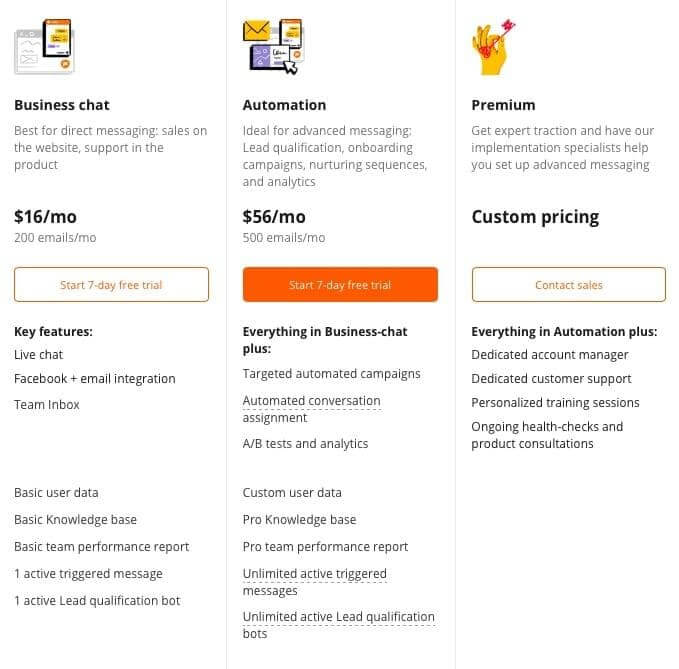 Forever free offers Live chat, Team inbox, Email replies to chat messages, and Mobile apps. This plan will be enough for you in case you're a startup with less than 1000 unique users per month (unique user means that we count a single person as a one visitor even in case they visit your website for several times).
But in case you want to build a customer support team, you'll find a business chat plan handy. There are Live chat, FB+email integrations, team inbox, and basic knowledge base included. Also, you can launch one triggered message and Leadbot for leads qualification. Nothing extra — just customer support tools. The price starts from $16 per month.
But in case you need marketing automation, or both marketing automation and support, the Automation plan was made for you. This includes everything in Business plan, plus targeted automation campaigns, A/B-tests, and unlimited number of Leadbot sequences. The price for this plan starts from $56 per month.
But in case you realize that you'll need help from your personnel account or custom support manager, you can write to us, and we'll prepare an offer for you.
By default, Dashly's trial is limited to 7 days, but you can extend it if it turns out not to be enough for you to test all the capabilities of the platform. Dashly also provides a Forever Free plan, which when activated effectively makes your Dashly app a chat-only platform.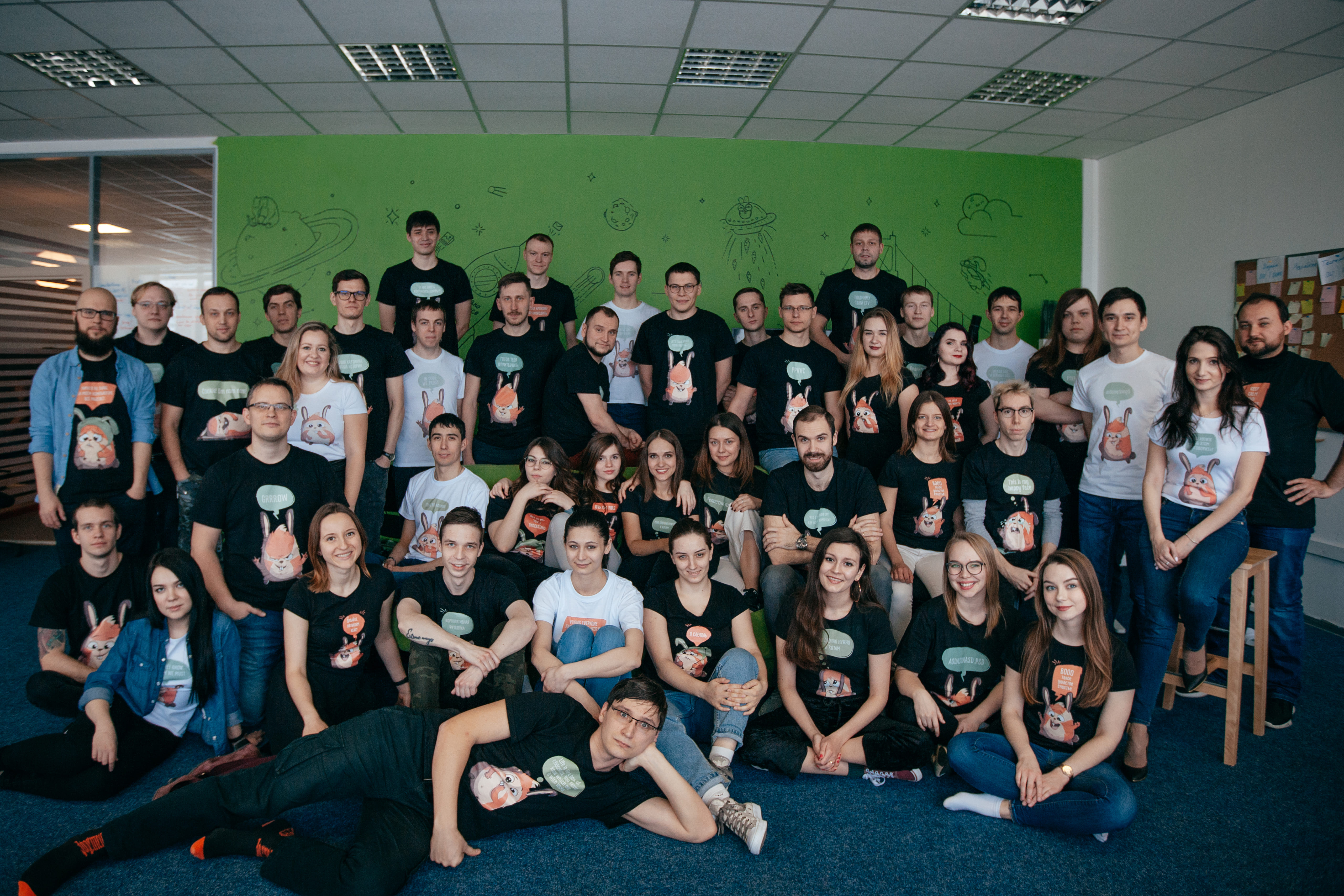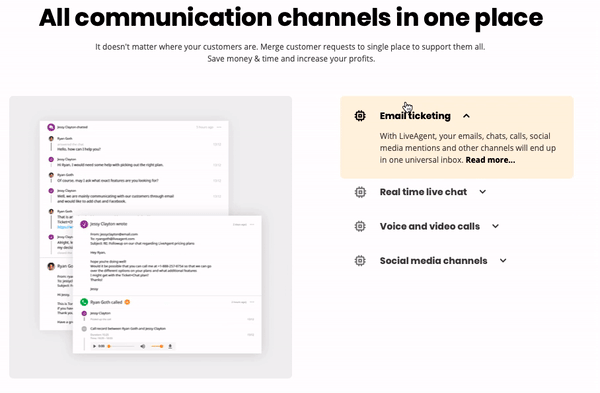 LiveAgent is positioned as a multi-purpose tool, but most of the features it offers have been added relatively recently. At its core, LiveAgent is a customer-support platform with a ticketing system.

Other than ticketing, LiveAgent also provides the following tools:

Live chat
Call center
Knowledge base
One of the smaller but still nice features LiveAgent has is notifications that trigger the moment a visitor clicks the chat widget button. That lets your chat operators react more quickly to visitors' messages.

Also, LiveAgent lets you see what pages your visitors are currently browsing so your operators can actively track your clients and engage in conversations with them.
Pricing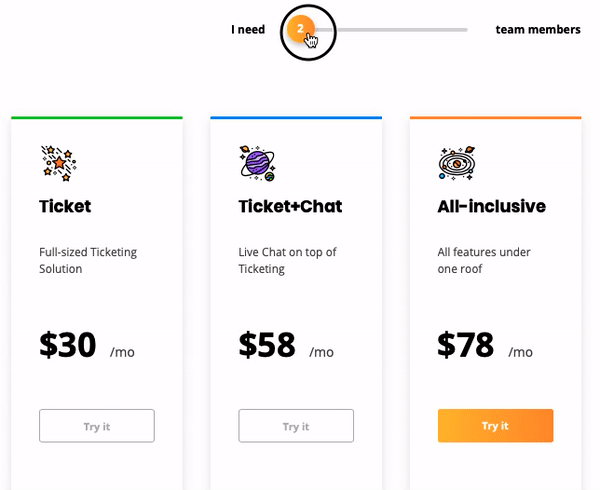 LiveAgent offers three different plans:

Ticket — $15 per agent/month
Ticket + Chat — $29 per agent/month
All-Inclusive — $39 per agent/month
There's also a 14 day trial period on all of the plans if you want to test the capabilities of LiveAgent.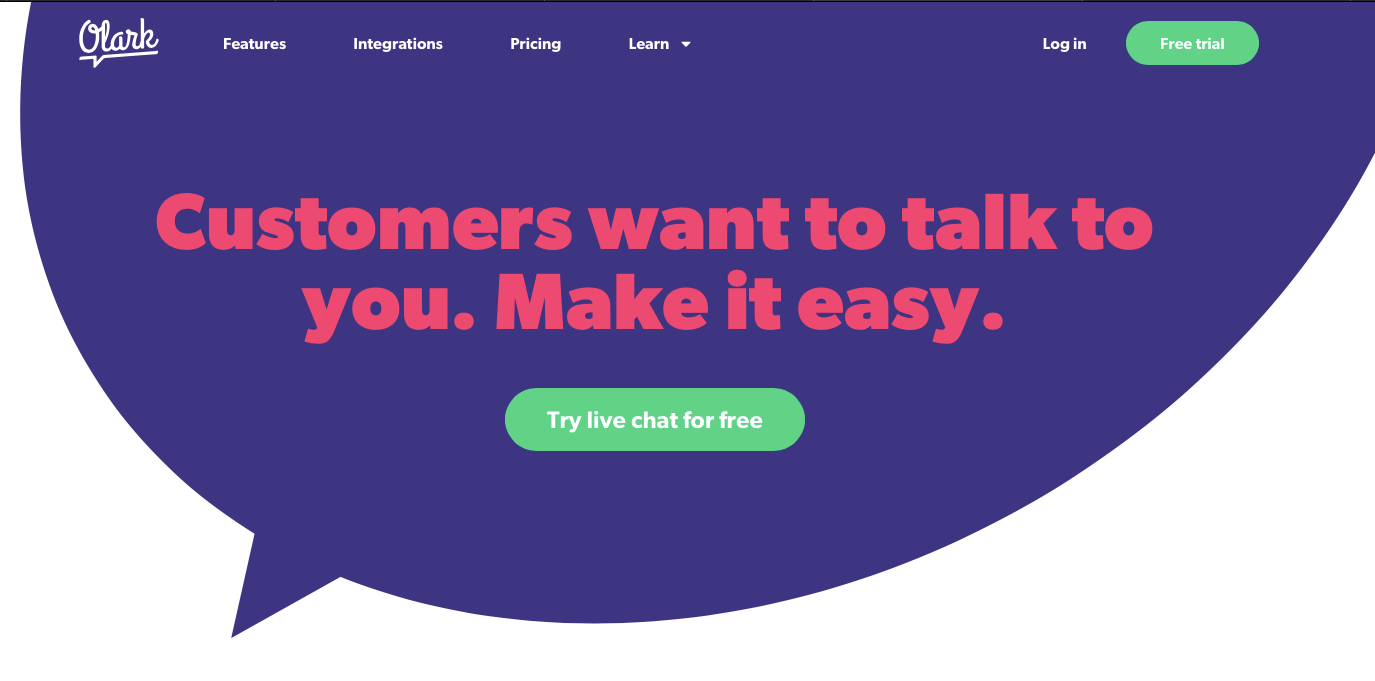 If you compare Olark to the other tools on this list, it's probably the most straightforward one, because it's entirely built around its live chat function, which is quite robust.

Aside from the chat widget function, Olark also lets you set automated messages that are triggered according to conditions met by the users, like the count of pages a user has visited, the user's location, or a specific page they visit.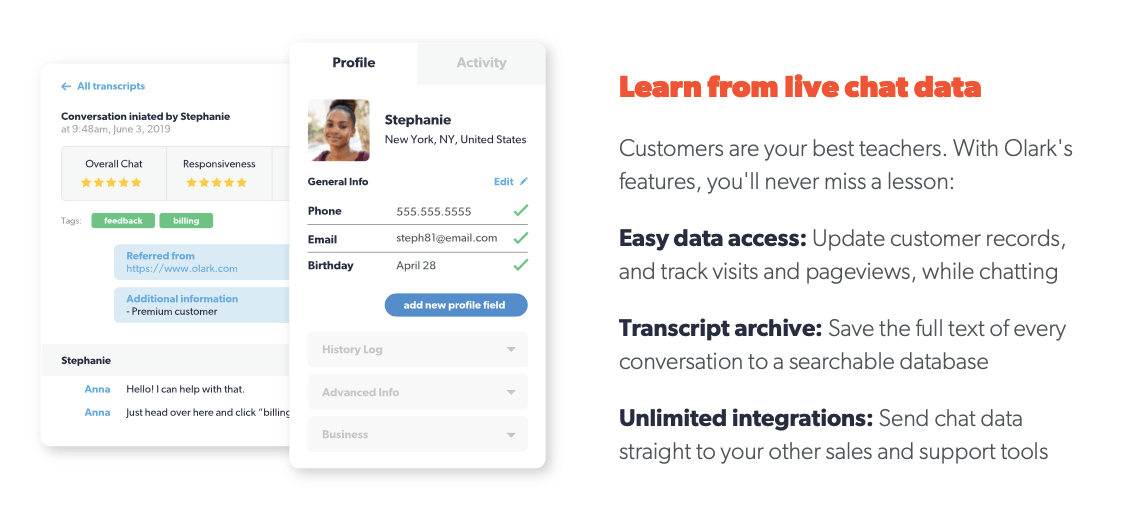 The basic version of Olark, with the chat widget itself, includes shortcuts, pre-chat forms, conversation rating, and some customization features, though the latter are not very flexible, because the Olark branding can't be removed by default and the chat window background is not customizable.
Pricing
Basically, there's just one subscription plan Olark offers, and it costs $17 per agent/month, but Olark also has add-ons, including chat translation ($29 per month), visitor co-browsing ($99 per month), visitor insight ($59-99 per month) and non-branded chatbox ($59 per month). Olark also provides a 14-day trial period with one operator seat and 20 free chats per month.

Drift centers around user interaction via bot communication within the platform's support widget.

Drift's features are offered in packages: Drift for Marketing, Drift for Sales, and Drift for Enterprise, which together include the following set of basic features:

Live chat
Help desk
Targeted messages
Knowledge base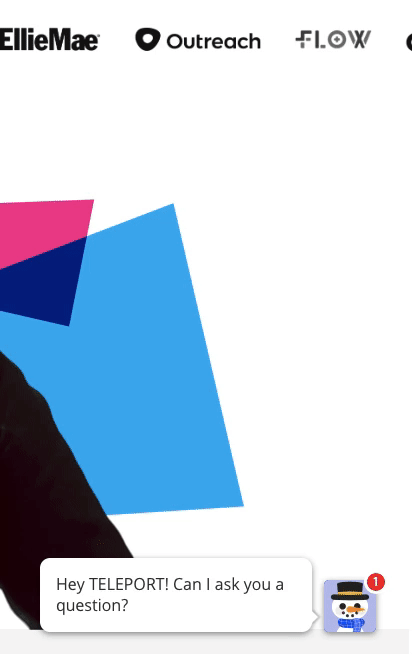 Among the features that make Drift different from the other tools in this list is the ability to lead your guests through every step of communication with just the chat window, making it unnecessary for your guests to interact with forms.

Some other aspects that make Drift unique include an integrated calendar, video recording tools, automation bots, and the Live View feature, which can be used to track visitors on your website and promptly make contact with them.
Pricing
The Drift subscription plans are not as diverse as the ones Zendesk offers, and they only have one operator seat each, which can be upgraded for the price of one seat for $20/month on Standard, $40/month on Pro and $80/month on Premium.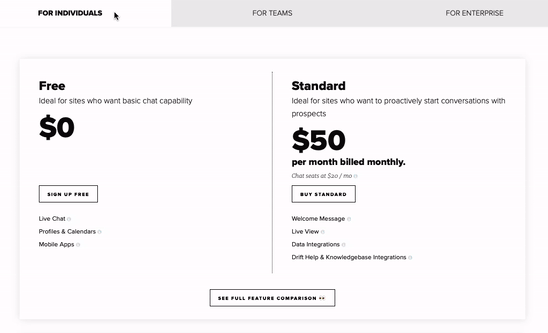 Here's the pricing breakdown for the Drift subscription plans:

Standard — $50/month
Pro — $400/month
Premium — $1400/month
Drift won't let you try its features for free, but you can always choose the Free plan, which includes Drift's basic chat functions with non-upgradable operator seats.
If a ticket-based system speaks to your needs the most, then Zendesk might be the right tool for you. While it does have an array of features that let it stand on par with Intercom, it's the ticketing system that makes it shine.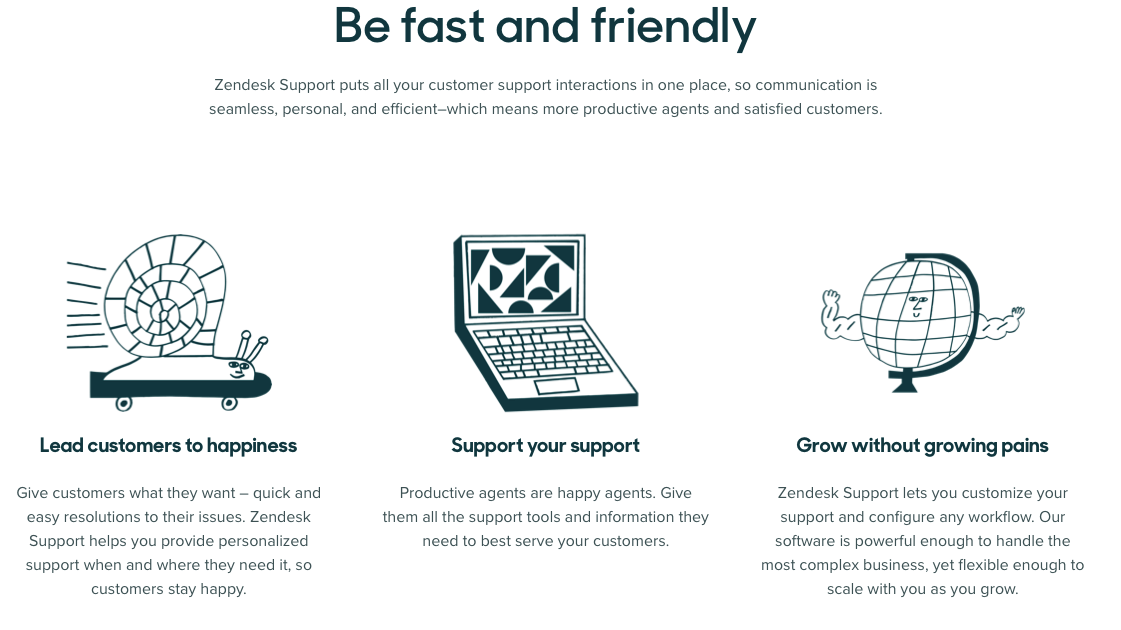 The functions Zendesk has to offer are bound to cover most of your customer support needs:

Live chat
Help desk
Knowledge base
Cloud call center
Again, the ticketing system is what really makes Zendesk shine, but it's worth noting that Zopim has recently become a part of Zendesk, and added a chat function to its toolkit. It still feels a bit raw and one gets the feeling that Zendesk doesn't really focus on it that much, but it might still suffice as a secondary contact channel between you and your customers.

There are some aspects of Zendesk that can still be improved, such as its interface. You can get the hang of it in the long term, but you may struggle to find all the features at the beginning. However, once you've gotten past the learning curve, you may decide that Zendesk is a useful tool after all.
Pricing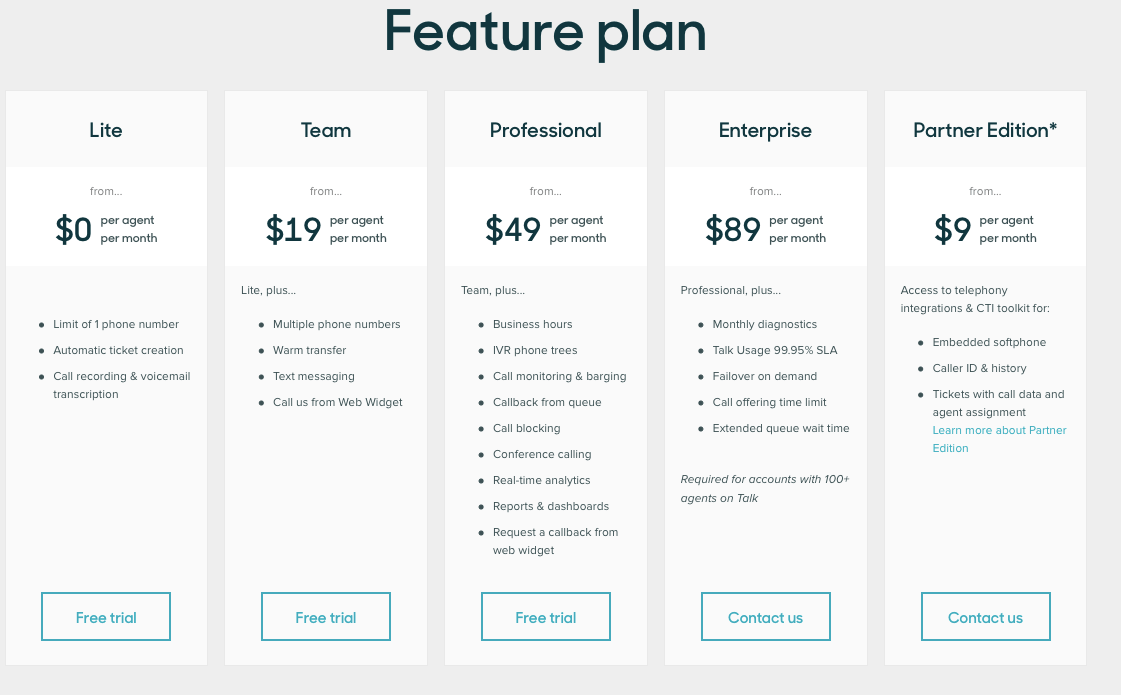 The plans Zendesk offers depend on the set of features you're planning to use, and if you're only planning to use one feature, which can be any basic Zendesk feature, then you can use it free of charge, as long as you don't expand the functionality of the platform any further.

Zendesk's fully stacked Enterprise plan, on the other hand, is available at the price of $179 per month. The more affordable Professional plan, which doesn't include customization options, brand removal, and several other features, comes at $109 per month. The base price for Zendesk's toolkits begins at $9 per agent/month with a Support Pack, which will grant access to ticketing tools. Another way to find the best pricing is to pick a plan by combining any set of Zendesk features that you need the most. Also, Zendesk offers a 30-day trial period, during which you can try all of their tools.
In conclusion
There are plenty of different platforms to replace Intercom, each with its own set of core features and a unique approach to fulfilling the needs Intercom covers, so by picking one of these, you can not only lower the base price of your customer support/marketing platform compared to Intercom, but also choose the best price for the options that are necessary for your business.