Intercom is one of the best solutions for making companies grow their customer base. Actually, it's a full-featured messaging suite with live chat, bots and product tours. They offer three different packages to cover different customer experience goals: lead generation, customer engagement, and customer support. Each pack includes tools for the particular purpose; for example, the customer engagement toolkit comes with outbound messaging and a main inbox to build automated communication and receive replies in one place.
There's also one more plan which includes all the features from the three solutions and starts from $87.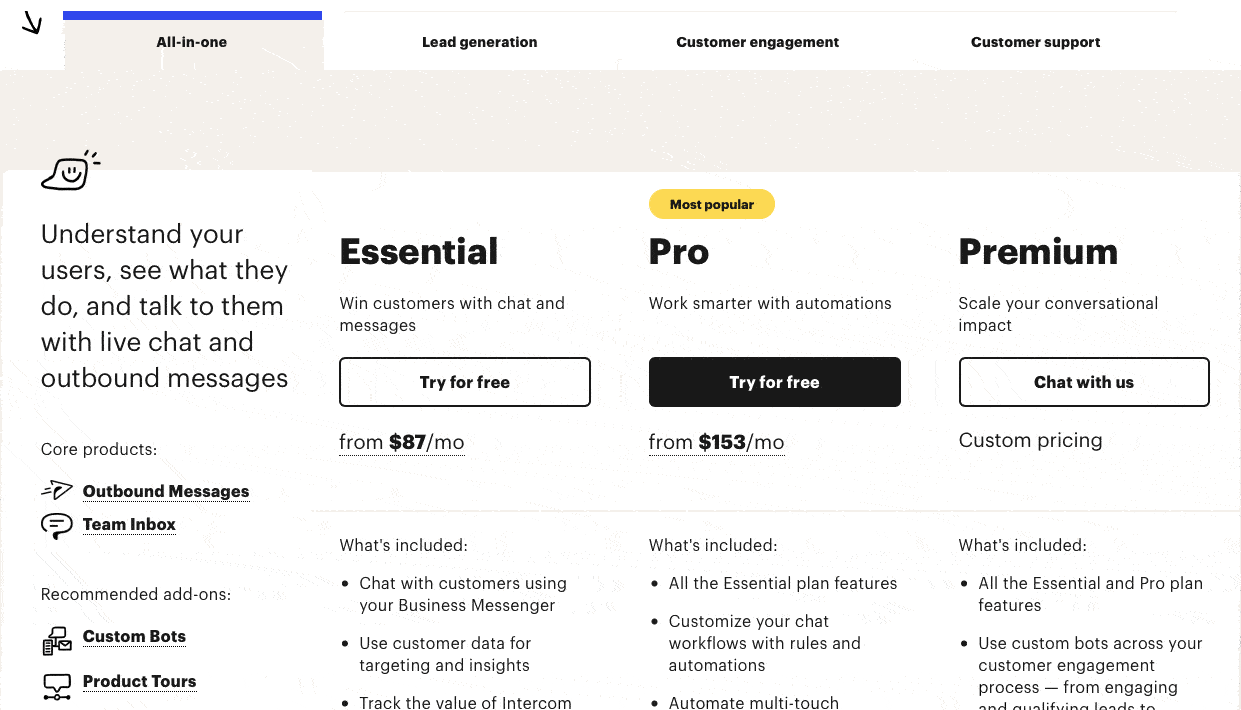 It's a very useful tool to turn website visitors into clients, but for many it's unaffordable. Intercom offers an early-stage startup plan for small teams, but the plan is only suited for companies with less than five employees and funding as high as $1 million. After the first year of using Intercom, startups often start searching for an alternative with similar functionality but for a lower price. Can your business afford Intercom, or do you need to find something else?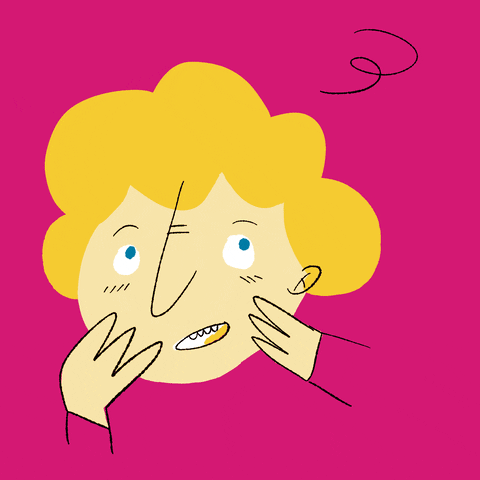 There's also another problem: quite commonly, customers can't figure out the exact functionality each of the packs provides, and what the final price will be when all is said and done. Intercom's price depends on the number of active users: this includes all the leads and customers who start the conversation first or reply to an automated message, plus all the people who've logged into your product in the past 90 days. So, if you want to project a budget for using Intercom, it's important to check how many people have been active during the past 3 months. If you have more active users than is allowed in the basic plan (200), you will pay for them (the extra payment starts from $16/month). If you want to have more than two agents in your support team, you will also have to pay for them (starting from $19/month).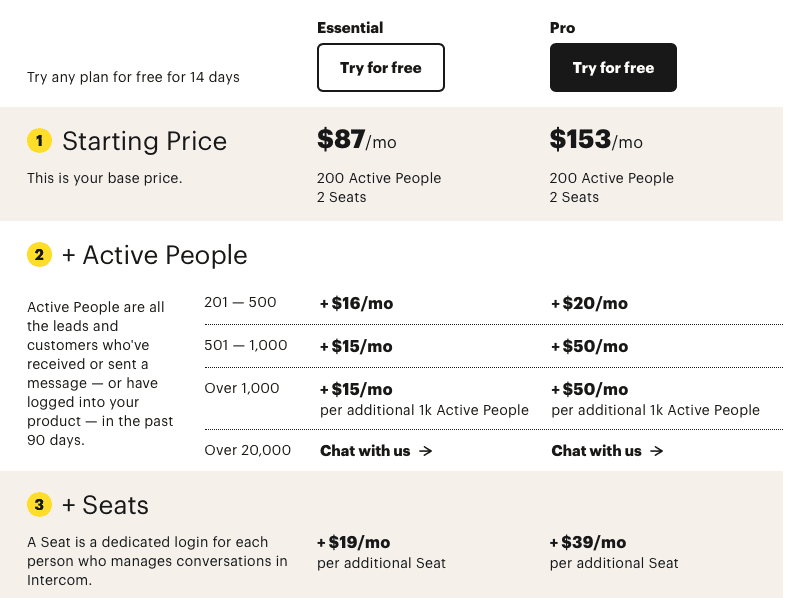 Additionally, Intercom suggests some extra features: custom bots, help center articles (knowledge base), answer bot and product tours. The price for these add-ons starts from 49/month in addition to the main plan. The word "from" in their price list means that that's the minimum price you'll pay, but by no means is it the maximum. 
Intercom is full of different features, and sometimes it's quite difficult to predict how much it will cost you from one month to the next. It's rumored that they created complicated pricing model on purpose. Who knows…
Why Dashly?
Which brings us to the main question of this article: what makes Dashly a good alternative for Intercom?
First of all, Dashly comes in handy throughout the entire customer lifecycle:
Launch a chatbot that will collect and qualify leads by itself day and night. Also, this can answer easy questions or assign the conversation to the right agent automatically — this will reduce the load on your customer support.
Send a proactive message to the chatbox when a potential client visits your website. Use the data you've collected from the visitor and offer useful assistance.
Run a warm-up email sequence to nurture the leads you've generated. Send targeted onboarding emails to provide relevant content to a select audience. Save time by using prebuilt templates.
Provide superior customer support via live chat, team inbox, and knowledge base. Keep all your communications and help content in one place. 
Secondly, there are only three plans in Dashly: Forever free, Business chat, and Automation, but we will talk a bit later about the prices. What's important to mention now is that Dashly only counts your unique monthly visitors (if one and the same person would visit your website several times, you'll pay only for one), making it easier to calculate the final price and control costs. That's a good thing, right?
Finally, there are unlimited agent seats! You can invite the whole team to join you at no extra charge. 
Chatbot
The Dashly chatbot is a truly one-size-fits-all feature. This may help marketers, product managers and customer support. Let's find out how exactly.
Let's consider product marketers' situation. When testing a new feature, you may configure a chatbot campaign that will make a survey about this feature. This way of collecting feedback from beta-testers is rather more engaging and interactive than just Google surveys.
When the feature is already released for all the users, the chatbot also comes handy. You may launch another campaign, so that the bot will tell users details about the update and onboard them into this feature.
Now it's time to move to marketers. The chatbot can collect data about users and qualify leads before passing them to the sales team. Therefore, you don't spend your precious time on non-target leads and pay more attention to high-value ones.
Last but not least — customer support. The chatbot can answer the simplest questions or assign the conversation to the right agent in case they still have questions.
Dashly chatbot is included in every paid plan.
Inbound conversations
Set up a live chat on a website. Use a team inbox where your whole team can receive messages and reply. Plus, Dashly can be integrated with email, Facebook, Viber, Slack, and Telegram, you will receive all the messages from all those sources in one place. Don't miss a single message, and forget about juggling millions of tabs in your browser!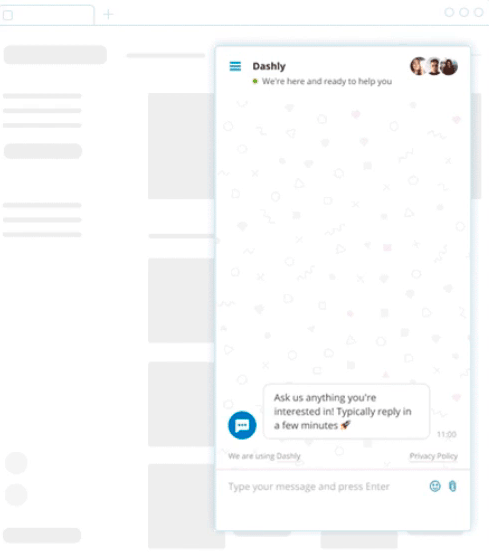 Install the SDK in your mobile app if you have one; you don't need coding skills to set up notifications and chat. Support your users right inside the app; let them ask you for help directly without emails and forms. 
Also, in case it takes too much time to explain some detail by text, you can book a Zoom meeting right from the chat. Dashly has Zoom and Calendly integration, so it will take a few seconds to book or start a meeting through the chat:
Team collaboration
Intercom gives you only two agent seats with the basic plan. As your business grows, your two support agents could easily be overwhelmed by questions, and this could really turn into a nightmare if you've connected several communication channels. In every paid plan, Dashly lets you include an unlimited number of people in your support team, which means you can have as many agents as you need. Grant different access rights to agents depending on their responsibilities.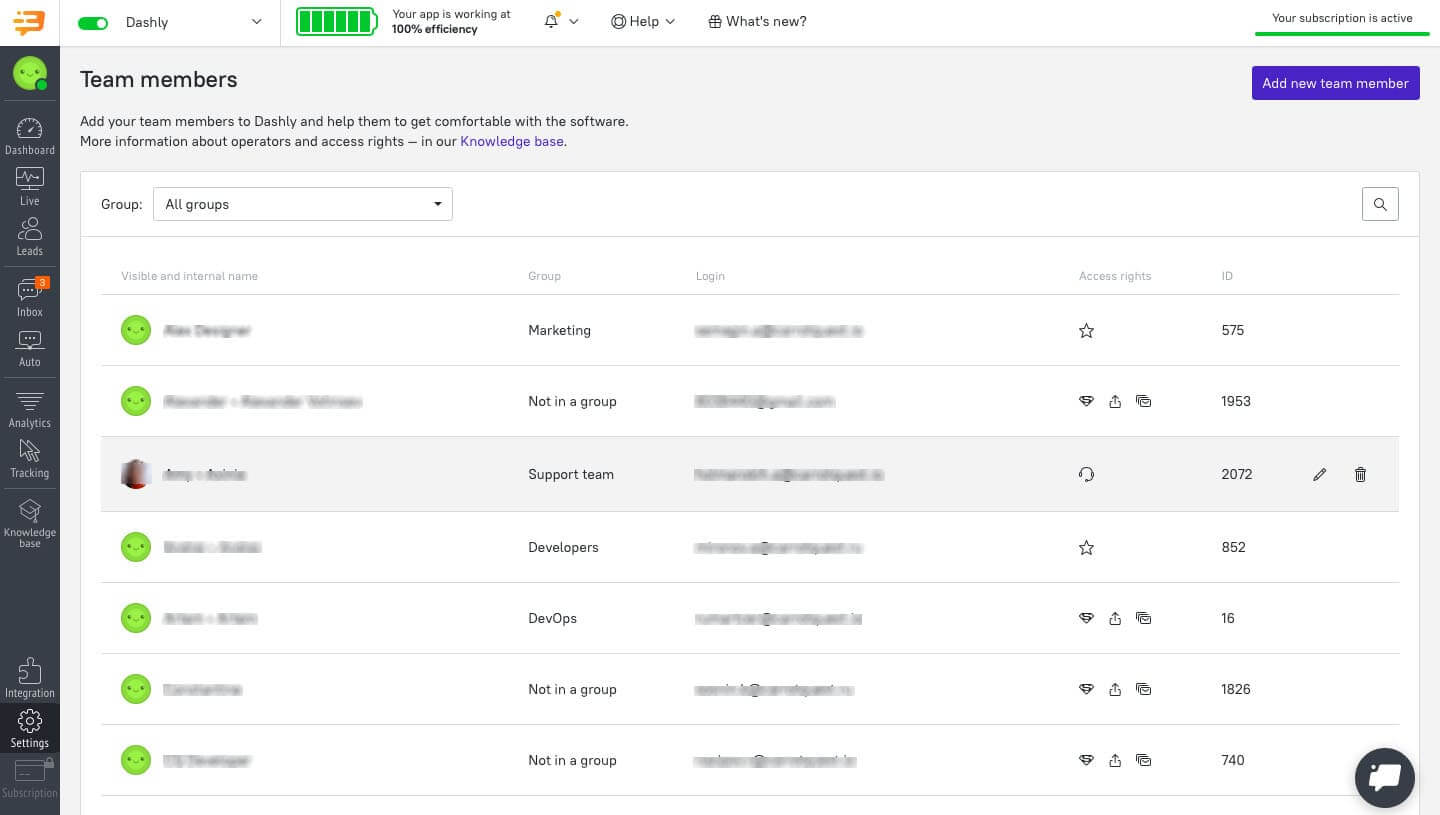 In addition to unlimited seats, Dashly offers conversation channels, like in Slack. It sorts incoming conversations by source (Mail, Facebook) and user data. Receive questions from VIP customers in a separate channel to manage them at high priority. 
Proactive messages
You can also send automated messages to capture leads who come sniffing around your site. Dashly gives you lots of templates for pop-ups and chats messages. Just choose the template you like, then set the trigger and the audience who will see the pop-up.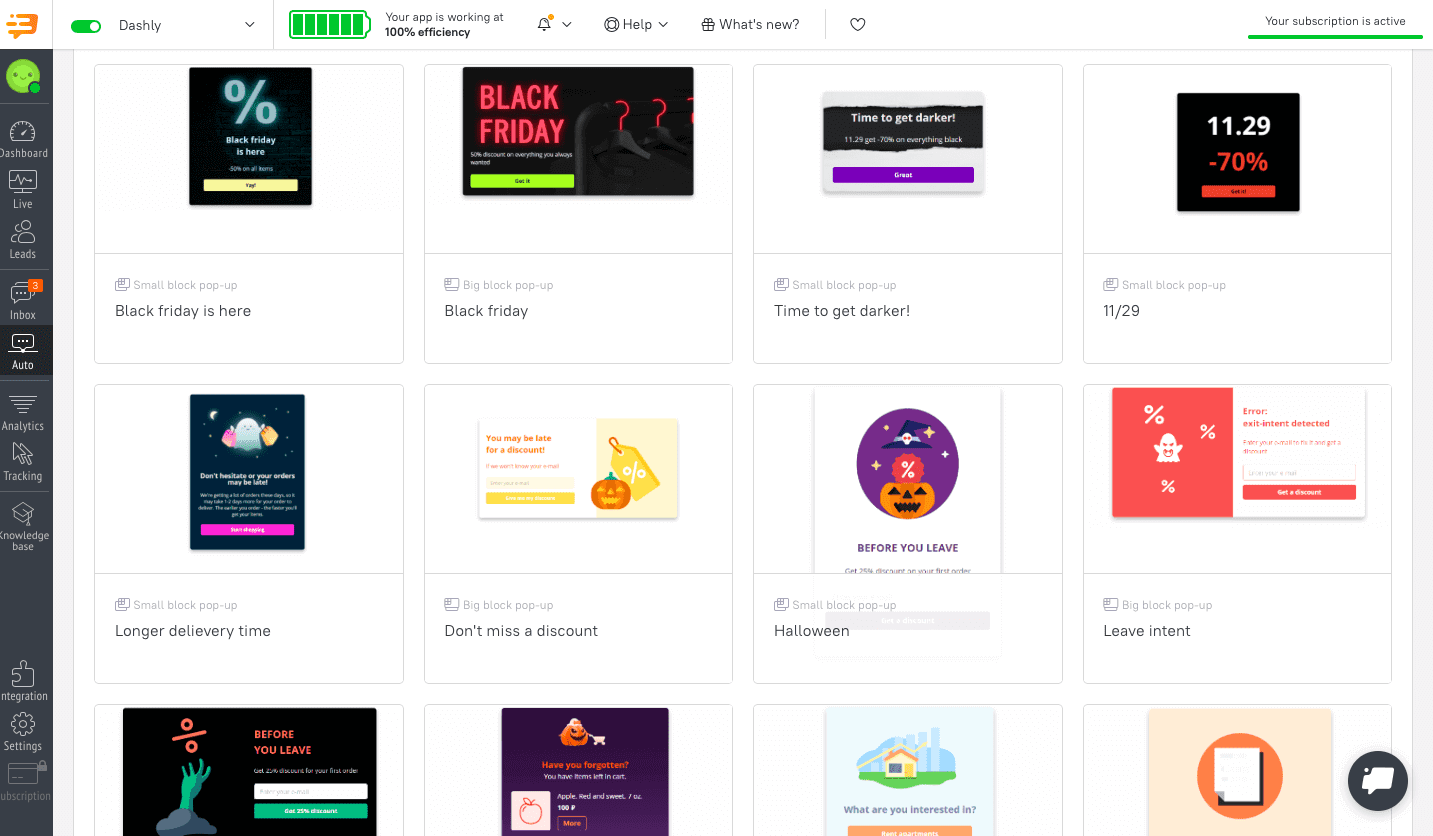 When there are a lot of templates to choose from, it may be difficult to figure out which auto message performs better in a particular situation. Use A/B testing to find out the answer. You can compare different kinds of pop-ups, messages, and Javascripts, and choose which works the best.
If you don't want to send your auto message immediately, you can set a timeout or a trigger; Dashly will send the message when the visitor performs a certain action.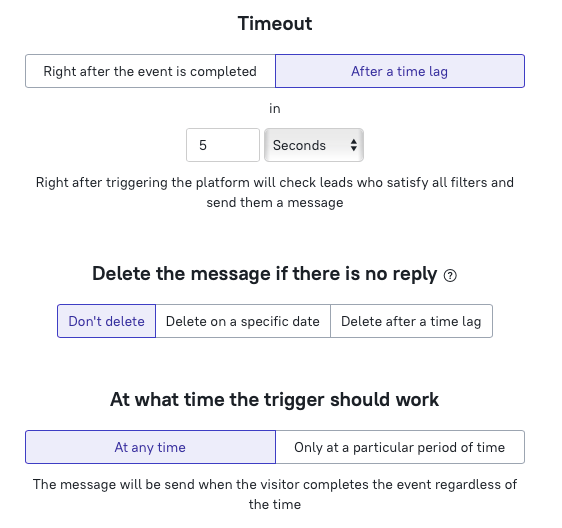 Performance reports
Without analytics, you don't know what works and what doesn't. That's why it's important to track the results of all your campaigns. See how you may analyze your work:
See how effective your auto messages are. When setting an auto message, choose the target — a goal which should be accomplished after the campaign. When it's finished, see whether the goal was achieved or not in the auto message statistics. 
Analyze your team's performance. This report will help you find out whether you need to change the working hours or even hire more agents. You can also see the statistics of resolved questions, the number of opened and closed conversations, the average response time, and other metrics.
Build funnels to find out the bottlenecks in a user's or customer's journey. Take a look at the conversion rate between each step, and find out what you can do to make things smoother.
Pricing 
Last but not least: pricing. Dashly offers three paid plans. Conversation suits small business to create a direct channel of communication with their first customers. Support is for those who want to level their customer service. And the Marketing plan is perfect for launching triggered campaigns and set up proactive communication on the website.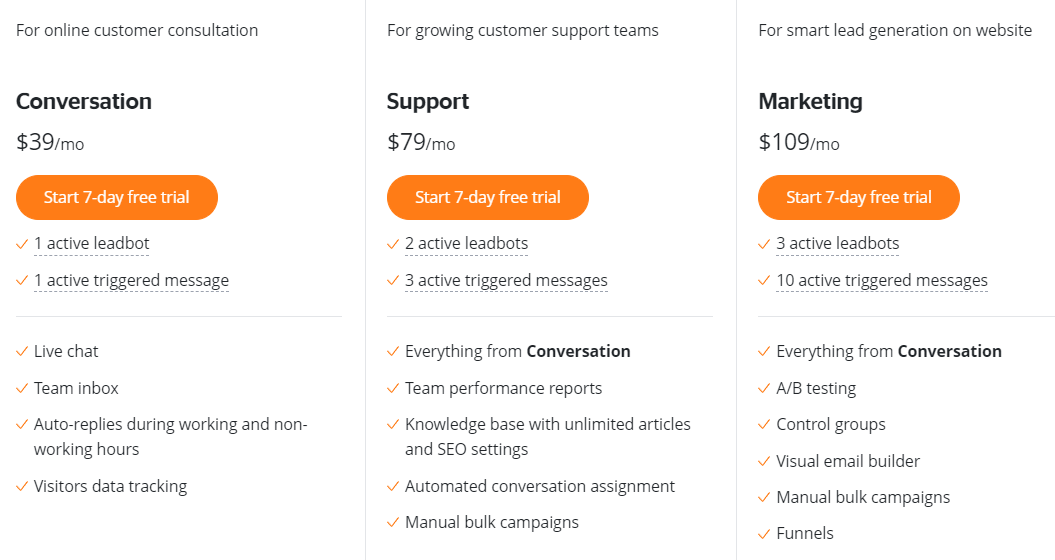 Conversation
This plan is developed for those who need only direct messages, without automation or marketing. You'll get features for customer support and sales on the website. Here is the list of some of them:
Live chat — you can use this both for support and sales;
Team inbox, so that every team member will be able to see the incoming messages;
1 active Lead qualification bot and triggered message;
Visitors data tracking.
The pricing starts from $39 (if paid monthly) and depends on your website traffic and add-ons you choose to include.
Support:
This plan will be suitable in case you need both support and marketing features. You'll be able to qualify leads, onboard new users, and launch a lead nurturing campaign along with support tools from the previous plan. Here is the list of the features:
Everything in the Conversation plan;
Automated conversation assignment — you can develop criteria so that the system will automatically assign the conversation to a specific person;
Team performance reports;
Upgraded knowledge base.
The price starts from $79 (if paid monthly) and depends on the website traffic and add-ons.
Marketing
This plan allows you to create a top-tier system of triggered campaigns and proactive communication on your website. You get:
Everything from the Conversation plan;
The biggest number of chatbots and triggered messages;
A/B testing;
Funnel analytics;
Visual email builder.
The price here starts from $109/month (if billed montly).
Also, there is one more plan — this is Forever free.

In case you have less than 1000 unique visitors, and a Live chat, Team inbox, and Email replies will be enough for your needs, this plan is ideal for you.
And in case you need all the benefits from the Automation plan plus a dedicated support manager and account manager, you can contact us via live chat.
If you still have any doubts, just start a free trial. In seven days, the Dashly team will show you all the benefits of the service and you won't want to use anything else.
Customer support
At Dashly, we are always happy to help with setting up the service. Our support team works 24/7. You can tell us about any issue and we will reply to you as soon as possible. Or just tell us what you like the most! ☺