7 chatbots for your website that will make the work of your marketing, sales, and support teams easier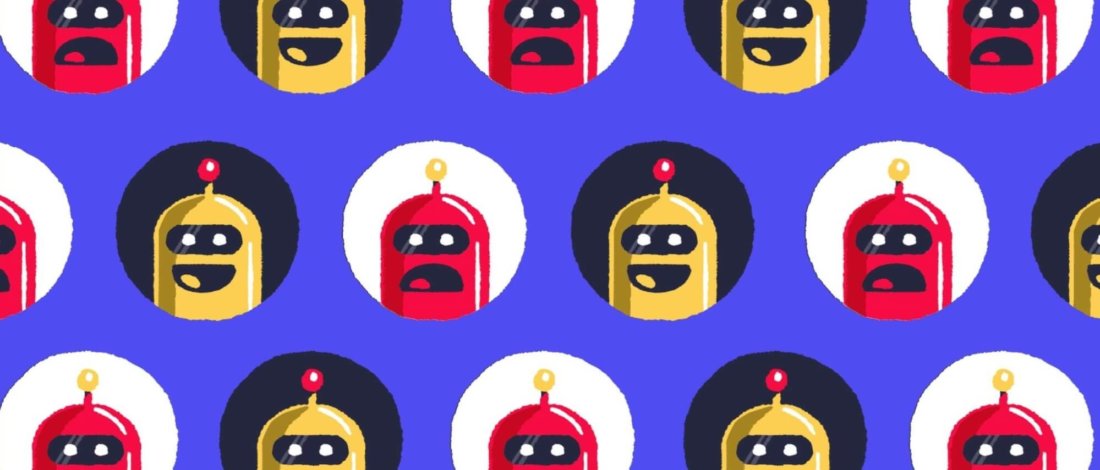 Have you ever counted how much time your colleagues spend dealing with non-target customers?
We've talked to people responsible for sales and marketing, and what we found out shocked us:
sales reps spend up to 70% of their working time on non-target leads;
each of 10 potential customers requires an hour for a decent conversation, only one is a target customer;
sales reps spend up to 20 minutes on primary desk research on a customer.
Time wasted due to insufficient data on leads is a common pain of sales and marketing teams. The solution to it is the lead qualification that helps only pass those who are ready to buy to sales reps.
A chatbot is the quickest way to qualify leads. It talks to users without engaging a human and qualifies them, i.e. does primary desk research and passes leads to the sales depending on their actions.
We've selected 7 user communication platforms that feature chatbots:
Intercom
Intercom has a large set of tools helping you communicate with your website and app users. There are the following marketing, sales, and support features in the Intercom's toolkit:
live chat,
customer base management,
message segmentation and personalization,
knowledge base,
emails,
A/B tests.
What can Intercom chatbots do?
Here are the 5 types of chatbots in the inventory of Intercom:
for lead qualification,
for article recommendations (for example, on platform updates),
for user engagement,
for answering user FAQs,
with integrated applications (for example, for automatic video calls scheduling).
The first two types do simple tasks following their descriptions. These chatbots start conversations independently offering answer options to users as buttons.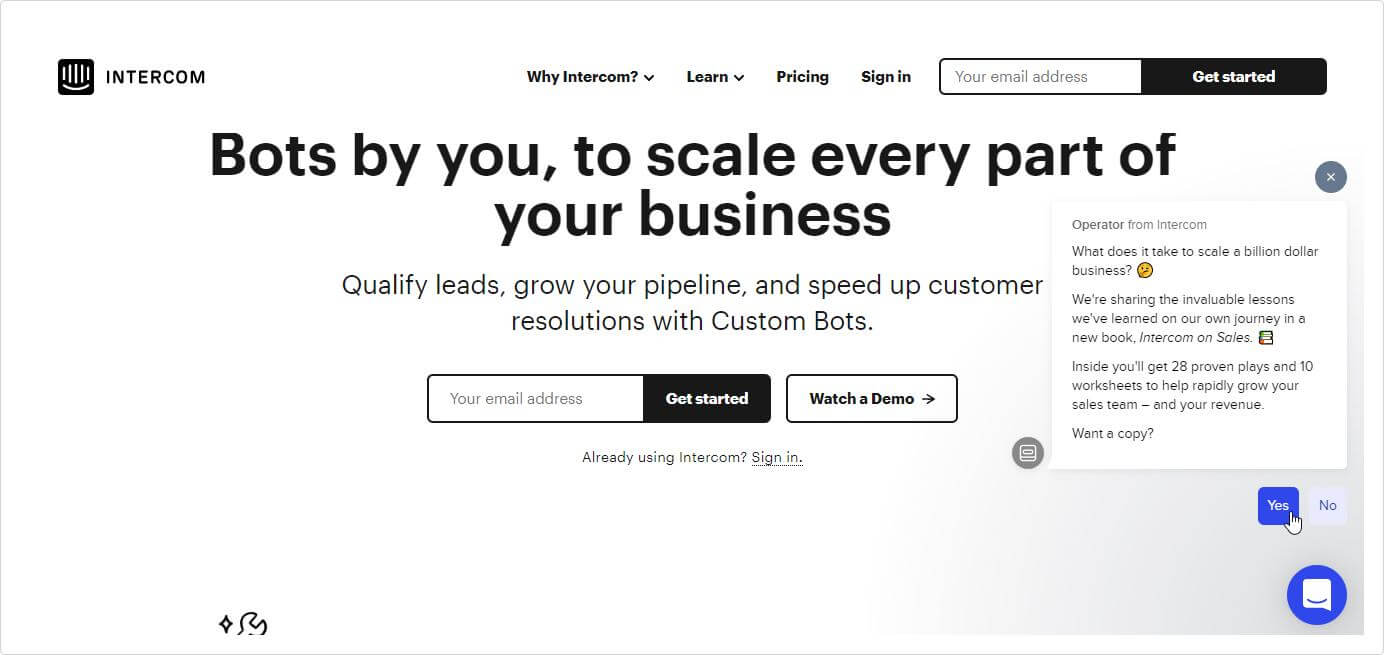 The next two chatbots are more complicated: they can answer FAQs and schedule meetings automatically, but they will be times more expensive.
Pricing: from $99 to $999
You can create chatbots using an additional module that is available for plans above $99. If your plan includes automation features and costs $499 or $999, you can create the so-called custom chatbots for user engagement. A chatbot answering user questions and the one with integrated applications can only be implemented together with advanced lead qualification (from $499) and support automation modules (from $249).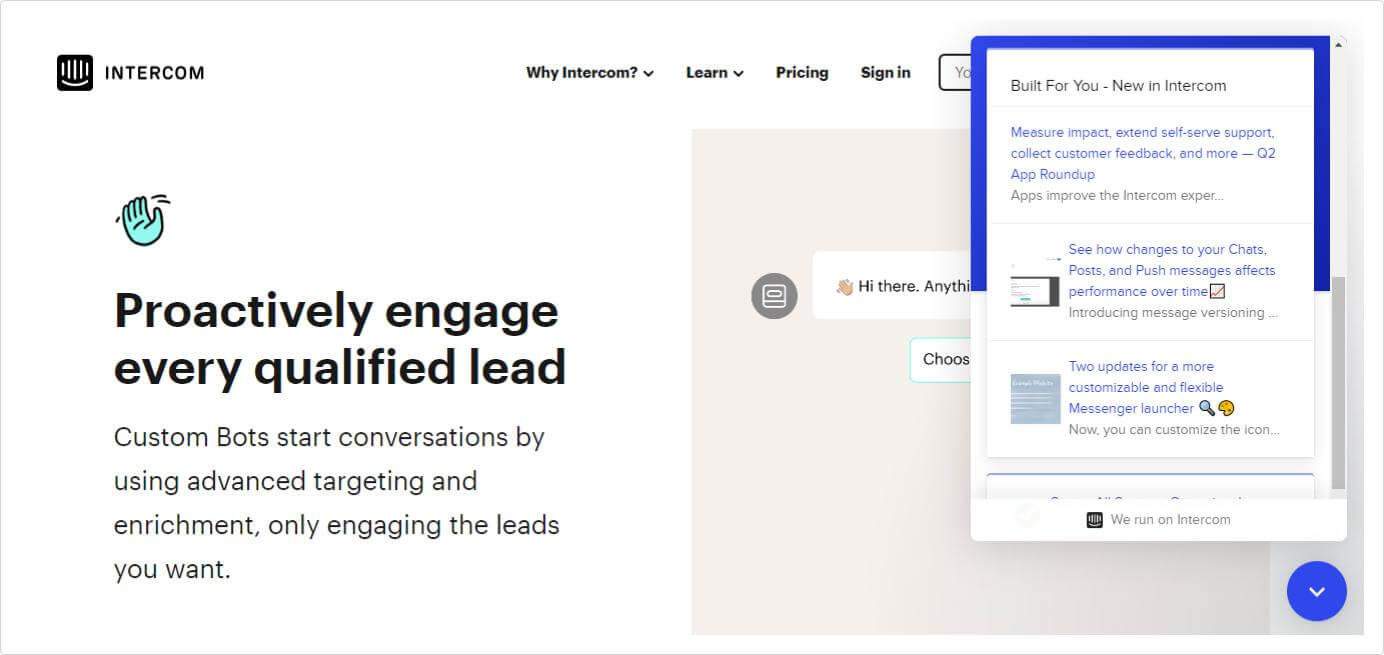 A free trial
There's a free trial period of 14 days, but you'll have to provide your bank card credentials to use it.
Dashly
Dashly chatbot is the new feature of Dashly live chat. 
Here's what you can find in Dashly aside from a live chat:
user tracking,
message segmentation and personalization,
manual and triggered emails,
message A/B tests,
SDKs for Android and iOS so that you can use the platform in a mobile app.
Generally, the platform's objective is to help increase sales without additional traffic and improve user communication.
What can Dashly chatbot do?
We call it a Leadbot because its major jobs are lead qualification and collecting user contacts. The Leadbot is triggered and asks website visitors questions offering possible answers as buttons. Depending on the answer, the Leadbot asks the following question or assigns a conversation to an agent.
What can the leadbot do already?
send multiple text messages;
offer up to 10 possible response options to each message and behave depending on the replies;
save information based on the answers for further segmentation and triggered messages;
send files and images;
assign a conversation to an agent or a channel.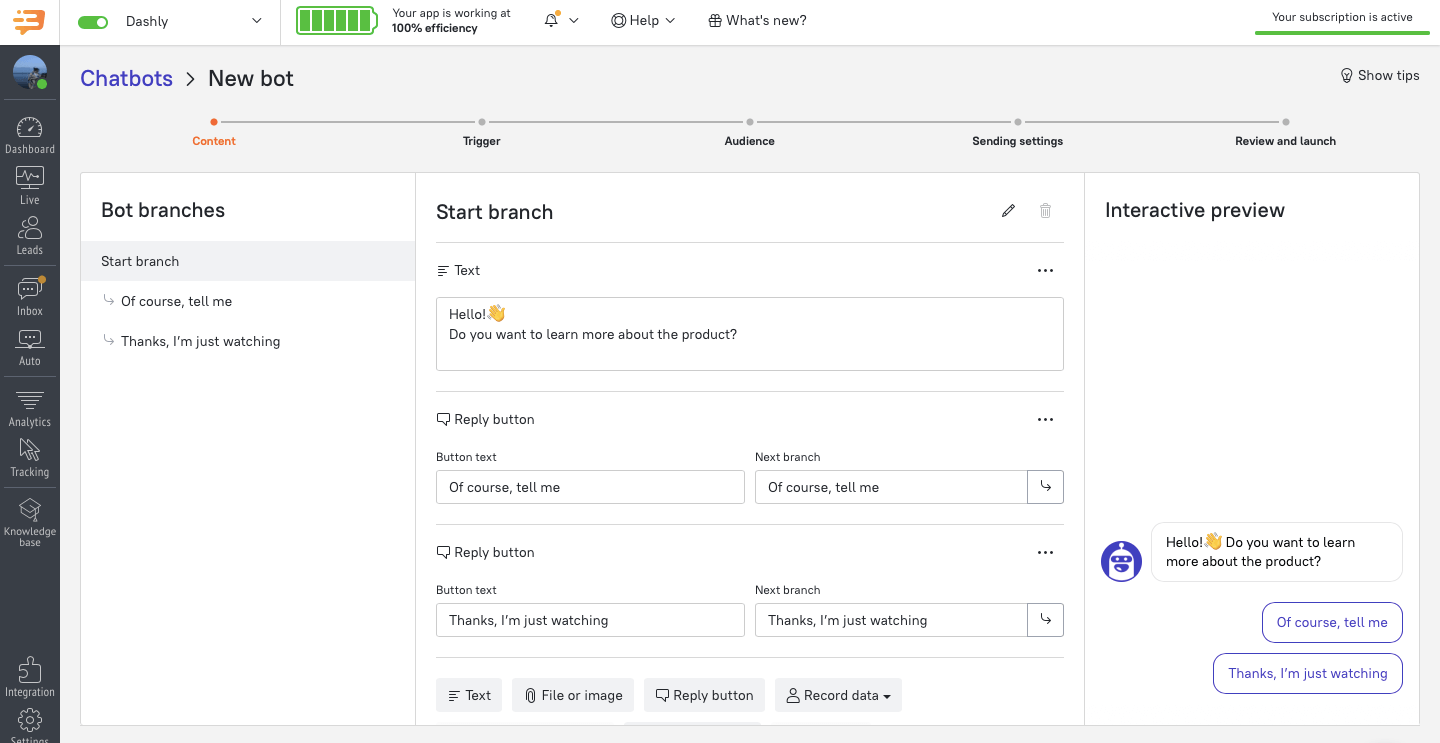 What will the leadbot be able to do soon?
The Leadbot can help companies:
with large traffic gather more leads without overloading sales reps.
with a high average order value save the time of the sales team that is now spent on those who are not yet ready to buy.
We've developed the ready-made conversation campaigns with a chatbot. Interested?
These are examples of the chatbot campaigns for online stores: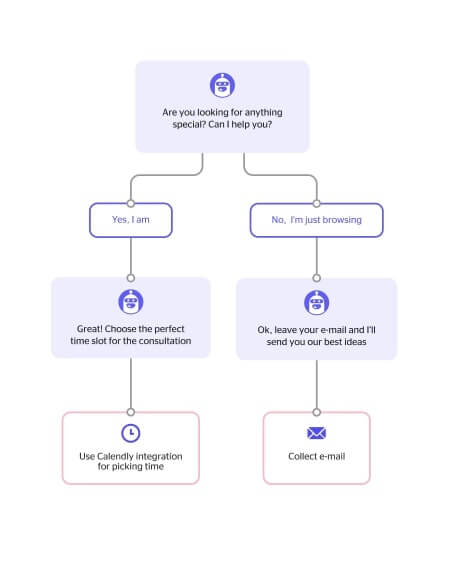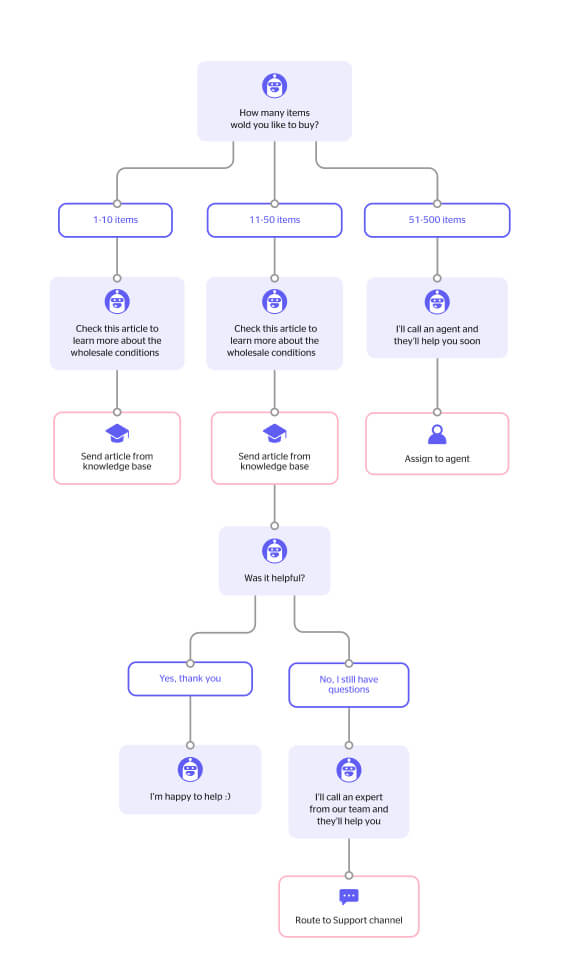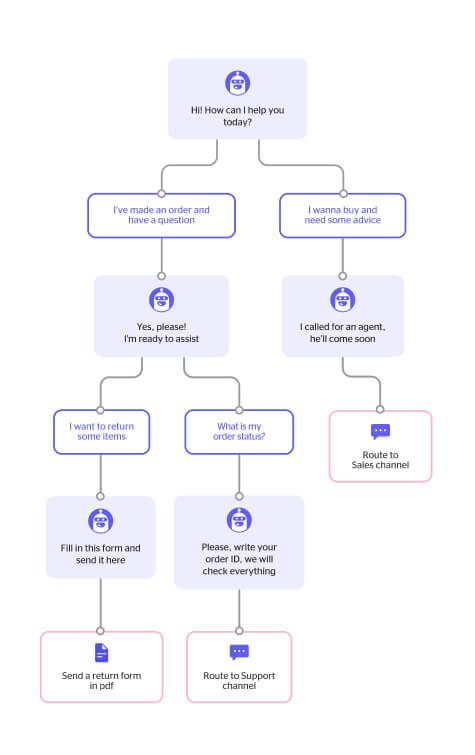 These are examples of the chatbot campaigns for online platforms: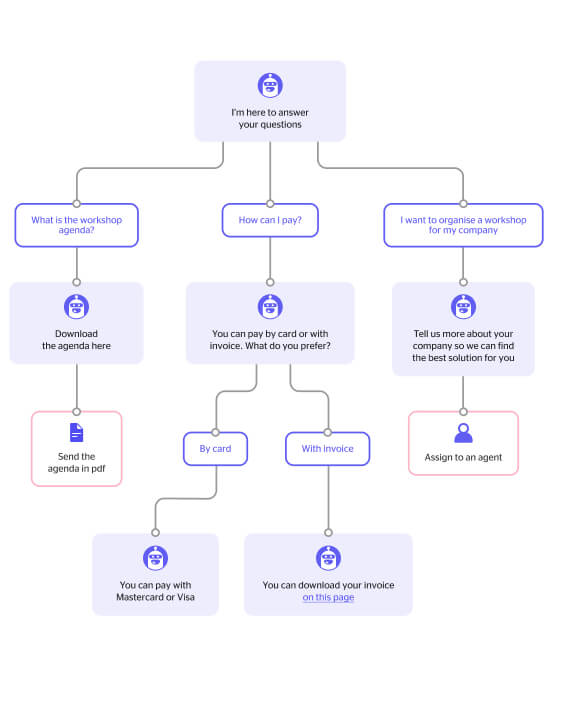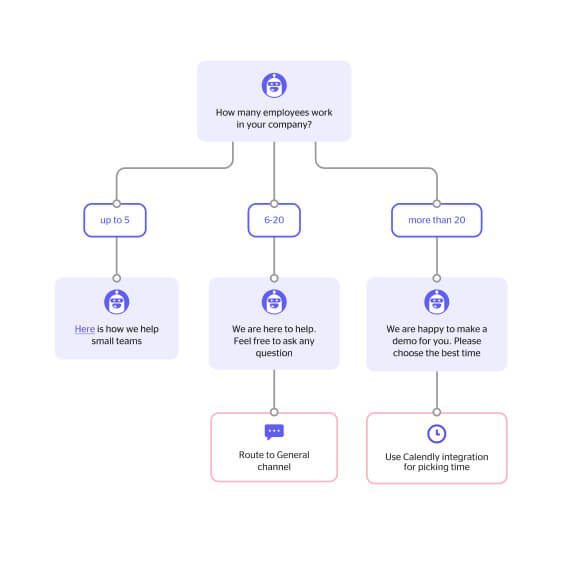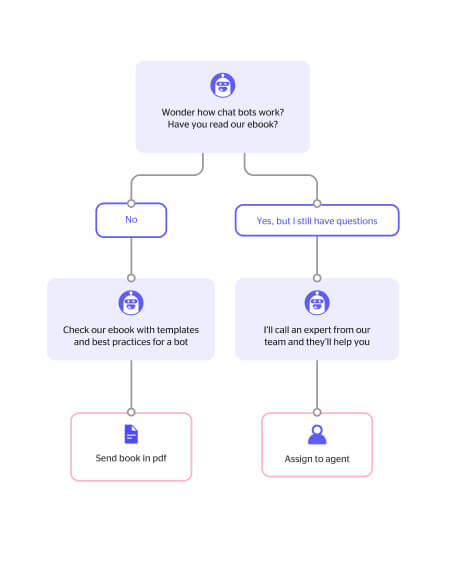 These are examples of the chatbot campaigns for consulting and services: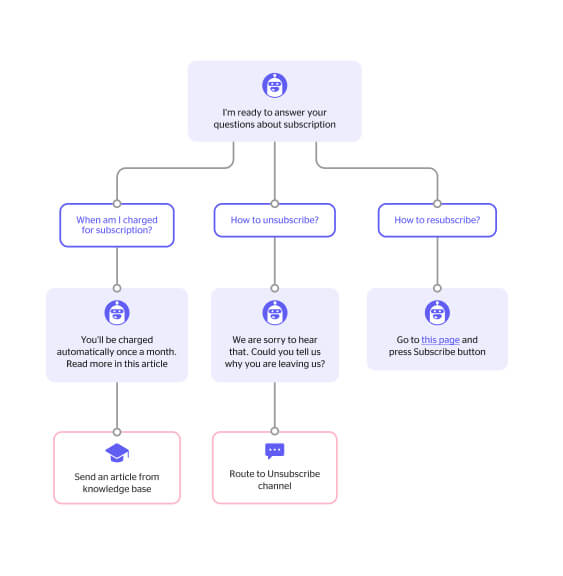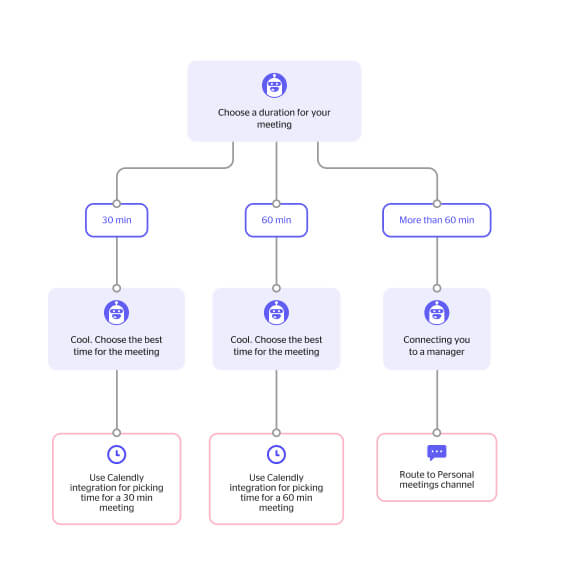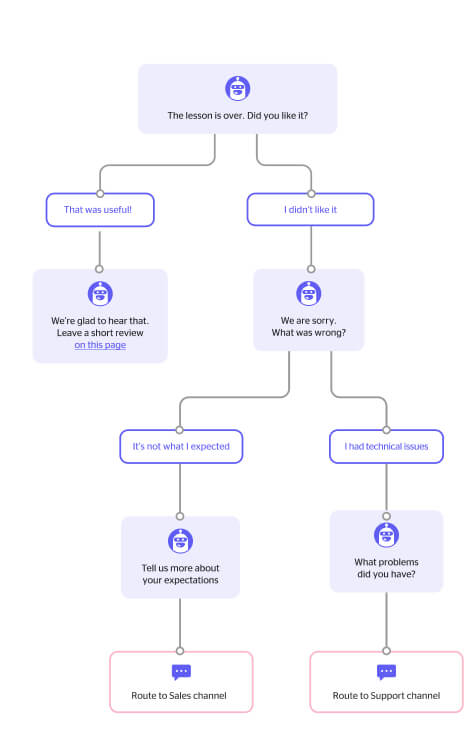 Pricing: from $39
Dashly plans depend on the number of unique website visitors and start from $39. The chatbot module is free for all Dashly users until October 1, 2020. This is one of our measures to support businesses amid COVID-19.
A free trial
There's a free trial period of 14 days. You can try all features of the platform for free during the period.
Drift
Drift is a communication platform mostly used by sales teams. The platform's toolkit is aimed at sales:
live chat,
video calls,
emails,
automation (including bots).
What can Drift chatbots do?
Drift also offers several chatbots.
It qualifies website visitors starting a conversation and offering possible answers: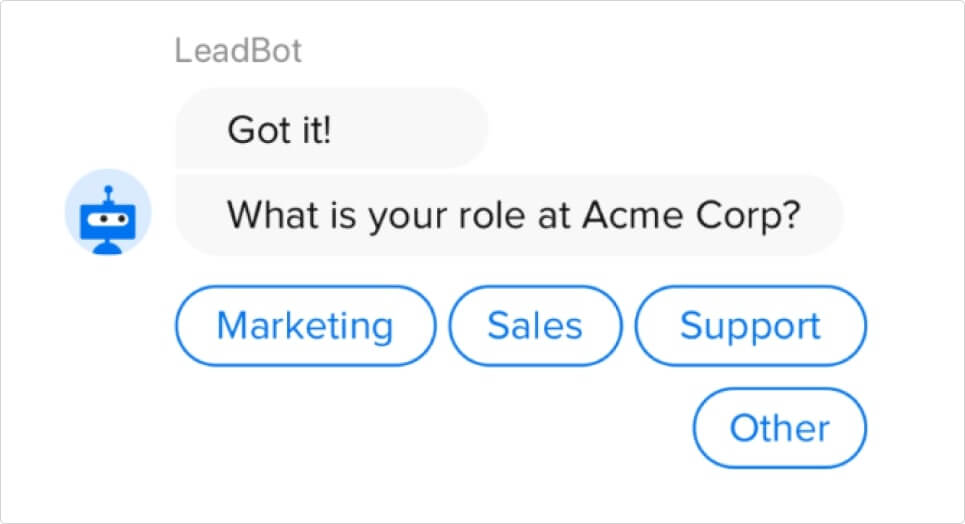 This is an example of lead qualification on a website using the Drift chatbot
User replies are sent to lead cards in the CRM system. After that, the bot automatically addresses working calendars of the sales team and schedules demos for convenient time slots for customers.
Its major job is also lead qualification, but you can also teach it to answer frequent questions using the knowledge base: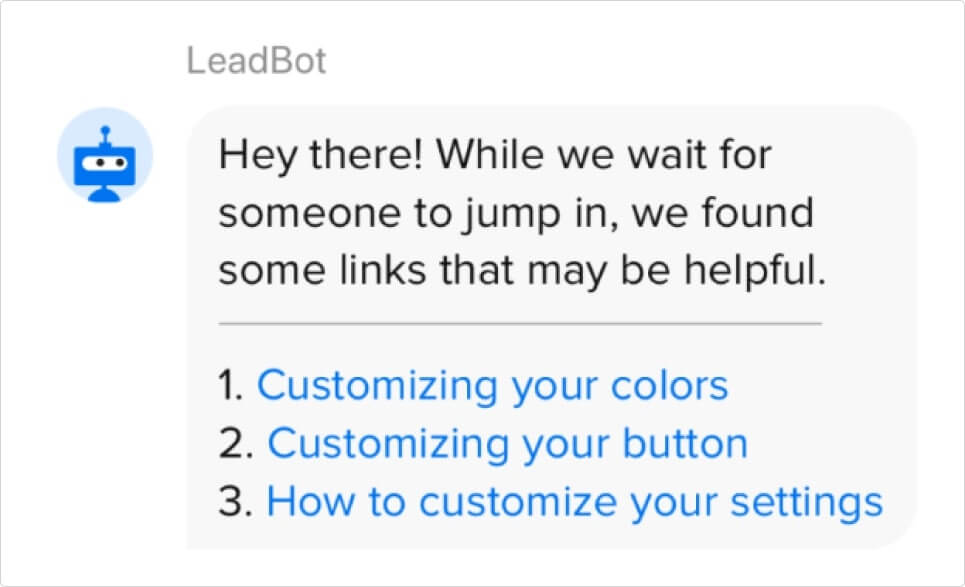 The Drift leadbot qualifies a user, calls for an agent and helps navigate the platform using articles from the knowledge base
Please note: you will need to train it together with the Drift team.
Pricing: from $400 to $1500 and above
The leadbot is available in all plans from $400. The qualification bot is a part of the automation module and will cost you from $1500 and above.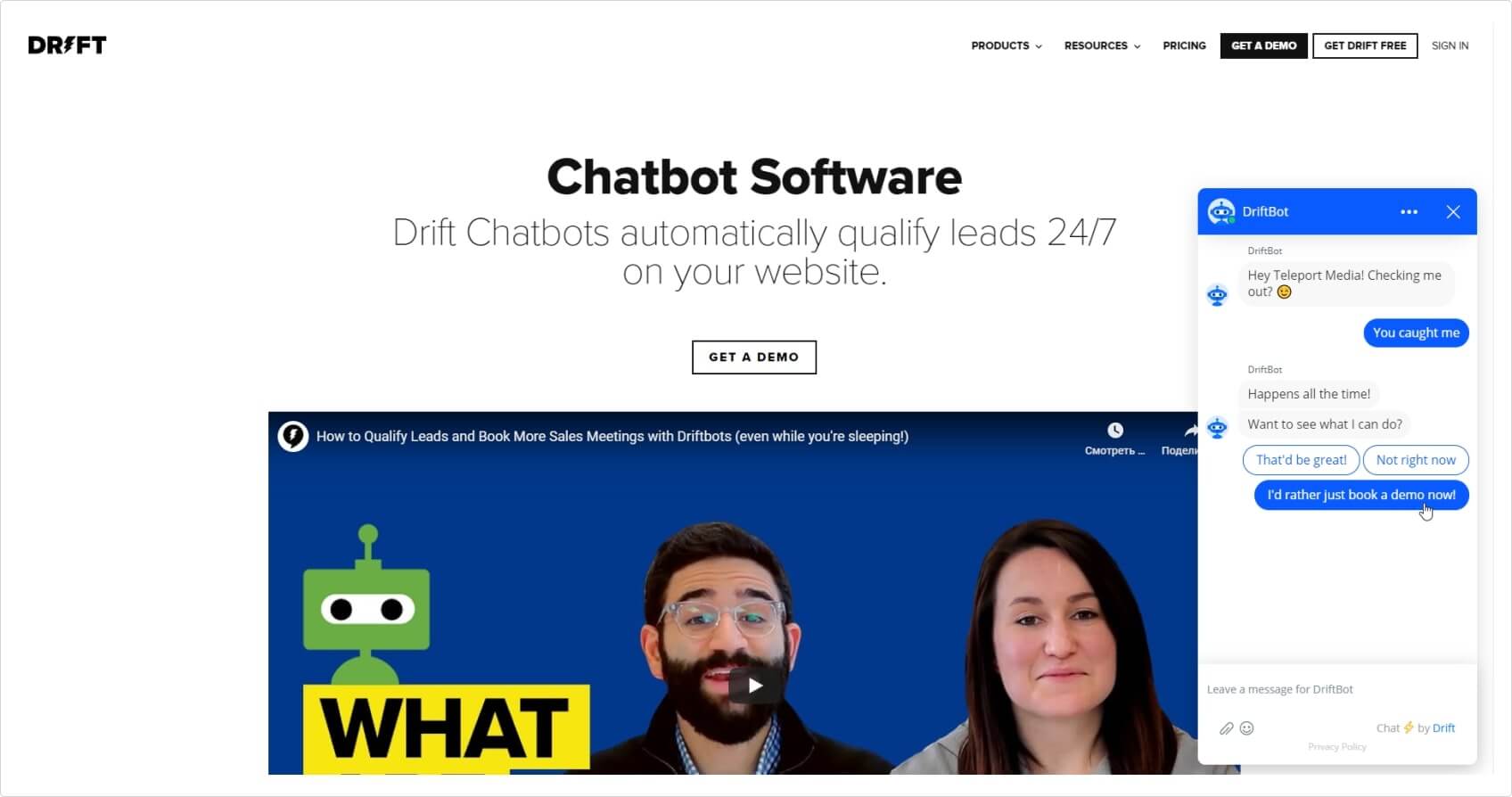 A free trial
You can sign up on the platform for free, but bots will only be available after you upgrade your plan.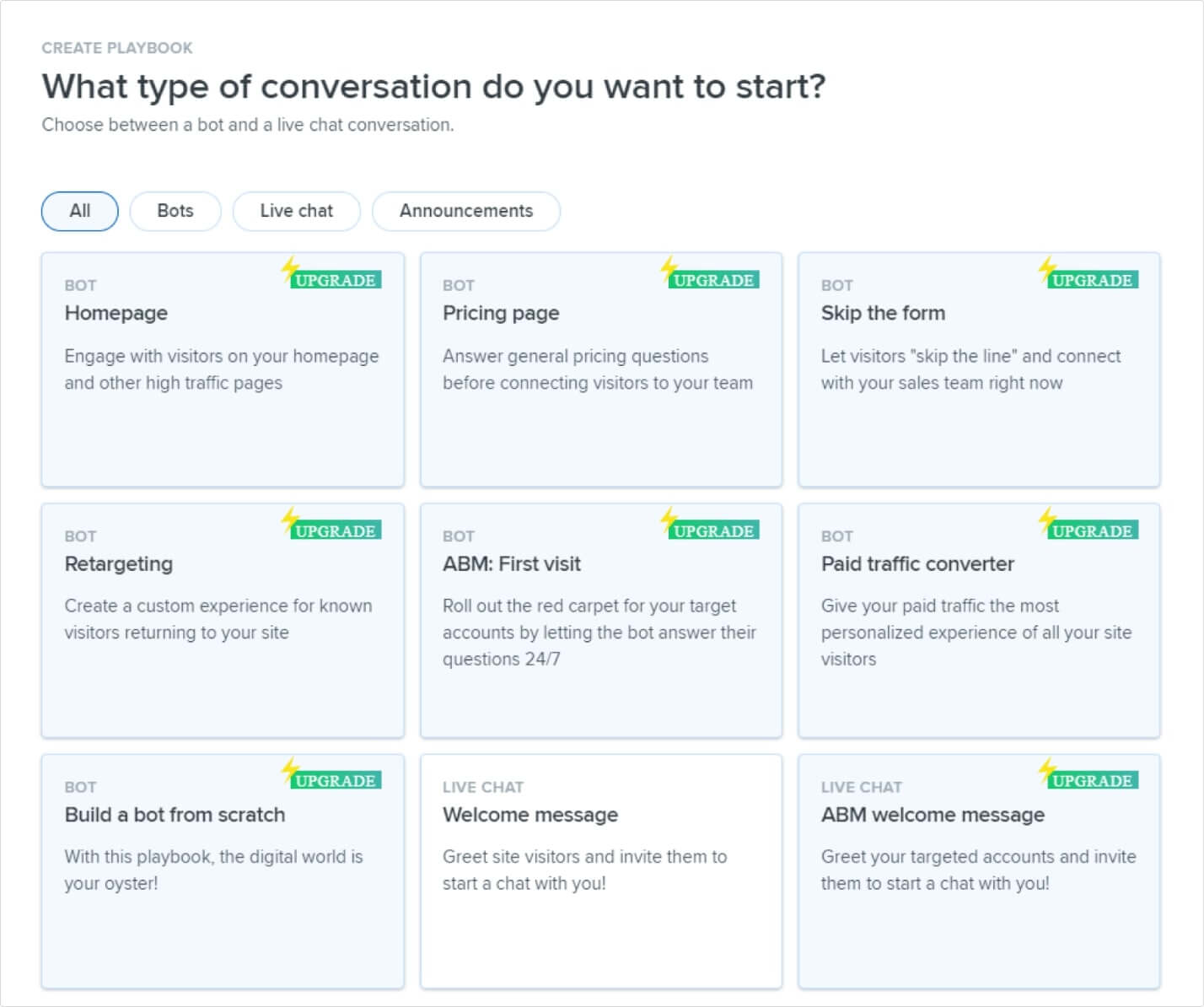 LiveChat+ChatBot
You may think this is a single platform, but not just like that. These are two full-fledged products – a live chat and an AI bot – developed by the same company that can easily be integrated. Sounds impressive, right?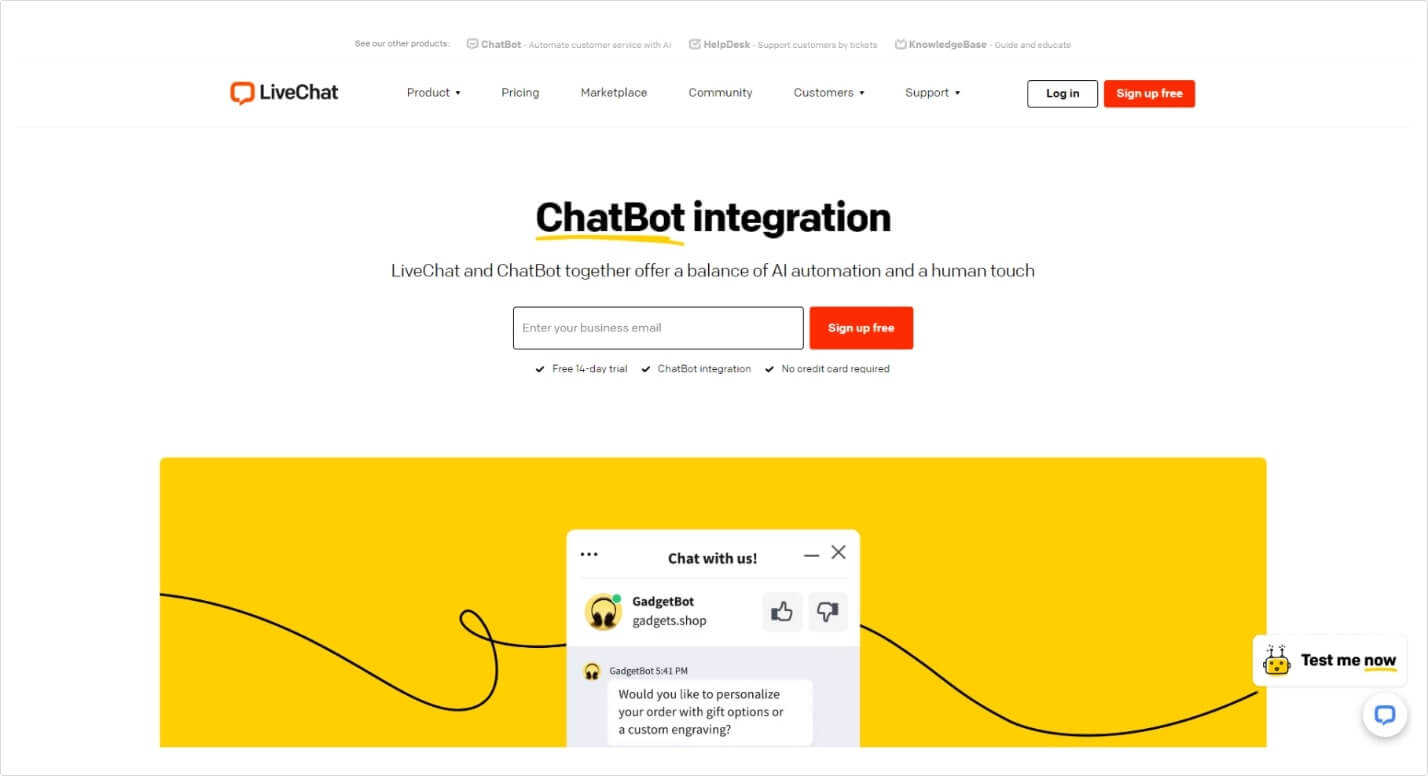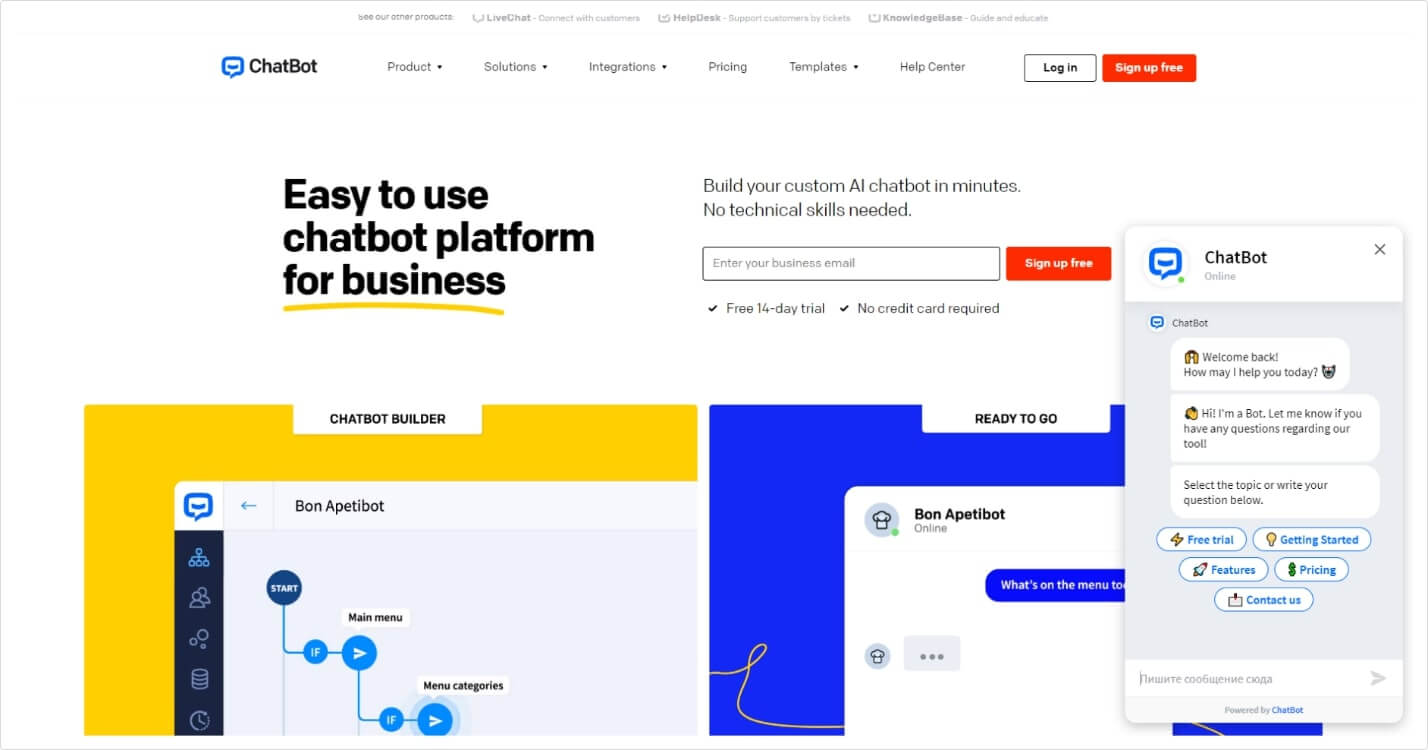 LiveChat is a chat with plenty of features and opportunities, such as:
tickets,
analytics,
integrations with Facebook, Slack, a dozen of CMS, email platforms, etc.
The only thing is, you can't use most features during a trial period as you'll need to pay for them.
What can the ChatBot do?
ChatBot can be used either together LiveChat or independently. You can create a chatbot not just for your website, but also for Facebook and other messengers. The platform has a simple and user-friendly modern interface.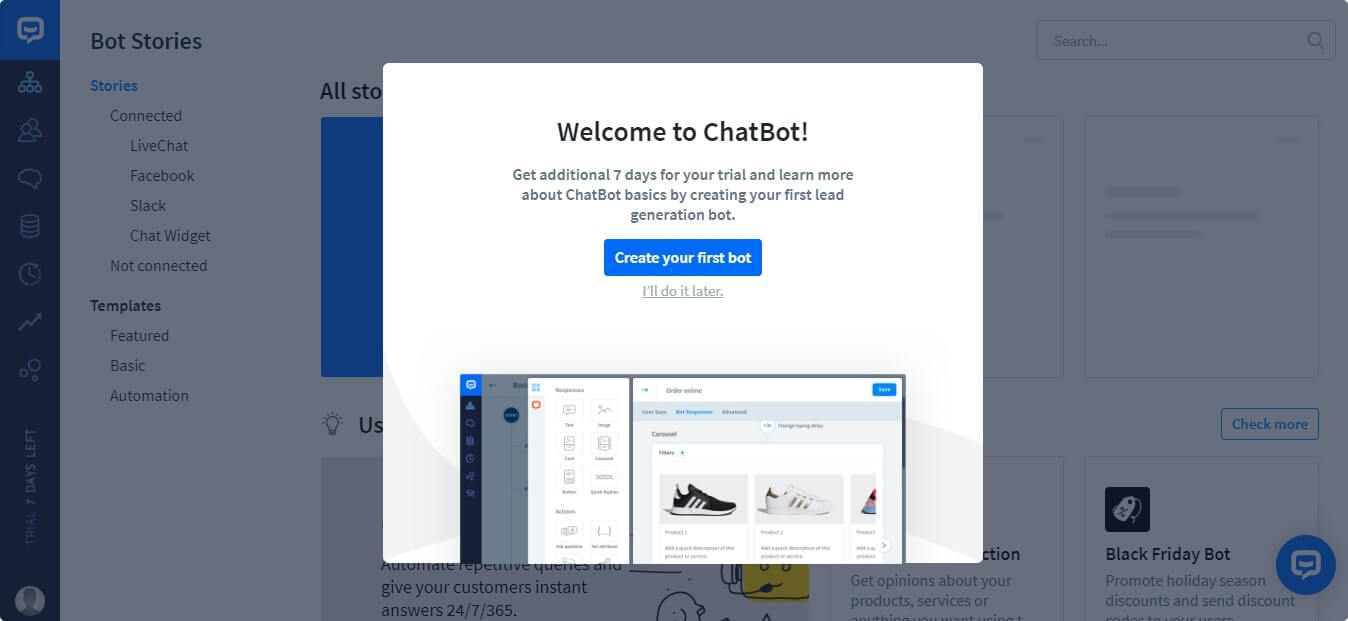 The job that the product is designed to do is to engage users and provide customer service. Chatbots created using it can both qualify leads and cover the first support line.
Its functionality makes it easy for you to:
configure a triggered message campaign;
add images and buttons to it;
send messages to a particular user segment;
configure redirection to a support agent, start a ticket or even email a conversation transcript;
enable necessary integrations.
Some hints will help you: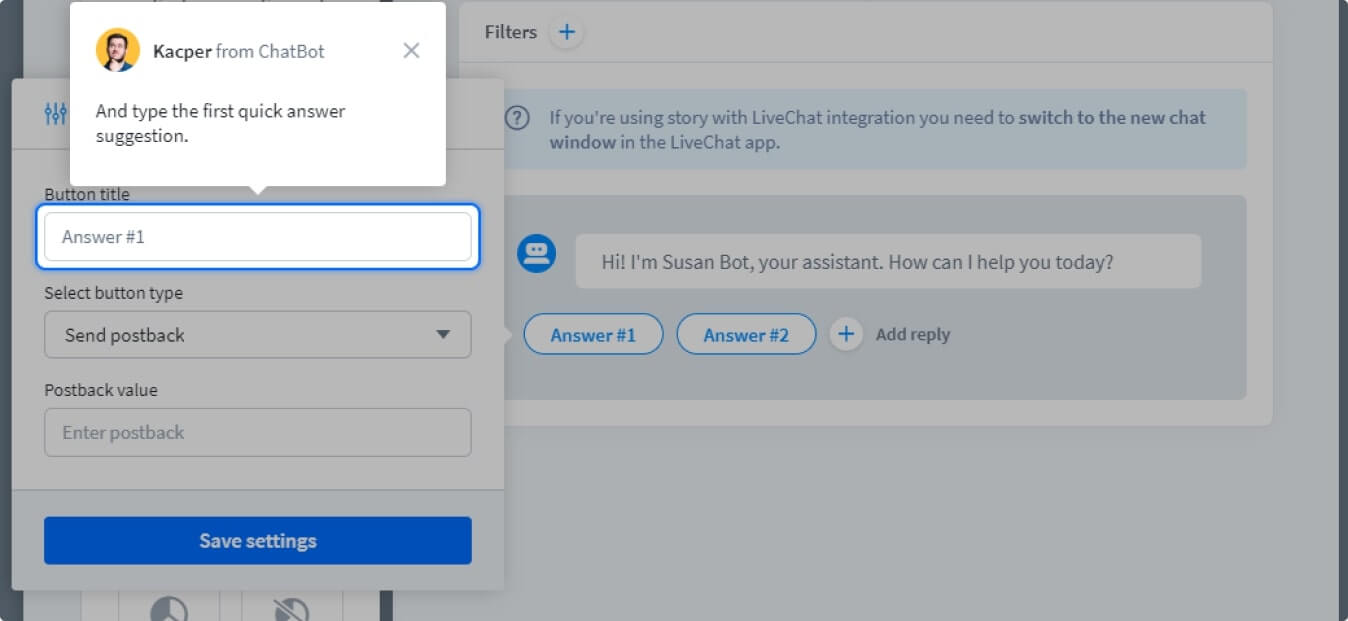 If you want the chatbot not only to automatically send a certain campaign but also to use the neural network to answer users' questions, you will have to train it to do so. You can also do this on your own if you want.
Pricing: from $50 to $499 and above
Configuring one chatbot costs from $50, if you use a plan for $499 or above, you can configure limitless chatbots. The exact price depends on the number of conversations per month. The ChatBot is like an additional agent, so you'll have to pay for it using the integration with LiveChat. The price of the basic version of LiveChat starts from $19 per one agent.
A free trial
There's a free trial period of 14 days, and most chatbot features are available during it.
User.com
User.com is a platform for user tracking and omnichannel communication.
This is the message from a chatbot on the main page of User.com
Marketing, sales, and support teams can exploit the User.com toolkit in full. Here's a list of what's inside it:
live chat,
emails,
SMS messages and calls,
push notifications,
a simple CRM system,
helicopter-view analytics.
What can the User.com chatbot do?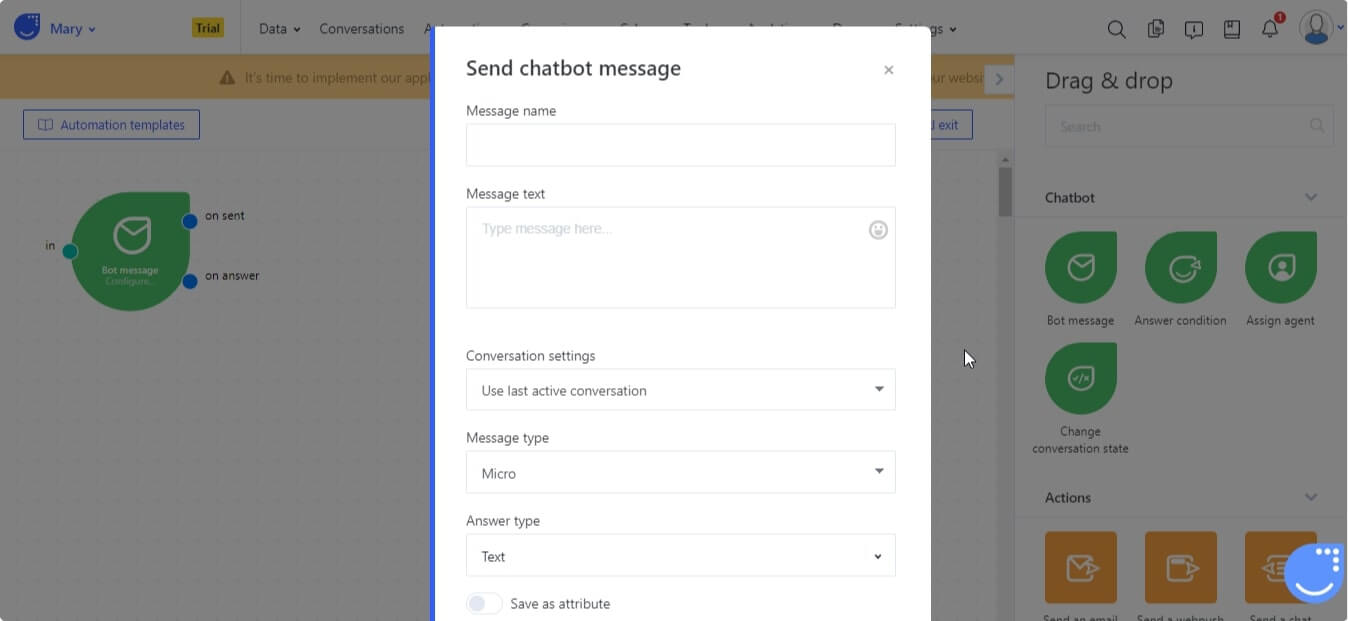 You can configure a simple chatbot offering possible answers as buttons.
Its functionality makes it easy for you to:
configure sending triggered messages;
set a timeout for sending chatbot messages;
ask for user email and send the data to an agent.
You can either configure the chatbot message campaign on your own or use the ready-made templates. There are over 20 ready-made campaigns in the automation section for different companies – from art galleries and wedding agencies to game dev studios and schools. You can also edit any part of your campaign.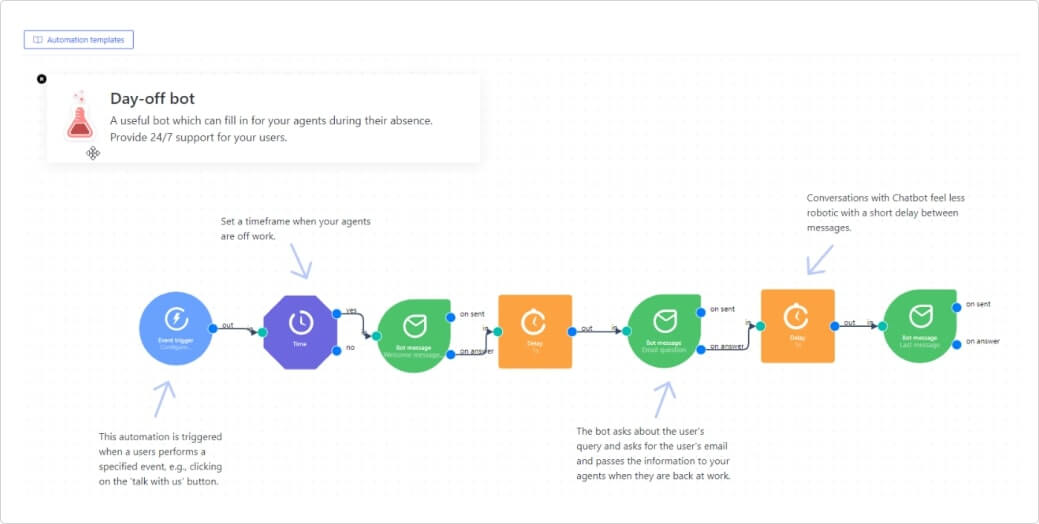 Pricing: from $49
The chatbot is available in the basic plan (from $49/month).
A free trial
You can use a 14-day free trial period.
Freshworks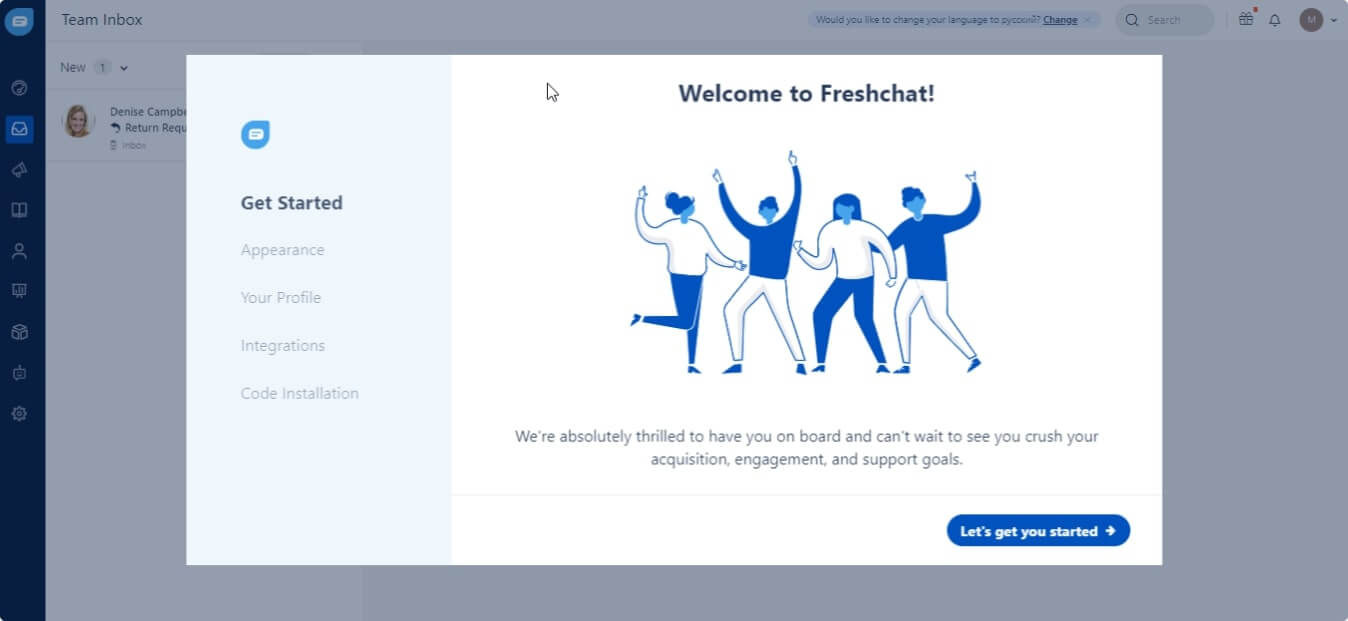 Freshworks entails 12 different products including batch software for various management purposes:
team management,
call center,
customer data management, etc.
One of the software batches is Freshchat. The chatbot is one of the live chat features.
What can the Freshchat chatbots do?
There are 2 types of Freshchat chatbots:
support chatbot — this is the so-called defendant bot (yeah, just like in the court);
sales chatbot — these are the so-called "custom chatbots" whose jobs are customer acquisition and retention.
These bots are created using AI and ML and either respond to users independently or assign a conversation to an agent. They can qualify the lead and register it in the CRM system.
Besides, the functionality allows you to:
name your chatbot and set a profile pic for it;
send texts, images, and videos on behalf of the chatbot;
set messaging filters – for example, based on the session duration or the number of sessions.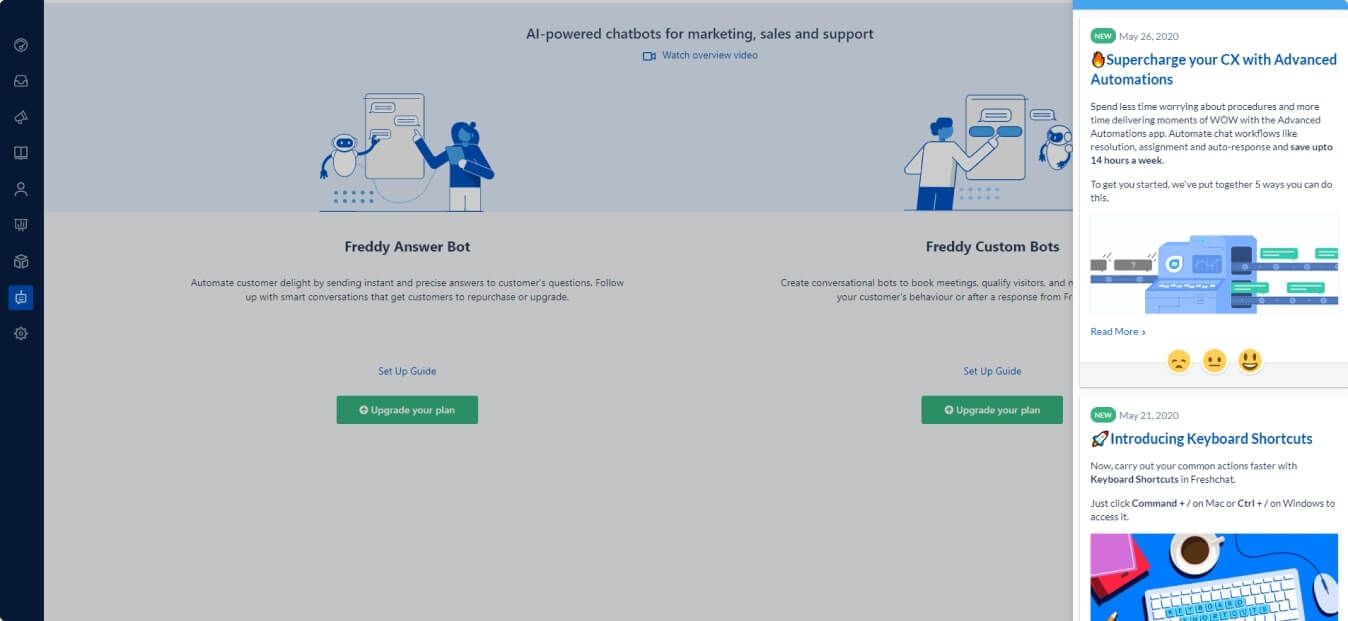 A free trial
You can sign up on the platform and enable live chat for free; your free trial access will last for 21 days. However, chatbots are only available in the highest plan costing from $69 per agent monthly. Contact the support team if you want to have a trial period with this plan.
Gist
Gist has plenty of features, too:
live chat,
email marketing automation,
event tracking,
lead forms,
knowledge base.
What can the Gist chatbots do?
There are several types of Gist chatbots performing simple tasks. They are primarily destined at helping sales teams:
preliminary lead qualification through questions and possible answers;
article recommendations;
scheduling calls automatically.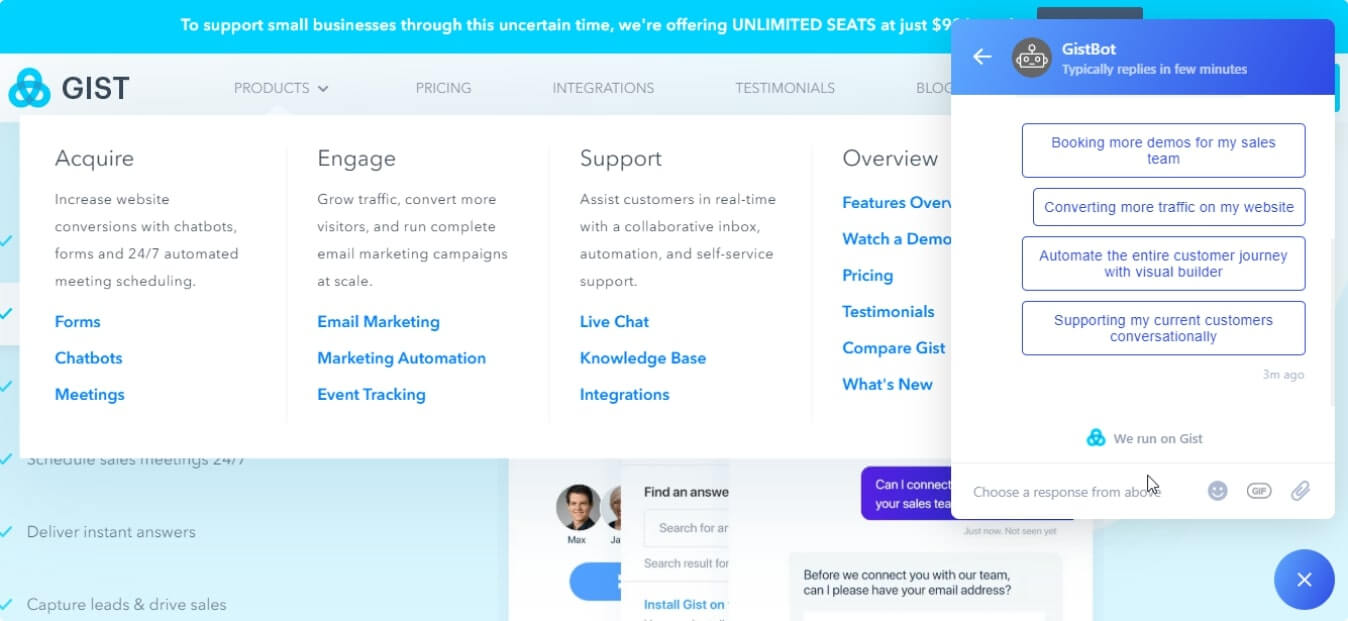 Pricing: from $0 to $499
You can create a simple chatbot using a free plan and more complex ones during a 14-day trial period. The qualification chatbot is available in the professional plan (from $29/month per team of 5 agents), and bots for scheduling calls and content recommendations are only available in the premium plan (it usually costs $499, but now the price is $99).