2022 wasn't the best year for the EdTech industry:
Website traffic dropped by 10–30%, which led to a sales decrease;
Compared to 2021, in 2022, EdTech projects got 70-80% fewer investments. 
The fix? Improve your website conversion and lead nurturing to get the most out of current traffic by implementing:
We collected the best practices of Dashly EdTech clients' communication with their customers. Some of the campaigns were created by our clients independently, and others — with the help of the Dashly implementation team.
Use these templates to:
bost your website/product conversions,
collect more hot leads for the sales team,
get customer feedback,
grow first and repeated course sales.
To help you evaluate the potential profit, we mentioned a relevant forecast next to each template. 
Below, you'll find 36 conversion growth scenarios in a free PDF with marketing copy, settings examples, and revenue forecast.
Download 36 triggered campaign scenarios to grow your online school website conversion
Great! Now check your inbox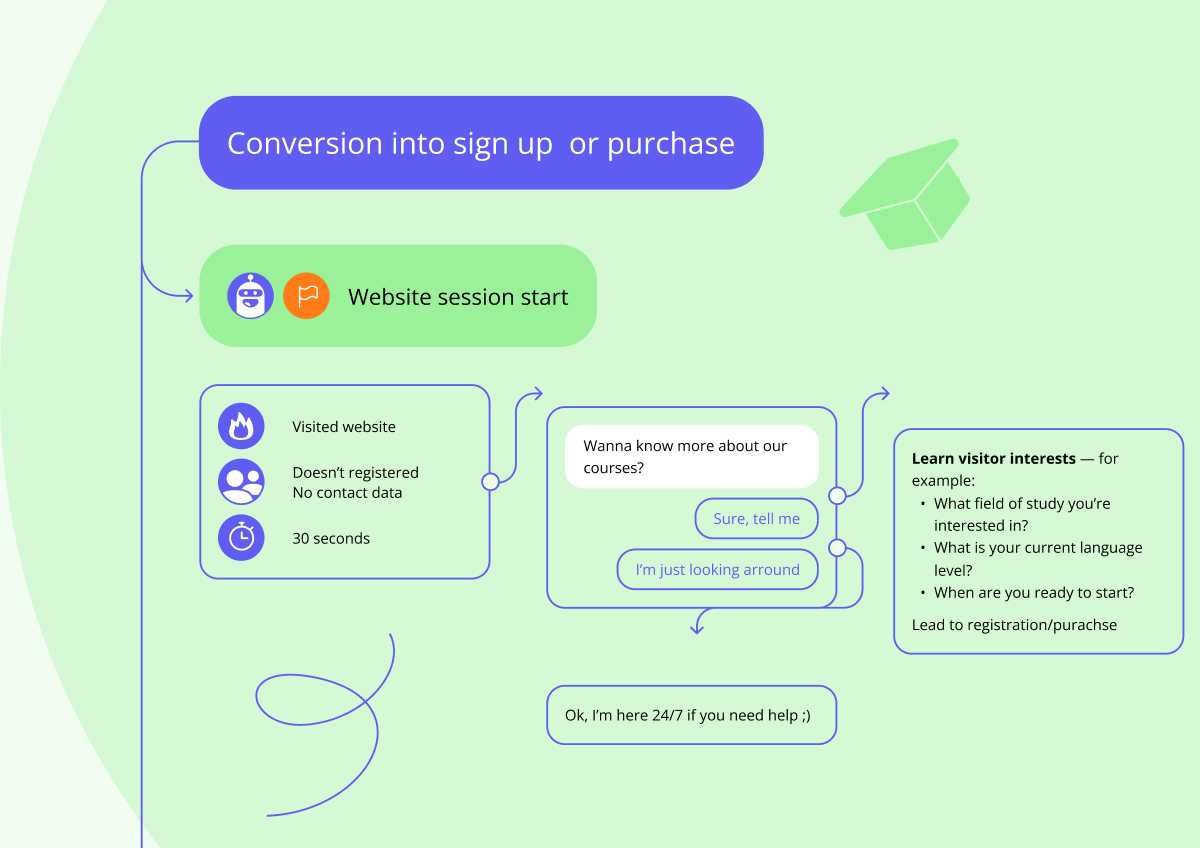 Test these scenarios in Dashly for 7 days free. No developers are needed.
Here are some examples of campaign scenarios you'll get when downloading this free PDF 👇
Improve CR to an application by recommending courses
Turn your student traffic into leads with a proactive chatbot on a website. In a format of a short Q&A conversation, it will define your visitors' interests and advice a program that meets their goals best and bring you $21,930.

There are also conversion growth campaigns for visitors who:
visited a product page,
came back to your website,
watched your webinar or Ads,
scroll to a specific block on your landing page, etc.
You can find and copy this and the other 35 scenarios from a PDF file below 👇
Download 36 triggered campaign scenarios
for EdTech website
Great! Now check your inbox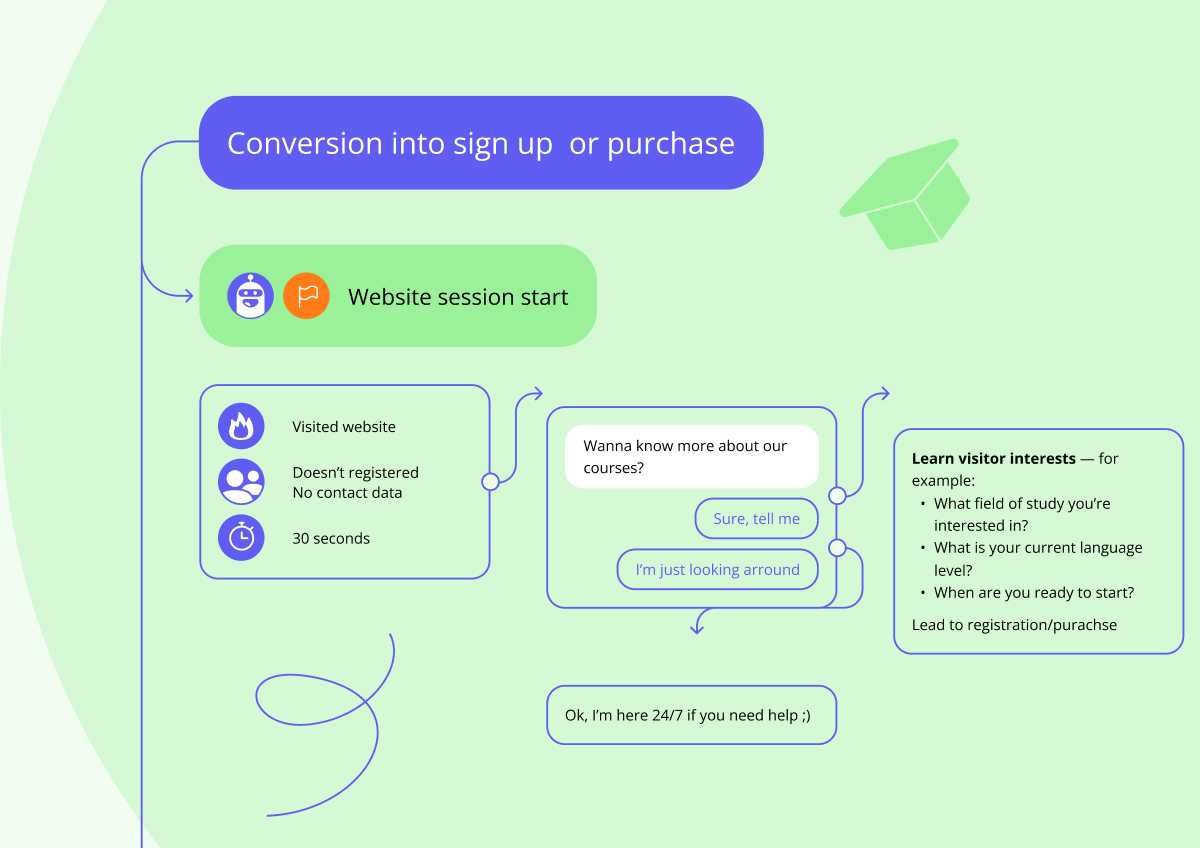 Grow conversion into a payment with an automated onboarding campaign
Launch a triggered campaign for visitors who signed up for your platform/service but didn't buy anything. It can be a traditional email campaign:

In the PDF file below, you'll also find scenarios for a payment reminder, lead nurturing email, or qualifying chatbots that can bring you $200,000.
Download PDF with 36 triggered campaign scenarios for EdTech website
Great! Now check your inbox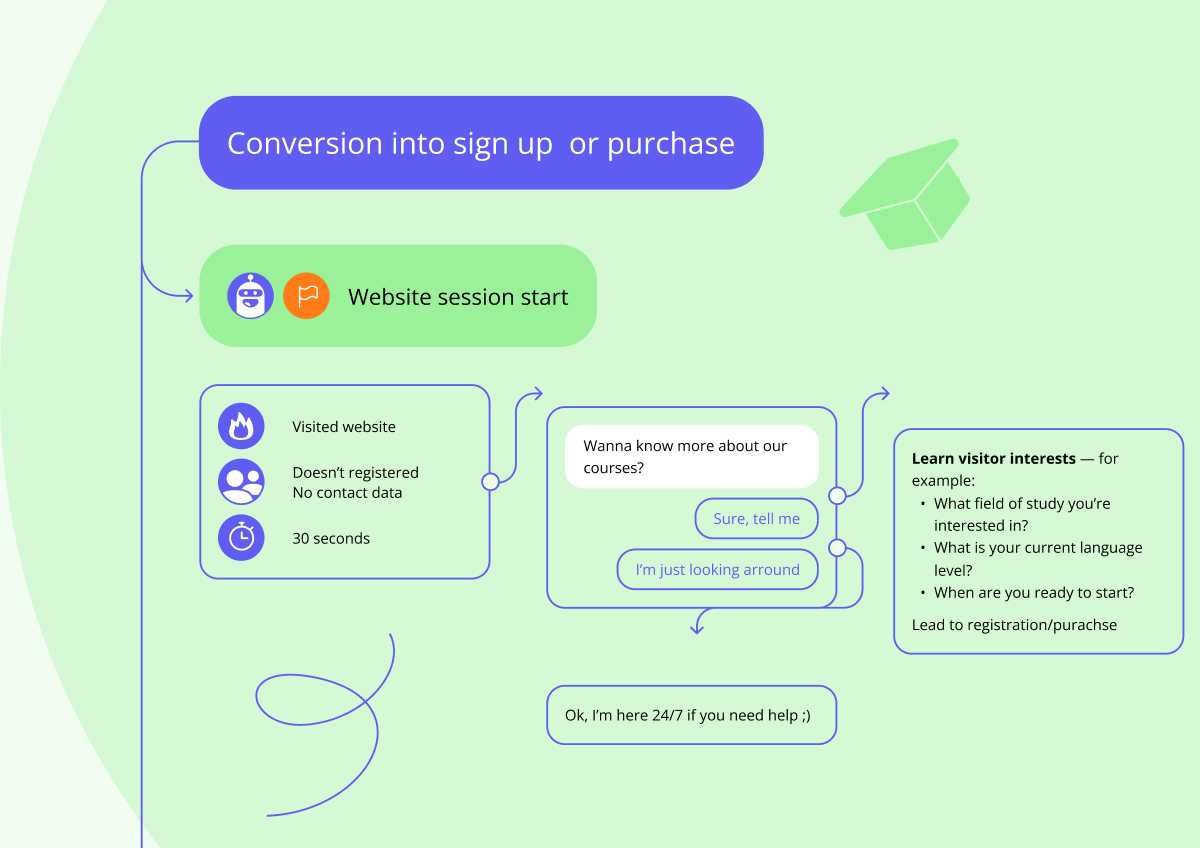 Enjoy repeated sale
You have a list of students who purchased your courses. Divide it into segments according to each course and send them invitations to the advanced level. Usually, such a campaign brings Dashly clients $4,641:

In addition to this scenario, in the PDF file, you'll find chatbot, email, and messenger campaign ideas on how to:
send updates,
discount for the next course.
Download PDF with 36 triggered campaign scenarios for EdTech website
Great! Now check your inbox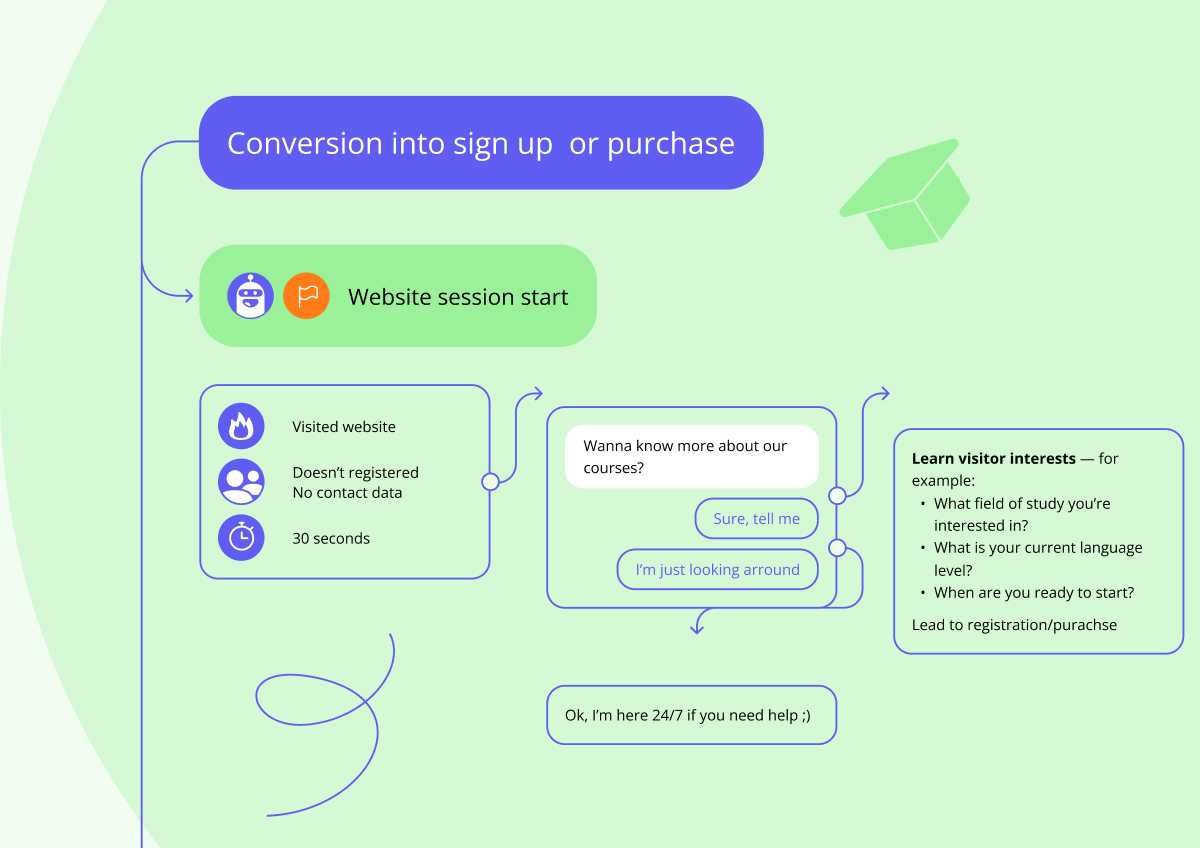 How to use
Define your goal: collect students' feedback, capture leads, notify about company updates, recommend courses, etc. 
Choose a relevant scenario from the list. If you are not experienced with triggered scenarios setting up, start with the first one. 
Edit the scenario according to your needs. 
Copy it to the Dashly platform. Set up relevant triggers and timeouts. 
Check if the new scenarios don't interrupt each other on your website. Here is a short guide for you. 
Test and launch it. 
Track the conversion and revenue growth. Optimize the scenario if the results aren't good enough: change the audience, offer, or timeout. Step-by-step, analyze visitors' interaction with your messages and fix the bottlenecks.
Download PDF with 36 triggered campaign scenarios for EdTech website
Great! Now check your inbox