4 steps as Chief Marketing Officer at a new company [Expert guide]
Reading time: 5 minutes
28.10.2022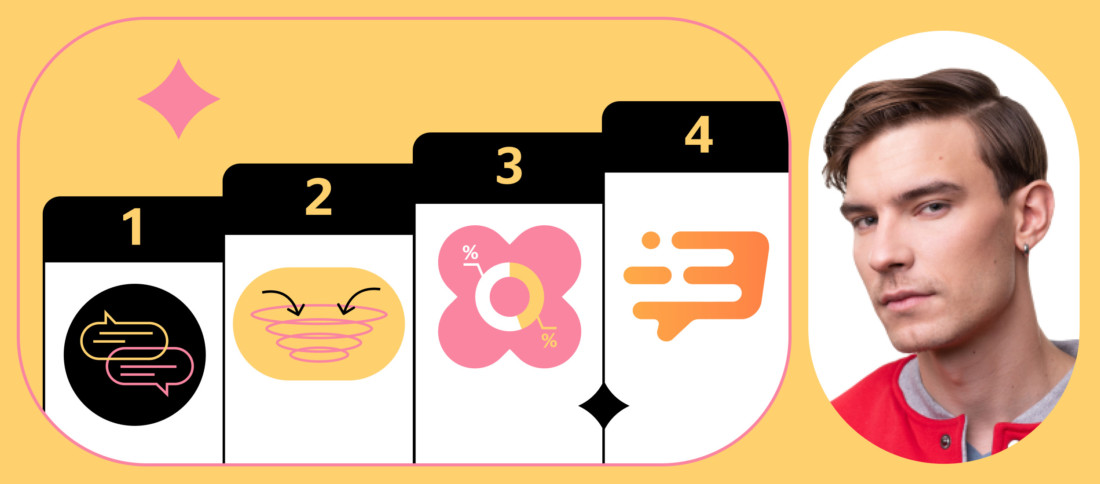 Well done, you've been appointed the head of a marketing team 🎉 Where to start?
When is the right time to change the existing processes?
How to locate all the bottlenecks and fix them?
Let's find answers together with Greg, the head of marketing at Dashly. He worked in marketing management and consulting for 8 years. During that time, he helped to reconstruct the business processes in over 20 companies.
As a result of the interview, we've collected a list of tips that will help you to get comfortable as the newly-minted head of marketing. In this article, you'll find the first four of them, which hopefully will help you to:
settle into a new company;
adjust to a new role if you've never been in charge of a department;
understand what things work well, and what needs improvement.
Now you can read an article or check out an interview in the video 👇
1. Find out what each team in the company does and how it interacts with marketers
Learn how your marketing department and its teams function. Talk to the heads of these teams. For example, our marketing department includes the following teams:
editors office,
video content,
SEO,
production,
product-led-growth,
funnel team, working with paid traffic,
analytics,
activation team.
Get in touch with the heads of other departments:
support/customer success,
sales,
product,
development.
Pay attention to their structure and functions. Find out when and how your team interacts with others.
Build a map showing the structure of your team and its interactions with other teams. Greg has assembled his version using a mind board.
Teams typically have two types of interaction:
Executor, when the team acts as a task performer. For example, if a product team needs a new video or an article, marketing acts as a content service.
Orderer, when the team gives out a task. For example, marketing finds out that customers miss some features, and "orders" a product or development team to implement the feature.
Make sure you understand what teams expect from you as a leader in this or that interaction, where, and what kind of participation you should take.
Analyze the details of teammates' interactions to see what it's missing.
2. Close several deals if your company has a sales team
To better understand the customer's journey, goals, and objectives, try selling your product. For example, to friends or acquaintances whose tasks can be solved with your product. Look for potential customers wherever you go, for example, a Facebook community for local entrepreneurs or a business conference.
First, invite experts from different teams (product, development, and sales) to join your sales call with a client. They will help answer complex customer questions that you are not yet familiar with.
To understand how the sales process works, Greg first participated in our role-playing sessions. This is an event where people from the sales team practice in sales or, conversely, act as a client from a certain business area. Specialists from other teams come to practice role-playing or just to observe and listen.
As a result, participants leave their feedback on the meeting. Together they decide what was done good, what was done wrong, and what can be improved.
Such a practice will provide you with a clearer understanding of how to build communication with clients.
3. Understand the sales funnel and analytics
After trying out the sales manager role, recreate the sales funnel yourself: the way it works now and how it should work. Discuss possible improvements with the relevant team leads. Make any corrections or additions, if necessary. Agree on what key metrics to consider.
This is a part of the customer journey made by Greg. Initially, it consisted of five steps, but the funnel was expanded after the team leads meeting: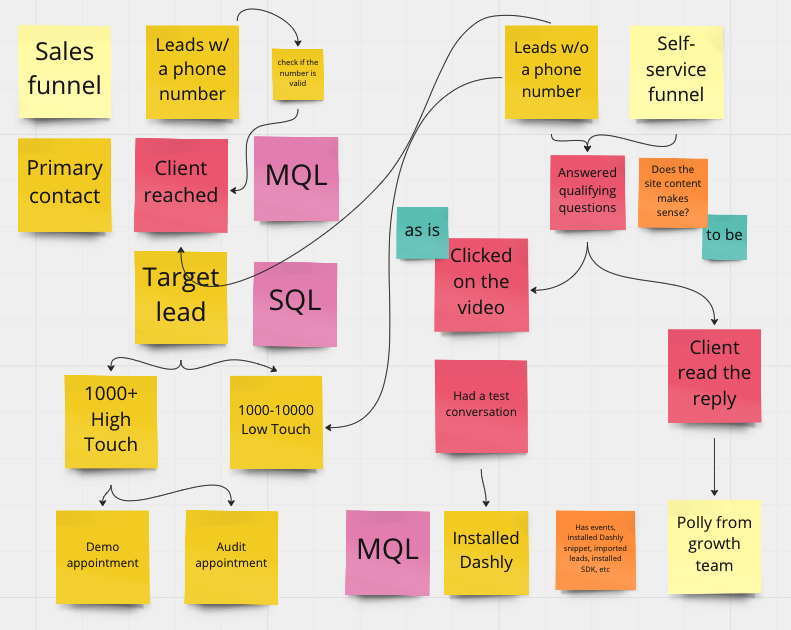 Make sure you understand how analytics works, where and what data is located. Check the current funnel results and decide what metrics to strive for. Learn what each entity in the funnel means, and agree on how to count each metric.
Got interested? In a meeting, we can tell you how Dashly will help you:
 — communicate with customers;
 — track the data;
 — launch experiments faster.
Agree on what all the terms in your funnel mean. For example, in Dashly we have the following:
Sing-ups — all the users who submitted the registration forms and passed the first screen in the service;
Leads — people who shared their data in relevant website forms, excluding email subscribers;
MQL (marketing qualified leads) — all leads that have a website.
This exercise seems simple, but try repeating it in your company. For instance, the term "leads" is usually understood as 5-6 different terms, so try to find the one that works best for your case.
4. Conduct team test drives
Another important stage at the beginning of teamwork is test drives. Imagine getting into a car that you have never driven before. You naturally would like to check how gas pedals, brakes, and gears work and how hard the steering wheel turns.
Now imagine that you first speed up and then find out that the steering wheel is too heavy for you. A bummer, to put it mildly.
This will help the manager see which processes don't work or work poorly, and find ways to improve team productivity.
Test marketing hypotheses with chatbots and Dashly pop-ups quickly. Sign up to use all Dashly tools 7-days free. No developers needed.

Still hesitate? Look at how AppMagic used Dashly to test new hypotheses for lead generation.
Stay tuned for more tips from Greg 😉