Software as a Service (SaaS) companies rely heavily on lead generation to fuel their growth. While there are many different tactics and channels to generate leads, pay-per-click (PPC) advertising has proven to be a highly effective method for driving targeted traffic to SaaS websites.
To maximize the ROI of your PPC campaigns, it's important to focus on generating bottom-of-the-funnel leads.
So, in this article, we — a SaaS PPC agency specialized in such tasks — will explore one of the effective strategies for using PPC advertising to generate high-quality, bottom-of-the-funnel leads for SaaS businesses. 
SaaS PPC Strategy for Ad Campaign Optimization 
When it comes to PPC for SaaS, one of the challenges businesses face is low-quality traffic. Over the years, we at Lira Agency have audited many SaaS accounts and found that many businesses only use on-site actions as conversions, while data on low-level conversions do not come through to ad campaigns.
There is a problem: advertising traffic brings users who do not move well in the funnel. As a result, the cost of a target customer turns out to be high.
However, this is a task that can be worked on.
You can improve the quality of traffic even at the stage of involvement by optimizing your ad campaigns for conversions at the bottom of the funnel. In this way, you can avoid wasting money on users who are not likely to move beyond a chat message on the site.
The key and most important task is to train your advertising campaign to bring in only those users who most likely will convert into customers. However, this task is often not easy to accomplish.
I'll tell you why.
In an ideal world, you could just track conversions from the bottom of the funnel in your Google Ads account and optimize ad campaigns only for these conversions.
In this way, we get an advertising campaign that knows how to bring us the most targeted and most important customers, who will not just leave an application or register for a trial, but who will eventually make a deal, get a paid plan, etc.
In the real world, some limitations would prevent this approach from being implemented.
The lower we go down the funnel, the fewer conversions there will be at each of the next steps. If you can't yet generate 30 or more high-quality conversions a month, you can't fully optimize your ad campaigns for those conversions alone.
Long time lag between the first ad visit and the targeted action. It makes difficult to adequately train ad campaigns on this data. This is especially typical for SaaS products with a trial period, where the time lag is also extended due to the trial period. With this lag in the data, campaigns become less manageable, taking more time to learn and adjust behavior.
One of the options that, on the one hand, will allow you to target ad traffic to the bottom of the funnel and, on the other hand, minimize the problems associated with optimizing for these conversions — is tracking the full funnel of user behavior on the site and work with value strategies with optimization for the entire conversion funnel.
You can decide what site actions and what subsequent actions your funnel will consist of. You don't have to include all the actions. If you are at the stage of building a proper funnel, then you will find the following article useful, as it describes 7 funnel-killing mistakes and helps you understand how to avoid them.
We will discuss how to implement this method using Google Ads. The platform allows you to achieve great results with automated strategies based on machine learning principles. One of the auto strategies — "target return on ad spend" — is exactly what we need to implement the method.
Free expert insights to boost your marketing strategy and raise conversion to a target action by 10%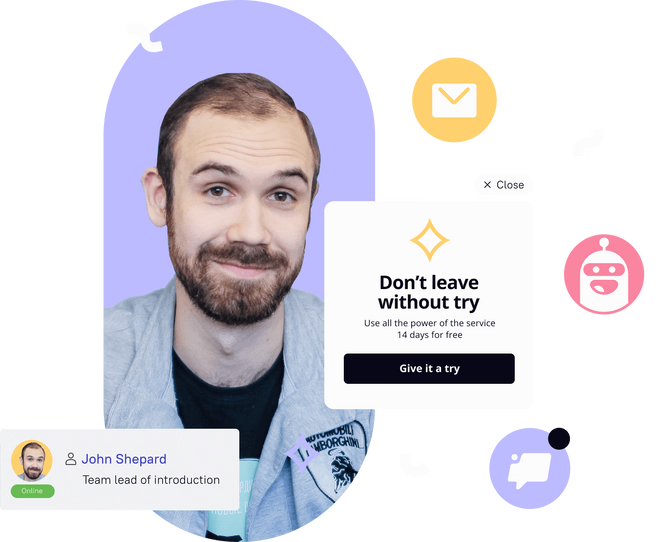 Top-Of-The-Funnel Leads Tracking
When building a complete funnel of user behavior, it is important to track all the targeted actions of site visitors and pass them on as conversions to ad offices and analytics systems. 
It's important to determine which events and user actions on the site are most important and indicative for you. These can be: 
Completed contact forms.
Calls by phone number (call tracking).
Emails (email tracking).
Live chat.
etc.
Lead Generation for SaaS With Dashly
Every business needs to be in the right place and at the right time to get a lead. So that when a client is ready to contact you to clarify something or leave a request, you can give them a simple and clear opportunity to do so. 
Dashly is exactly what makes it easy for businesses to interact with customers and be there for them when they need it.
With the Dashly service, you can:
Place a live chat on the website to drive sales and communication with customers.
Add a chatbot to collect leads and support users.
Set up a pop-up customized for your users' needs.
All of these activities on the site are also targeted user actions at the top of the funnel.
You can track and report this user activity as conversions and include them in your ad campaign optimization.
Bottom-Of-The-Funnel Leads Tracking
If you correctly collect and track leads, requests, and chat messages on the site, then the next part of the task is to track and pass conversions to the bottom of the funnel. When the user has already left a request, you have processed it (most likely some time has passed) and now the lead has successfully closed the deal and made the most important target action for you — concluded a contract, or paid for the services.
These conversions, of course, are often far fewer than conversions from the top of the funnel. However, it is these conversions that are most meaningful and valuable. 
From a technical point of view, importing offline conversions from your CRM is a more complicated task than tracking conversions on the website. You may need the help of a third-party service or your analyst to set it up right.
But, by solving this question, you get a very important feature that can make a big difference in the quality of your paid traffic. Thus, you'll gain a lot of potential and opportunities for future growth.
SaaS PPC Tips: How to Scale High-Quality Leads
So, let's suppose that you've identified targeted meaningful actions throughout the funnel, set up action tracking on the site, and import the lead statuses from the CRM as offline conversions to the Google Ads account.
Let's assume that one of the problems that prevent you from tuning your campaign optimization immediately to bottom-of-the-funnel conversions is relevant to you:
👉 You have few bottom-of-the-funnel conversions (less than 30 conversions in the last 30 days).
👉 You have a long decision-making period for bottom-of-the-funnel conversions (the period between the first visit to the site and the targeted bottom-of-the-funnel action is more than 5 days).
If at least one of the conditions is about you, then you can't use ad campaign optimization only for bottom-of-the-funnel conversion in ad campaigns. Or rather you can, but it will be inefficient.
The solution that will work here is to use full funnel conversions in campaign optimization along with using target return on ad spend auto-strategy.
If you've already set up full funnel conversion tracking, the next step is to set a value for each conversion in the funnel that you track. We recommend taking a value as close as possible to the cost per lead — the conversion at the bottom of the funnel. And then up, decreasing the conversion value according to the conversion rate.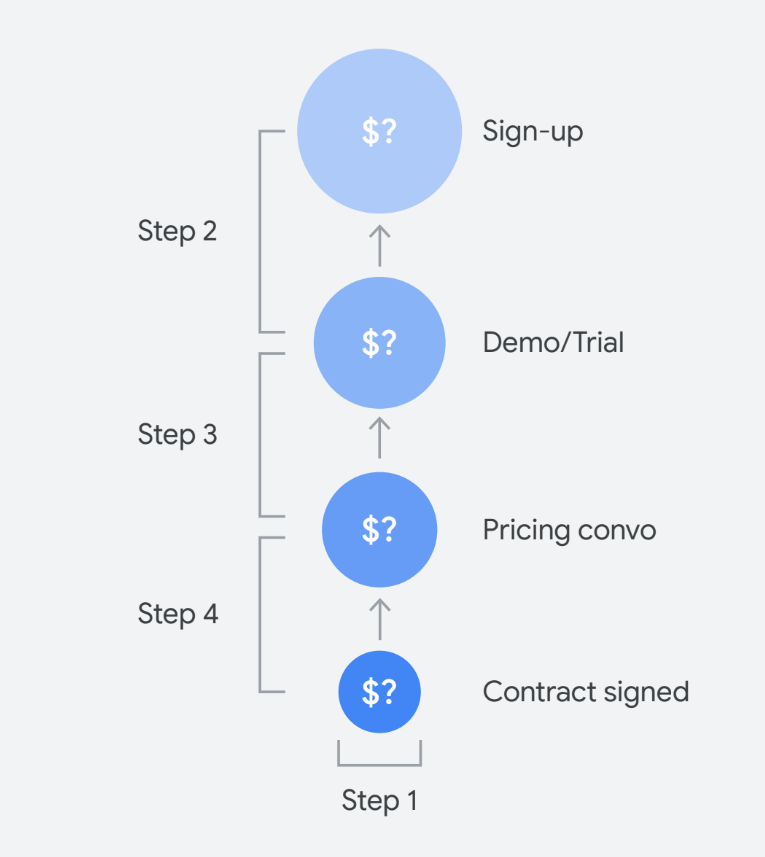 Keep in mind that these values can be adjusted up or down depending on how meaningful the conversions are to you. Because in this case, conversion values are more of a symbolic representation. The higher the value, the more significant the system will consider that conversion.
Calculate your funnel conversion values with the conversion values calculator by Google. 
Once you've completed these steps, you're ready to start training campaigns to work on ROAS auto-strategy with campaign optimization on conversions across the full funnel. We won't describe the campaign training process in detail here, as it can vary.
However, we can identify a few universal rules that SaaS businesses should follow:
1️⃣ After adding values to conversions, you shouldn't switch campaigns immediately to a value strategy. You need to wait for the data to be accumulated. Usually, 30 days is enough.
2️⃣ If you haven't advertised yet and you don't have any accumulated data, you should start with another auto strategy.
3️⃣ In case you have a long time interval to the last most significant conversion (more than 5 days), then you shouldn't use this conversion as the last and most valuable one in the funnel. Use one of the previous steps with a lower time delay, with high conversion into the final deal. For SaaS products, it could be Onboarding or Trial or Filling out an extended questionnaire, etc.
Lead Generation Marketing Strategy Results
A few screenshots of the successful performance with Google Ads campaigns using full-funnel conversion optimization and value-based auto-strategies.

This screenshot shows the number of high-quality "Account opened" conversions dynamic after switching the campaign to a value-based (tROAS) auto strategy.  The red vertical line on the graph is the week of the strategy switch in the campaign. 
Also, the red line on the graph is the dynamics of the conversion rate from the mid-funnel conversion to the bottom-funnel conversion.

Another example from another Google Ads campaign also illustrates the dynamics of the high-quality conversion after switching the campaign to a value-based (tROAS) auto strategy.
As you can see, the rate of change and dynamics may be different for various campaigns. In each case, additional actions and improvements may be necessary to get the desired results.
Also, in the case of auto strategies, you may not get the results you want right away. It takes time, usually up to 4 weeks, to reach a stable positive result. But the less traffic the ad campaign receives, the longer this period can be. 
Get a free expert analysis of your website communications and learn where you lose leads
Conclusion 
SaaS companies can greatly benefit from using PPC advertising to generate bottom-of-the-funnel leads. By following the strategies outlined in this article, SaaS businesses can maximize their ROI and attract the most qualified leads to their websites.
Remember to focus on creating targeted ad campaigns, optimizing landing pages for conversions, and utilizing retargeting to engage with visitors who have already shown interest in your products or services.
With the right approach, PPC advertising can be a valuable tool for SaaS lead generation, helping businesses grow and thrive in a competitive market.
As a specialized SaaS PPC agency, we at Lira Agency understand the importance of generating quality leads, and we hope this article has provided useful insights for businesses looking to improve their lead-generation efforts.
Read also: