How to stop sending outdated messages
Reading time: 4 minutes
08.10.2021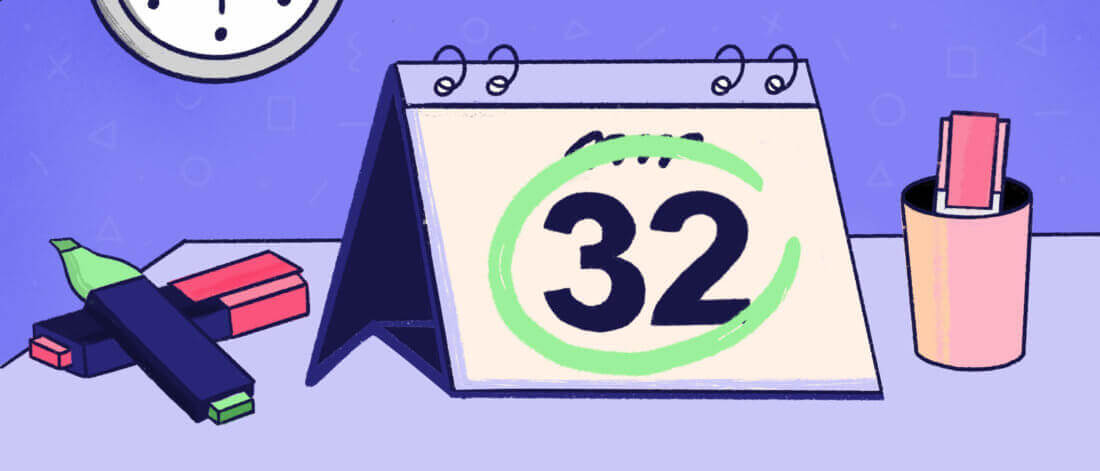 Now you can delete the message you sent to users when it becomes irrelevant. This works for auto and manual messages, pop-ups, and messages in chat (however, Dashly does not support message removal from email).
Let's take a look at some particular examples to understand how to use this feature and why you would need to delete messages.
You can find more about how to delete auto and manual messages and chatbots in our Help Center.
Holiday greetings are on time
Holiday is a good reason for offering your users a discount and boost sales. Unfortunately, every day can't be a holiday, and it means that your New Year offer will become outdated at some point of time. Imagine: you have sent a beautiful pop-up with a New Year discount, forgot to turn it off in January, and one of your users came to your website in April and saw it. 
To avoid situations like that, set a specific time (for example, end date of a special offer) when the message is deleted. It won't matter whether a lead has seen your message or not. If there is no reply (or no click on a link), the message will be hidden even if it is showing right now.
Create an auto message and set the time when this message becomes irrelevant. After this date the manual message is deleted, and auto message is turned off.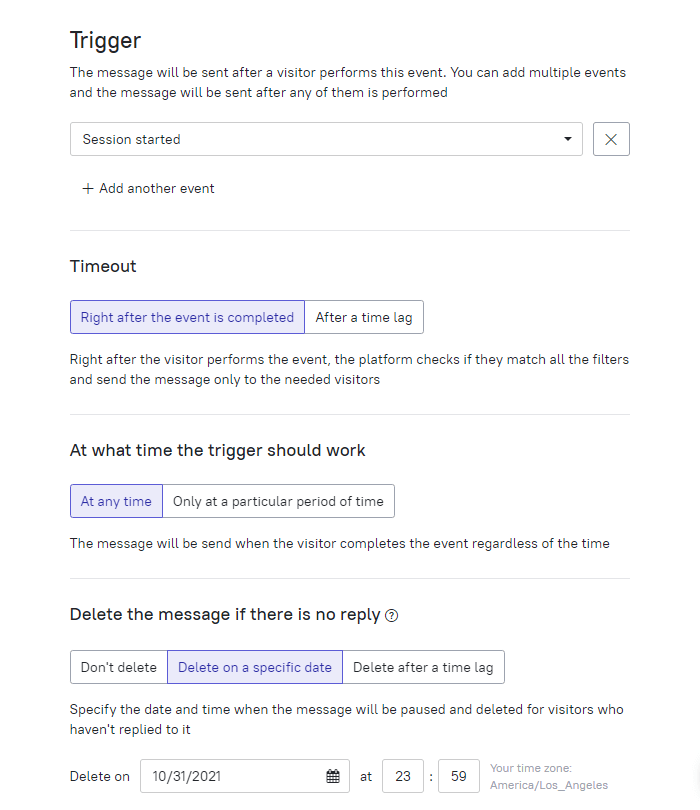 By the way, we have prepared templates for Halloween for your campaigns. Check them out here.
Invite to join a webinar
Webinar helps to collect leads, warm up the audience, share expertise and experience. Hope you have already tried to collect leads with pop-ups. Now you are able to notify about upcoming webinars on time, not only by emails, but with pop-ups as well! And don't keep in mind that you need to turn the pop-up off. 
For instance, your webinar starts at 18:00 PM, October, 12 2021. Notify that you will start soon by sending a pop-up. It will be automatically removed as soon as the webinar begins.
In Leads section choose the segment of users who have left their contacts to join the webinar;
Create a pop-up or a chat message;
Schedule the sending and set the time when this message should be deleted.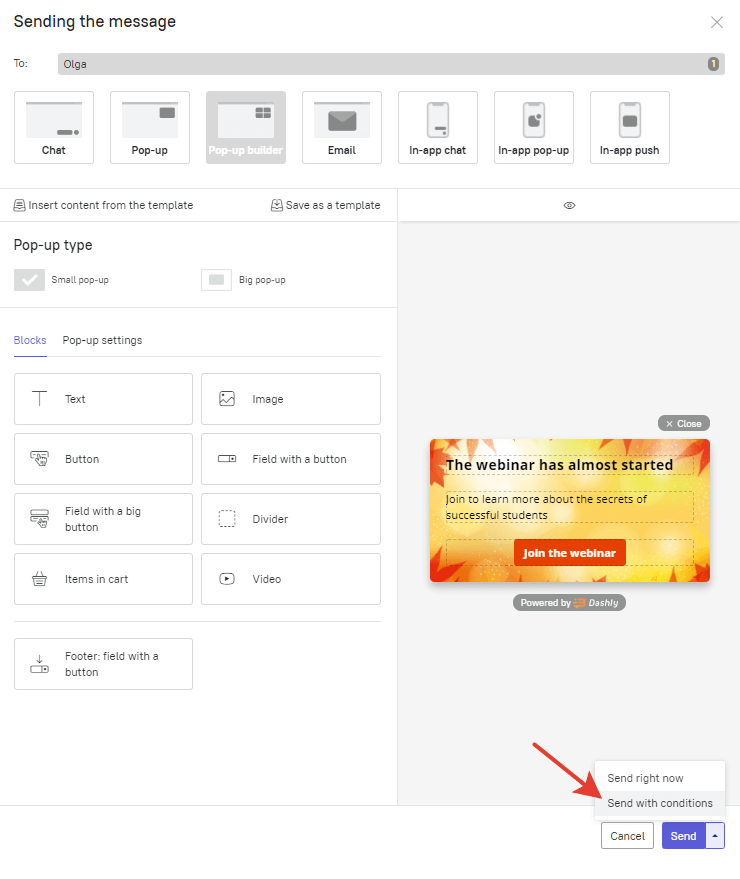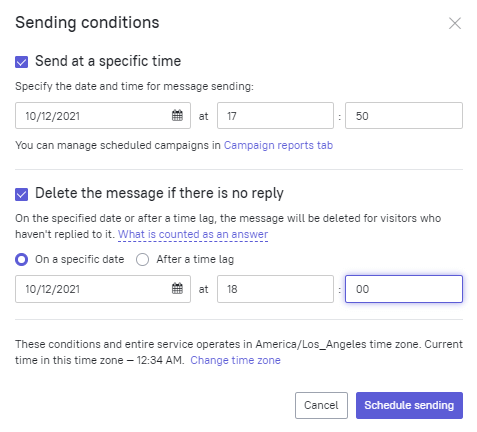 Do it in advance in order not to panic on the day of the webinar. Dashly will send the message and delete it automatically.
Get more online course applicants
A chatbot on a website can help you get more online course applicants by qualifying users, collecting emails and phone numbers so that managers can then contact targeted leads. If the course starts on a specific day, set the bot to delete after the course starts.
For example, your course starts on October 18th. Create a chatbot that will collect leads on the course landing page.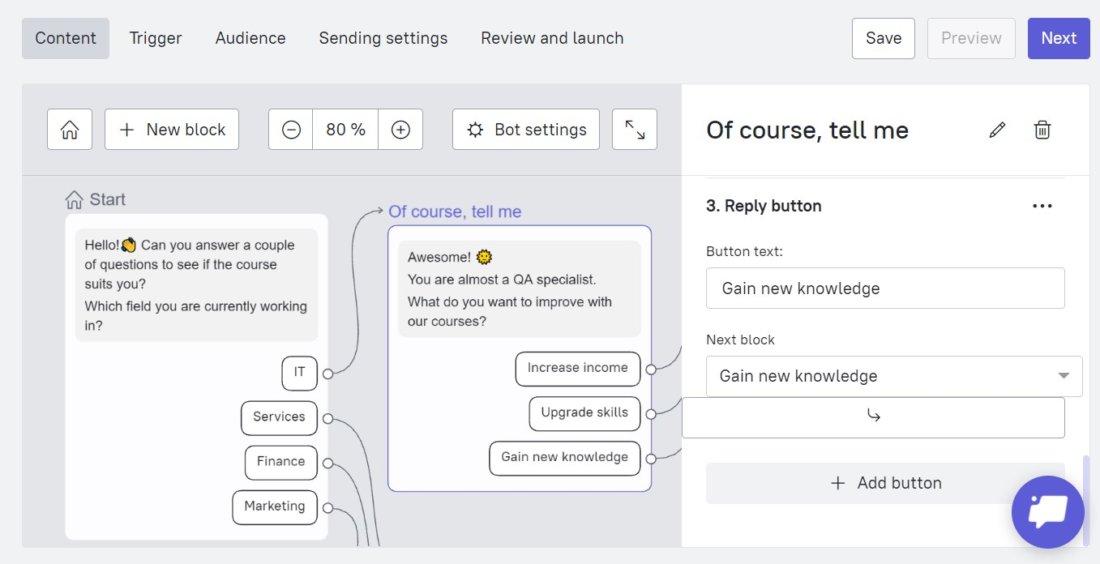 Adjust the date and time when the bot will be deleted so that it doesn't show to users after the course starts.
Users who visit the course page after October 18 will no longer see the chatbot.
Warn about the maintenance
Sometimes you need to do some maintenance works on your website, and some malfunctioning may happen. Let your users know that these difficulties are temporary with a chat message or a pop-up. 
For example, you've planned to do these works from 7 a.m. to 10 a.m. on October, 11 2021.
In Auto section create a new auto message, choose a pop-up or a chat message type;
On a Trigger step choose an event, for example, "Session started" if you want to notify everybody or "visited Sign up page" if the problem appears only on a specific page. 
Set the time when the messages should be deleted: 10 a.m. on October, 10 2021. So at this particular time this auto message will be stopped and those who will visit your website at 10:01 a.m. or later won't see the notification.
Let your messages be on time and on the subject. This increases conversions and loyalty.