Trend #1 Instant communication with users via chatbot, messengers, and live chat
Customers expect personalized communication with companies, support at any time of the day. They want to do it via convenient channels: social media, messengers, email, or a website chat. 
If you can't offer this experience, no one would like to buy from you. 
Just look at the growing number of brands that want to interact with their customers and offer the best service 24/7: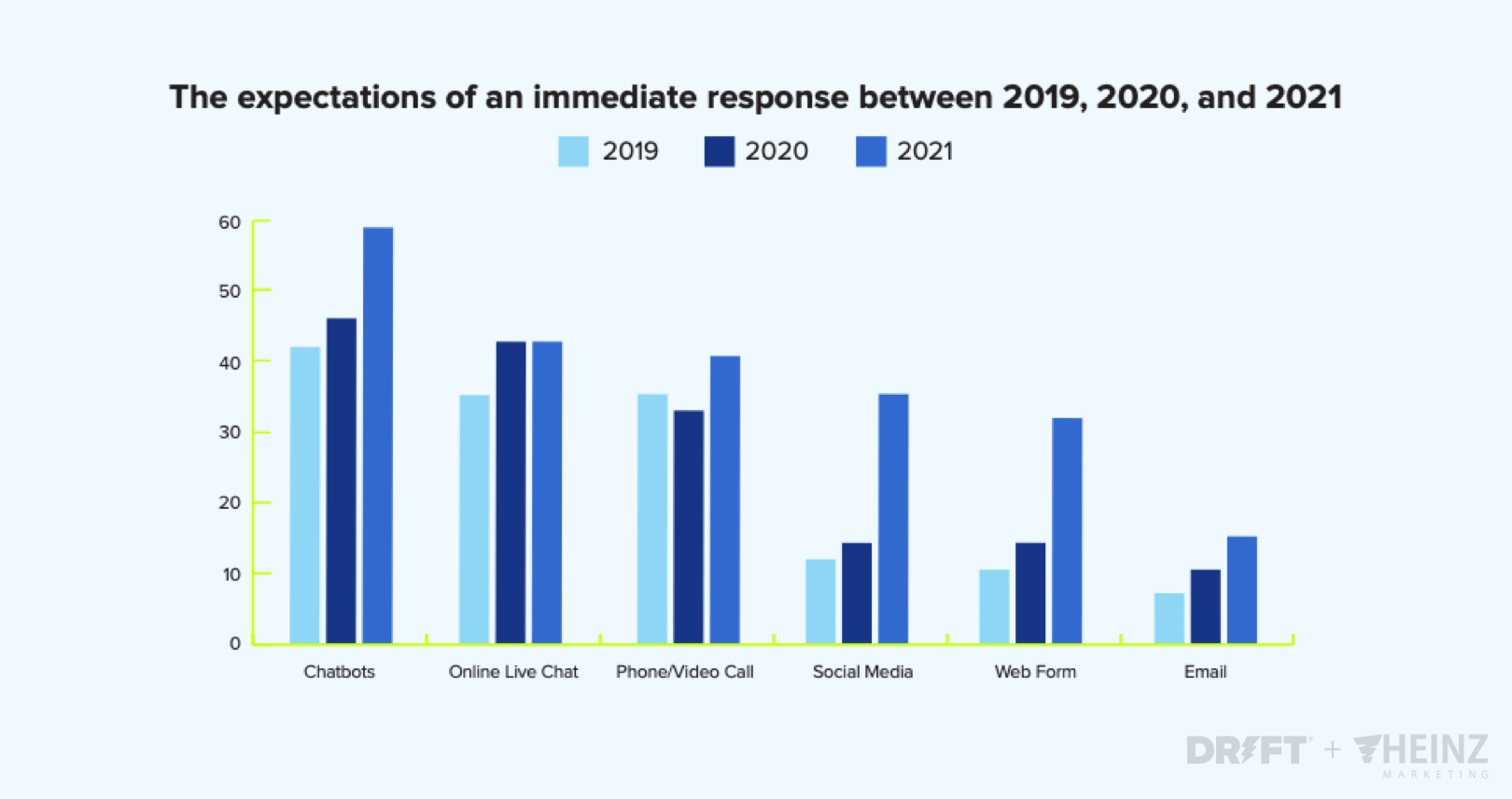 One of the hottest 2022 trends is to offer instant communication with your customers where it's more comfortable for them. According to Drift Survey: 
There is 2x growth from last year of customers' expecting an immediate response in social media. 
At the same time, stats say about a 20% growth of customer frustration with access to basic business information.
And up to 27% growth of disappointment with old school lead forms.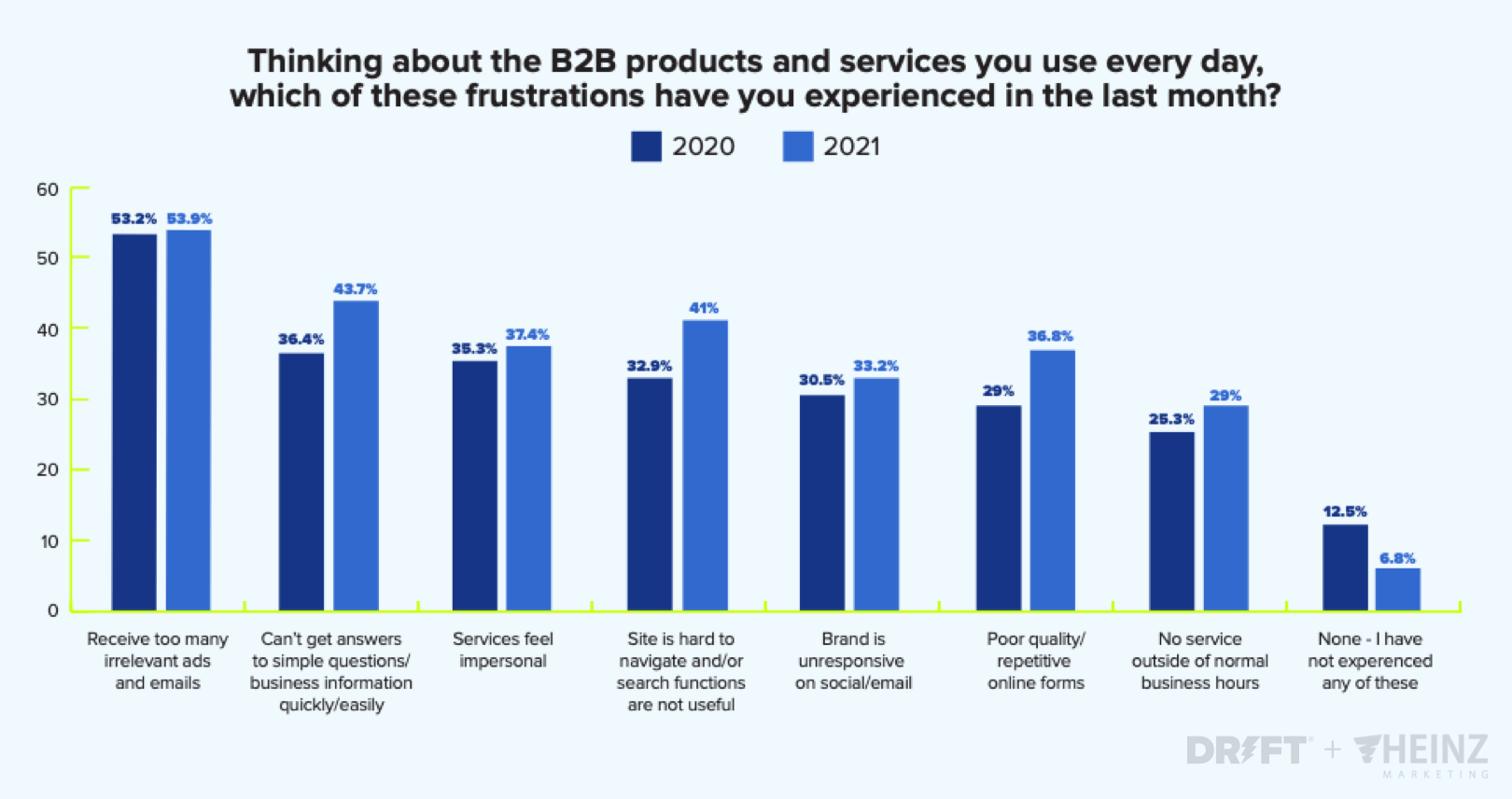 How to overcome these customers' frustrations? 
Provide omnichannel and fast communication, where you can interact proactively with your buyers. 
Keep these interactions' data in one place. Thus, any marketing, sales, or support manager in your company understands the context and problems of the client.
Trend #2 Marketing and sales work together as one team
The marketing goal is to collect as many leads as possible. The sales goal is to close as many deals as possible. 
Do you notice a contradiction? While the marketing team is trying to bring more leads to sales, sales cannot close deals with those leads cause the last aren't ready to buy.
According to a Hubspot study, only 7% of salespeople note the very high quality of leads they recieve from marketing.
work together, 
explore each other's processes,
explore users journeys and create personas to target the right users,
establish a definition of a sales-ready lead,
set the same organizational goals,
build together a sales funnel where everyone can see how leads convert to buyers.
This alignment will improve the overall quality of leads by joining forces to target the right people with the right message. Companies with strong marketing & sales alignment get 20% annual revenue growth.
Trend #3 Chatbot as the best tool for sales growth
According to Forbes research, chatbots increased sales by an average of 67%, with 26% of all sales starting through a chatbot interaction. Adding a chatbot to your website could positively impact your funnel.
Chatbot can:
qualify collected leads,
send SQL leads to sales,
provide customer support 24/7,
relieve the work of the support team. 
But despite this, only 47% of companies use chatbots as marketing and sales tools.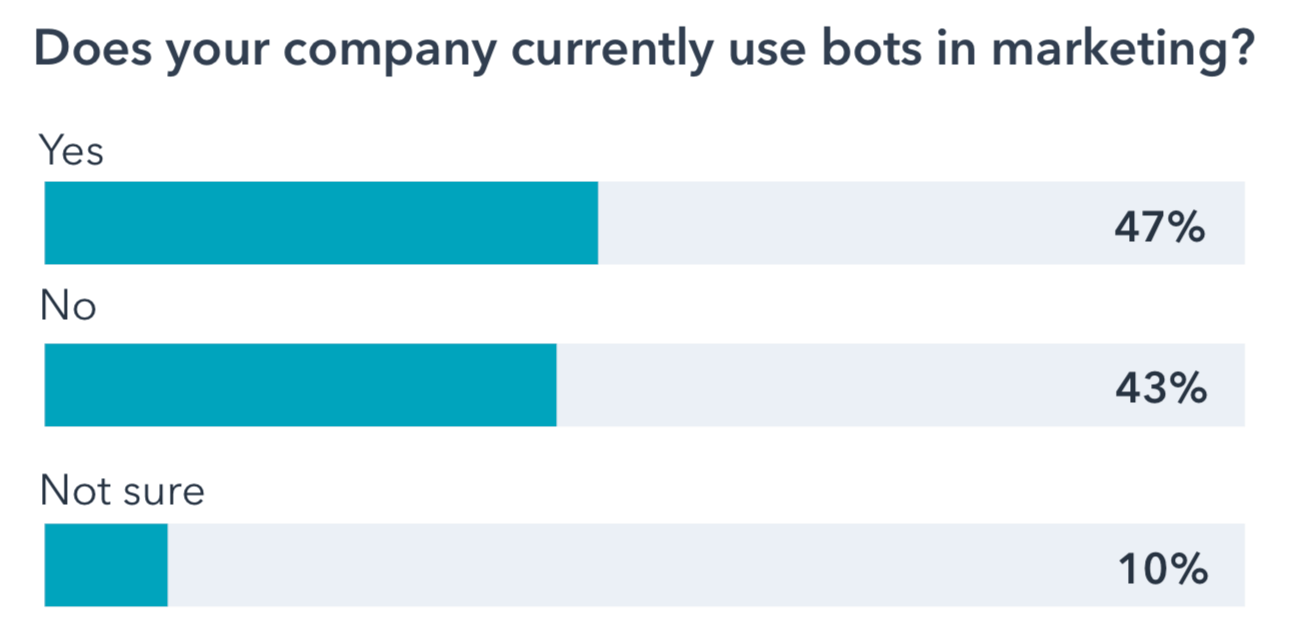 We've run research and found out that 17 out of 30 companies use a live chat on their website to communicate with customers. And only 3 of these 17 launched a chatbot. The rest of the companies offer to contact their audience via email or phone. And just 7% prefer chatbot for lead capturing.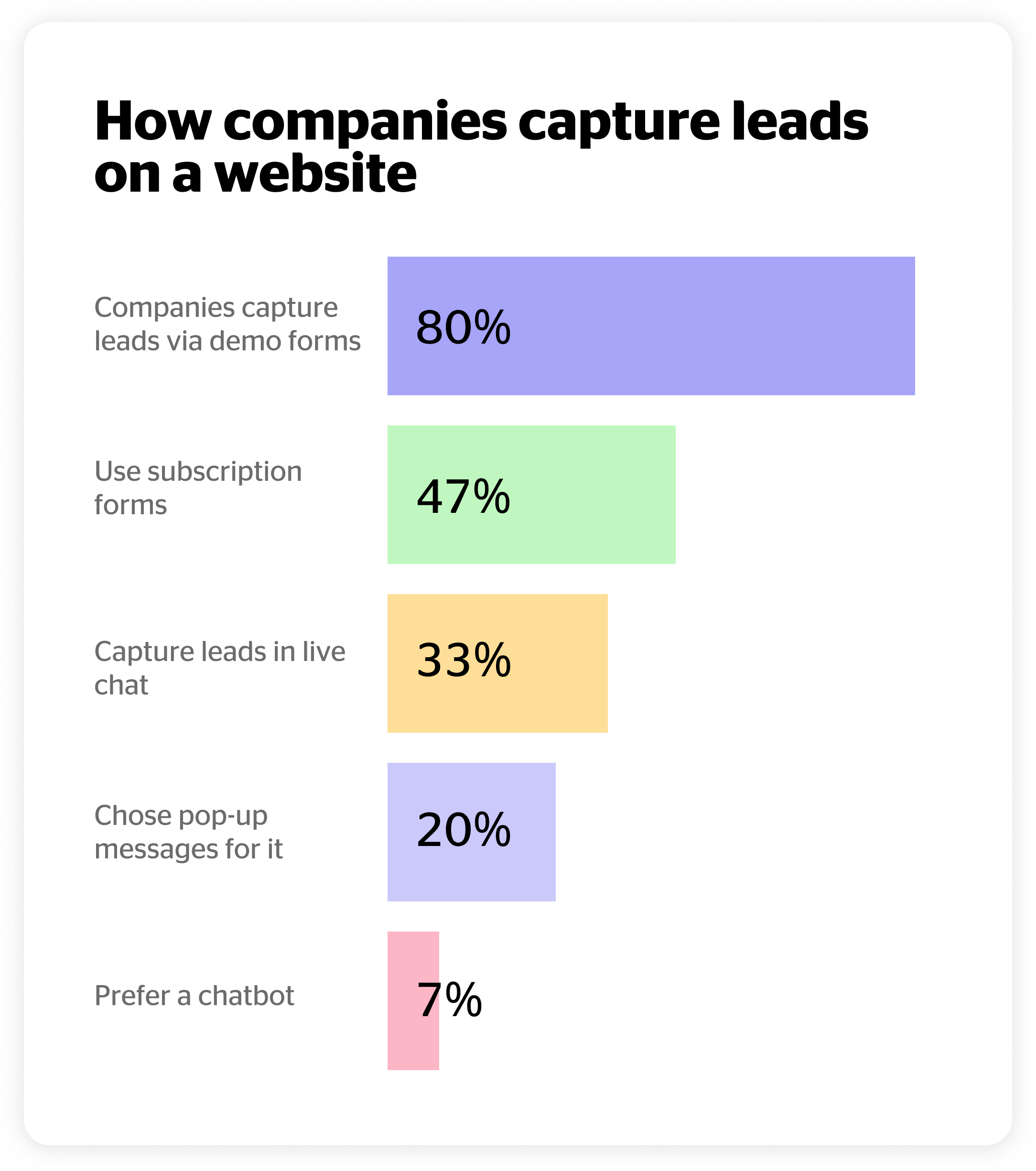 Trend #4 Sales managers use chatbots and messengers as main sales channels
82% of website visitors are more likely to convert into customers after talking to a sales manager in a live chat. The goal of this conversation is not to support them only. It is an excellent way to ask qualifying questions, find out the customer's pain points, and carefully guide them throughout the whole selling process.
So, how do companies use chatbots for sales:
On average, response in a live chat takes less than 10 minutes.
But during the research, the Dashly team noticed only one try to qualify leads during a conversation in a live chat.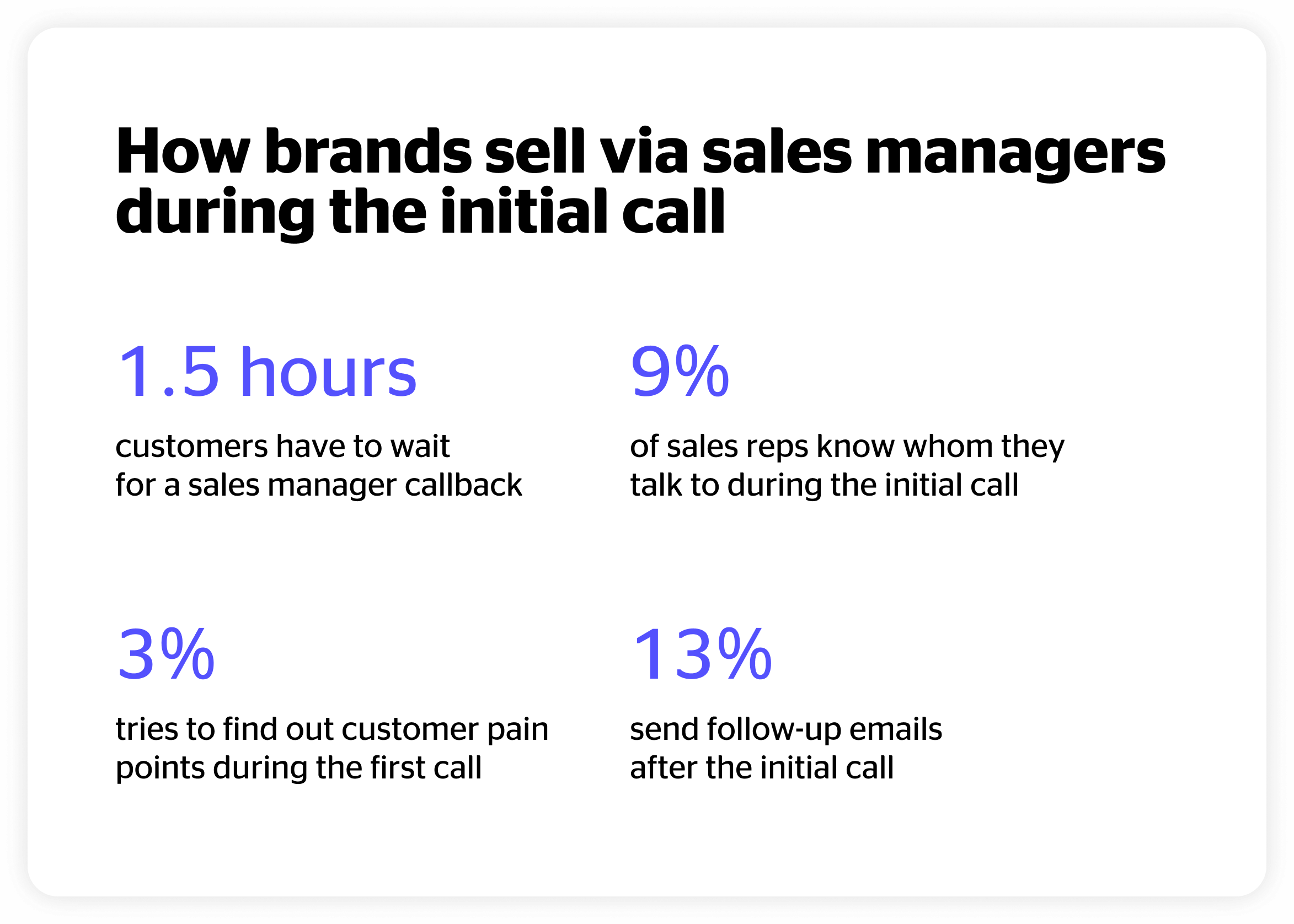 We found out that, on average, customers have to wait for 1.5 hours for a sales manager call. Besides, many calls stay unreplied, and the sales team spends a vast amount of time for nothing. 
The solution: communicate with customers while they are at the website in chat or messengers.
Trend #5 Proactive support
Due to the COVID-19 pandemic, the world has moved to digital by the minute. As a result, online business support managers have faced an increased number of customer requests. At the same time, there is still an intention to stay personal with customers and offer support 24/7.
73% of support leaders say customer expectations of excellent service are rising, but only 42% are confident they're meeting those expectations.

Intercom survey
How to stay personal if you have more requests than ever before and can't endlessly scale your support team? The solution: proactive support.
78% of support leaders are keen to move from a reactive to a proactive approach, but only 26% know how to do that.
Proactive support is about predicting customer issues before they appear. For example, sending messages to a customer at every stage of the funnel, providing some tips for a better experience, or creating FAQs and a knowledge base. Proactive customer support is essential, as users will feel your care and are more likely to be loyal to your company.
Trend #6 Chatbot as a way to reduce customer support workload
From the previous chapter, you remember about the support team suffering from increasing numbers of customer requests. Just imagine a ready-to-play client waiting for an urgent problem solution when your agents spend time answering easy questions. That's how businesses lose customers.
Is there an opportunity to solve this issue without scaling the team?
Sure. Businesses tend to use chatbots for this goal. Every company has a pool of frequently asked questions. Save your agents time with a chatbot answering them instantly.
60% of support leaders who adopt chatbots to their support system report an improvement in resolution times, and 30% report an increase in customer satisfaction, more than those who don't use chatbots.
But FAQ is just the tip of the iceberg of how businesses use chatbots to improve team performance and customer service.
Chatbots are perfect for:
help find the necessary information on a website; 
provide personal recommendations and consult users;
offer to schedule a demo;
Go-to plan to boost sales in 2022
Here are the best practices on how companies achieved this in 2021:
Align your marketing and sales team together with professional lead qualification.
Provide instant support. Don't make your customers wait for an agent's reply.
Be proactive in communication with website visitors. Offer help before they actually meet an issue.
It's easy. You don't even need a developer. Just launch a chatbot on your website to make it all real in the first quarter of 2022.