Customers don't like making calls and prefer keeping in touch with customers through messages? Thus, Dashly support managers process a huge scope of requests, complaints, and questions from Facebook, Instagram, WhatsApp, Live chat, etc. 
The most important here for them is not to lose any conversation. Here's where messaging apps come into play: provide customers with the most convenient way to get support from your brand. 
But as many types of customers, as many messaging apps they use.
Which one to pay attention?
What is the best messaging app for instant messaging and real-time conversation with customers?
Here you'll find the top-10 messengers review that will help to figure out the most suitable app for your sales & support team + solution to combine them all.
Download an ultimate guide on how we built customer support from the scratch
1. Facebook Messenger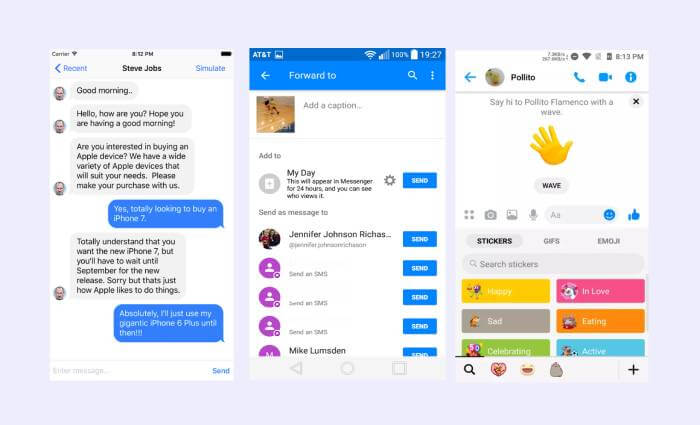 Facebook Messenger allows its users and third-party companies to exchange content and information in a matter of a few clicks. Business Suite users can get real-time notifications from Messenger, Facebook, and Instagram. 
Facebook is one of the best messengers in terms of video calls also. They are available in Messenger Rooms: up to 50 visitors (including unauthorized users) can meet in a 'space' when the free app version is used.
Features
Full deletion of messages (for sender and receiver) within 10 minutes.
Interface personalization (dark and light themes).
Geolocation means users will be notified when they are getting close to chat members;
Chatbot support and integration with third-party apps.
User and group search.
Emoji and GIF support.
A huge array of stickers.
Secret Conversation mode with end-to-end encryption.
Messenger API for devs.
Drawbacks
Voice chats and call recording are not supported. However, messaging app's functionality can be extended thanks to extra applications, for instance, Memes. Yet, some users report being confused by an overwhelming amount of widgets and apps. As a support agent, you aren't likely to need those at all to manage your customer database.
Price
Facebook Messenger is free, but users get charged when they send SMS. All in all, this is a nice option for text messaging, but the quality of video calls leaves a lot to be desired. Besides, Facebook does not use end-to-end encryption for regular chats and is notorious for gathering user data, so if you are concerned with the privacy and security of personal information, opt for the Secret Conversation mode or another messaging solution. 
Download For: Android, iOS, Windows, Mac.
2. WhatsApp
Launched in 2009, WhatsApp is one of the most popular text and video messaging apps. It's absolutely free and allows users to exchange messages, make video and audio calls, and host video chats with up to 8 people. Judging by customer reviews, this is the best messenger in terms of video conference quality.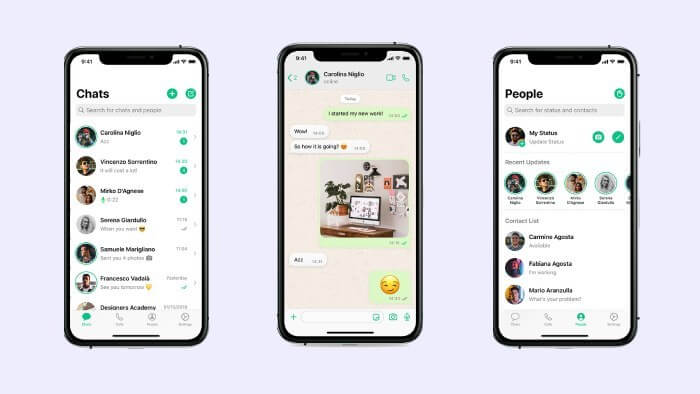 It's possible to turn notifications on and off. The app interface is standard: it displays message bubbles with timestamps and shows whether the text has been read. Also, users can create groups with family members, colleagues, and friends with up to 256 participants messaging each other.
Features
Sending the user's GPS location to an interactive map.
Status messages.
Call waiting. 
Sending user information over the app.
Convenient search by group, username, keyword, or phone number. 
End-to-end encryption for bulletproof security.
Advanced privacy settings for group chats.
Two-factor Authentication. 
Drawbacks
As for WhatsApp's downsides, there aren't many. First, users can attach files not larger than 100 Mb. Secondly, WhatsApp cannot be used for calling 911 or other emergency services. The largest drawback is that WhatsApp now shares user data (phone numbers, pictures, contacts) with Facebook.
Price 
WhatsApp is absolutely free.
To sum it up, WhatsApp is one of the best chatting apps for customer support in terms of usability, supported file formats, audio, and video calls. If you want to train a customer support agent with some practice, this app will be a perfect assistant. Thanks to the automatic import of the user's contacts, finding customers and colleagues won't be hard.
Download For: Android, iOS, Windows, Mac.
3. WeChat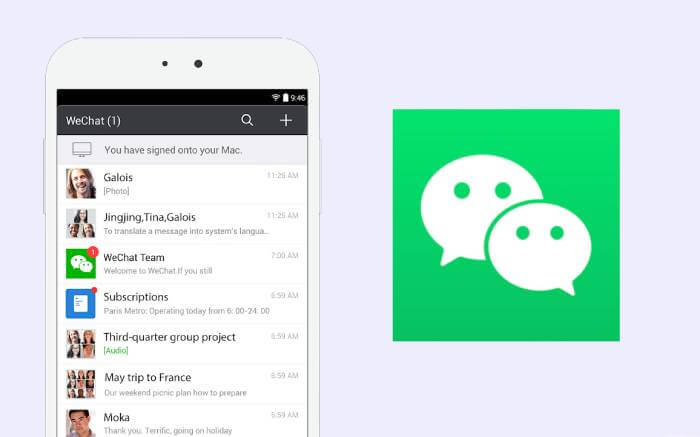 The best chat app for Asian audiences emerged in 2011 in China and took some time to get popularized around the world. Today, the number of active app users exceeds a hundred million. 
Unlike other messaging solutions in our top, WeChat serves ultimately as a mobile application. 
At first glance, the interface might pose a steep learning curve for beginners, but users who have previously worked with various messengers won't have problems with getting acquainted.
WeChat allows users to organize live chats and make audio calls. Yet, voice calls are a bit different from what other messaging apps offer. Users need to record their voice in turns — there's no simultaneous speaking possible. So if you need real-time communication, consider video calls because they have voice integration.
Features
Synchronization of contacts.
Scanning QR codes to add users.
'Shake' function — connection with users through chats.
The 'Look around' function enables users to see and be seen by others. It allows for searching for friends and making new ones. 
Dropping messages in 'drift bottles'. People can read and re-drop texts.
The 'Moments' feature enables users to take instant photos and share those with friends. 
A huge choice of emoticons.
Drawbacks
If your major audience is situated in Asia and customer support success relies heavily on the quality of video calls, the WeChat app would be just right for messaging and calls.
Price
The app is absolutely free and doesn't display ads, so you can process all customer support service scenarios without hassle.  
Download For: Android, iOS, Windows, Symbian, or Blackberry.
4. Viber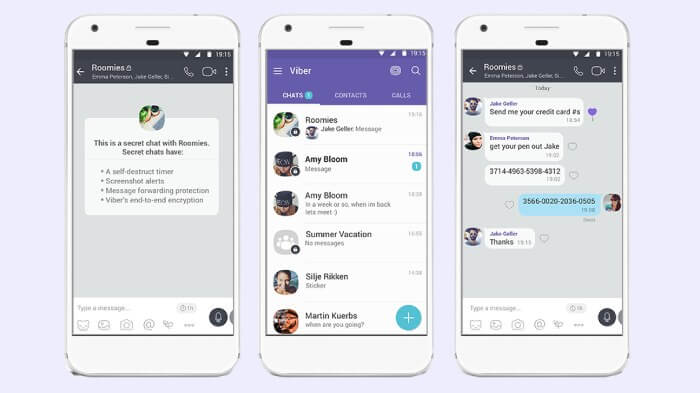 Viber is a comprehensive messenger service app and VoIP tool, with the number of users being close to 1bln. It appeared on the market in 2010 and has been one of the favorite messengers all over the world since then. Despite being blocked in some countries, Viber is widely used in the USA and Europe. It had over 400% user increase in the Asia-Pacific region in 2020. Last year, Ukraine had the highest number of Viber app downloads among Android users.
Registration requires submitting your phone number. After that, a user is able to make mobile calls and perform messaging directly.
Features
The full stack of security features.
End-to-end encryption of messages.
Secret chats with a self-destruct option. Once a message is read, it gets deleted. Screenshot attempts are banned.
The list of Trusted Contacts guarantees users that chats with those people are fully encrypted and secure. 
Message deletion. You can erase messages months or years after sending. The recipient will only see the 'Message deleted' option. 
In-built games.
Newsfeeds.
Stickers and emoji (free and paid)
Viber app supports messaging with Wi-Fi and mobile Internet connection. Also, international calls to unregistered landlines and mobile numbers can be made at pretty agreeable rates. Users are free to share audio, video files, images, GIFs, and other content. The messaging app can be integrated with Facebook, Twitter, Cortana, and Nexmo. 
What is better — Viber or WhatsApp? Both messaging options have similar functionality, but differ in the quality of calls. With that being said, Viber is better for desktop calls, while WhatsApp ensures the perfect quality of voice in the mobile version. It is a secure app for sharing your data (photos, credit card numbers, etc). 
Drawbacks
Poorer video quality than in WhatsApp and Skype. Also, it lacks a call blocking option.
Price
Viber is free for use, while landline calls are charged.
Download For: Android, iOS, Mac, or Windows.
5. LINE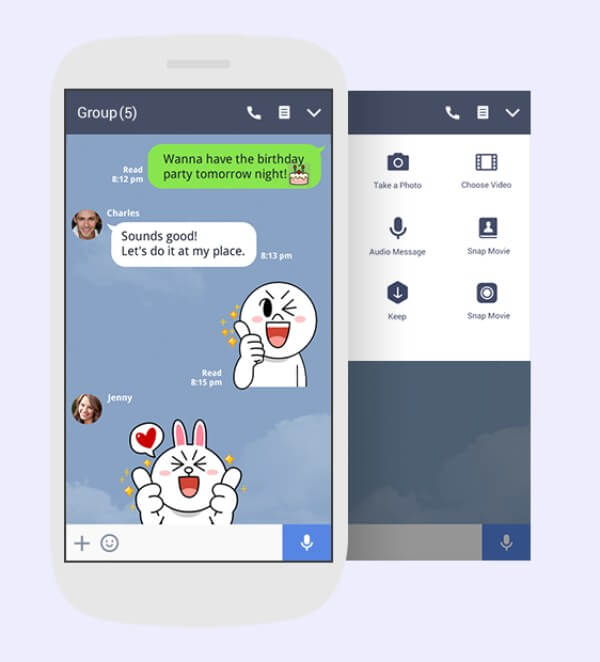 This is one of the best messaging app options in terms of social engagement because it offers games, group chats, and personal timelines. It is widely used among the Asian audience, including Taiwan, Indonesia, Thailand, and Japan. 
LINE app boasts all essential features: chats, audio calls, unlimited video conference, stickers, emoji, and channels. Because of integration with contacts, customer support managers can easily find colleagues and clients. Search by phone number is also supported.
LINE has a peculiar mechanism of adding new users. They can be searched in contacts or be introduced through invites, QR codes, or shaking their smartphones. Users enjoy the full personality customization: they can edit avatars, use stickers and change the interface color. 
As for the security concerns, there aren't many. By accessing privacy settings, a user can make his or her "Public User ID" not public, add a passcode, and filter messages from non-friends.
Features
LINE should be considered by customer support agents because it comes with such perks as:
Real-time notifications.
Free basic functionality. 
"Official" accounts for businesses, customer support departments, or brands to stay in touch with customers and perform promotions. 
Sending and receiving payments using credit card information. 
Self-deleting messages. 
Landline calls for a small fee.
Drawbacks
Calls in LINE require a quality Internet connection (at least 3G) for proper functioning. Besides, the size of the application is quite large, so it's not suitable for low-capacity Android devices. Since it is widely spread among the Asian audience, this is not the best option for users from the USA. 
Price
Despite the fact that it's free, you might be lured to make small cute in-app purchases like sticker packs and games (don't tell us you haven't been warned).
To draw a conclusion, LINE is one of the best messaging apps with ample functionality for regular users, including customer support managers. If a large number of your clients use this app, registering makes sense.
Download For: iOS, Android, Windows, Mac.
6. Silent Phone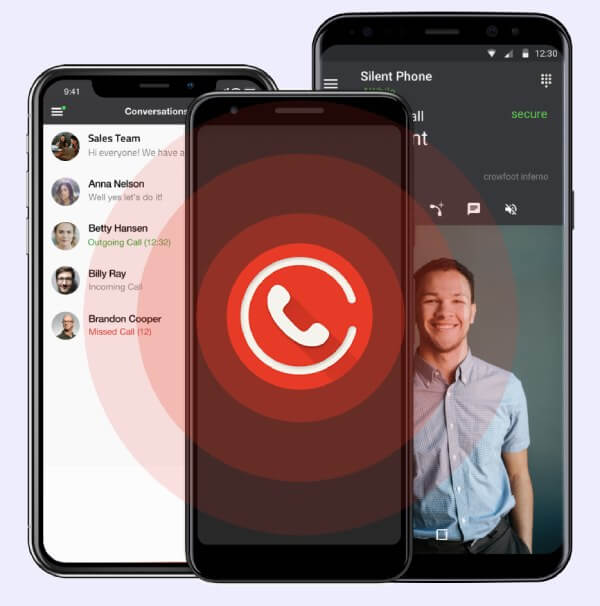 Worried about the security of customer messaging? For this purpose, the American audience chooses Silent Phone — a software component of Silent Circle's Enterprise Privacy Platform of devices that keep businesses safe and secure.  This app leverages peer-to-peer encrypted calling, secure video, messaging, and file transfers (pdf, docx, mov, mp4, png and jpg).  
The process of registration is a little complicated because users need to provide their full name plus a username that has to be unique throughout the whole Silent network. However, no email is required, which adds an extra layer to the app's military-grade security. 
Features
P2P encryption of messages and files for exceptional security.
Zero-touch deployment across the entire organization.
Conference audio and video calls with HD clarity.
Self-destructive messages.
Voice memos.
Sharing location and contacts.
Silent Manager allows creating 'circles' and assigning managers to it.
Drawbacks
Silent Phone is a safe application but comes with limited functionality. Besides, it is not free. 
Price
Silent Phone is absolutely free for Silent Circle users. The subscription costs $9.95 per month or $99.95 annually.
All in all, the Silent Phone app is suitable for businesses requiring unmatchable messaging security. However, customer support managers should think twice before shifting their communication to this channel. First, it's not as widely used as the above-mentioned messaging options. Secondly, it lacks some functionality offered by rivals' cool messaging apps, for instance, there's no voicemail option. Besides, the app is not free, and the basic subscription cost is quite high.
Download For: iOS, Android.
7. Skype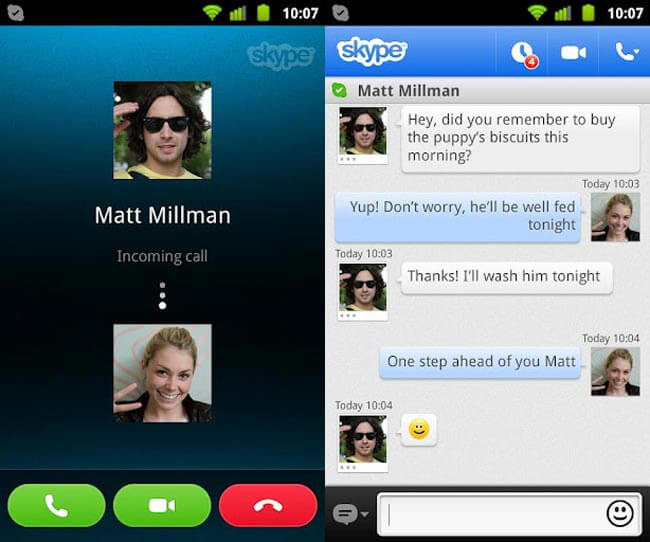 Created as a video call and conferences solution, Skype was the pioneer in the sphere of online messengers. Initially, it was used by the English-speaking community in the USA and Europe but has gained traction around the world. 
This is a versatile solution for chatting, audio and video communication, and landline calls. 
Features 
Skype is widely used thanks to a multitude of interesting features:
Presentation mode and screen sharing
Call recording
Transfer of large files via chats
Organization of contacts in groups ('Favorites')
Deletion of conversations and separate messages
Profile customization 
Easy integration with Microsoft software
Drawbacks
Skype is more prone to freezing between calls than other messengers. It requires ceasing calls and starting them over again. Landline calls are paid and more expensive than what competitors offer. Some users complain about the confusing interface and wish accounts would accommodate more personal information.
Price
The cost of landline calls per minute depends on the country of destination. Personal accounts are free. As for Skype Business, the service is no longer supported since July 31th 2021.
Download For: Windows, Mac, iOS, Android, Linux
8. Snapchat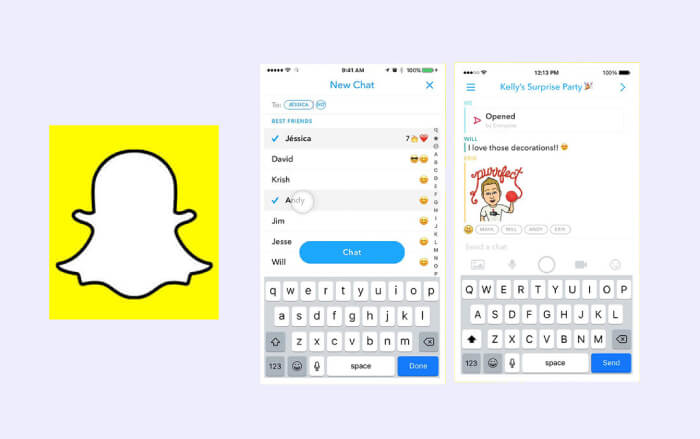 Being famous for the self-destruction feature, Snapchat allows sending photos and videos that can only be seen once. Aside from basic chatting and photo sharing, it also supports various filters and lenses to customize photos and videos. Users can check out celebrities' content through the Discoveries page, share animated GIFs and stories. A business account gives you access to Snapchat Ads. 
Features
Filters and lenses
QR code to share contacts
Stories and narratives
Geo filters
In-built games to play with friends in chats
Self-destructive messages and content
Drawbacks
Snapchat's message disappearing feature might be a bad idea because, in case of conflicts and accidents, it won't be possible to prove someone's guilt. Also, to begin a conversation, you need to send a photo. Since it's mostly aimed at a friendly content exchange, it is not suited to meet business demands. 
Also, Snapchat is not designed for anonymous use because it requires your name, email address, and your birthdate to register.
Price
Snapchat is absolutely free to use. If you want to keep in touch with customers and promote your brand, consider creating a business account — it supports ads.
9. Instagram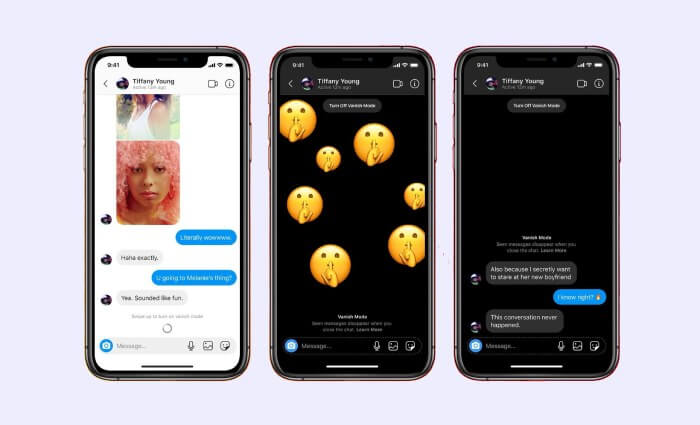 Essentially, Instagram's former 'Direct Messages' solution has now merged with Facebook's Messenger. It has limited functionality but would be enough for business conversations. What's inside? It allows users to chat, send videos and photos (in Vanish mode, they can disappear after a single view). Audio messages and calls (voice or video) are also supported. 
Features
Disappearing photos and videos
Sharing Stories and Posts
Chatting with Facebook users
Reactions, emoji, GIFs 
Chat colors can be customized
Watching IGTV and real-time translations together
Message forwarding to up to 5 people
Selfie boomerang stickers
Drawbacks
Instagram's messenger functionality is somewhat limited because there's no end-to-end encryption, messages cannot be edited after being sent, and there's a limited choice of file types to send (images, videos, and GIFs). The messenger lacks privacy and safety: you are very likely to see the words from your conversation in targeted ads very soon. 
Price
The messenger is absolutely safe. Owners of business accounts can also launch ad campaigns and see statistics, while messenger's functionality is not upgraded in any way.
10. Telegram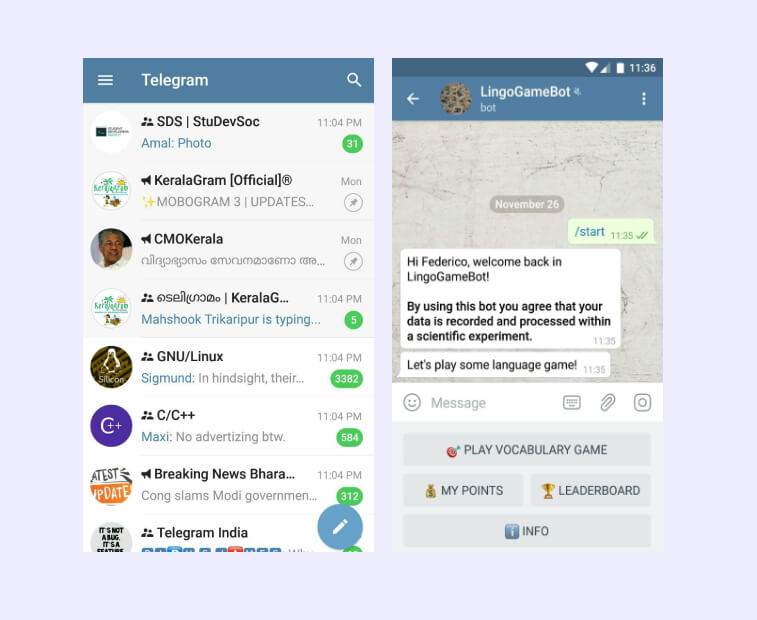 Rolled out for iOS and Android back in 2013, Telegram serves over 500 mln monthly users. At first glance, its core functions are similar to what the best messengers apps offer: text chats, video and audio calls, group conversations, sending files, and emojis.
Although Telegram is often designated as a 'top solution in terms of security, it actually does the same as what top-rated chat apps like WhatsApp and Facebook do: end-to-end encryption is activated for messaging apps in Secret Chats only. When it comes to regular conversations, user-to-server encryption is used. The creators also claim to use the MTProto, a custom encryption protocol.
Features
The reason for insane Telegram app growth is not security only. It offers an extensive rundown of features for convenient messaging and maintenance of a high customer service KPI:
Open-source apps and Telegram Database Library.
Both desktop and mobile versions of the app are available.
Self-destructing messages and Secret Chats.
Support of chatbots — boost support efficiency using saved replies.
Creation of channels — a great feature for customer support departments.
2-step verification support with or without a phone number.
Usernames can be given instead of a phone number, which adds up to security features.
Deletion of messages for both sender and recipient (no traces left).
Support for up to 2GB files of various formats (audio, images, video, PDF, docx, and many others).
Wait till I put an extra layer of icing on this cake. Telegram is absolutely free and does not display advertisements. Pavel Durov's team designed the app with security in mind, and that becomes clear when you understand no user information is gathered. This is probably the best messenger app in terms of privacy. 
Drawbacks
Telegram does not provide video group calls. When staying inactive for some time, user accounts are deleted automatically. Besides, the messenger is notorious for the numerous scammers it hosts. Some users don't like the fact that their phone numbers should be submitted. 
Price
So far, Telegram is absolutely free. In the future, developers plan to introduce paid features like stickers and business solutions.
Download For: Android, iOS, Windows, Mac.
What is the best instant message app? 6 criteria
In order to find the best messenger, you should overlook a range of crucial tools and features:
Communication modes.
Chatting is not the only way customer support managers can do their work. If you need real-time communication and fast response from clients, video and phone calls are essential.
Privacy and security.
If you work for a company, confidentiality of data is a must. Messengers powered by encryption algorithms are always safer. However, you should do some research and find out whether encryption is applied to all communications or secret chats only. At the same time, permanent deletion of texts and files is a questionable feature for customer support because sometimes, message history is the only proof in case of conflicts.
File attachment.
Does an application support attachment of files and which formats? What is the maximum file size? For customer support, you might want to use photos, PDFs, and video files. Make sure you can use media to the full extent.
Landline calls.
If something goes wrong, and you won't be able to find your customer in a messaging app, a person can be contacted with the help of a phone number. Some apps allow making landline calls to users for a humble fee. Get in touch with clients whenever the urge hits.
Pricing options.
The vast majority of messengers come with free basic functionality, which means you can get in touch with as many individuals as required using Wi-Fi or a mobile connection. Extra options, such as unlimited video call users and sticker packs, come for a fee. Subscription-based plans are justified when a customer support agent performs very intense communication with a large number of people.
Audience.
Registering in apps like KakaoTalk and LINE is great, but does it make sense if your audience is European, not Asian? Better choose an app with an international audience or opt for what the customers prefer. WhatsApp, Viber, Telegram and Google Hangouts are versatile platforms.
Remember: the best messaging app combines all the above-mentioned advantages and suits your professional requirements.
One messaging app for customer service to rule them all
Are you using several chat apps for managing customer support? How much time does it take you to switch between them? Don't lose time and clients. Keep all communications in one place and respond faster.
With the help of Dashly, you can save boatloads of time without missing a request. Each customer will get enough attention from your company and you, in turn, can collect and qualify website visitors while sleeping.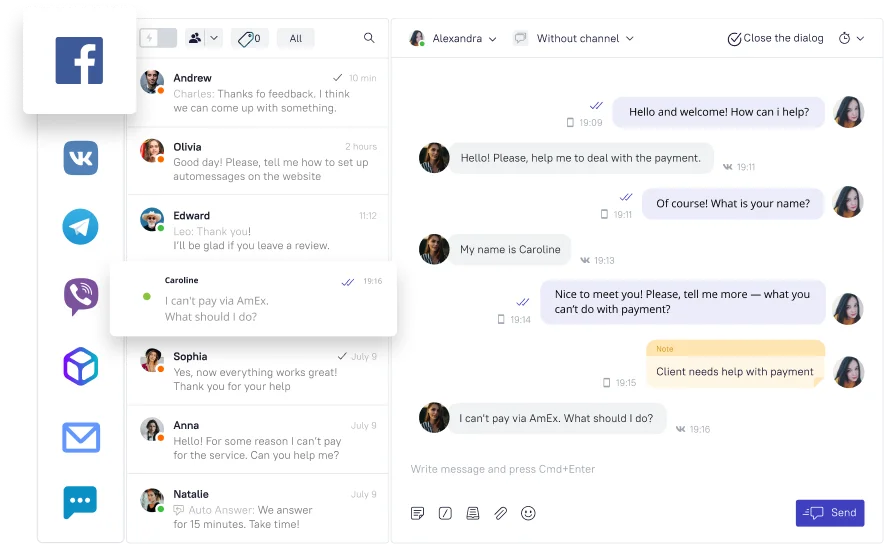 Dashly one inbox is compatible with WhatsApp, Facebook Messenger, Instagram, and other platforms. These integrations are easy to do. All conversations are distributed into channels with an unlimited number of seats. Everything you need to know about a customer is displayed right in the conversation window. Automate support processes and help your customers 24/7! 
Dashly boasts a multitude of cool live chat features:
Chat analytics to track team performance.
Live chat widget that matches your brand style.
Mobile live chat to engage visitors that come from mobile.
Segmentation of target audience
Quick saved replies to regular questions
Knowledge base
Real-time notifications
Tags and channels
Assignments of dialogues to agents with the needed skills
Collection of contact data
Easy visual builder of chatbots
Support of GIFs, images, and stickers
SDK for mobile apps to provide customer support anywhere