Small but Relieving Dashly Updates You Might Have Missed
Reading time: 5 minutes
16.09.2020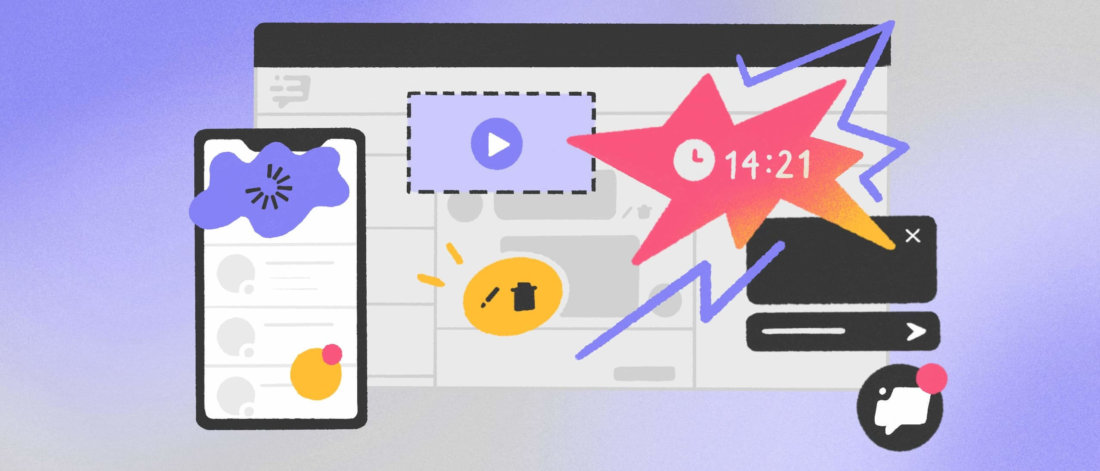 You must have seen the Leadbot and Zoom and Calendly integrations and thought: it can't be better. Us too guys, us too. 
Yet look what we did there: along with the great and powerful things we added small ones that will simplify your daily errands and spare you the lion's share of everyday anxiety. Ah, if everything were that easy!
We also want to remind you about our mobile app. Our mobile developers are working to make it stable and add new features and also make gestures more intuitive.
Local time in a lead card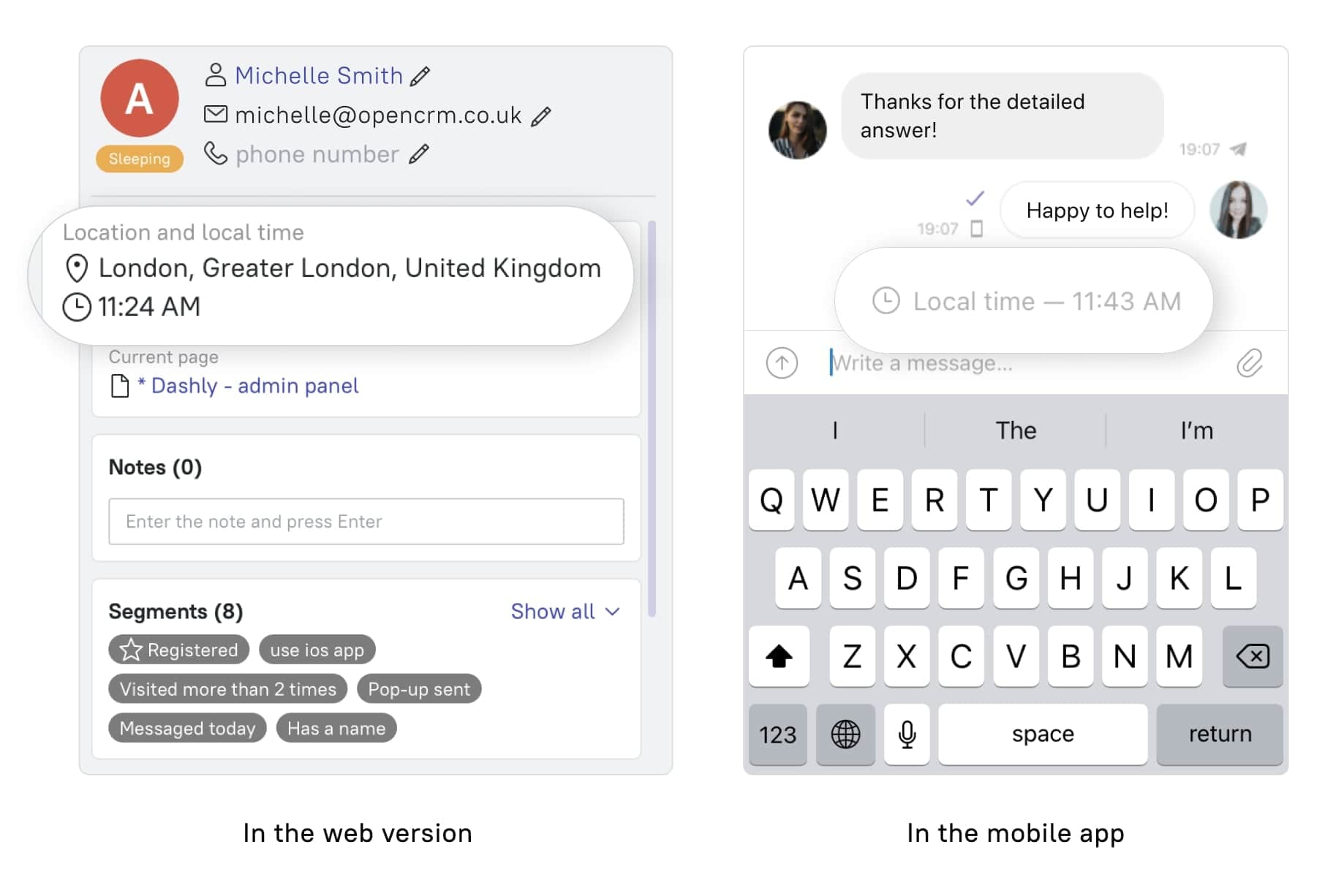 Some help to the guys whose customers are all over the world. Now the user's card contains info about their local time. Your agents won't have to calculate the time difference between Amsterdam and San Francisco. Wish a customer good night or good morning and wait for their reaction 😉
The same info is there in the mobile app for agents. If you have to call the customer during non-working hours, we'll give a cue to call tomorrow — thus you won't distract or wake anybody.
Video in the pop-ups
Use video in the pop-ups on your site: videos attract attention, they are way more vivid and informative. 
Videos are awesome for onboarding, you can use them to make product reviews, talk about new features or services.
We support links to video from Youtube and Vimeo, and you can also start showing the video automatically (and mute so that it wouldn't be intrusive)
Go to the pop-up builder to see it with your own eyes.
Editing and deleting messages
Noah the support agent sometimes confuses conversations, sends wrong messages or documents to your customers. Seems familiar?
Now it's not the end of the world: you can edit and delete messages.
Noah can edit or delete a message for any period of time. We'll leave a note that the message was edited or deleted. Both agents and users will be able to see it.
Nota bene: if the agents replied to a customer to the social network or email, and the message was sent, you can't edit or delete it.
But even then Noah has no reason to be anxious. Just let him read our post on support agents' mistakes to restore his peace of mind.
Dark mode for live chat notifications
New chat notifications increase conversion — which we successfully proved. If your website is dark as the night or my soul — you can now make live chat and notifications fit with new dark mode.
Updates in our mobile app for support agents
If you are like us, you probably check messages from customers from your smartphone whenever you can. Besides, you probably don't like being chained to your workplace. 
Been there, done that! That's why we invest a lot of thoughts into our mobile app for support agents. We add new features and try to make communication just as simple and barrier-free as it is on desktop.
If you haven't yet used our mobile apps, it's high time for installing! You can use them to reply to inbox messages, look at users' cards and leave notes. Just the real thing for support agents who like mobility.
Pull-to-refresh
That's a release to reduce anxiety if you are oh so waiting for a message from a customer or are chatting on the run (or you are quarantined on a tropical island and then we envy you) and your connection is unstable.
Now you can manually update inbox. Just pull to refresh 😉
Sure, you don't have to do that every second as the inbox updates in real time, but sometimes the wait is just unbearable… and this feature speeds up the time.
Attaching files
If Noah is done editing and deleting and needs to send an invoice or a price proposal to customers while on the run, it's not a problem anymore. Now it's possible to send files in a mobile app. Hope he carries all the important docs on his smartphone.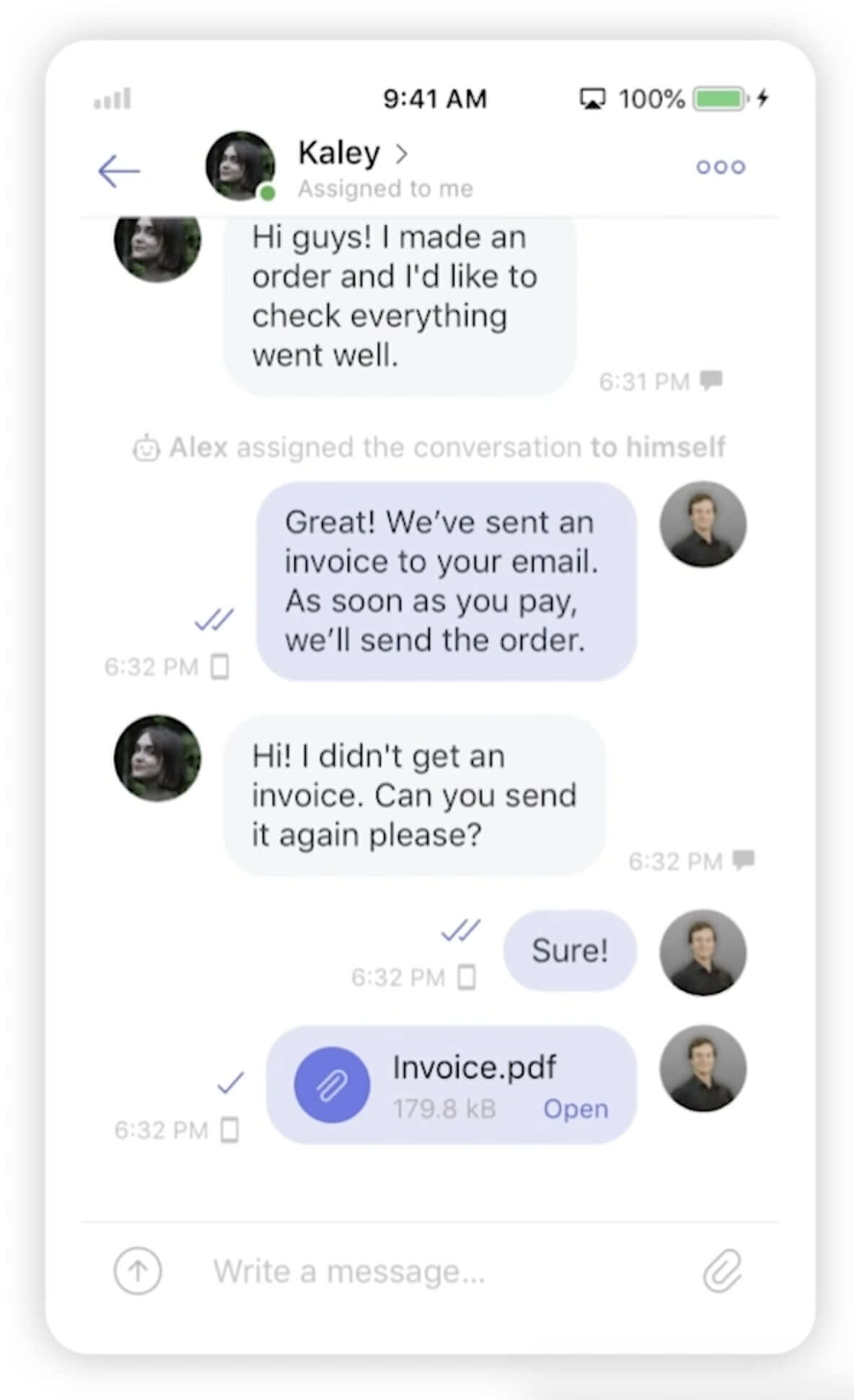 In-app messages
For those, who have a mobile app of their store or online service in addition to the website, we have a truly remarkable release. Now you can automate the funnel and guide customers to orders, purchases, sign ups and installations right in your mobile app. 
You can create triggered pop-ups, live chat triggered messages and push notifications that your customers will see in your mobile app. In order to create them, you need to install mobile SDK — contact us via live chat, we are always there to help.
There's more on working with mobile app users on our blog. Feel free to steal some ideas 😉
Learn more about Mobile SDK.
When we are choosing the next thing to improve, we focus on user requests. So if you found a bug, you want to inform us that some new feature rocks or is lame, just write to us. We are happy to receive any feedback 🙂