Top-10 Сhatbot Trends in 2021 and Expert Opinion on Each of It
The Chatbot market is expanding like a flash. Companies with websites immediately have to change their marketing stack and implement chatbots in their ecosystems. And there is a reason for that — read how a chatbot can collect and qualify leads, book meetings, route conversations to agents, streamline the sales. Companies have discovered the huge potential of conversational bots: closing simple requests to support, increasing ROI, and automating the process. Nowadays bots are much more powerful than earlier versions, and obviously, this is just the beginning of their arising. With the emerging chatbot trends, it's crucial for almost any business to implement a chatbot technology. Why? To be on top and deliver the best customer service.
Using chatbot in any business process may increase customers' satisfaction as it is available 24/7 to address customers' needs.
In this article we are going to talk about what's happening with the chatbot world and where it's moving to. Except chatbot trends you'll find an expert's opinion on each trend: is it really going to be real or just a conjecture?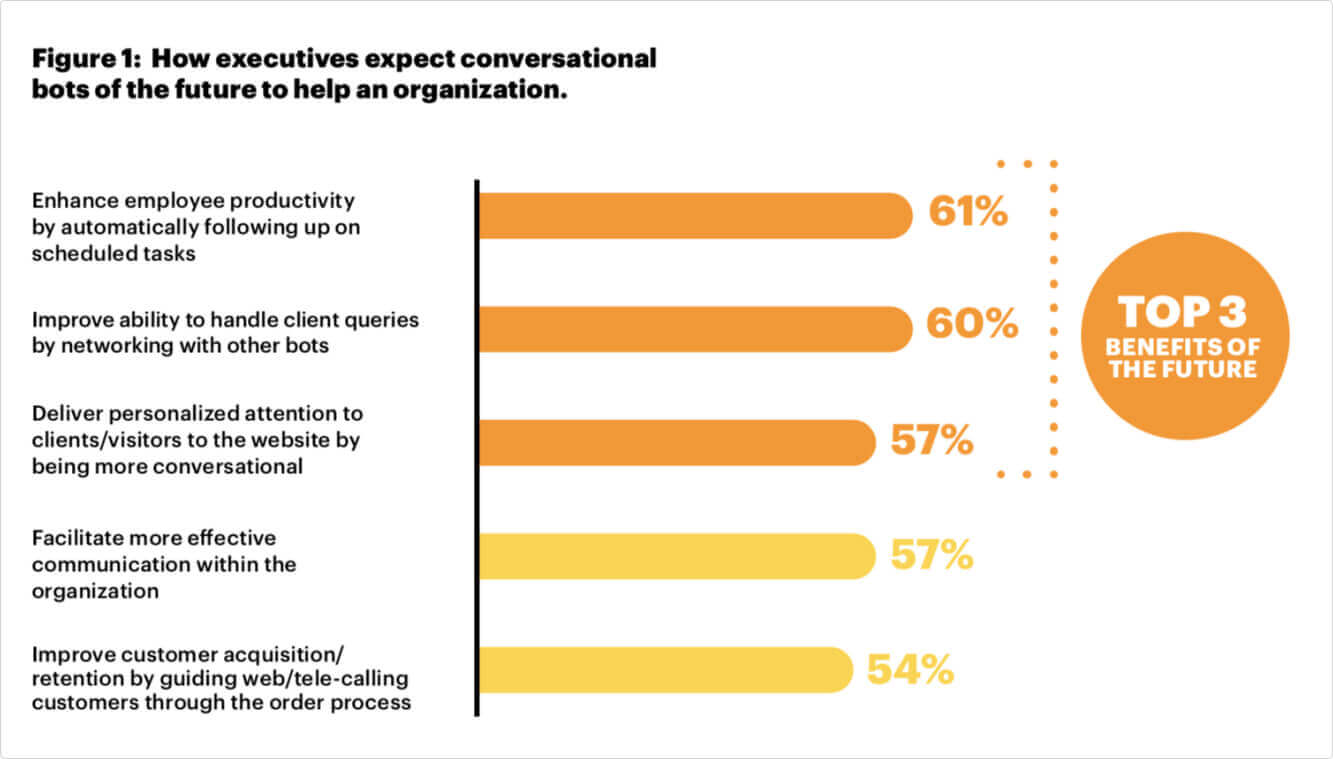 Chatbot statistics
Undoubtedly, chatbots are transforming the way businesses communicate with their users. Here's the data to prove it.
The chatbot market size is projected to grow at a CAGR of 29.7% from 2.6 billion dollars in 2019 to 9.4 billion by 2024. Retail and eCommerce verticals will grow at the highest CAGR during this period. It's related to the increasing demand to provide users with delightful customer experience and turn them into customers. Business Insider Research.
Over 50% of customers are expecting businesses to be open 24/7 according to the Oracle research. Chatbot technologies could handle this issue and cover customers' requests round the clock.
Chatbot technologies could save $174 billion across Insurance, Finance, Sales and Customer Service according to the Oracle research.
Chatbot could save up to 30% of costs on Customer Support according to Invesp Research.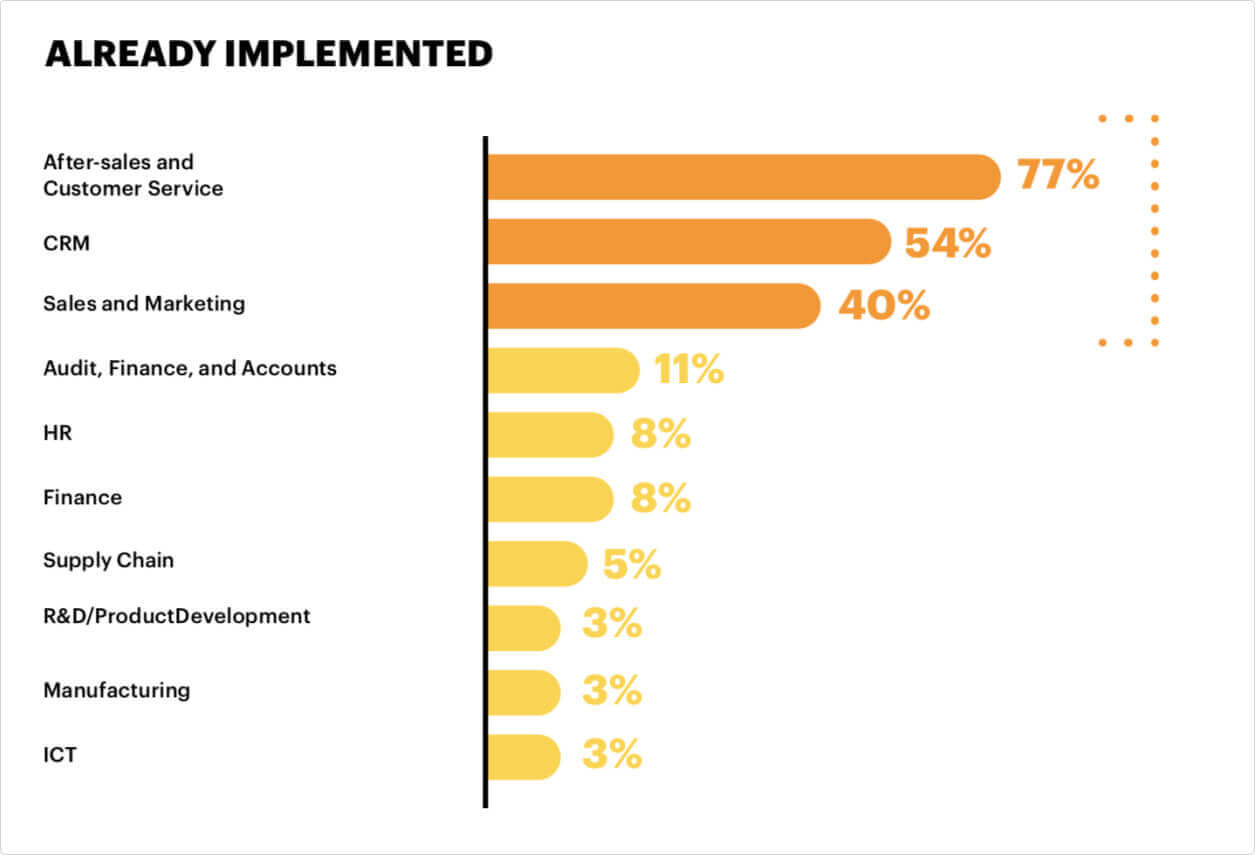 All this data says: chatbots are the future, so we should accept it and start to implement this technology asap. So let's move to the trends and predictions.
Chatbot trends and predictions in 2021
How to disrupt the chat experience? According to this research, there are five key objectives of great support: personalization, agent centricity, versatility, conversation quality, and security. Using these five options with chatbot technologies will lead to success.
In this review, you will find the data on how disruptive technologies such as AI and chatbot can upgrade a customer service strategy. As a result, these technologies will empower you to fight off the company's challenges.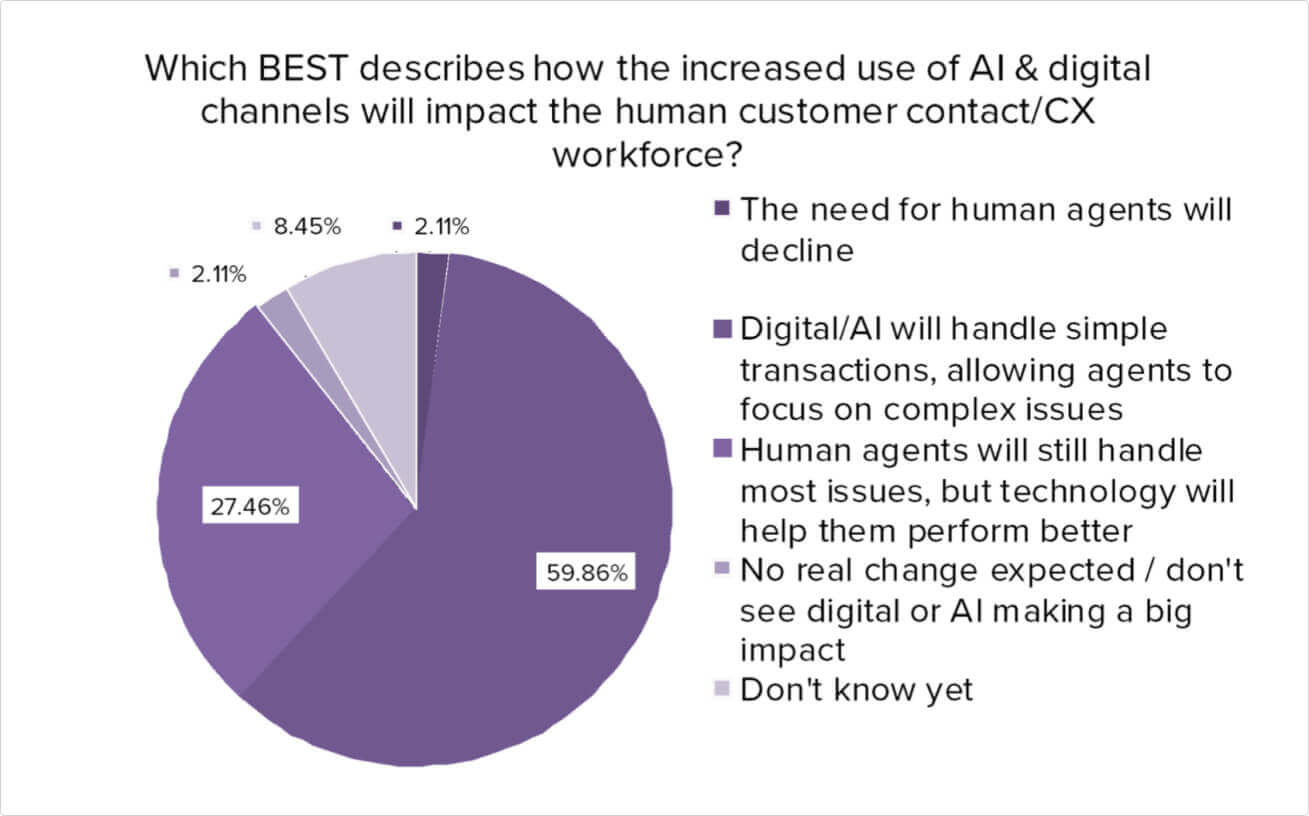 What do we say to the god of growth? More growth!
In this strategic research study you'll find in-depth insights on predictions of chatbot market growth. This review of chatbot technology is given according to the market segmentation: by type, by end-use and geography.
Chatbots are here to stay! That's what this research says in a nutshell. Here you'll find the data about executives' expectations on bot's technologies and why some companies are still not sold on bots.
To carry out this research Accenture surveyed 97 chief information officers and 255 chief technology officers from different industries and countries with annual revenue of at least $500 million. Slightly more than three-quarters of companies are B2C enterprises, while the remainder is B2B firms.
If you wonder how chatbots are employed in businesses today and what challenges prevent some companies from using these technologies, you're on the right way.
In this research, you will find all the data about how chatbots are used in companies and for what purposes.
Community Spiceworks surveyed more than 500 IT specialists in companies across North America and Europe.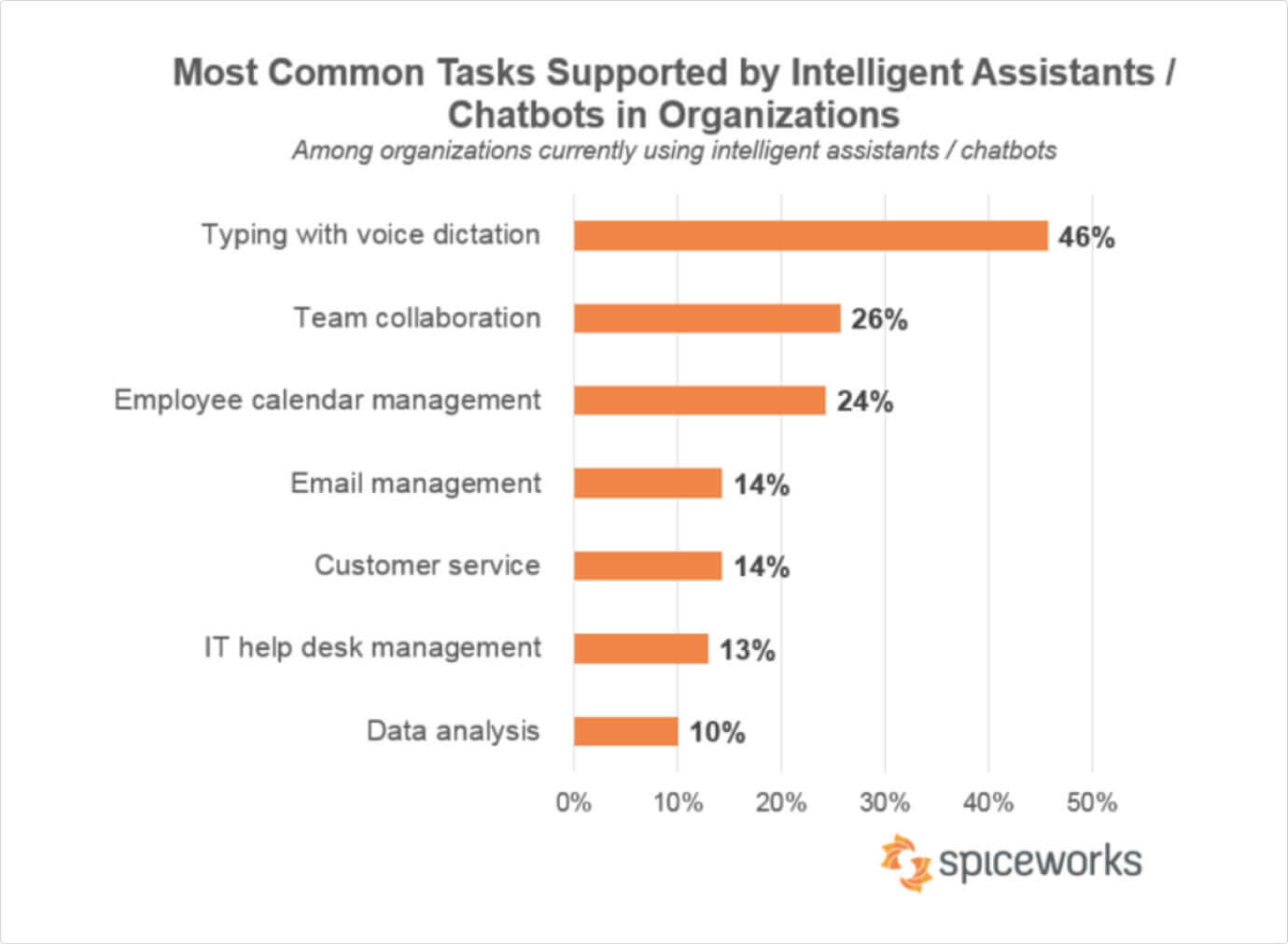 Get 13 chatbot campaigns
for online businesses
Got it. Check your email!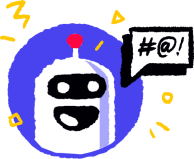 In the research, you'll find that business leaders in different industries believe in chatbot and AI technology and already 80% of them are already using or planning to use chatbots by 2020. Authors of the report also predict "the potential annual savings that businesses could realize if chatbots replace some of their customer service and sales reps".
The survey included responses from 800 decision-makers including CMOs, CTOs, marketers, and sales reps from France, the Netherlands, South Africa, and the UK.
In this report, Juniper forecasts that chatbots will be responsible for cost savings of over $8 billion per annum by 2022, up from $20 million this year. Also, the authors have found out that the banking sector is most suited for chatbot technologies due to their support cases with a simple request as 'I've lost my card', 'I want to open a bank account'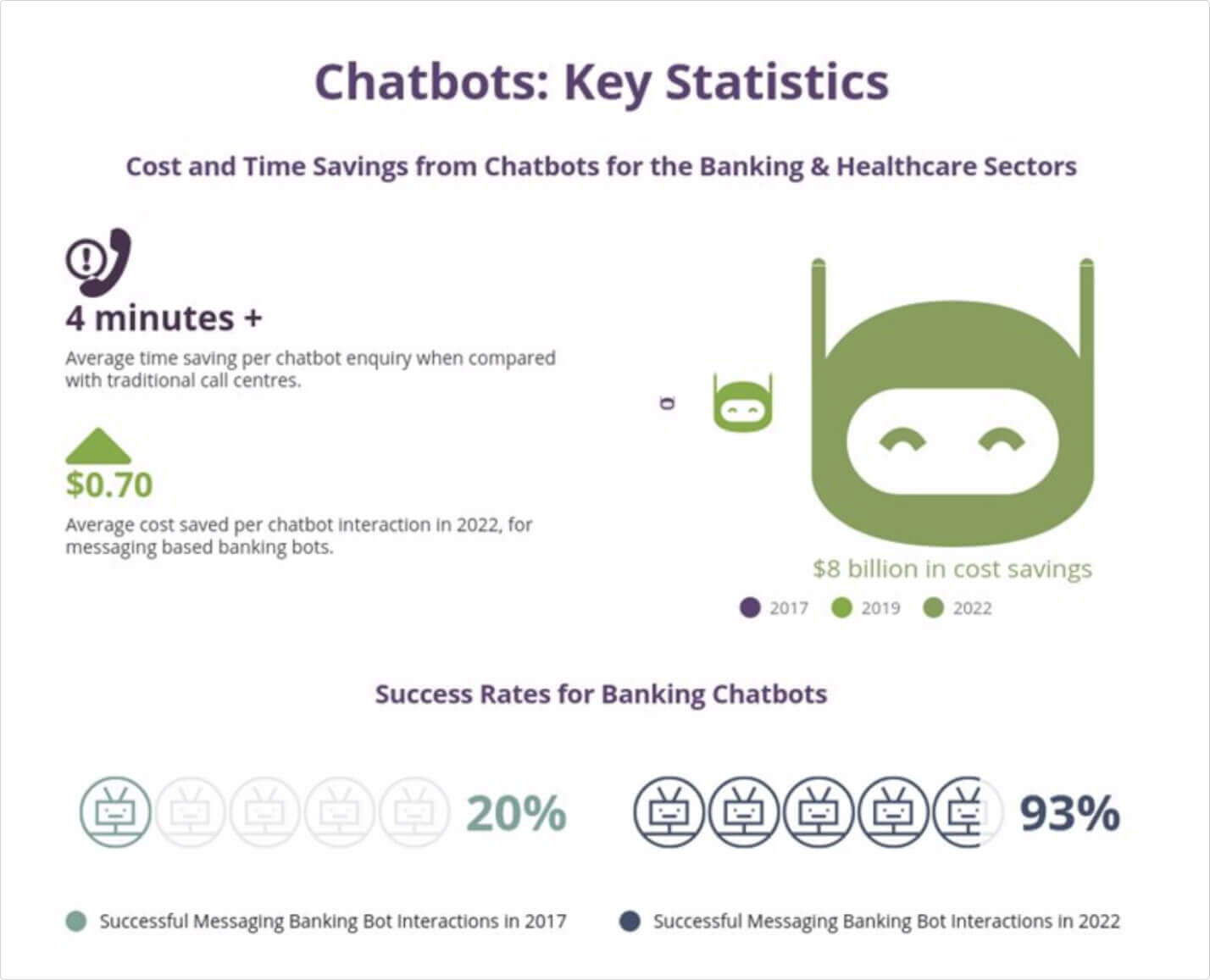 Robots are coming for you!
Maybe the most important trend of this year is that chatbots should become more efficient at identifying the intent of a user. In this research you'll find how sentiment analysis and BERT technology could empower and accelerate the development of a chatbot.
Here you'll find the data that proves this statement: the mobile apps as we know them will disappear. "Traditional apps, which are downloaded from a store to a mobile device, will become just one of many options for customers".
According to this report, most of the companies who already adapted the chatbot technology in their ecosystem recorded improvements in the speed of complaint resolution. The research is based on a global survey of 600 executives across the world.
How to make a first step into the chatbot world?
The future of bot technologies is challenging but promising.
Here you can find the shortlist of advice on what to do with the chatbots if you are about to start using them:
Determine what you need a chatbot for: proactive customer support, onboarding into new features, lead qualification or segmentation.
Choose your perfect bot. There are a lot of bots with different features, choose the one that can meet all your requirements.
Identify an appropriate bot campaign. Determine the campaigns for your chatbot that will cover the requests from your customers.