Reading time: 5 minutes
17.06.2020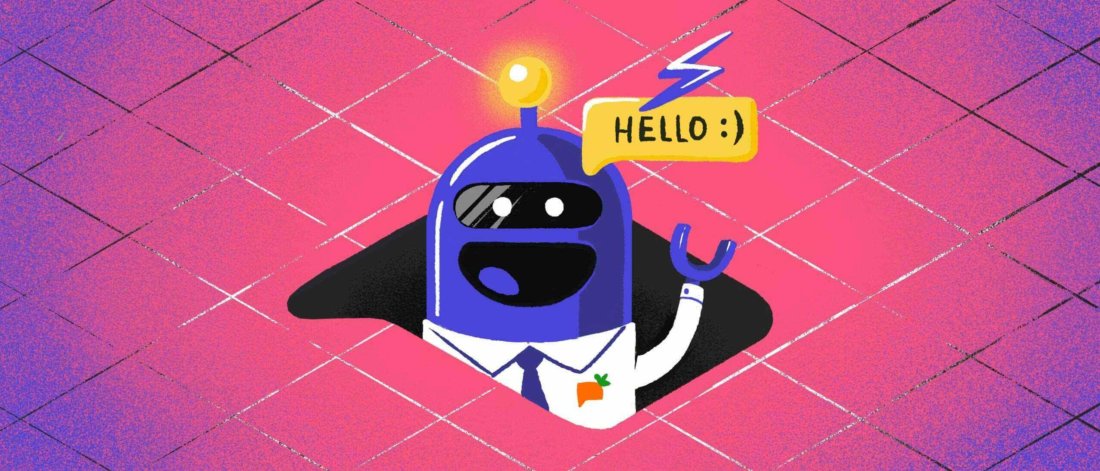 The world will never be the same and you no longer can challenge it. Lots of companies around the globe mark the traffic increase to their websites. But with that, the conversion rate to purchase decreased. Customers now treat their shopping more attentively and first prefer exploring as many options as possible and making purchases only after that.
Marketers and sales reps now have a mutual task — to generate as many qualified leads as possible. Why? To increase sales or at least keep the metrics at the same level. Of course, you can't let things go with the flow or generate leads manually — you'll spend too much time. Dashly chatbot is a perfect fit for this case.
What is a bot? It's a virtual assistant that will help alleviate the work of your entire team. Let's take a closer look at their functionality.
More qualified leads with no extra burden on sales force
The process of lead generation and qualification usually follows this plan: you need to capture the potential customer's attention and contact them on time, ask questions or use any other way to ensure this is your target customer, and to pass them to the sales team or keep their contact details for further "nurturing".
Passing everyone who left their contact details to the sales team also has downsides. Sales reps will have to spend their time on figuring out what a user came for and how ready they are to make a purchase. And that's quite costly, isn't it?
The chatbot helps you automate the process and work only with those leads who are actually ready to buy.
The chatbot's primary job is to collect and preliminarily qualify leads on your website.
Download an ultimate guide on how to qualify leads on your website
Thanks! Now check your email. We've send your copy there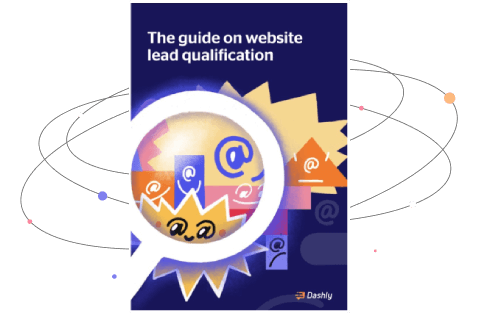 It'll be the first to send a message to a correct user segment, ask typical questions, and, depending on answers, assign the appropriate agent to work with a customer or simply fix the customer's contacts in the base to target a triggered message campaign at them later. So it can partly work as a customer service chatbot.
How does that actually work?
On the most chatbot platforms, a chatbot is triggered by an event (a certain action that a user performs on the website) and asks questions with possible answer options that you specify in advance.
Each user's reply lets the chatbot ask the next question with possible answers, ask for the user's contact info, assign a conversation to an agent or send a file. So, step by step, you're compiling a conversation with a customer and specifying what the chatbot should do in one case or another.
Seeing once is better than hearing twice — so have a chat with our chatbot!
How do I configure the chatbot?
It's simple. To create a chatbot, you don't need to engage developers, as you can do everything in a user-friendly visual builder. With an interactive preview, you'll also be able to see in the user's eyes how the conversation flow looks.
The chatbot has a plain treelike structure where each possible answer leads to a separate thread. This allows you to create unique campaigns for each user's reply.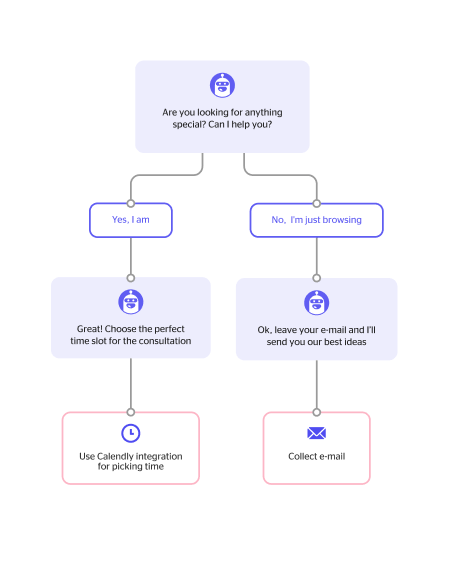 Configure your first bot now! Go to the Auto section and then select Chatbots. Create the chatbot in the same way you create a trigger message:
Make up the structure and bot replies;
Select an event that will trigger the bot. The chatbot starts a conversation proactively, and if a user contacts you, the bot will not answer them.
Hint: specify when the bot message should disappear if a user doesn't reply to it. You'll need this in case a user decides not to talk to the bot, and you don't want to be annoying, do you?
At the Audience stage, select the user segment that the bot should talk to. They can be all users visiting your page as well as a narrower segment. For example, those who didn't sign up for a webinar or whose emails you don't know.
Set sending conditions.
Double-check all settings and launch your first chatbot. Yeah, it's that simple!
More examples?
Sure. We've made several simple chatbot questions with different possible answers. Keep in mind that you can configure any campaign no matter how long and complex they are, and these are just examples:
The chatbot will start the conversation and then route it to a channel or send a document: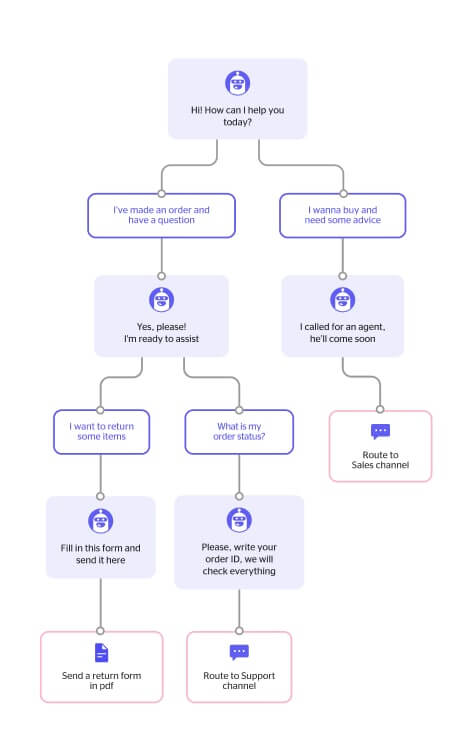 2. The chatbot can qualify users and guide them through different campaigns, depending on their answers. For example, it can assign the conversation with wholesale customers to personal managers, and send articles from the knowledge base to retail customers to take frequently asked questions off the table: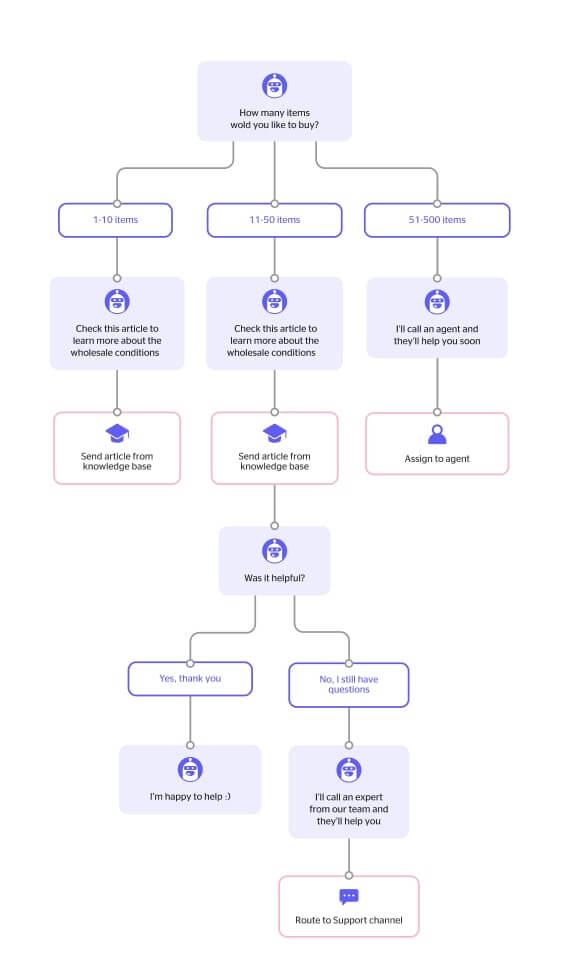 3. The chatbot can collect contact details of your customers or even schedule a meeting automatically using the integration with Calendly.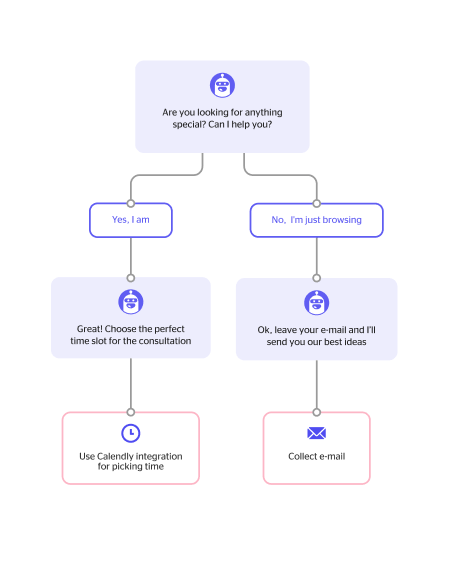 To master your skills in chatbot configuration, check out chatbot best practices! And always keep an eye on the chatbot future trends to offer the best service that meets your customers' expectations.
Useful materials
We've put together more useful content that'll help you fuse a chatbot more effectively: