Users want self-service. 70% of them, to be exact.
It means website visitors prefer to find answers by themselves than ask live agent help. Want to provide a better customer experience? Boost your support team productivity by 20% and more? Empower users to answer their questions. Systemize and store your company/product info in a knowledge base. 
With this actionable guide, you'll build and manage your knowledge management (KB) system easily. Here we collected the best tips, examples, and knowledge base tool options.
What does knowledge management mean, really?
Imagine yourself as a website visitor. You want to find out how a Dashly chatbot works. There is no great desire to chat with an agent, so you go to the help section.

By keyword search, you find a relevant article.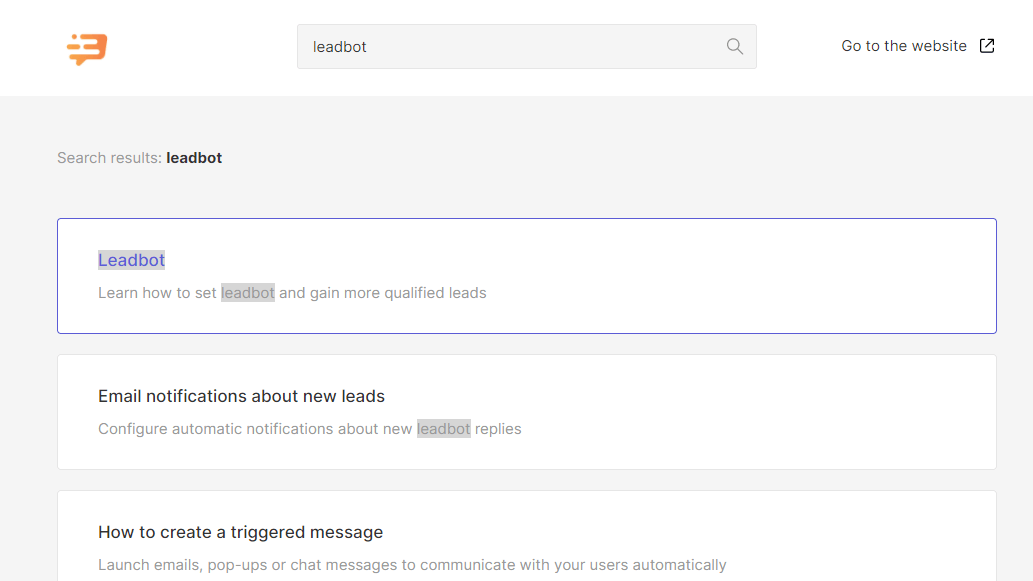 And, voilà, the answer is found. Easy. Fast.
This was only one of many articles in Dashly knowledge base: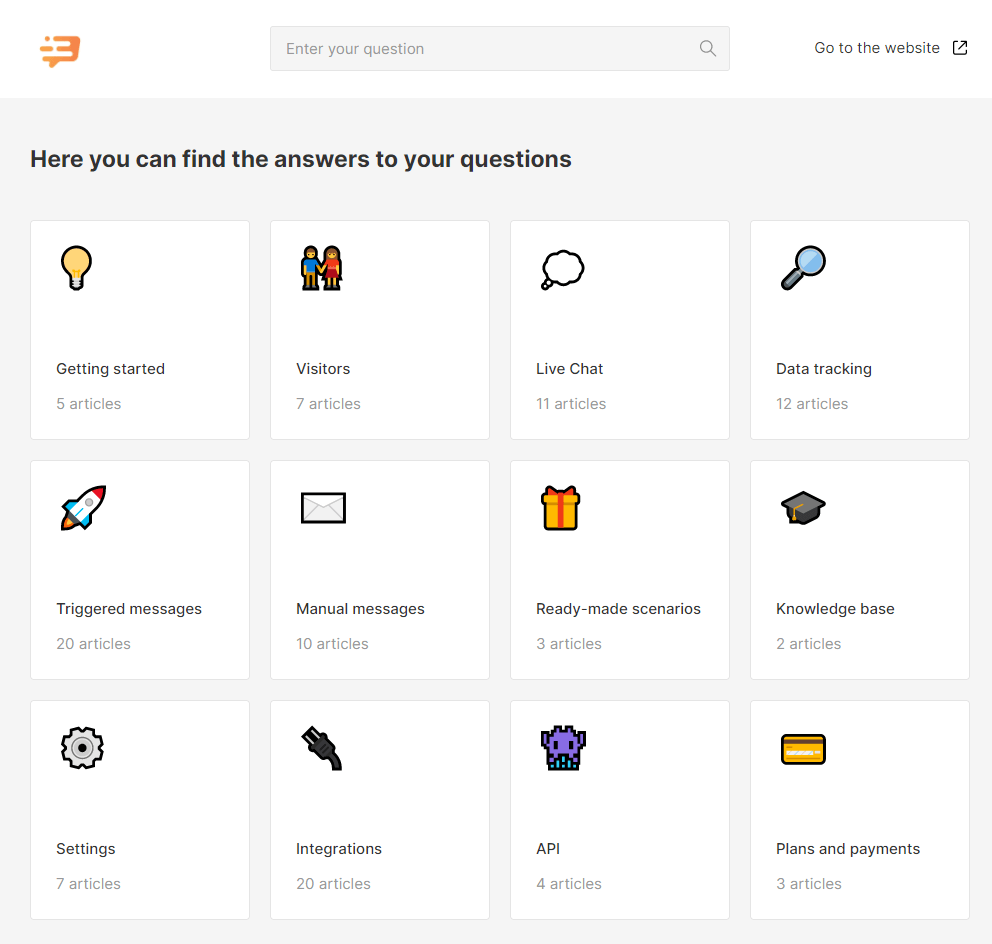 The knowledge management system is a content management tool that helps you to store docs, FAQs, and other information into written articles, videos, or images for both clients and employees.
Depending on the user, it can be:
Internal knowledge management
Internal knowledge management is a database of information that is only available to your team members. It helps them quickly navigate between policies, procedures, objectives, internal changes, and other bits of information that could make their job easier and easily integrate into work processes.
External knowledge management
External knowledge management is designed with customers in mind. Its primary goal is to provide them with knowledge resources that they can use and learn from. External knowledge management systems provide accurate information about business and products without any unnecessary detail that would expose a company's sensitive processes.
In both cases, it improves understanding, collaboration, and process alignment. This system exists within organizations or teams to center your knowledge base. 
You can use it as a problem-solving as well as a knowledge-sharing tool. But simply put, a knowledge management system is a tool that ensures easy access to any type of important information. 
What kind of information can a knowledge management system store?
Knowledge management systems usually store such information as: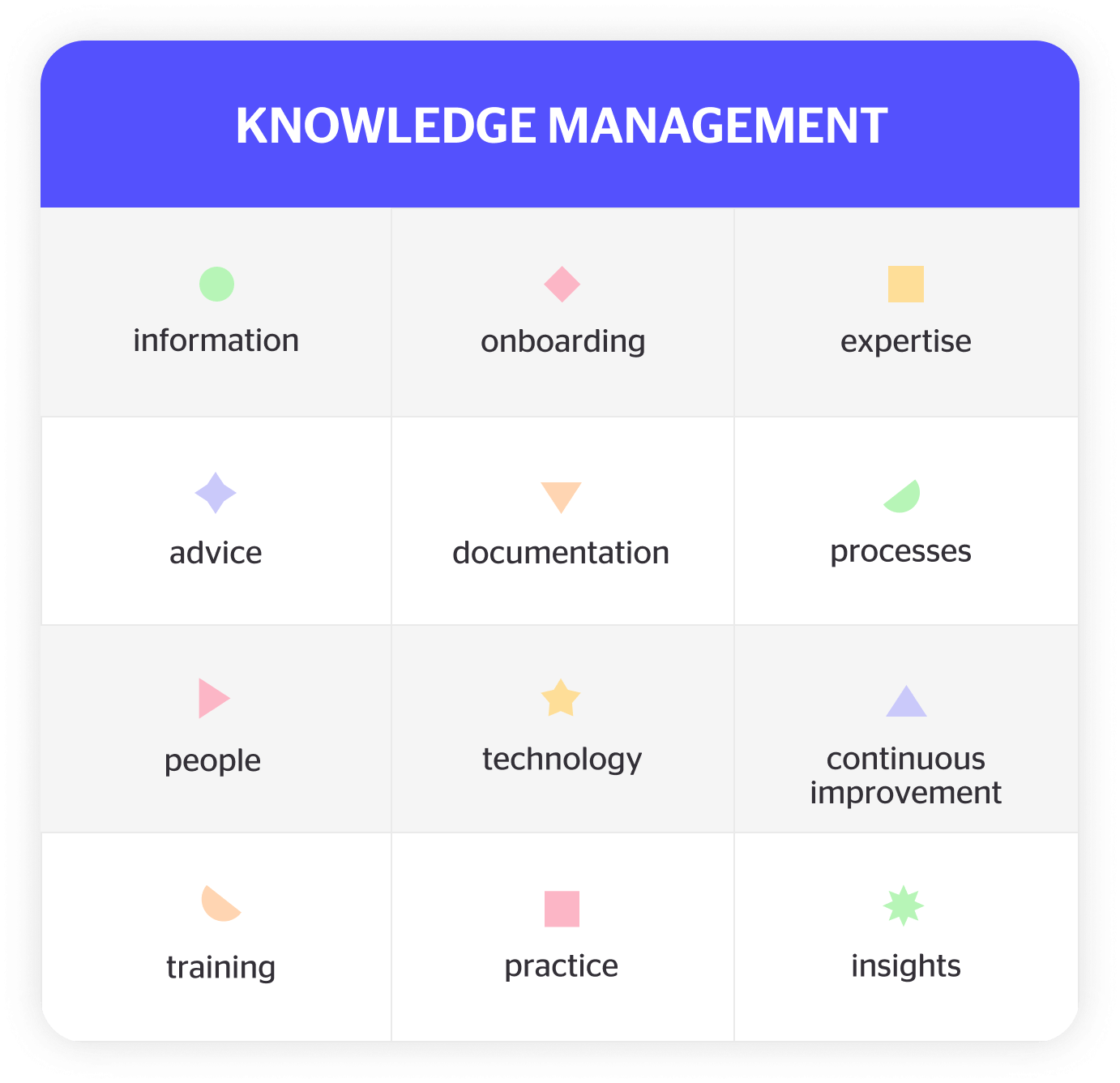 Documentation
​​Company handbooks
Benefits breakdown
Product FAQs
Product implementation guides
Holiday calendars
Release notes
Team data
Strategy
Competitor briefs
Product development timelines
Presentation tactics
Works in progress
Best practices
Company news
Company media mentions
IT, product, and team updates
Upcoming promotions
Events
Organizational data
Organizational charts
Purchasing activities and logistics
Individual contract information
Company location and contacts
Brand information
Download a short summary of comparison 15 knowledge bases in a table
Thanks! Now check your email. We've send your copy there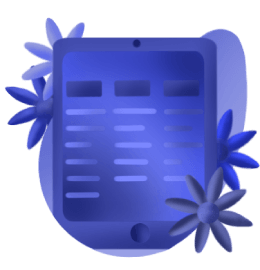 What are the benefits of knowledge management?
Let's look at knowledge management from a broader perspective. 
Knowledge management systems provide solutions before customers even ask for them. It also increases employee efficiency to do their best work. 
How does it influence your business?
Let us break the benefits of knowledge management down for you.
Reduce costs
Imagine an employee gets a frantic call from a customer who needs to cancel their order. And rather than having to read through the terms and conditions to find the answer, the representative can simply open up a knowledge base and find the answer within seconds.
Chatbots are becoming the first-grade customer service team members — because they're so much more efficient and cheaper than customer service representatives.
According to Forrester, chatbot interactions are at least 10x less expensive than live customer support interactions.
Such a solution will drastically cut down costs to spend less time researching and more time targeting more strategic tasks.
Provide faster time to resolution
A knowledge base is a great way to empower your customers and employees to find solutions by themselves. Since people can solve their issues without a live agent, you'll see the reducing number of tickets submitted to your inbox.
Self-service reduces a client's need for live assistance by 36%
Knowledge management helps your team to find answers more quickly. For example, just send the article link. This means your customers will get helped faster.
Maintain low churn and improve customer retention
If your product requires customers to sign up, you need to provide them with the best possible experience. And having a FAQ or knowledge base page comes in handy here.
Numbers show that 83% of customers need help signing up for a product, and 51% prefer getting support through a FAQ page.
Instead of losing customers that have difficulties with your product, knowledge management ensures that they have the resources to fix the problem and get the best out of it. 
The knowledge management system that allows tracking will help you identify churn patterns. For example, if a particular feature is proving difficult for users to understand, you can reach out to them, offer some extra guidance and ensure they stay on board.
Optimize support agents training
Use a private knowledge base to create your very own digital training course for team members. When used correctly, it can simplify the processes of:
learning new skills and techniques, 
keeping records of internal solutions, 
and onboarding new employees.
You can create multiple knowledge bases for each department. Fill them with courses, solutions, and guides for all sorts of common issues. Or let each department decide what problems they need to focus on most.
Increase collaboration of teams within a company
How will the team manage their next innovation opportunity if they can't effectively communicate about it? The entire success of the company can hang on to that one question. And here's where a knowledge management system comes in handy.
How? Having a proper knowledge management solution, your teams can get on the same page while implementing a project.
Imagine your company developing a new product feature. The task of the support team is to help onboard new clients to it. When a product marketer notes the results of feature details in the knowledge base, your sales, marketers, and agents will work towards its latest version.
Just like that, a knowledge management solution helps boosts collaboration within the company. And boom! Your clients are more engaged. And the ideas are easier to prioritize.
Ensure better SEO ranking
What's the best part about having a knowledge management solution? You will have access to a treasure trove of keyword-optimized content — articles that will help your business stand out in the search results. Thus, when you look at how to make a pop-up, there is a W3 Schools knowledge base article among the top 3 results: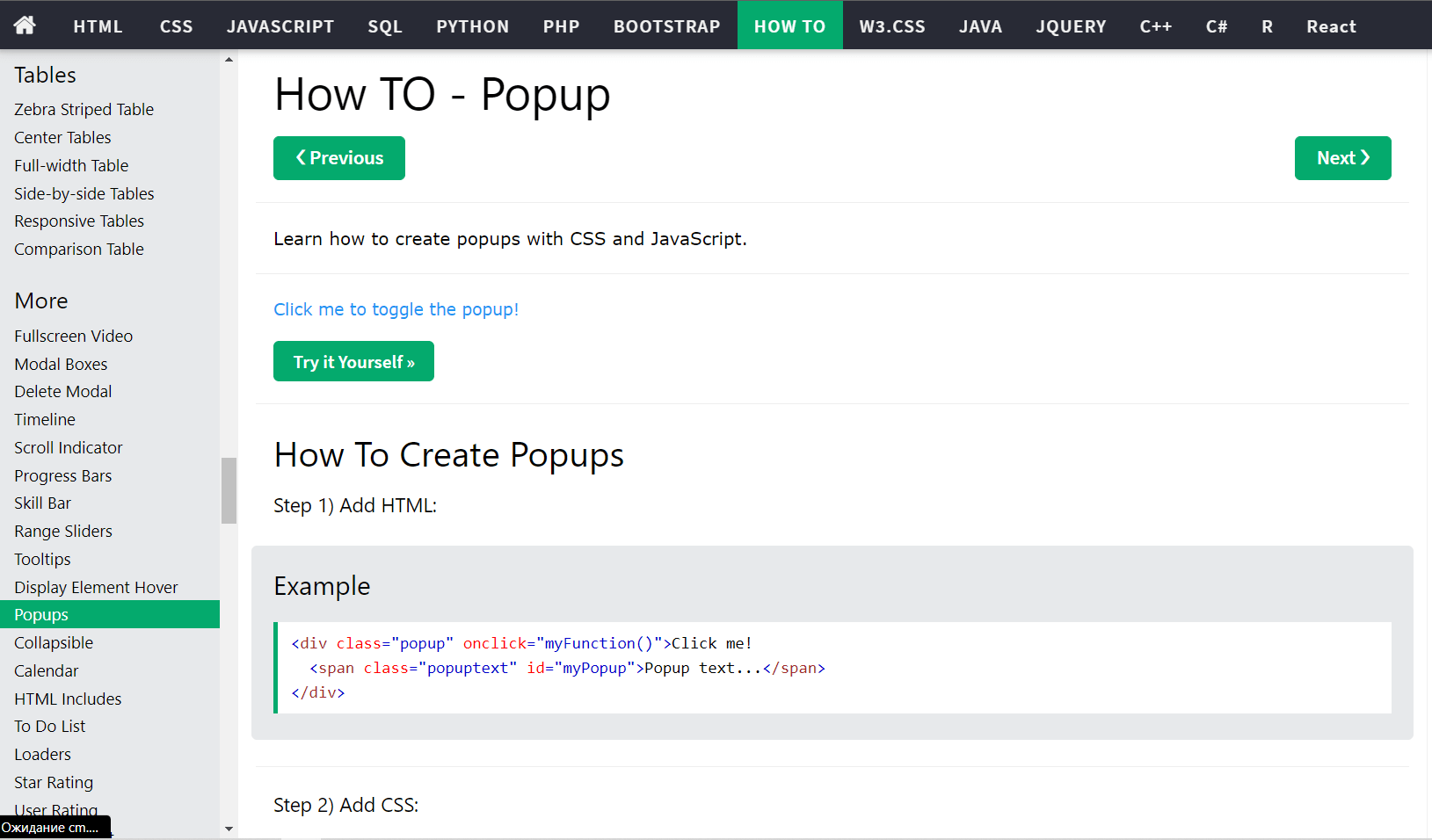 Because of the relevance of the content to potential customers, it's naturally more searchable on the internet. 
As a result, Google will start to recognize the quality of your website and rank it accordingly, as simple as that.
Got it! Show me some knowledge management system examples!
1. Document management
‍I'm sure your company has many valuable docs, sensitive or secret data. For example, leave application, partners' billing info, employees' ID info, etc. It should be 100% protected and easy to access for employees. And the best way to do that is an internal document management system.
This system acts as the central storage space for all your company's electronic files, enabling efficient retrieval of essential documents. Document management solutions can be customized to protect your most valuable information using passwords, Setup, and Admin Controls, backups.
So when Kate, your new HR manager needs Jake's, a developer, ID data, she goes to the knowledge base and finds this info by a keyword. Easy, fast, safe.
2. Content management
In the same way as document management, content management systems allow you to store and manage digital content, such as audio and video files.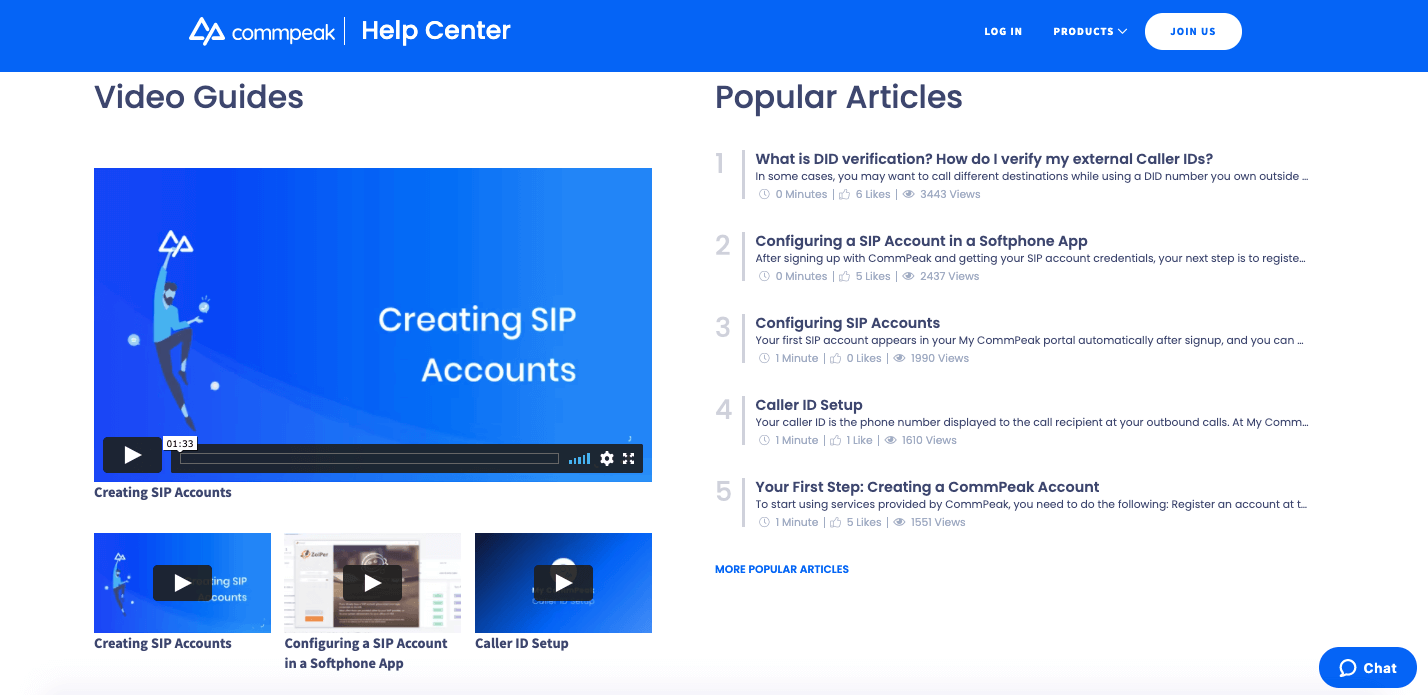 Commpeak knowledge management system is a combination of both text and video content that helps users quickly learn how to use the service. The best thing about the structure of the knowledge management system is that the users can choose the type of educational content they like — videos on the left of the page and articles on the right.
3. Databases
Databases are a great way to make sure all the information about your business is organized and easy to use. While it can be tricky and expensive to design one from scratch, there are heaps of free options out there that allow you to quickly and easily build a database that works for you.
For example:
A database for collecting feedback from product testers or customers (usability study).
Research Database with the results of the competitors' analysis. It is about products they offer, pricing, features, and benefits. 
Lessons Learned database that is based on the info from projects/tasks your team complete. It can be Zoom meetings recordings, audio, screens. 
However, your team will need quite a few skills to maintain and use a database-type knowledge management system properly. 
4. Wikis 
Wikis are pretty easy-to-use and, perhaps most importantly, are available for collaborative editing. In other words, any team member can access, publish and edit information. They prove to be an excellent way to maintain business documents or product catalogs. 
But unfortunately, not without flaws. Although an efficient tool for accessing up-to-the-second information, wikis can sometimes include incorrect or outdated data due to their heavy reliance on human input. 
5. Customer Support Systems
The primary goal of your customer support knowledge management system is to keep your customers happy by quickly resolving their issues. Customer support knowledge systems usually include tutorials, guides, and answers to commonly asked questions. 
Thus, they can find solutions without going to customer support preventing tickets from being opened or calls from being made.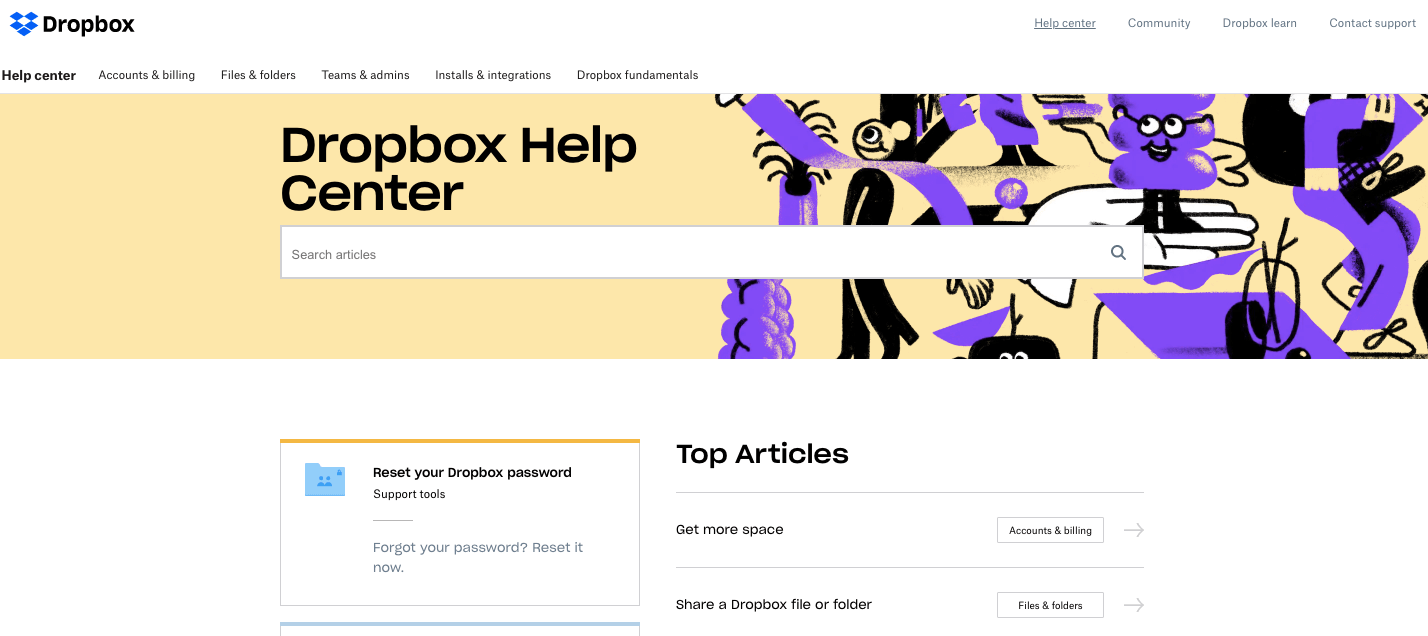 Dropbox, one of the leaders in cloud storage, basically uses "a less is more" approach, making it easy for users to navigate various content that might be valuable for them. 
An extensive search box at the center of the page makes it easy for users to find relevant content. As you scroll down, you can see two columns: 
cards for the most popular topics, 
a list of top articles.
6. Customer onboarding
Onboarding is the process of helping new users get used to your product and experience how it will help them achieve their goals. And a knowledge management system is an excellent way of facilitating this process.
Customer onboarding knowledge management solutions usually store step-by-step text and video tutorials, guides, articles, and FAQs to get a combination of education, inspiration, and actionable insights.
Asana has one of the best, well-designed, and structured knowledge bases that ticks out almost every question new users might have during the onboarding. The welcome page is divided into two parts:
graphic boxes — one with the starter tips, another for webinars,
top resources.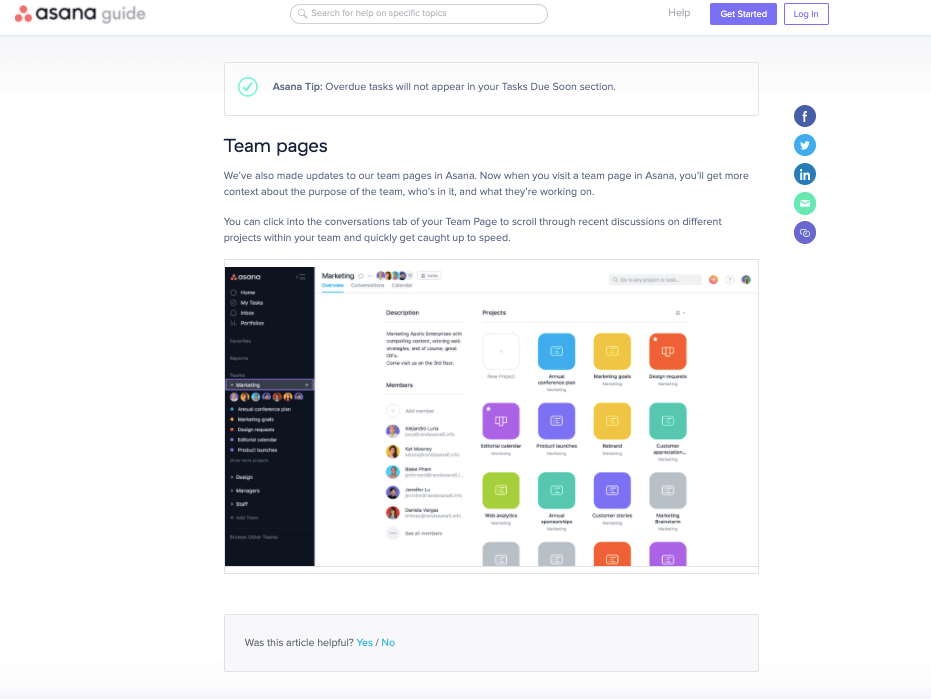 Each article is perfectly structured and usually includes the following elements:
headings and subheadings,
instructions that are broken up into small, digestible paragraphs,
callouts to highlight the most critical information,
pictures and video summaries,
CTAs to related articles,
a feedback tool to measure the performance of each tutorial.
7. Expert Knowledge Systems
Expert knowledge systems can be highly effective for companies that have large teams. The system is basically an internal knowledge base for the staff to quickly locate expert information on common customer concerns.
Theory part. How to design an effective knowledge management system?
Implementing an effective KB system doesn't have to be hugely time-consuming or difficult. 
All you need is a good structure, a robust platform, and some guidance.
1. Understand how information is currently shared
By examining your current internal communication model, you can identify what's working and what isn't. And focus your future knowledge management on what can be improved. 
Look at communication channels: 
the data your employees share, 
the context behind their interactions, 
and message turnaround time.
For example, for an internal knowledge base, you can start from internal emails. By analyzing information requests from different departments, you'll know the information they share. Based on this data, you can draw up an excellent outline for your future knowledge management system.
For an external knowledge base, you should analyze all the channels your team communicates with the target audience: live chat, emails, chatbot, social media comments, messengers. Again, you look for the data your employees share, the context behind these interactions, and message turnaround time.
Apart from that, you should also consider:
how large your workforce is, meaning how many employees will have access to your knowledge system
how knowledgeable they are 
if you need to produce information in different languages. 
These things will help you determine the best approach to your knowledge management system and give you an idea of where to start.
Guide: How to Build an Effective Support Team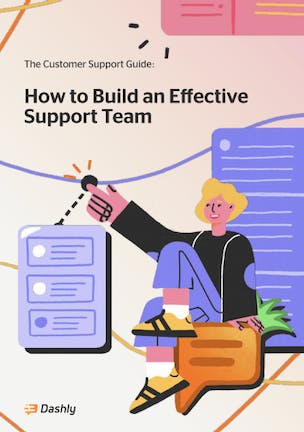 2. Figure out the most common questions
Let's take a look at a few methods to identify the types of content to be documented.
Get to your support ticket system
What are the most common questions customers ask? Do they constantly ask you questions about a specific topic or product? Answers to those questions might well become the base of your knowledge management system. 
Talk to your team
In case you don't have a support ticket system or want to dive deeper, go to your support, sales, and marketing teams. And have each contribute ideas for topics in your future knowledge management system. Create content based on issues that they get tired of answering all the time. 
Try out social listening
Checking what people say about your company and products on the web is always a great idea. 
Find out what customers usually search for on your website
Do you know that Google Analytics has a feature that will show you what people are searching for on your site? Based on these insights, you can use this information to better understand what customers are interested in and compile a list of topics for the knowledge system.
In addition to that, you can conduct on-site and in-app surveys or even talk to your customers in person. These insights can help you reach an entirely new level of customer understanding and design a better knowledge management system
Use that information to build an articles plan for a profound knowledge management system.
3. Identify the best tools
You don't want to end up with a knowledge management system that isn't good for your business. That's why, before investing in a knowledge management solution, make sure it meets the basic requirements:
Security
Number of users
Collaboration options
Media support
Branding 
Budget.
But no matter what features are most important, one thing's for sure — the software needs to be powerful enough to help you organize all the data.
We've compared the best knowledge management systems for you.
Download a short summary of comparison 15 knowledge bases in a table
Thanks! Now check your email. We've send your copy there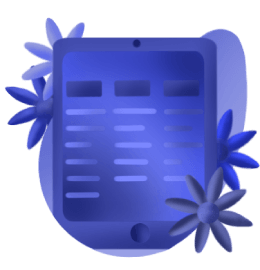 4. Structure the data with topics, categories, tags
Here are some ideas for structuring and organizing your knowledge management system:
Organize your educational materials into a few categories (usually not more than 6) and clearly label each section. 
For instance, in Dashly you can even label the categories with emojis, so they are visually arranged to draw your reader's attention.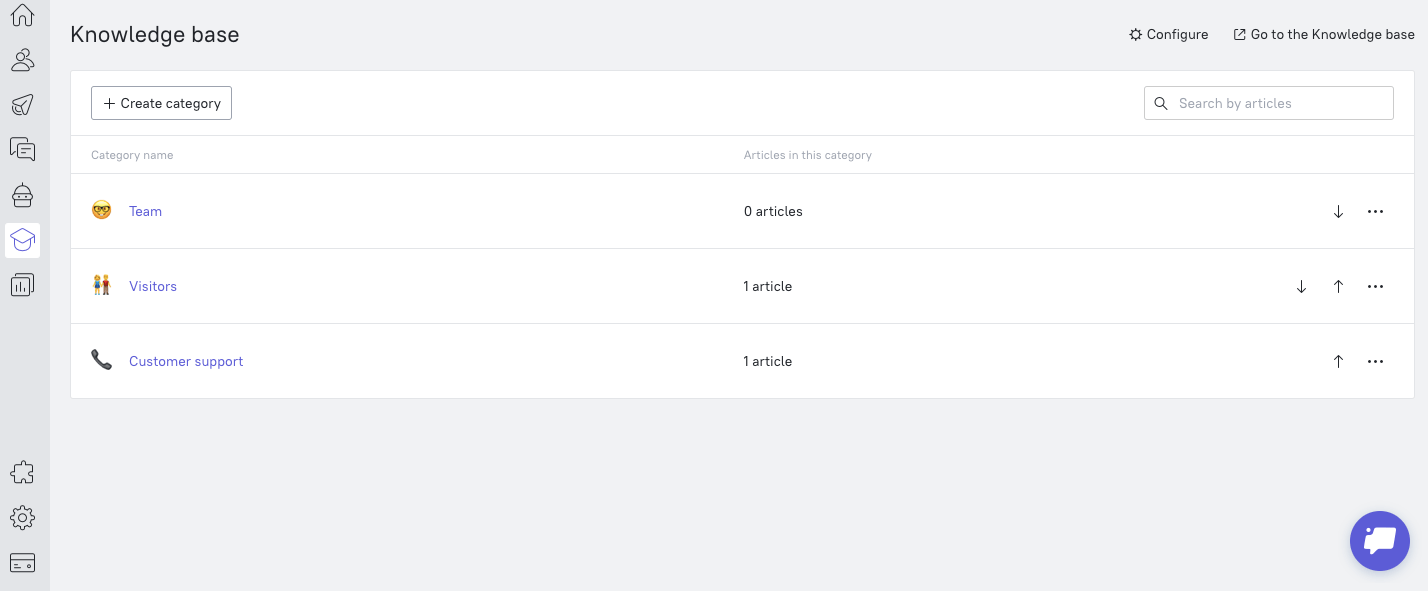 Explicitly identify the most popular topics and articles to make them stand out visually.
In Dashly, to organize them, you can use the arrow keys to move your folders around so that they are ranked by popularity or whatever attribute you choose.

Include internal links so that users can quickly jump from one category, subcategory, or another article just by following a link or two.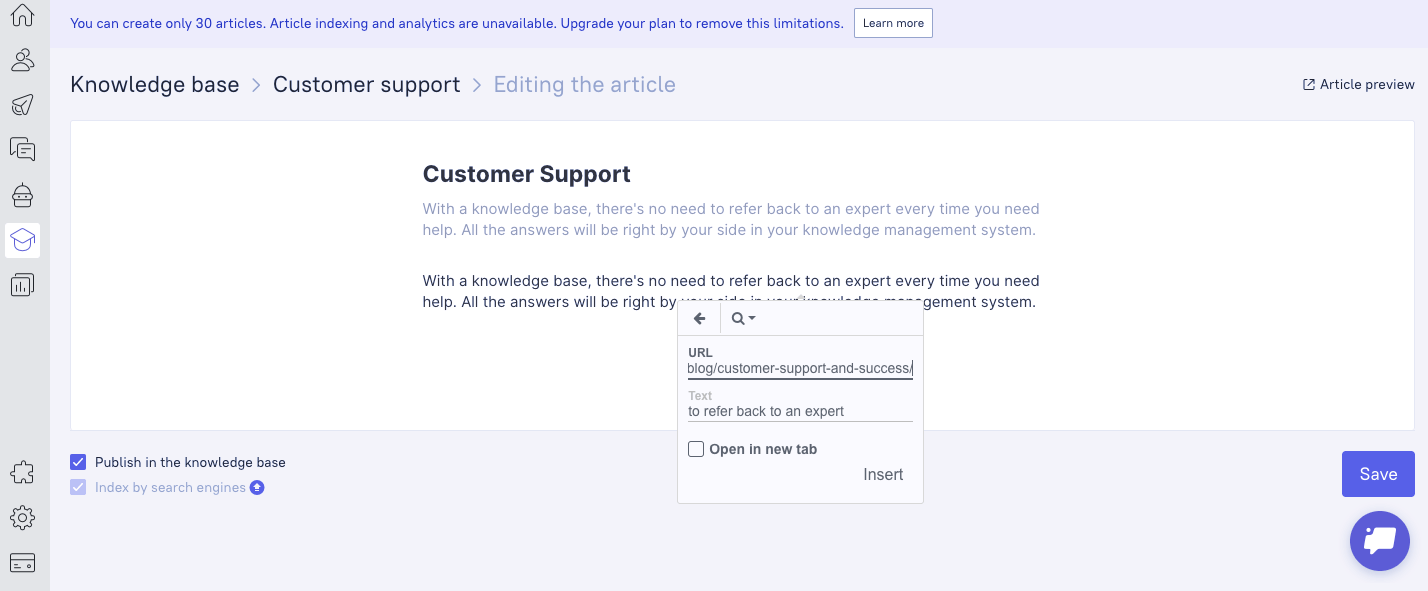 Add value by including internal links (better in the form of a sidebar) to more resources like chats, courses, forums etc.
Use videos, images, charts to provide users with various types of content depending on their learning preferences. Thus, in addition to classic article, we offer Dashly users to watch video tutorials also:

Add a feedback or rating tool to the end of an article to measure user satisfaction. Like this one, for example: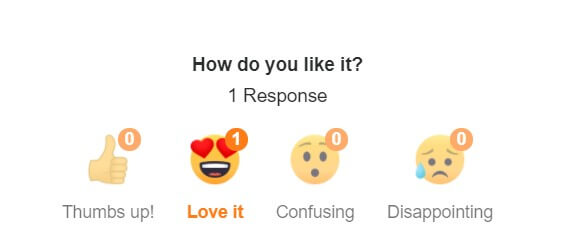 5. Analyze, optimize the performance of knowledge management articles
You might be wondering, "How?" 
Start by setting a goal for the number of resources you want to begin with. And don't forget to choose KPIs that will allow you to identify the success of your knowledge management. In such a way, you will be able to make adjustments along the way — or know when it's time to introduce new resources.
Metrics like bounce rate and time on a page can be terribly confusing as they don't show the true reason for the users' actions. An average of five seconds on your website page might look like your content is not engaging. But it could also mean that visitors didn't find what they were looking for. 
As such, those metrics might lead to incorrect assumptions about how users engage with your site. And your conclusions will be based on subjective assumptions, not accurate data, and can be pretty misleading.
So yes, one of the best ways to get feedback from visitors is to ask a question at the end of each piece. It's best to use a two-option question: "Was this information helpful?" — "Yes", "No". Quick and easy for users, helpful for you. As you will know if your articles are useful and whether you need to improve them or not. 
Having feedback from the visitors, you can now take the time to review your knowledge resources and determine how effective they are for helping your customers or employees. Then, carefully plan how you can improve their effectiveness.
6. Update
A knowledge management system is not something that you can do once and forget about it forever. Knowledge management is a dynamic process that requires a system that adapts and evolves as new information becomes available. 
To ensure that your system works for you, build a robust process around how you organize, curate, search, and share your growing pool of knowledge. An excellent way to keep your knowledge management system up-to-date is to add a feedback form. Make it clear they're free to submit any feedback they may have and let you know when they need more information on specific topics. 
Tech part. Set up a knowledge management system with Dashly!
Instead of handling the same customer support requests over and over again, Dashly's knowledge management solution allows brands to provide effective and fast desktop and mobile customer support. 
Build and maintain your knowledge base in a simple way without any coding skills. Let's get started!
Choose your plan
You can set up a Basic Knowledge base on any Dashly plan. If you want full access to features, connect the Knowledge base Pro module, which is included in Automation and Premium plans.
But first, you'll get 7 days free trial to test it.
Enter your domain
You can use your own domain or create an address on the Dashly domain. Default Dashly Knowledge base domains look like: appXXX.dashly.help where XXX is the ID of your Dashly website.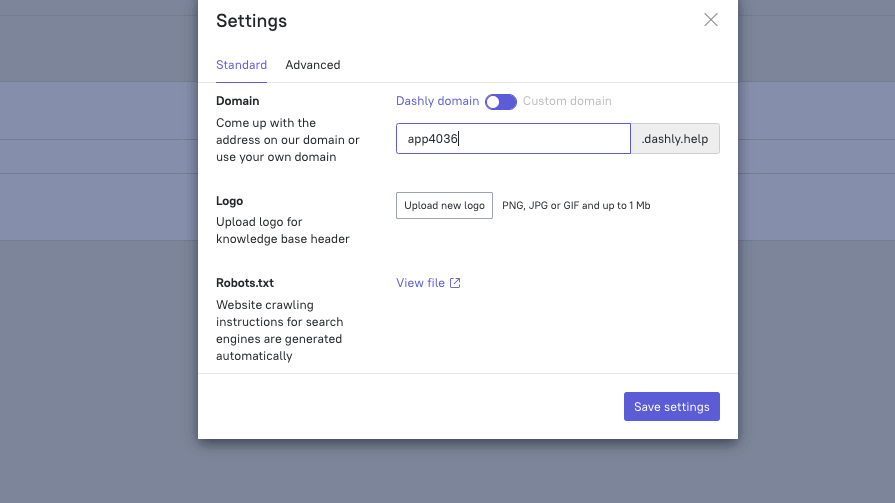 To change your Knowledge base domain, you also need to put changes in your domain DNS address. So if you have any difficulties, please contact us, and we'll happily help you set it up.
Add your logo
You can upload your company logo, which will be displayed in your Knowledge base header. To do this, press the "Configure" icon in the upper right corner of the Knowledge base.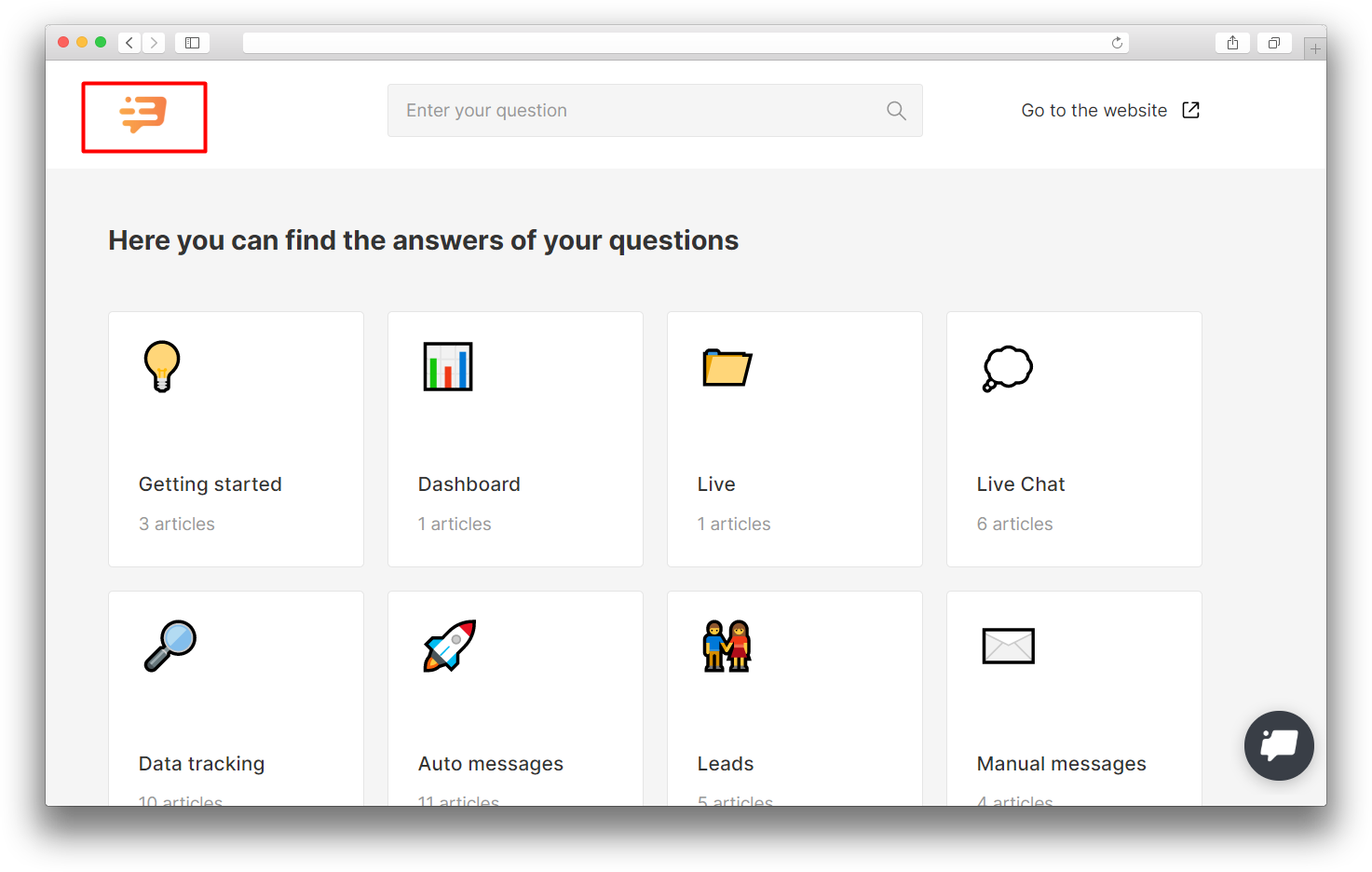 Create categories
Now it's time to define the key categories for your Knowledge base. The categories that your articles belong to should be specific and relevant. With this information, users will find the information they are looking for within the shortest time possible.
When adding a category, you can add a name and an emoji, displayed next to the category's name.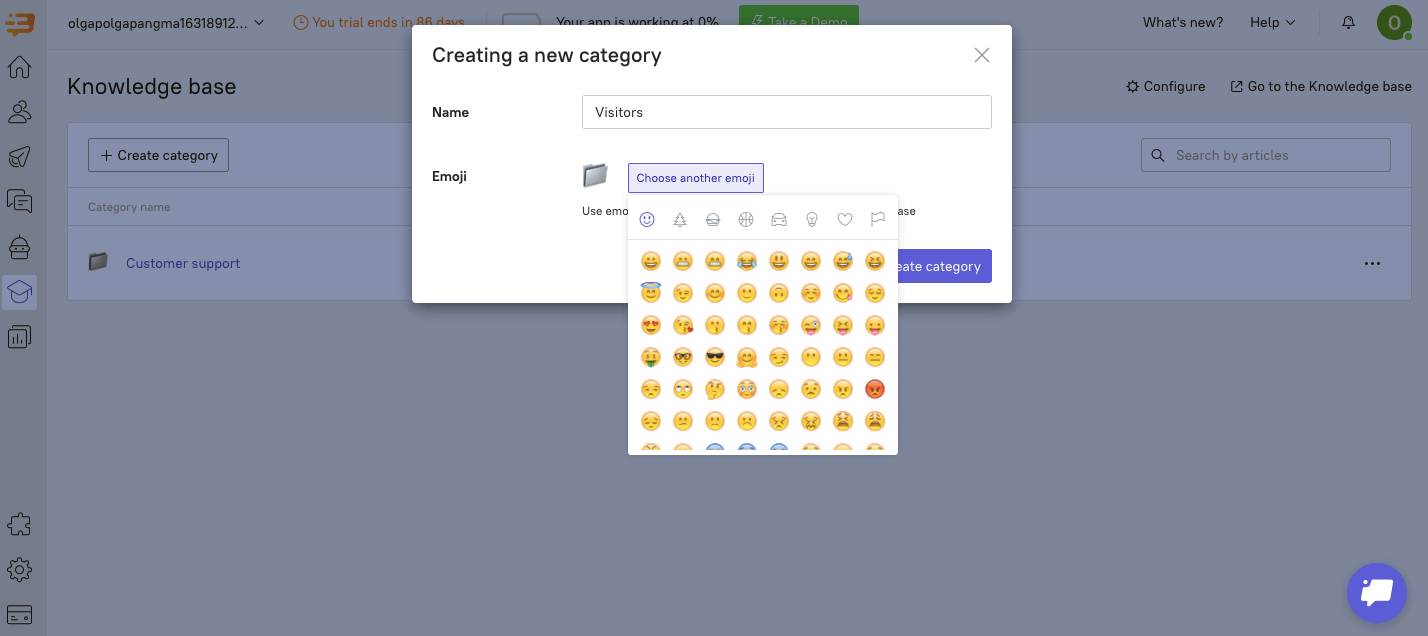 Right after you create a category, it appears on your Knowledge base page. Later, you can sort, edit, delete and add categories any time you want. 
Add and edit articles
Choose a category
To create an article, choose an existing category or create a new one. Then, click the "Create article" button. Later, you can move this article into another category.

Enter a title, description and text
Editing articles is super simple — you can easily add text, images, videos, and charts. Remember that the title and article description informs readers about the topic of your article and why it's relevant to them. So make sure they are short and clear.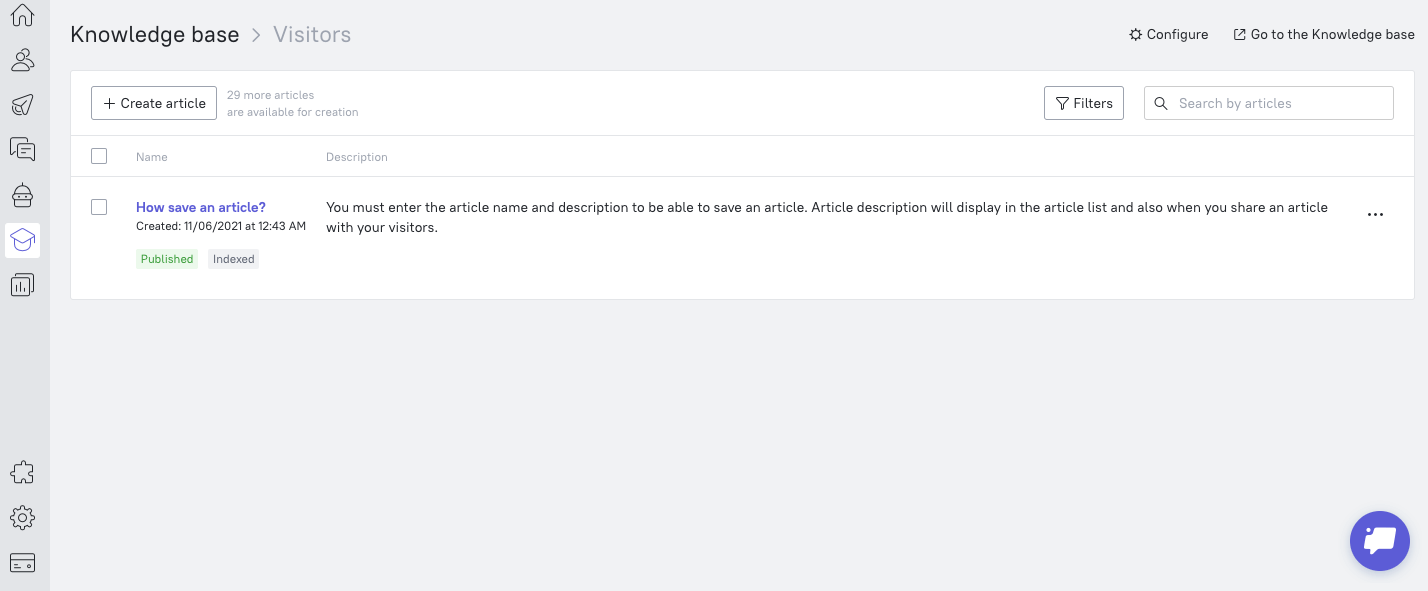 Moreover, the fields Title and Description impact your search engine optimization. In Title, use keywords to define the article's theme, while Description is what Google will use to show your article in search results. If you want this content to appear in search results, make sure it's relevant and optimized according to SEO guidelines.
Save an article
When you save an article, it automatically becomes available for visitors browsing and discoverable indexed by search engines. This is a default function.
So if you finished the article and want to save it without publishing, uncheck the  "Publish" button. It will prevent it from being indexed by search engines. Enabling the "Publish" button makes an article discoverable by search engines and for visitor browsing.
​​Add Google Analytics Counter
Google Analytics Counter is part of Automation and Premium plans. It lets you track how many times your knowledge base articles have been viewed and how many times customers have taken action on those articles so that you know how helpful your Knowledge base is. 
To enable it, go to the "Configure" section and open the Advanced settings.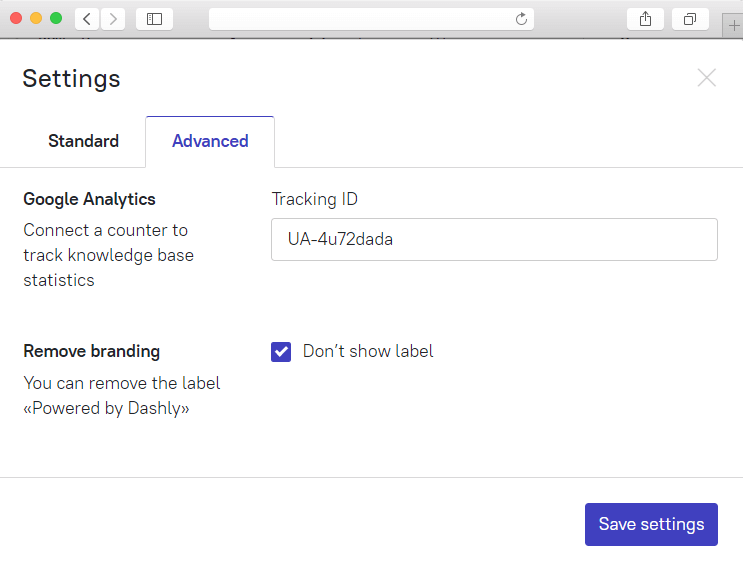 Use your knowledge base in chat
You can quickly access a knowledge base article from the conversation window, which is much more convenient than having to leave the "Inbox" to find it. Use the "Knowledge Base" icon to navigate your library of articles and share each one with your customer in a message window.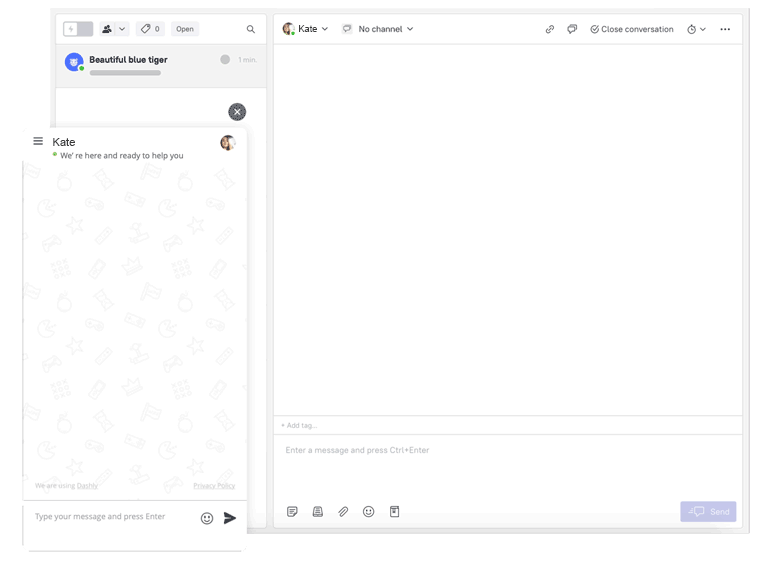 Since there's no need to copy or type long instructions or share links, you will save your time and won't make customers wait. This feature is available both on desktop and mobile. So you can be sure that customers get detailed answers to any question, even if you are on the go.