Undoubtedly, Intercom is among industry leaders who provide their clients with customer communication tools. But even leaders have their flaws. In Intercom's case, the price is often listed as one of the main disadvantages of the service. 
If you're searching for a cheaper Intercom alternative or have any other troubles using the platform, look no further! Dashly team is here to offer free help with migration from Intercom. We will make your move as smooth as possible.
Transfer the data from Intercom
Our team came up with a technical solution to transfer data from Intercom to Dashly. It will allow you to save the conversation history with your users.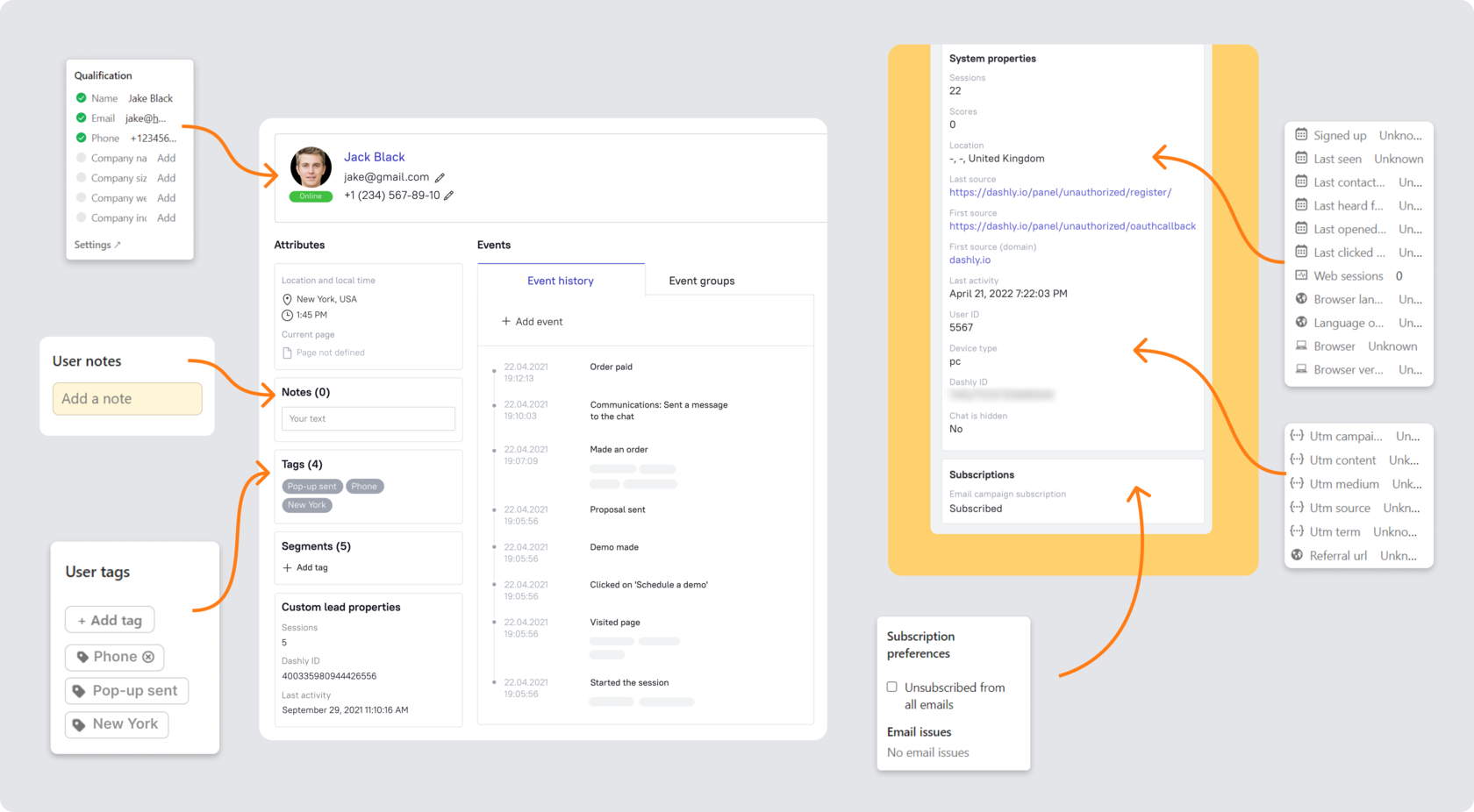 We've set up data transfer and tested it with a few clients that migrated from Intercom to Dashly. And we're already getting positive feedback! 
Dashly will help you with migration from Intercom
Why you should choose Dashly as an Intercom alternative
Dashly is a conversational marketing platform with similar functionality. It carries out the same tasks with familiar tools, such as live chat, chatbot, social media, messengers integrations, etc. But it also has several  advantages:
The price. Dashly offers a transparent pricing system that doesn't depend on the number of agents, contacts in your leads base, or your company's growth. The price for Dashly software is based on the monthly traffic on your website. 
Quick and caring support. You won't have to wait long to get answers to your questions. Besides, unlike Intercom, Dashly doesn't charge you for onboarding or customer support. 
All conversations are in one inbox. Dashly doesn't only unite conversations from different channels in one window. You see it in one dialog. A user can start a chat on the website, then continue it in one messenger, then on another. Let your users choose the channel they prefer. Our team made sure your agents wouldn't lose a single message in the conversation.
Dashly allows working with leads that have been inactive for 30 days. Intercom doesn't have this function. 
Dashly transfers all customer data and conversation history. This way, your agents won't lose the context of communication. For example, while responding to a new message, an agent sees user properties, actions, and history. No need to waste your time on clarifying questions!
Which data you can transfer to Dashly from Intercom
During the migration, we can transfer:
leads base with user properties, tags, and notes;
conversation history with tags, notes, and even pictures that were shared in a chat;
knowledge base with images and cross-references to other articles in the knowledge base.
Make sure you have the lead merge with User ID. It's crucial for migration. The Dashly system will identify a user and continue collecting data in the same card with the lead merge.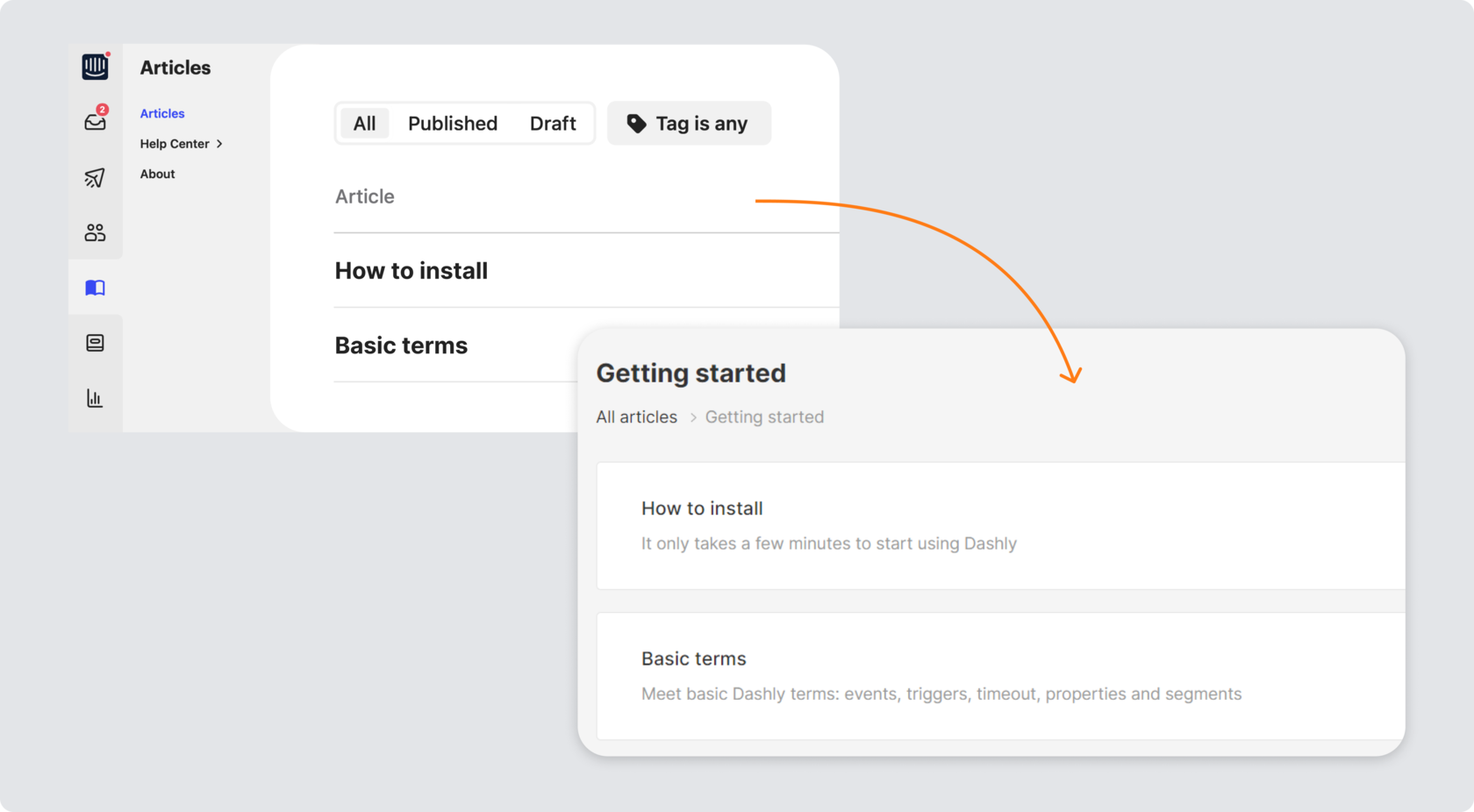 If you want to import your lead base only, you can do it on your own with the help of our instructions. Mind that you'll lose your conversation history!
Which tools Dashly offers
Dashly is a conversational marketing platform. It helps businesses improve customer communication and deal with Churn Rate. In addition, the platform facilitates the work of the marketing, support, and sales team. 
With Dashly, you get:
omnichannel live chat for your website, which you can integrate with messengers and social media;
conversation history from all channels;
visitors behavior tracking — all data is stored in one profile;
triggered chat messages;
triggered and manual email campaigns and WhatsApp messaging;
pop-ups for lead capturing, product recommendations, etc.;
A/B testing;
detailed analytics on tools and team performance.
The price for the platform depends on the plan you choose and the number of unique monthly users on the website. The number of agents seats is unlimited in all plans. 
Dashly offers a few plans. You can choose the one that suits your business best.
Business chat
The plan suits best for support and sales. With Business Chat, you get:
live chat;
basic user behavior tracking;
conversation history of 3 months;
basic HTML email builder;
basic segmentation;
one active chatbot;
seven triggered scenarios.
The number of agent seats is unlimited.
Automation
This plan suits for automation of communication, lead generation, lead nurturing, and revenue boost. This plan gives access to all tools of the Business plan and also:
custom user events;
user base segmentation according to these events;
detailed analytics;
messages personalization;
A/B testing;
an unlimited number of chatbots and triggered scenarios.
Premium
With this plan, you get access to the full functionality of the Automation plan. Besides, you have Dashly expert to help you with:
tools implementation; 
detailed analytics;
agents training.
How to migrate to Dashly from another service
Please, write to us in a live chat to schedule a free consultation on migration from Intercom or other services. We will:
show you the platform functionality;
discuss which Dashly tools you can use for your business;
tell you in detail how we'll transfer the data;
what you need to set up in Intercom to migrate successfully.
Migration from Intercom is free if you have the lead merge by User ID and a month Dashly subscription. 
You can test Dashly for seven days off-charge to make up your mind. Then, if you need it, we'll give access to your agents and train them.
We'll help you migrate from Intercom to Dashly for free. Text us "Want to move from Intercom" in a live chat.