Upgrade These 10 Hard Skills To Be a Digital Marketing Pro In 2021
Reading time: 12 minutes
24.02.2021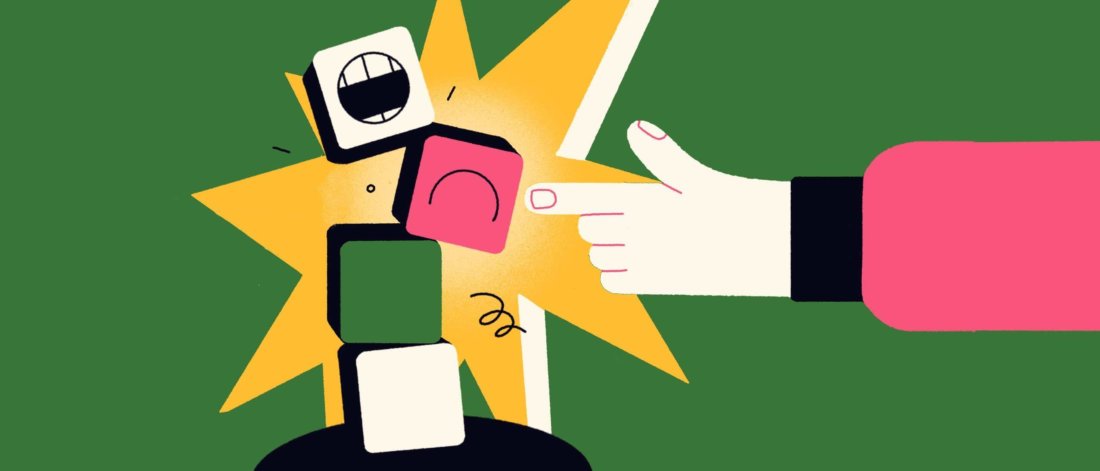 "Every person is, in part, 'his own project' and makes himself" 

Abraham H. Maslow
A Digital Marketing Manager profession is one of its possible offers. The success relies on whether your skills list meets the market requirements (that change each year, by the way). That means there is no limit to a digital marketing manager's skills improvement. Or not? 
It's not about marketing skills for a resume but professional self-development without the risk of burnout. 
What skills should a newbie and a pro marketing manager have in 2021? How do they change when there are other specialists in a team?
Looking through digital marketing courses and relevant articles, you'll find hundreds of "must-have" skills. A crazy "hodgepodge" of competencies almost impossible to master. So easy to get lost, even for a pro.
Focus on the most important ones. 
Let's see what the market needs: I mean, look through job vacancy posts and experts' thoughts. Enjoy!
What digital marketing skills are on-demand in 2021
This month Marketing Week research highlighted a list of top 10 skills:
Let's see whether they correspond to job vacancies requirements. There is experience and skills employers expect to see in a digital marketing manager's resume: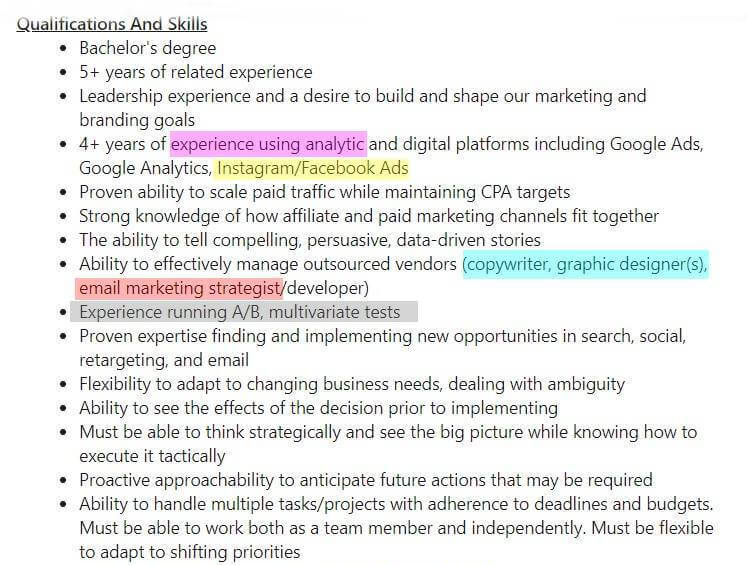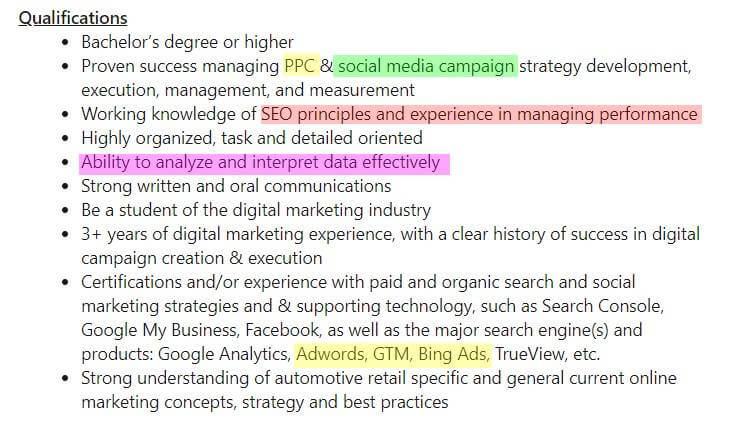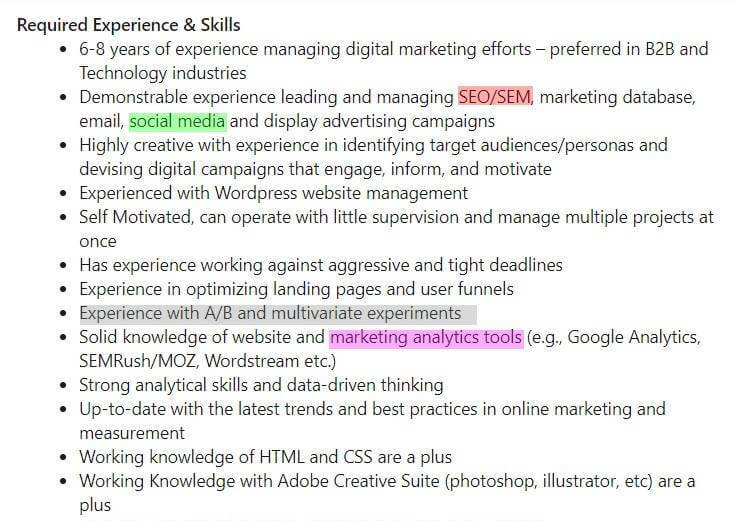 I highlighted marketing skills every second LinkedIn vacancy had. 
So, yes. The research confirms the 2021 digital marketing skills trends for remote digital media positions. If you want to be a good marketer, put on your resume:
Analytics
Paid Ads
Content & Design
Email
Video Marketing
Social Media
SEO
Ideas Testing
Product Management
Of course, it's too general. What exact should be able to do a beginner and a pro marketer in 2021?
Let's take a closer look. 
Read also: 50 Best Marketing Books for Beginners and Life-Long Learners Alike to Level-Up in 2021
#1 Data Analytics
Understanding how your work impacts the entire marketing and sales flywheel is a key skill of a digital marketer. There are tons of info stored online or tools like Marketo, Ahrefs, Google Analytics, and Dashly, which every marketer works with. You should understand those numbers, transform them into insights and deliver them to team members in a visually simple form.
Thus, a digital marketing manager should:
Basic Marketing Skills
Convert data into a story and explain why the first campaign worked and the second — didn't.
Visualize Data in an easy-to-understand format of a chart, infographics, etc.
Analysis of marketing channels perfomance
Knowledge of Clickstream Data and Tagging
Measurement. Understanding and managing marketing and business metrics. 
Interpret Customer Data to hear what they are trying to tell you. 
Pro Marketing Skills
Competitive analysis. I mean keeping your fingers on the pulse of the market/competitors.
Different methods of media, market, and customer research.
Working with APIs. Digital marketers need this skill to automatically pull click-stream/ad platform/and other marketing data.
Have a strong knowledge of business and marketing domain 
Where is the line between digital marketers and data analyst skills & duties in analytics?
#2 Paid Advertising Skills 
Paid ads can run on various channels (Google, Facebook, LinkedIn, Twitter, Instagram, Quora, to name a few) and leverage many other skills marketers need to know.
Basic Marketing Skills
Analytics and optimization of the ad campaigns via different channels.
Composing tasks for PPC Manager (tone of voice, ICP, goal, brand style).
Prioritizing Ads channels.
Pro Marketing Skills
Creating concepts for Ads on YouTube, Pay-per-Click, display, social media Ads.
Ads A/B testing.
Where is the line between digital marketers and PPC specialists' skills & duties in Ads?
The digital marketer has to set a task including goal, ICP or buyer personal portrait, tone of voice, set the budget. PPC Specialists manage internet advertising campaigns. Traditionally it is a strategy, design, implementation, SEO, and analysis of ad performance. Thus, they must know social media platforms specific, HTML and JavaScript, deciphering, tracking, retargeting codes, or the proper use of tags, which are unnecessary for a digital marketer. 
#3 Content & Design
Marketing is nothing without content, textual or visual. As a digital marketer, you must know its principles, trends, and strategy.
Basic Marketing Skills
Copywriting & Editing to hold the target audience's attention.
Basic knowledge of graphic design and design platforms.
Knowledge of social medial platforms requirement to graphics for designers briefs.
Principles of creating presentations to visualize in meetings or pitch ideas.
Storytelling.
Understanding the Basic Principles of Graphic Design. Color, Typography, Composition.
Pro Marketing Skills
Strategy, prioritizing content channels and metrics according to the sales funnel.
Understanding the trends of UX/UI content & design.
Measurement of the content and design ROI.
Building brand credibility.
Strategy of cooperation with experts, bloggers.
Where is the line of a digital marketer's skills & duties for content if there is a designer/content marketing manager in a team?
Marketers have to deliver content team company's goals, planned activities, product releases, help design and measure objective key results, and make sure they go in hand with company/product goals. The content strategy and its implementation should be leaven on the relevant specialists' side.
Pro-Tip:
The articles that contain exclusive information have more chances to get appreciation from the audience. If you are a writer, then make it a habit to check plagiarism before publishing it online, as Google doesn't like the sites having plagiarized content. There is a number of online facilities over the web that allows you to find piracy in writing and help you in creating unique and appealing content.
Finding piracy or similarity in content isn't an easy task and becomes more challenging if the content is lengthy. However, the use of an online facility will help you in grabbing the duplication in writing without making any manual efforts. A useful online plagiarism check tool enables you to detect plagiarism and the source of the content within a matter of seconds. You can use a paid or free check plagiarism tool over the web as per your desire without any hassle.
#4 SEO 
SEO is a powerful lead generation tool. Thus, all marketers should have a fundamental understanding of SEO best practices to help garner visibility within Google search results.
Basic Marketing Skills
Understanding general principles of SEO.
Recognizing Seasonal, Daily, and Monthly Trends in Viewer Traffic.
SEM.
Keyword research principles.
Pro Marketing Skills
Knowledge of Grey hat and White hat SEO.
Search Engine Results Pages (SERPs).
Backlink Strategy.
If there is an SEO specialist in a team, where is the end of digital marketers' skills & duties in SEO?
#5 Email Marketing Skills
Basic Marketing Skills
Understanding the email marketing metrics.
Analysis of the email campaign results.
Knowledge of email newsletter types.
Principles of writing a content for emails.
Pro Marketing Skills
Scheduling email broadcasts, setting up email sequences.
Crafting email marketing automation strategy.
Tagging & categorizing your subscribers for personalization.
Email marketing trends and tactics.
Where is the end of a digital marketer skills in email marketing if there is a relevant specialist (email marketer) in a team?
"All the channels interconnect — both from the marketer's perspective, as well as the customer's perspective. So I believe it benefits most marketers to understand what their colleague's duties are, without necessarily knowing the finite details of how they're to be carried out. This enables a holistic approach and an excellent customer experience, as the channels are working together for the good of the customer and the brand.
Email Marketing is a complex, challenging channel — more so than some other channels, and so an email marketing specialist is needed to understand and work with email's unique nuances. Unlike many other channels that digital marketers work with, it's a push channel. The messaging, design, strategy, deliverability, coding, automation strategy, and much more are unique and need to be fully addressed and catered for by the email specialist.
Download pdf file with 13 chatbot flow templates to collect & qualify leads, increase sales, recommend goods, etc.
Thank you! Your playbook is already in your inbox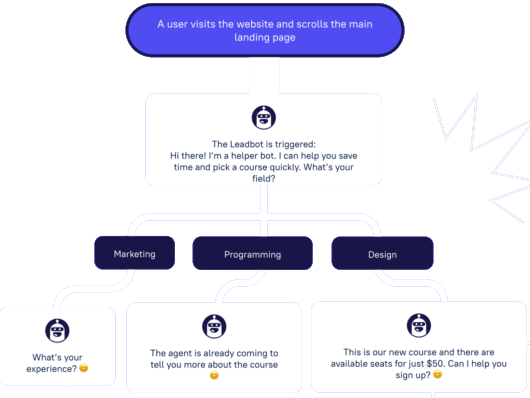 So, I would recommend that a digital marketer be part of the overarching strategy and leave the details and particular email nuances of the specialist's tactics. If there isn't an email specialist as part of the team, then I recommend, at the very least, that someone should be trained up to be one."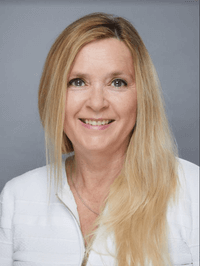 Kath Pay
The creator of Email & More and author of "Holistic Email Marketing". Kath was on the UK DMA's Email Marketing Council for over 10 years. Barclays, Hiscox, Facebook, Ebay, Marks&Spencers — just to name a few brands she helped with strategy and email programs.
Linkedin Twitter
#6 SMM
Usually, Digital Marketing Manager does brand building, lead generation, or revenue growth via socials alone instead of a dedicated social media team. If things go well, together with a Social Media Manager.  
But times when having a solid set of social media skills is crucial for marketers are passing away. If you do SMM, do it professionally. 1-2 posts/week in a brand account isn't SMM, but a waste of time.
Literally, everyone thinks they can manage social for a brand because they use it personally. And that's like thinking you can play tennis professionally because you play fetch with your doggo once a week. Not reality.
So what skills must have a digital marketing manager working with SMM:
Basic Marketing Skills
Knowledge of community management principles.
The specific of every social network.
Understanding the specific of a brand target audience behavior on socials.
Pro Marketing Skills
Community management trends.
Social media strategy development.
Knowledge of social media algorithms workflow.
Understanding how to analyze social media data.
Where is the line between digital marketers and niche specialists' skills & duties in SMM?
"If we view a Social Media Manager as being responsible for helping a company create their social media marketing strategies such that they align with the company's overall business objectives, then (IMO), the social media marketer's role is to take the resulting brief and drive this forward.
This can range from "simple" things such as:
content creation or co-creation (working directly with the client to create compelling and engaging content);
content curation; 
own and expand the content calendar; 
work with the client and SMM to design, create, and implement campaigns of differing sizes in an appropriate, platform-specific way (i.e. what works for FB won't necessarily work for Insta or TikTok, etc.);
engage with the company's fans and followers to ensure the company stays responsive to their audience's needs; 
foster ongoing relationships with brand partners and influencers.
These are all a minimum. Depending on the dynamic in the social media team, marketers may also be involved in designing and writing the company's social media policy, PR approach, and other aspects of the company's outward social media presence."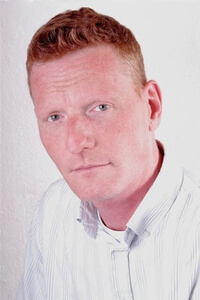 #7 Video Marketing
YouTube is a powerful lead machine. You should not underestimate this marketing channel. But video production demands a list of skills from those who craft this content as well as from a digital marketer.
Basic Marketing Skills
Curate video production.
Understanding marketing video trends.
Understanding how to create original video content.
Measurement of video content success.
Pro Marketing Skills
Knowledge of YouTube videos ranking principles.
Sync of video content plan with relevant stages of the customer journey.
What exact skill a digital marketer need if there is a video specialist in a team?
#8 Product Marketing Management
The ability to hit deadlines, keep everyone moving in the same direction, communicating externally and internally is a big part of digital marketing managers' work. Whether you are a beginner or a pro, a digital marketer must have this glue skill that holds everything together: making sure that there is a smooth transition from the briefing to execution, reporting, and beyond.
Basic Marketing Skills
Budgeting
Risk Management
Task Control, Evaluation, and Reporting
Pro Marketing Skills
Knowledge of Waterfall, Scrum, and Agile.
Website Responsiveness principles and trends.
Project Planning
If there is a Product Manager in a team, where is the end of Digital Marketers' skills & duties in this field?
The difference between a project marketing manager and a digital marketer's duties is a focus. When the first spends all the time implementing previous skills and making every teamwork together over the same goal, the last of using them only for marketing goals.
Read also: What does the product marketing manager do
#9 Testing Marketing Ideas
Basic Marketing Skills
Understanding principles of A/B testing.
Knowledge of what is driving the performance from your ad copy.
Measurement of the test results data.
Understanding how testing tools work, its facets.
Pro Marketing Skills
Knowledge of testing framework.
Understanding of the automation and machine learning algorithms in testing.
Ability to control the testing process. Knowledge when to use manual control for testing and where is better-automated testing.
If there is a relevant specialist in a team, where is the end of Digital Marketers' skills & duties in A/B testing?
Testing creatives is where the time matter, so it's better to pass the tech part to a relevant specialist. I mean the process, adding special code to the article elements, launching ads, etc. Creatives ideas, performance analysis are a digital marketer part of work. 
#10 Tech Skills of a Digital Marketing Manager
Manage and create Google Analytics dashboards
Content Management System like WordPress
SEO tools like SEMrush, Ahrefs, etc.
CRM
HTML, CSS basic skills
Social Media Publishing
Marketing Automation Tools like Leadbot, Pop-ups, Emails
Want more? Go deep into the tech part of digital marketing with 22 Proven Tools for Marketing Tech Stack 2020
Well, there was an overview of the basic and pro skills digital marketing manager needs today. 
Convert more visitors into buyers using these ready-made campaigns
Thanks! Your map is already in your inbox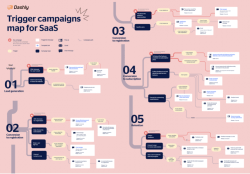 What's next?
There is also a useful webinar from Search Engine Land where performance media marketers discuss the digital marketing skills that will be in-demand. 
Of course, since some time every marketer does its choice in favor of one of these skills we mentioned here. But that are basic skills that is a must for a digital marketer to drive, control and analyze marketing activities of the company. 
Did we forget something? Share your version in the comments!