You've probably already read our post on marketing and sales teams making friends. Today, let's move from theory to practice. We're going to give you two ways to pass leads to sales reps who don't use Dashly:
Pass leads via email
Not all teams use Dashly. Marketers set up lead campaigns scenarios. Support agents respond in conversations. But sales reps may not use Dashly at all.
You need to pass leads to sales reps as soon as possible, so they don't lose in time waiting for you to reach out to them. Now, to pass them to the right team instantly, you can send email notifications about new leads. We have a new integration for that purpose: new lead email notifications.

You can design various emails depending on the lead collection campaign. For example, one email for users signing up for a website audit and another one for users who want a product demo. Email is sent when a lead makes a target action.
Here's what you can configure in your email:
When to send an email notification. You can send notifications after user actions in triggered pop-ups, live chat and messages, and chatbot activities. An event related to a pop-up or a live chat message can trigger a notification, for example, "share your email in the demo application form", or running a chatbot thread.
Who to send notifications to. You can specify one or several emails of your sales reps.
Which lead data to share.

We insert the standard properties like name, email, phone number, or city in each email, but you can add any other information from the lead card to your email.

A comment for notification recipients.

If you have several active campaigns, prompt your sales reps and tell them which pop-up a user interacted with; whether they signed up for a free consultation or they are ready to negotiate a deal.

Email subject. Specify what your email is about so that sales reps recognize it in their inboxes. If you're planning to send several emails, make up a separate subject for each one, so it's easier to sort them out.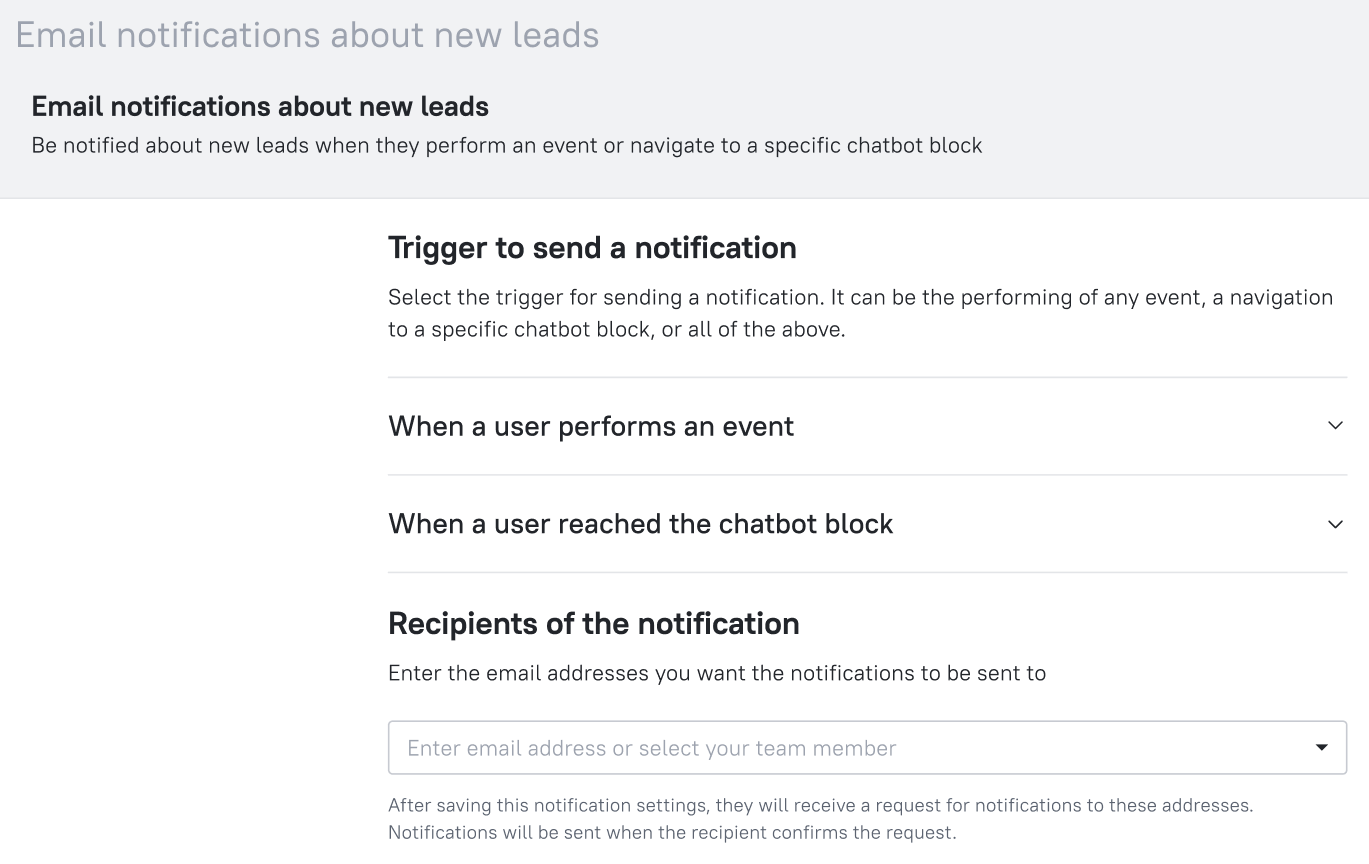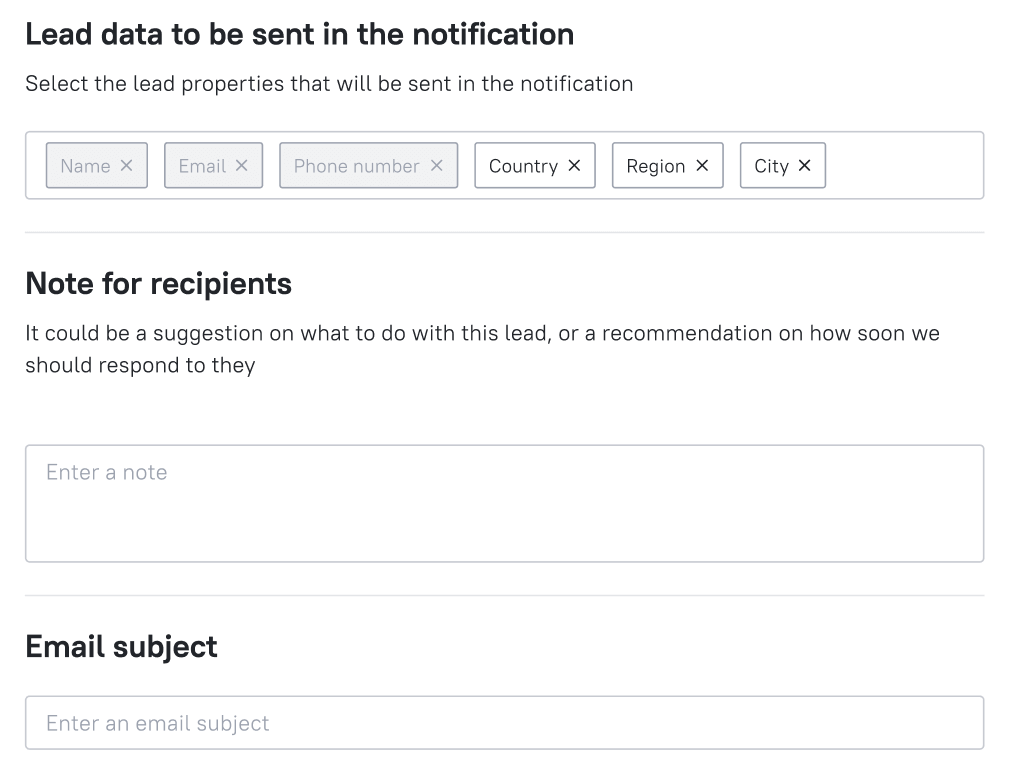 When a lead makes a target action, sales reps will get an email notification. Here's how it will look: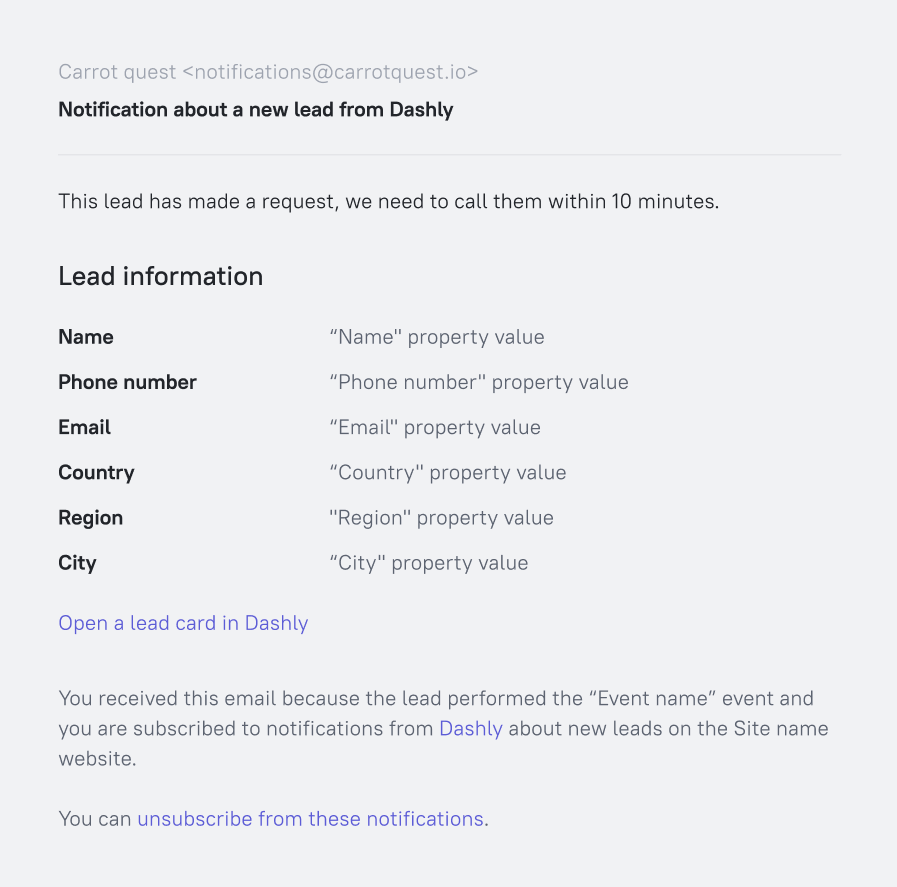 You can also configure notifications immediately, as you set up a triggered message or a chatbot.
There's a new step for notifications in the triggered message editor.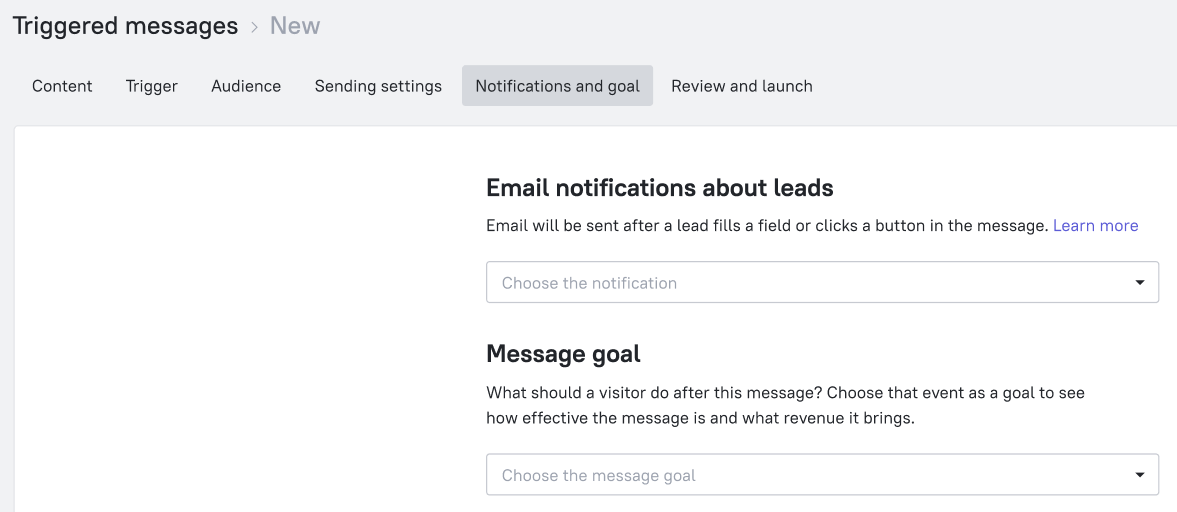 You can set up the same parameters in the modal window and in the integration: which lead data should be shared, email addresses, and comments for recipients.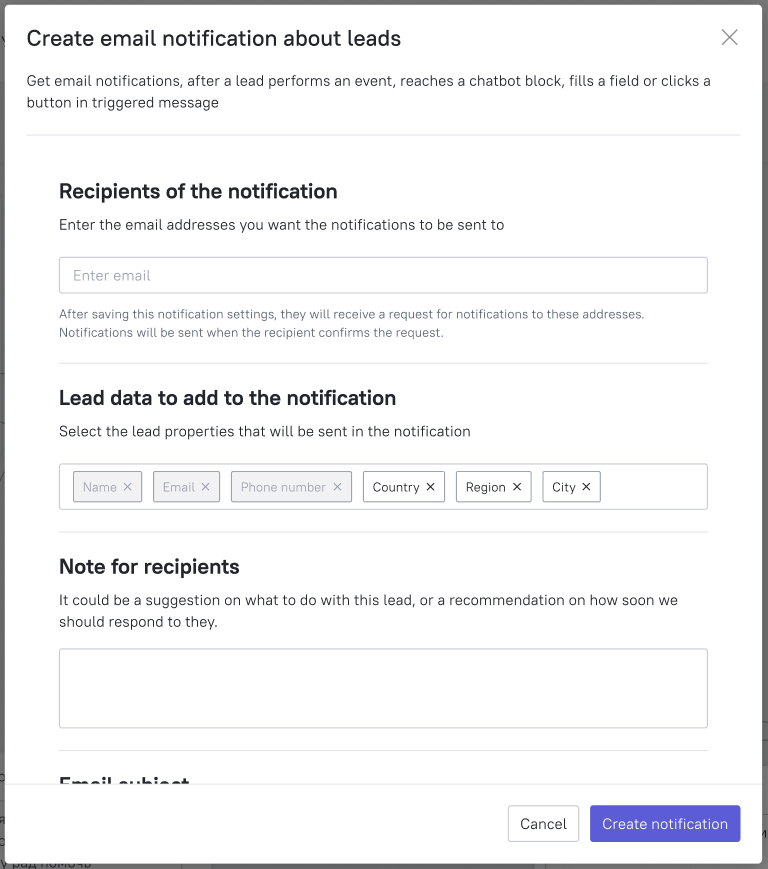 You can also pass leads collected via a chatbot to sales reps. Now, in the chatbot blocks, you can not only record events and properties but also set up sending these data in an email.
The chatbot can help you qualify leads and collect more data. If a user is looking for a new apartment, ask them what their preferable district is, what budget they have available, and what type of apartment they are looking for. If you add these data to contact details, sales reps can suggest options to them during a call.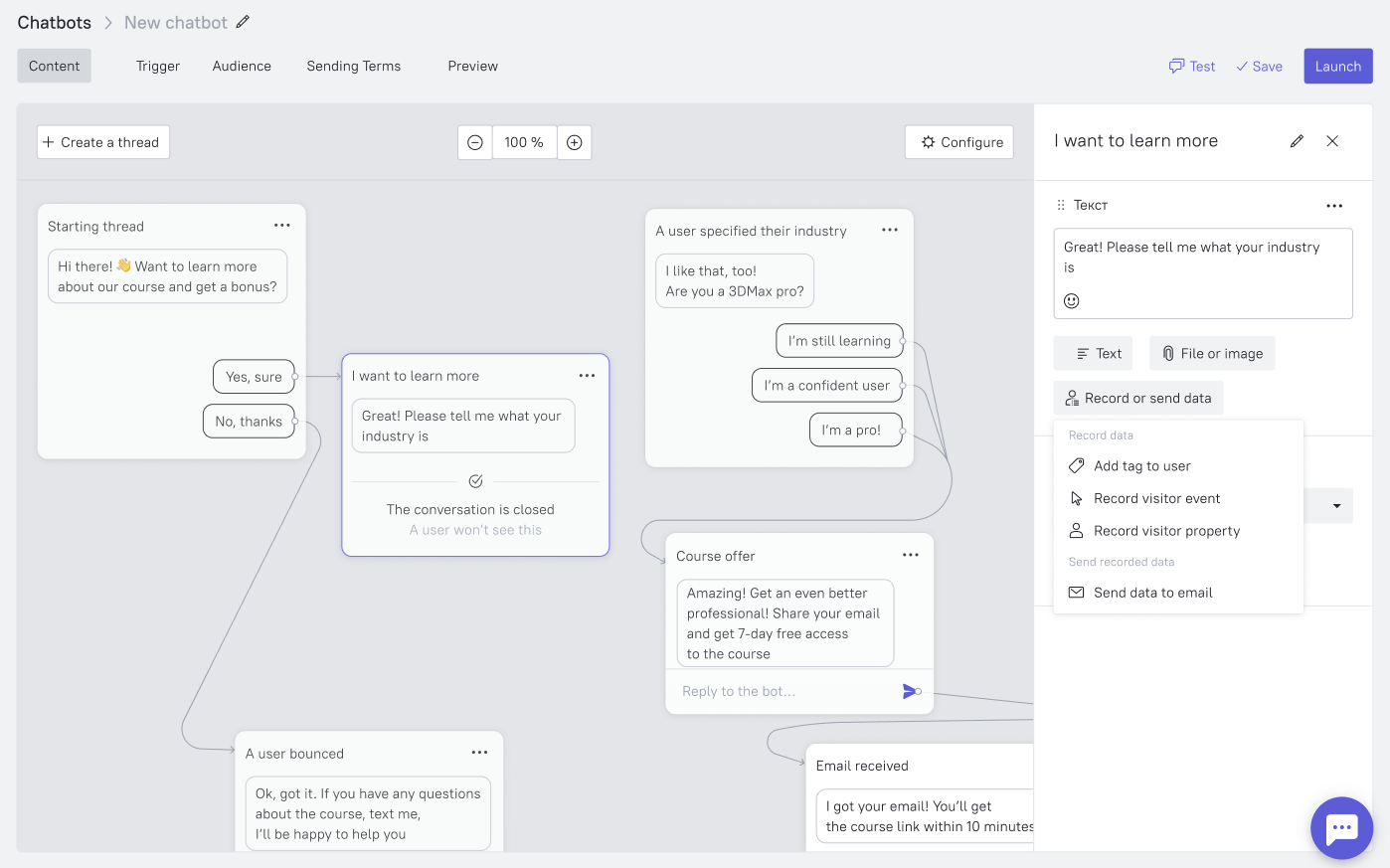 You can send an email as soon as a user shares their contacts or moves to a certain thread of the chatbot. It's cool, especially if you want a particular user segment, like users who agree to beta test your product.
Learn more about email notifications in our Knowledge base.
Pass leads collected via lead forms on social media
If you want to pass leads collected via lead forms on social media, specify a unique name for lead collection on this social media during the integration configuration. You can find integration manuals for Facebook Leads in our Knowledge base.
Pass leads via Slack
Use more channels so your sales reps don't miss new leads. Integrate Dashly with Slack.
We use this integration in Dashly. When a lead fills in the form on Facebook or VK, our sales reps can see the form and the lead details in a special Slack channel.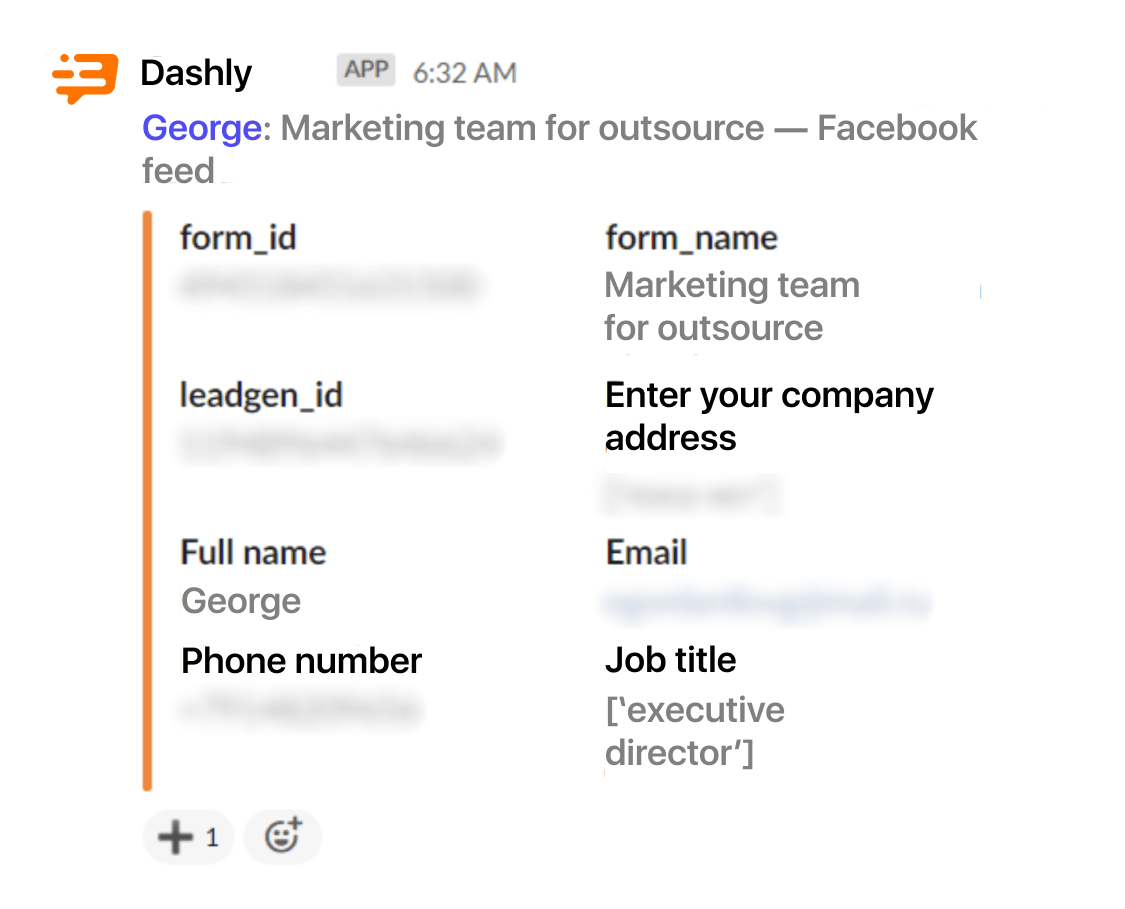 Hopefully, the process of passing leads will become easier now, and your marketing and sales teams won't be separated by an invisible barrier. If you want to get these two teams along, go to our article on that.
Read also: