How to increase the conversion rate to order by 18% and revenue by 5% in an online store using pop-ups in one month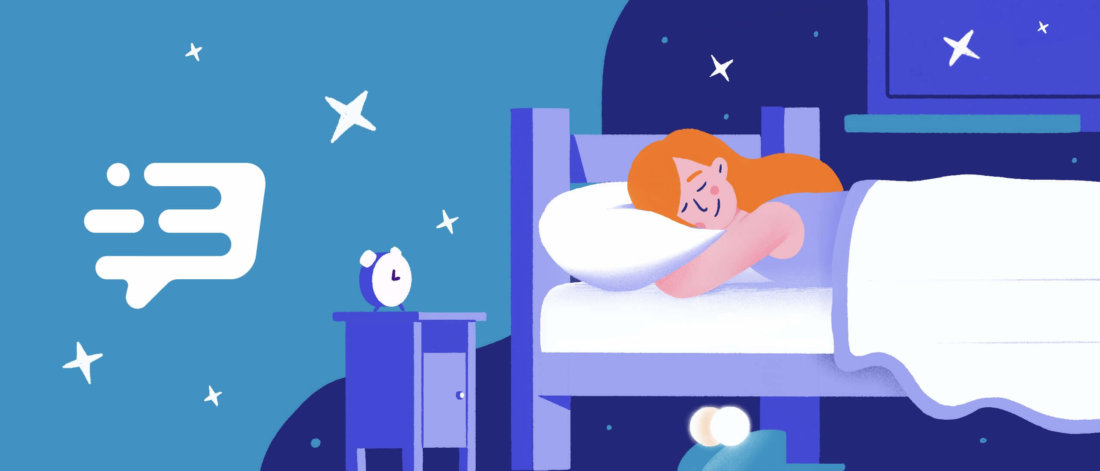 Mnogosna is the online store of sleeping goods. They tested 10 hypotheses and found their right campaigns that helped increase the CR to order by 18% and profits by 5%. Revenues generated paid off the software expenses by 400%!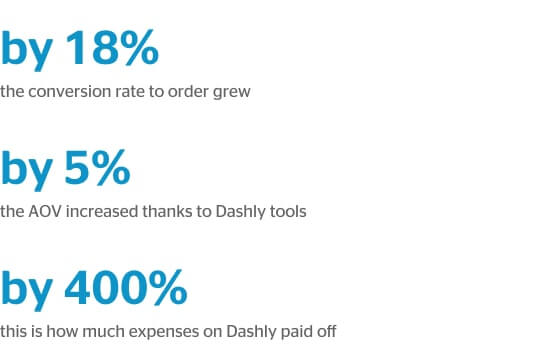 About the client
MnogoSna is an online store selling mattresses, furniture, and sleeping accessories. The company has a showroom located in Moscow, though they get most of their orders online.
Business segment: B2C
Target audience: 70% women, 30% men over 25
Monthly traffic: 350k users
Monthly orders: 4 000
Sales channels: website, social media, showroom
How they used to collect leads before Dashly: lead forms of different pages on their website.
The goal was to improve website performance indicators via quick hypotheses.
The indicators are the CR on different stages of the funnel, the average CR of the website, the order count, and profit.
The solution we offered was to engage our automation software.
What we did and what we achieved
It took only a month for the project team to develop the campaign map and test 10 hypotheses with A/B tests and control groups. The team also set up:
data collection on user behavior on a website;
pop-ups to collect user emails, segment them and then convert to buying;
emails with products from the cart, products viewed, and bonuses.
Let's dive deeper into the three most successful campaigns.
We grew the conversion rate to order after adding goods to the cart by 11%
When a user adds products to the cart, they see a pop-up offering a bonus. Then, they click "Yes, I'm in!" and they have 30 minutes to make an order.
We separated a control group to see if Dashly tools motivates users to order. These users didn't see a pop-up on the website.
Turns out, 46,7% (1 641 out of 3 512) of users who saw a pop-up made an order. The conversion rate in our control group was 11% lower: 42% (1 529 out of 3 635) of users made an order.

Let's figure out how this change in the conversion rate impacts the store's business performance at this stage:
Support the average order value in this industry is $140. If 1 641 users make an order, you'll get $229 740. If only 1 529 users make orders, your revenue will be $214 060. Turns out, pop-ups helped the store make $15 680 more.
We grew the conversion rate to order after viewing products by 22%
We launched a campaign that's rather traditional in online stores. When a user viewed certain products, they would see a pop-up with these products and an offer to get the saved selection via email.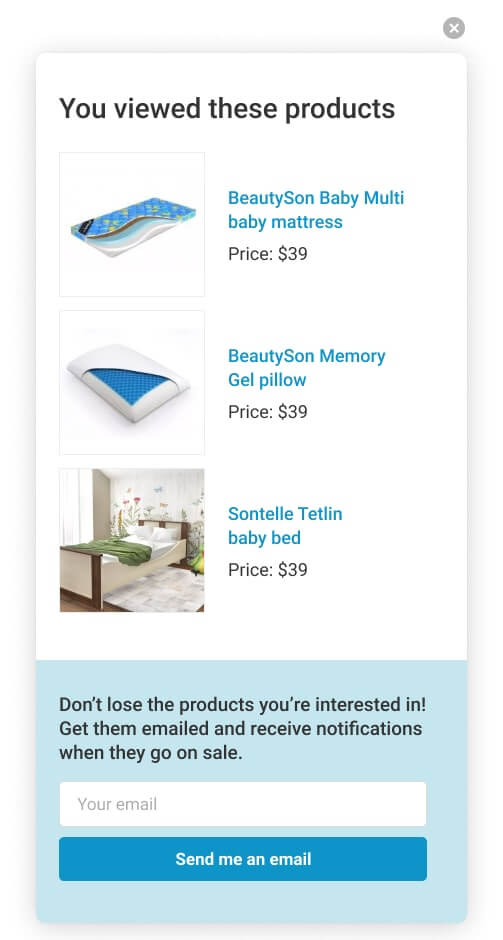 In this campaign, we also engaged a control group. 7,9% of users who saw a pop-up made orders. As for our control group, 6,4% of users ordered.

We collected 2.5x emails and grew the conversion rate to order by 40% using a pop-up with a bonus
Dashly team often suggests clients to A/B test an offer or a message design. This way, we make sure our clients don't waste time on junk hypotheses, and finding the best solution is much easier!
We A/B tested pop-ups with 2 different offers to collect user emails.

Users reacted 2.5x better to the second pop-up. The conversion rate of it was 1.3% vs. only 0.5% that the first pop-up had.

The conversion rate to an order of users who preferred the "bonus" pop-up was 40% higher.
We grew the order count by 18% using pop-ups
One month after all pop-ups were launched, managers of Dashly and MnogoSna gathered to calculate the conversion rate. Turns out, users converted better if they saw pop-ups on different stages of the funnel.
Free consultation with our specialists: get more leads collected in 30 minutes
Thank you!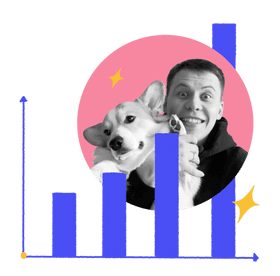 In our test group, the total conversion rate to order was 2.8%, while in the control group it was only 2.39%. Users order 18% more often if they see pop-ups, compared to users in the control group.

The project team:

Read more success stories of online stores: