Instaplus+Dashly: 8% from sign up to payment using pop-ups, emails and live chat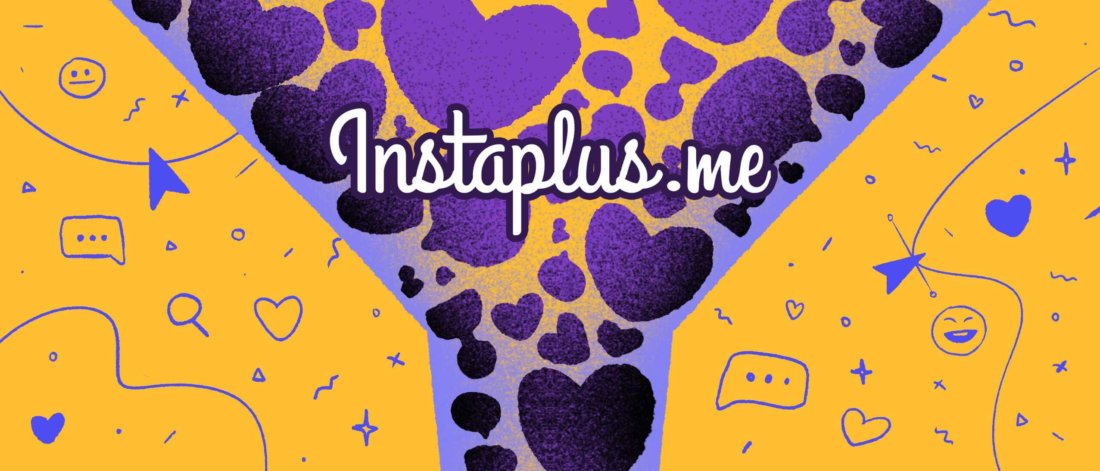 Instaplus is a service for Instagram promotion. They have been our clients since 2015. It's nice when customers grow with us and we grow with them adapting to changing demands.
This is a great example of how you can customize the service yourself and use the available tools to resolve your tasks. And for us, it's also a story about how to stay on the same page with a customer for a long time.
We met with Michael, Instaplus product founder, to find out how they are using Dashly, what challenges they have, and what their plans are.
Source data
some experience of using various chat tools;
the traffic of 1 mln visitors per month;
over 10 agents in the chat;
MySQL database;
no proper CRM.
What tools are being used
live chat;
manual emails;
manual pop-ups;
and a bit of of triggered chat messages, pop-ups, and emails.
How Dashly is being used now
Michael: Unfortunately, I can't say that we have a holistic approach to managing marketing communications with our current customers. That's where Dashly is a great help. We are flexible, and if we decide to reach a specific audience quickly, i.e. those who have recently made a payment, we simply apply corresponding filters to our customer base and are ready to send them a targeted email. It takes just a couple of minutes.
Comment from Dashly: Marketing automation is undertaking such cases. Once you think through a strategy, it will work for you for a long time. As a result of the conversation, we offered the Instaplus team a map of their service automation.
Triggered emails by funnel stages
Michael: If we talk about marketing, we have a welcome campaign consisting of a pop-up and an email, and there's another email warning about the end of the trial period.
Right after a customer is registered, we send them a pop-up with instructions.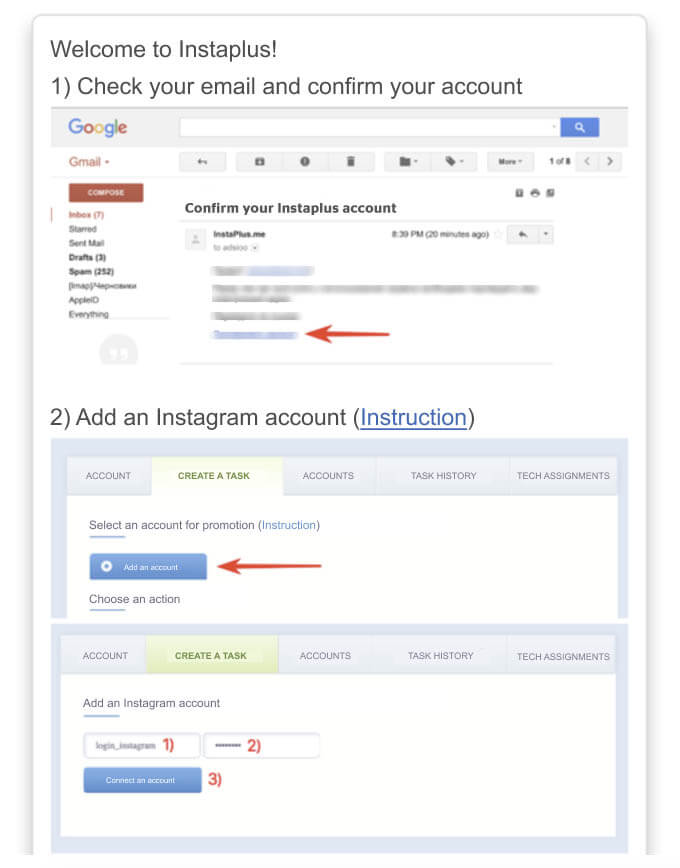 I love pop-ups because they have insane engagement rates. For example, the statistics on a pop-up in the welcome campaign message:

View rate — 90,46% (you can't reach it with any email);
Response rate — 1,92;
Click rate — 9,52%.
In 3 hours, we check if they got used to the service or not. If a person has started a task, we send them additional instructions, and if they have not configured a task, we send them simplified advice so that they could start somehow.
Here is an email for those who have signed up, added an account, and launched the task.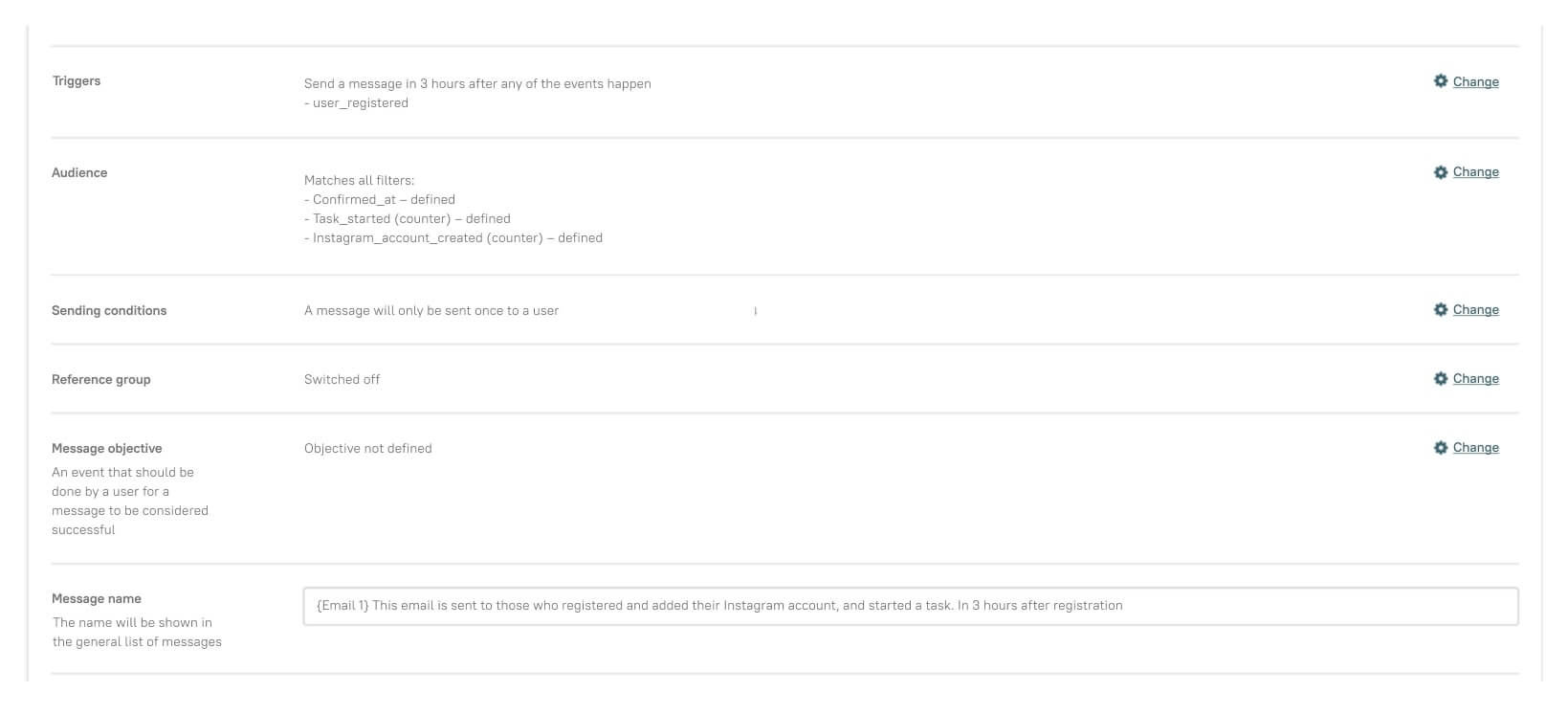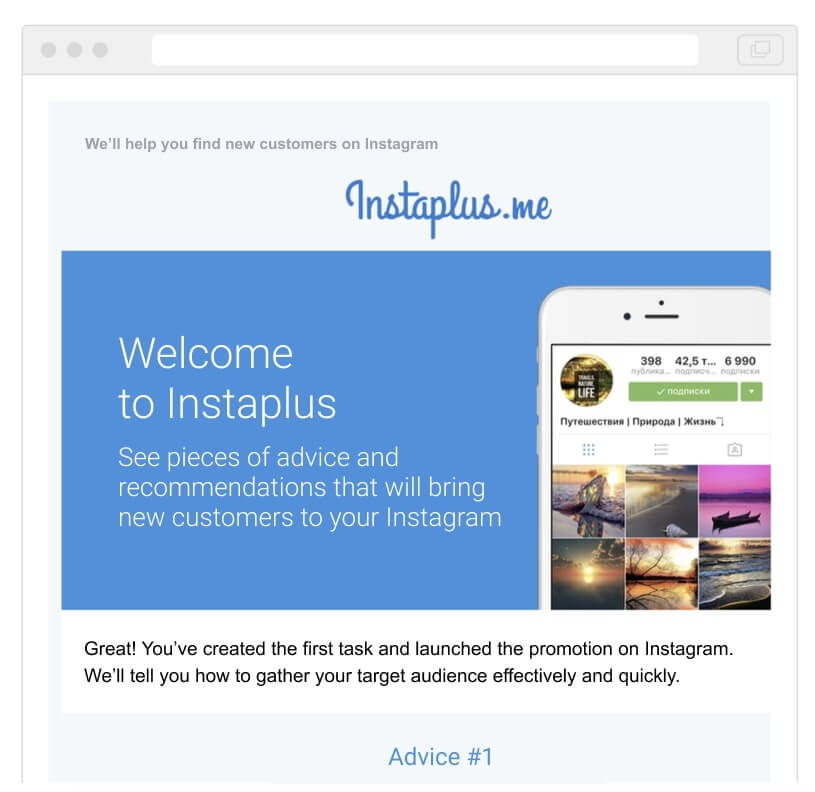 We send the third email (second for the user) when the customer's subscription expires. In this email, we offer them to choose a plan.
Comment from Dashly: Welcome campaign is the simplest one that can (and should) be configured in a SaaS. It helps to familiarize the user with the basic functionality, draw their attention to the most important things, and suggest the best way to start. If we talk about guiding a customer through the funnel, three emails are not enough. On the other hand, these three emails cover the basic issues, and this is already great.
Live chat
Michael: We realized that chats like yours are the future. That's what they should be. We actively use visitors' data in dialogs, tags for analytics, and notes. I'll tell you all about it in order.
Data collection and customer analysis
Michael: We see the registration date and the subscription end date. If a customer has been registered for a long time, they already know better how the service works and usually ask precised questions; you should talk to them more seriously. If they contact support, it means they have a question that they couldn't solve on their own.
It happens that users say they can't make the payment for some reason. If we see that their subscription is really running out today, we can extend it by one or two days so that we don't cause additional problems to the user.
Information about the number of accounts added also helps support agents. We send the information about how many accounts the customer has added to promote, and how much they paid. If a person uses one account, they usually have other needs; it's immediately visible.
The scoring system is also important. At the beginning of the journey, we often used points. Now they are not so necessary because we have adjusted the whole system to ourselves and we know what happens after what actions. We assigned points for the different actions of a customer. If a customer is actively using the service during the trial period, they have many points, and we see that they are a very hot lead and more likely to buy. Working with them is very different; we try to get them to buy.
Comment from Dashly: Segmentation and data collection is a very important part of the service's functionality. The more information you know about a customer, the faster and more precisely you can answer their question. This influences the quality of your support, analytics, and even the development of your product.
Here's a list of events that the service sends to Dashly through the API:
Registration;
Email confirmation;
The number of accounts added;
Subscription entering;
Subscription expiration date;
And many other things.
Conversation tags
Michael: We actively use tags in chats. It seems to be a simple functionality, but you can't find it in some chats, and this is your thing. If we were asked a question which the agent cannot answer, they assign a special tag «222» to it. If the dialog has the «222» tag, it must be picked by someone from the management or a technical expert. They filter by these tags and respond quickly.
We could assign a dialog to a particular specialist, but that's not it. Let's say the person requested payment under the referral program. These payments are made once a week, not instantly. During this time, a person can talk to us again fifty times. And then it's not clear at all who to assign a dialog. But the tags are easy to navigate: the person responsible for a question just filters questions by tags and can find, answer, and solve the issue.
When a new agent comes to work, we tell them to mark each dialog with their own tag so we can review all the dialogs in which this agent has participated to evaluate their level or adjust them. If several people responded to a dialog, we would be unable to find such a dialog.
Comment from Dashly: This is an interesting way of using the chat. It's also interesting that each business adapts the service to their tasks. Besides, you can see the agent statistics in the team performance report. You can see there how many dialogs each agent can process and how effective they are.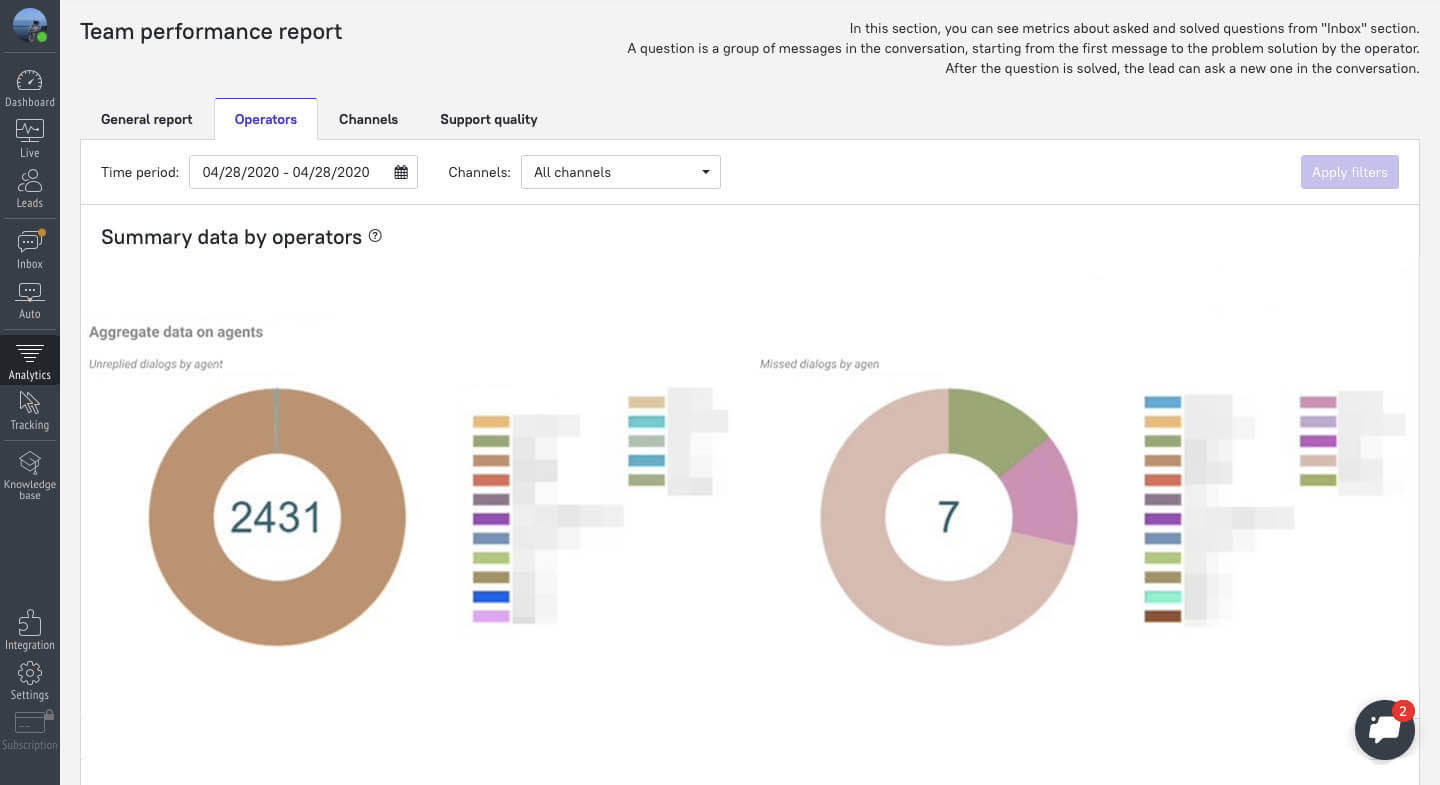 Notes on users
Michael: We also make notes in the user card. For example, only Michael replies to this customer, and with this one, we work on a barter basis. It all is right in the dialog window, it's very convenient; our agents see all information at once and can quickly understand who they are dealing with. They skip all that unnecessary questions and frustration.
Comment from Dashly: Notes or tags in the user card are a really handy tool for agents. When you have a large team, it is difficult to remember all the preferences of each customer, and it's even harder to communicate them to others. The user card deals with these tasks, and the most important information is always in front of the agent's eyes.
Manual pop-ups by segments
Michael: We use Dashly as a CRM system and for communications: these are mostly pop-ups and sometimes emails. In the service, you just need to select the target segment and send a message. It takes a couple of minutes, and the open rate is huge — for example, the open rate of pop-ups is over 80%.
Types of messages to send:
News on the service;
Warnings on service maintenance;
User support (these are sent by managers).
Comment from Dashly: this is a truly exciting example of using pop-ups. We rarely talk about it, but why not. It's really hard not to notice a pop-up if a user is on the website and the main task of messages is to inform the customer. It's great that instead of emails, Michael and his team are looking for more effective communication approaches.
Funnel
Michael: Another cool thing about Dashly is the integration with Mixpanel. All data is sent to Mixpanel where we analyze it. Now we have 5-8% of users who get to pay right after registration. We can monitor it in the funnel in Dashly, too, but frankly, we're monitoring it via Mixpanel now. Although, of course, it's happens with Dashly's help.
And in your service, we use funnels to analyze paid search advertising in Google.
Comment from Dashly: We knew about the bottlenecks of our funnels (including thanks to the feedback from Instaplus) and worked on them. Now the new version is ready for release, we have opened testing access to some of our customers. The readers of this case can contact our support team to get into the group of beta testers.

We are really grateful to Instaplus for our long cooperation. As an appreciation for this conversation, we have analyzed the Instaplus website and their Dashly account and offered our vision of the communication automation map.