7 chatbots for your website that will make the work of your marketing, sales, and support teams easier
Have you ever counted how much time your colleagues spend dealing with non-target customers?
We've talked to people responsible for sales and marketing, and what we found out shocked us:
sales reps spend up to 70% of their working time on non-target leads;
each of 10 potential customers requires an hour for a decent conversation; only one is a target customer;
sales reps spend up to 20 minutes on primary desk research on a customer.
Time wasted due to insufficient data on leads is a common pain of sales and marketing teams.
The solution? Chatbot helps only pass those ready to buy to sales reps.
We've selected seven user communication platforms that feature chatbots.
Price
Customi
zation
Lead capture
CRM integration
Visual chatbot builder
Personali
zation
Knowledge base
Visitors
behavior tracking
File sharing
Chat routing
Dashly
From $0 to $79
+
+
+
+
+
+
+
+
+
Intercom
From $59 to $999
+
+
+
+
+
+
+
–
+
Drift
From $600 to $1500
+
+
+
+
+
+
+
+
+
LiveChat
From $0 to $499
+
+
+
+
+
–
+
+
+
User.com
From $0 to $167
+
+
+
+
+
+
+
+
+
Freshdesk Messaging
From $0 to $95
+
+
+
+
+
+
+
+
+
Gist
From $0 to $99
+
+
+
+
+
–
+
–
+
How we evaluate and test apps: All these app reviews are written by experts who spend 99% of their career using marketing software. We've spent a week testing each of these chatbot platforms, evaluating its features for this list. Your trust is important to us, so there is no paid membership, and no guest links were accepted in this article.
Dashly for visitors support & qualification

Dashly chatbot is a conversational platform. Its chatbot is aimed to save your team time and automate lead qualification and support. It collects and qualifies leads, provides basic information about your services, recommends products, collects product feedback, and answers their questions 24/7. Finally, prospects are handled by chatbots to the right team for further processing of their requests.
Best for
Companies with large traffic to gather more leads without overloading sales reps; or for companies with a high average order value, save the time of the sales team that is now spent on those who are not yet ready to buy.
There are numerous scenarios of chatbot use cases for
Online stores to answer visitors FAQ or recommend products, for example:
Follow this link to download 13 chatbot campaign templates
SaaS companies to boost revenue. Here is one of the scenarios you can launch when users visit your library: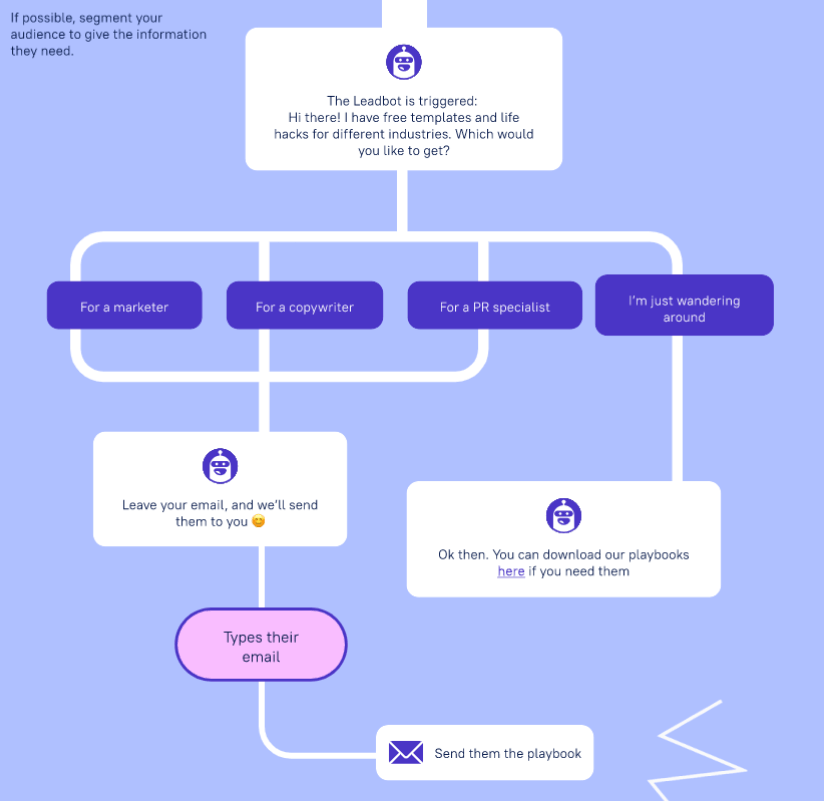 Follow this link to download other 16 chatbot campaign templates
EdTech. We've collected all the scenarios to help the marketing, sales, and support team launch a chatbot for an online school. Here is one of them: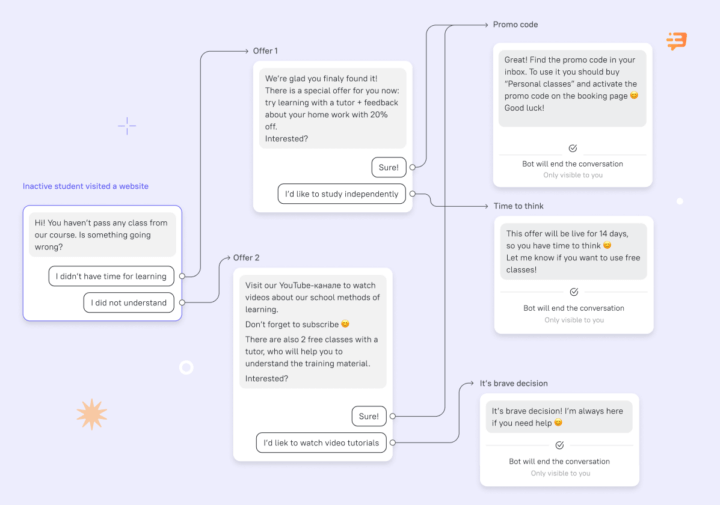 Follow this link to download 8 chatbot campaign templates
What can Dashly chatbot do?
Offer up to 10 possible response options to each message and behave depending on the replies;
Qualify your visitors with questions and possible answers.
Save information based on the visitor's answers into lead cards for further segmentation and triggered messages;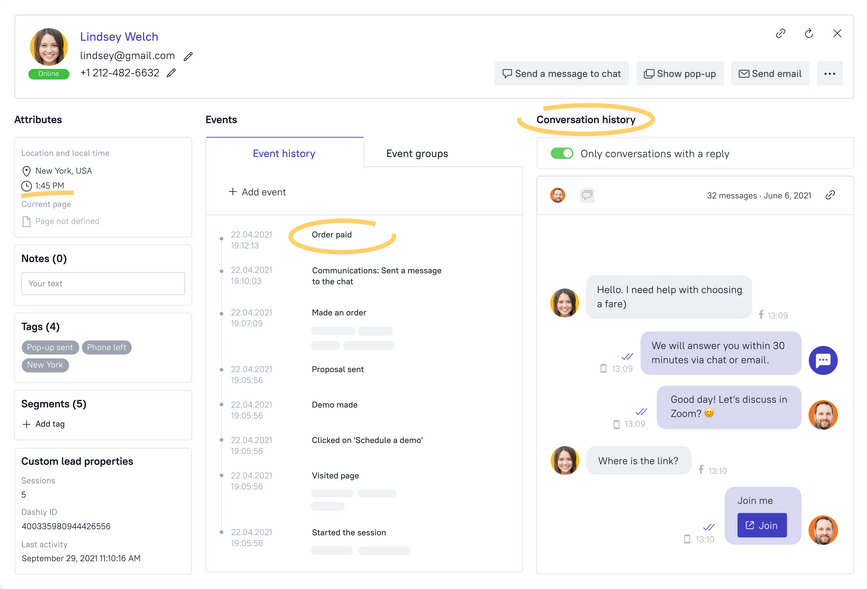 Capture visitors contacts
Send files and images;
Assign a conversation to an agent or a channel.
Using our chatbot builder, you can craft and customize a chatbot even without a developer. An intuitive interface allows creating an online chatbot within 15-20 minutes:
Advanced features of the Dashly chatbot
Here's what you can find in Dashly aside from a chatbot:
Generally, the platform's objective is to help increase sales without additional traffic and improve user communication.
Pricing: from $29 to $79 per month
There is no limit in agent seats in the service. Dashly plans depend on the number of unique website visitors and start from $29. On the Business Chat plan, you have an opportunity to create numerous bots but launch only one. Automation and Premium plans provide an unlimited number of bots.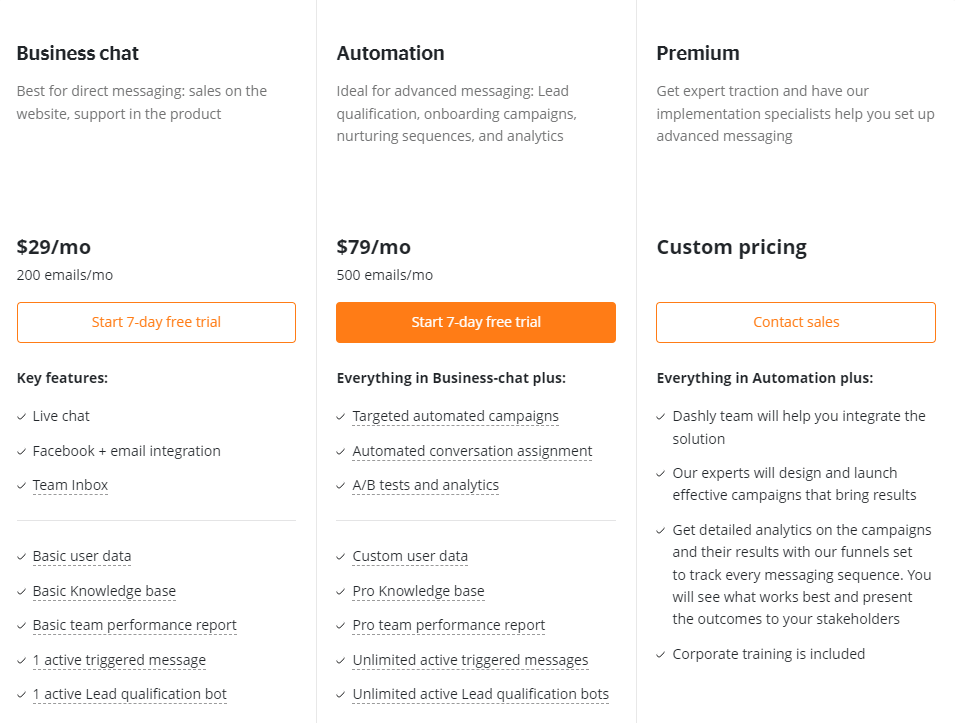 Free trial
There's a free trial period of 7 days. You can try all features of the platform for free during the period.
Pros
Cons
Unlimited number of agents in a chat on any plan.
You can give various access rights to your teammates.
Analytics funnels.Friendly support team.
Pop-ups and email marketing.Friendly interface.
No AI
Some complex tasks may require developers' help, but they're always there for you.
Missing integrations with some CRMs

Intercom Resolution Bot for customer self-service

Intercom has a large set of tools helping you communicate with your website and app users. It is created to speed up self-service by offering relevant answers based on what customers are typing — before they even hit the enter key.
For whom
Enterprise-level businesses who want to set up an omnichannel experience for their customers. For very small businesses, it offers a limited plan also.
What can Intercom chatbots do?
Here are the 5 types of chatbots in the inventory of Intercom:
for lead qualification,
for article recommendations (for example, on platform updates),
for user engagement,
for answering user FAQs,
with integrated applications (for example, for automatic video calls scheduling).
The first two types do simple tasks following their descriptions. These chatbots start conversations independently, offering answer options to users as buttons.
This is the beginning of a conversation with the Intercom chatbot. A chatbot offers two buttons with possible options — "Yes" and "No".
The next two chatbots are more complicated: they can answer FAQs and schedule meetings automatically, but they will be times more expensive.
Advanced features of the Intercom Resolution Bot
There are the following marketing, sales, and support features in the Intercom's toolkit:
live chat,
customer base management,
trigger messages,
push notifications,
message segmentation and personalization,
knowledge base,
emails,
routing conversation to the relevant agent,
A/B tests.
Pricing: from $67/user/month to $999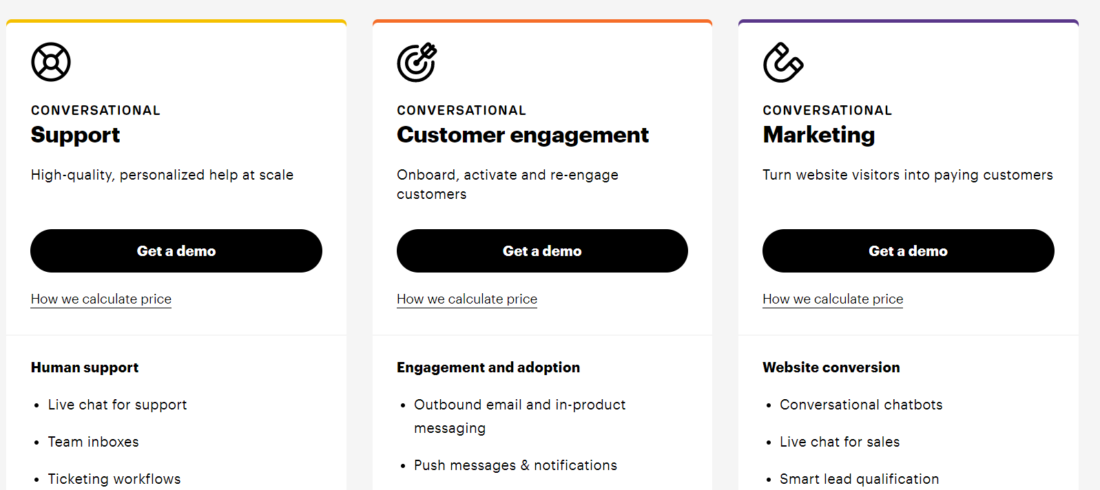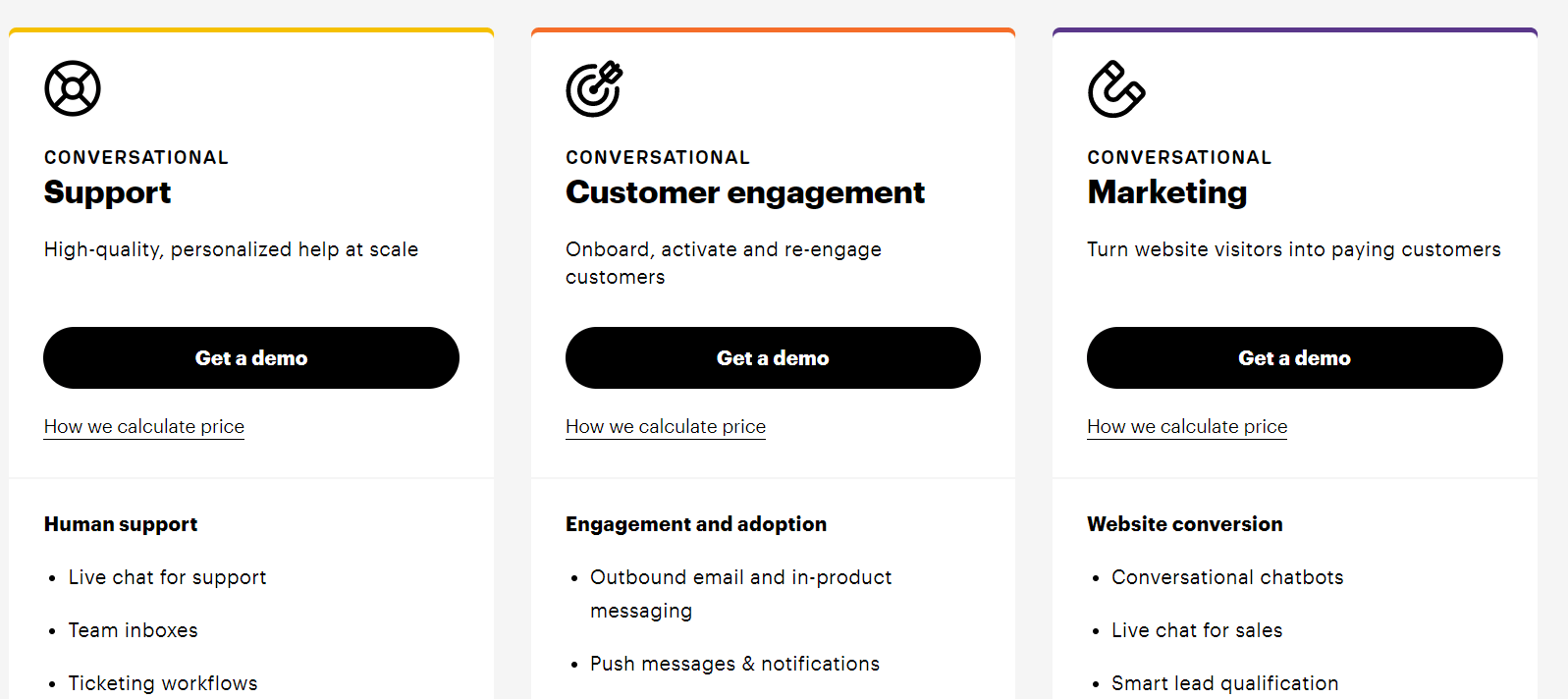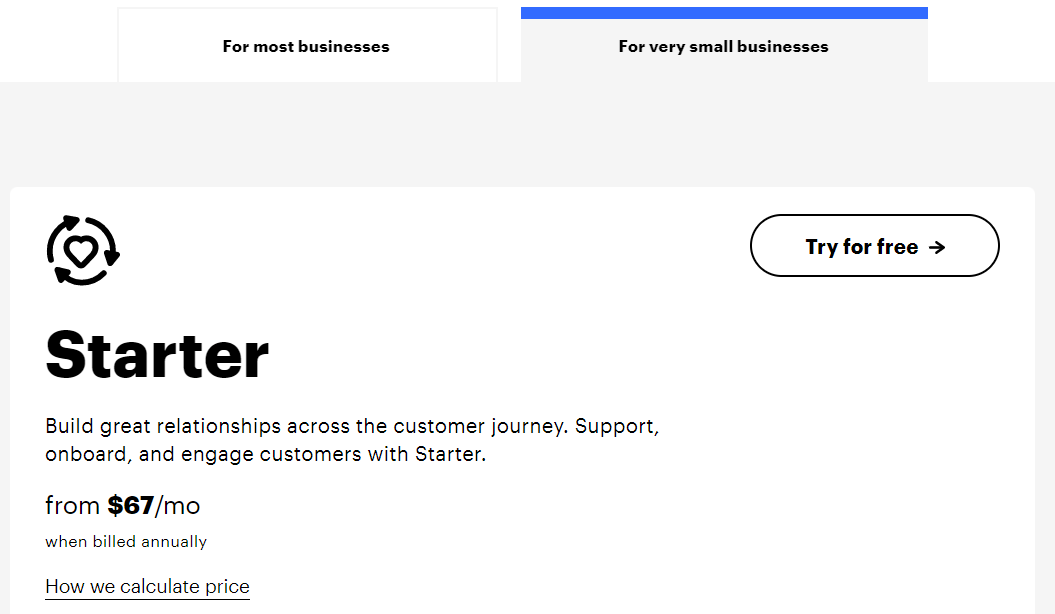 You can create chatbots using an additional module that is available for plans above $99. If your plan includes automation features and costs $499 or $999, you can create the so-called custom chatbots for user engagement. A chatbot answering user questions and the one with integrated applications can only be implemented together with advanced lead qualification (from $499) and support automation modules (from $249).
Startups can expect a special plan from $67/mo to enjoy Intercom in full for up to one year, provided that:
they match the requirement of the agent count,
they match the investment criterion,
they are new customers of Intercom.
A free trial
There's a free trial period of 14 days, but you'll have to provide your bank card credentials to use it.
Pros
Cons
It's a multifunctional platform for user communication;
― Intuitive and straightforward interface;
― Provides more in-depth data than other tools
― Expensive software with complicated pricing;
― Allegedly, poor quality of customer support;
― Lots of bugs;
― Pricing details by demand.
Drift chatbot for sales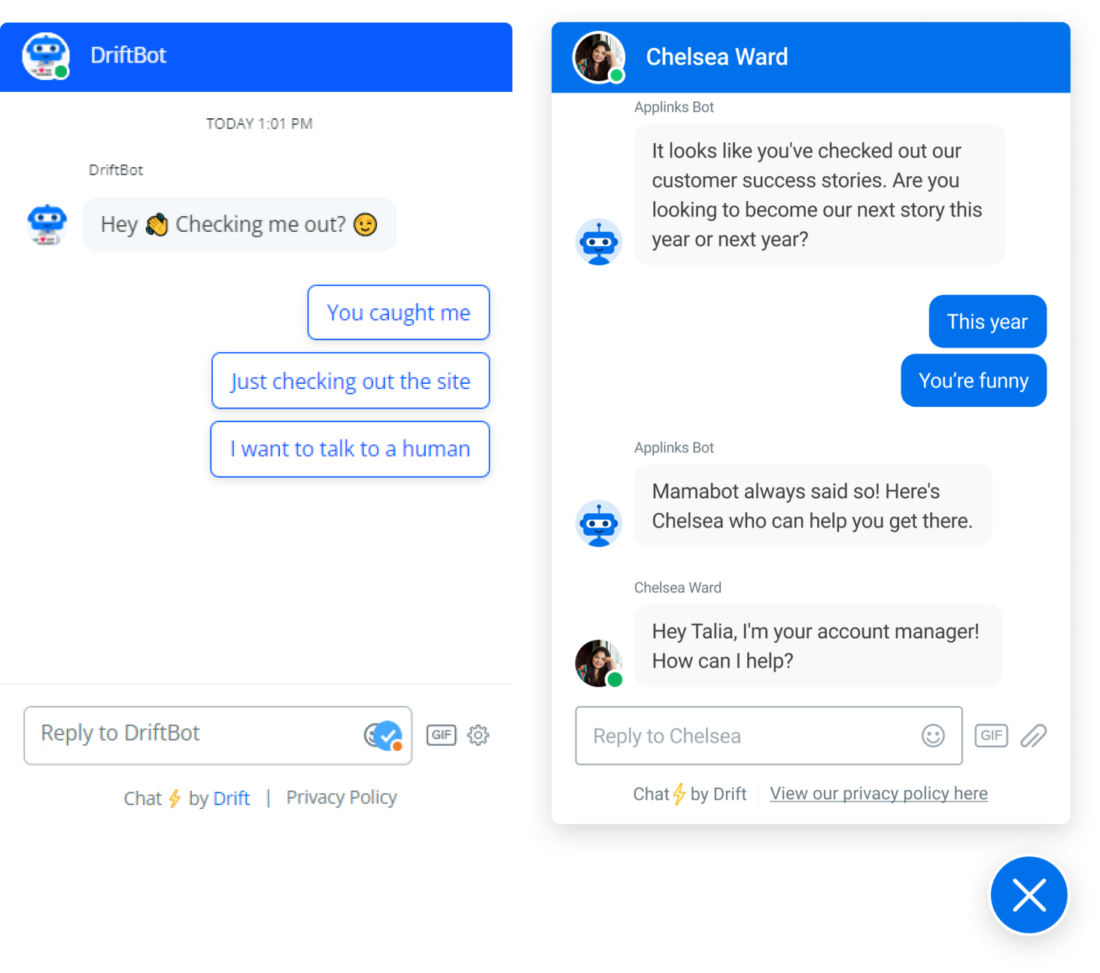 Drift is a communication platform mostly used by sales teams. The platform's toolkit is aimed at sales. Drift proclaims the power of real-time conversation to shorten the sales cycle. For this goal, it offers a chatbot. It is perfect to engage and consult visitors, then convert them into buyers.
For whom
Sales teams, most of the small and medium-sized businesses.
What can Drift chatbots do?
Drift also offers several chatbots.
It qualifies website visitors starting a conversation and offering possible answers: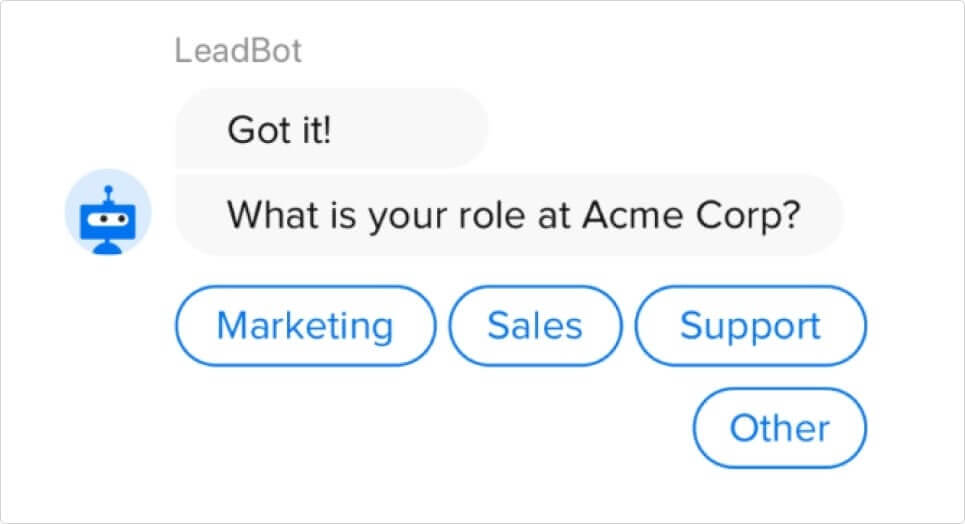 This is an example of lead qualification on a website using the Drift chatbot
User replies are sent to lead cards in the CRM system. After that, the bot automatically addresses the working calendars of the sales team and schedules demos for convenient time slots for customers.
Its major job is also lead qualification, but you can also teach it to answer frequent questions using the knowledge base: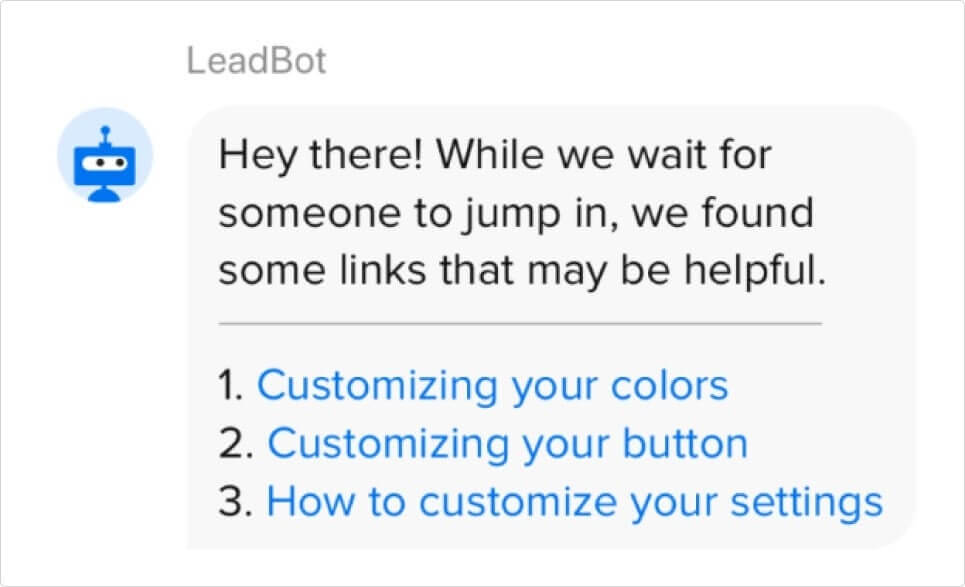 The Drift leadbot qualifies a user, calls for an agent, and helps navigate the platform using articles from the knowledge base
Please note: you will need to train it together with the Drift team.
Advanced features:
live chat,
video calls,
emails,
automation (including bots).
Pricing: from $0 to $1,500 per month
There are four plans in Drift. Starting from the free plan for small businesses, it offers middle and large companies oriented plans: Premium, Advanced, and Enterprise. But all the prices are available only after personal one-on-one communication with an agent.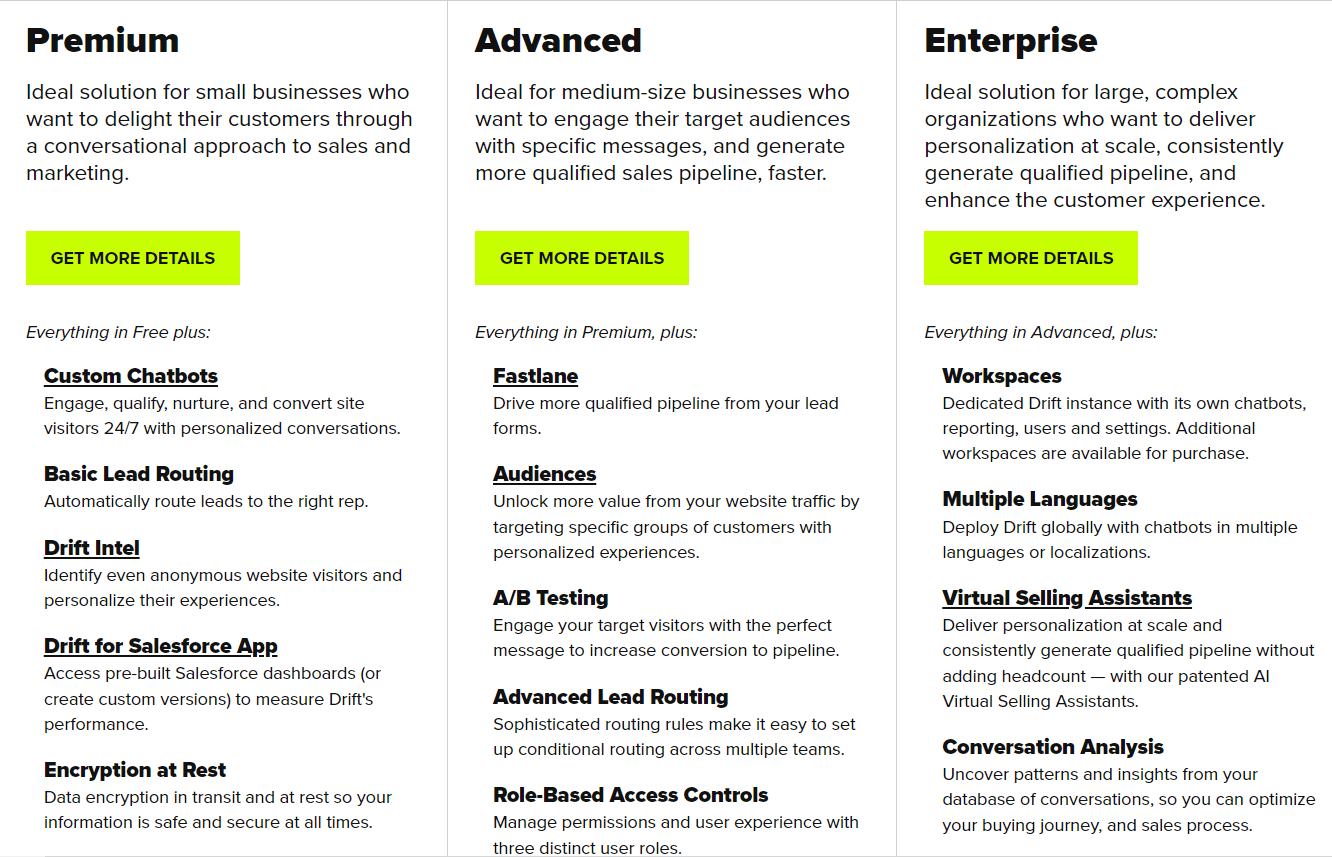 Of course, we can't leave you without this info. So we did some research.
Drift price ranges from $0 to $1,500 per month.
The free plan includes welcome email messages, email signatures, live chat, and basic reporting. There are also integrations: Vidyard, calendar, Slack, and Google Analytics with a limit to 100 contacts and a single agent.
Premium plan costs from $400/month to $1,500 per month/agent (thank you, Melissa Pardo-Bunte). If you want more agent seats, pay an extra $80 per month. For this money, you'll get proactive messages, chatbots, revenue reports, live chat, canned responses, etc. But what is more important is what you won't get: A/B testing, role-based access management, multilingual chatbots for multiple brands.
To get that, you will have to upgrade your plan to an Advanced or even Enterprise plan that costs $4,800/year.
This price tag may be too high for you if you're a small business or startup. So for them, Drift offers a $500 per 10 seats plan. If you're not a startup, you'll start with $400 per seat with customer communication tools only. That is too high.
Free trial
There's no trial period, but you can use the platform on a free plan.
Pros
Cons
― Numerous advanced features in a pack.
― Easy-to-use interface.
― AI chatbots.
― Decent targeting and segmentation.
― Integrations.
― Poor customization;
― Too high price;
― Difficult to understand plans, no transparency;
― No multilingual support;
― Difficult to master for a novice.
― A limited number of agent seats in each plan.
LiveChat+ChatBot

You may think this is a single platform, but not just like that. These are two full-fledged products — a live chat and an AI bot — developed by the same company that can easily be integrated. Sounds impressive, right?
The ChatBot invites you to talk to it on its product landing page
For whom
This chatbot is designed for the sales and support team of enterprise-level companies, as well as for small and mid-size businesses in various industries.
What can ChatBot do?
ChatBot can be used either together LiveChat or independently. You can create a chatbot not just for your website, but also for Facebook and other messengers. The platform has a simple and user-friendly modern interface.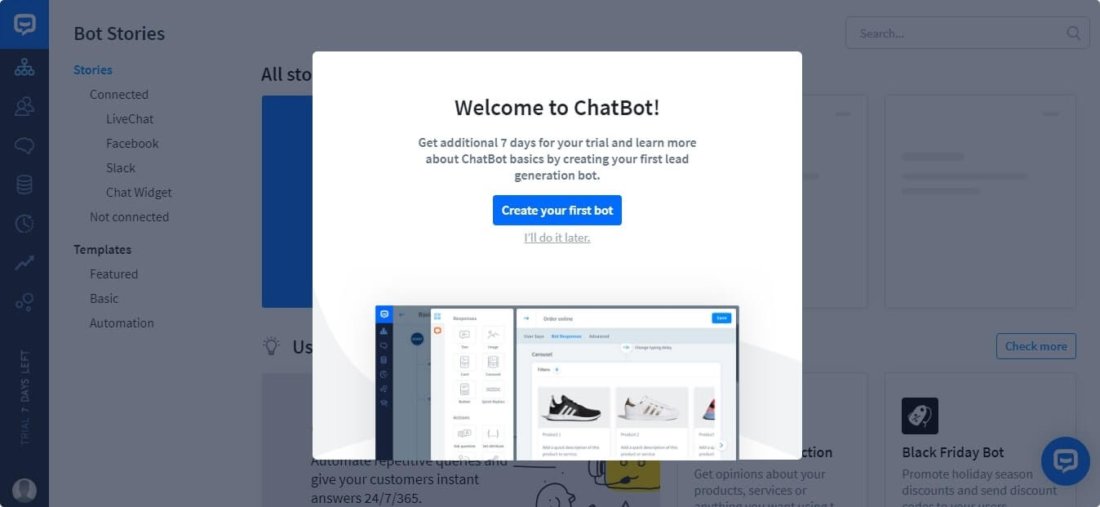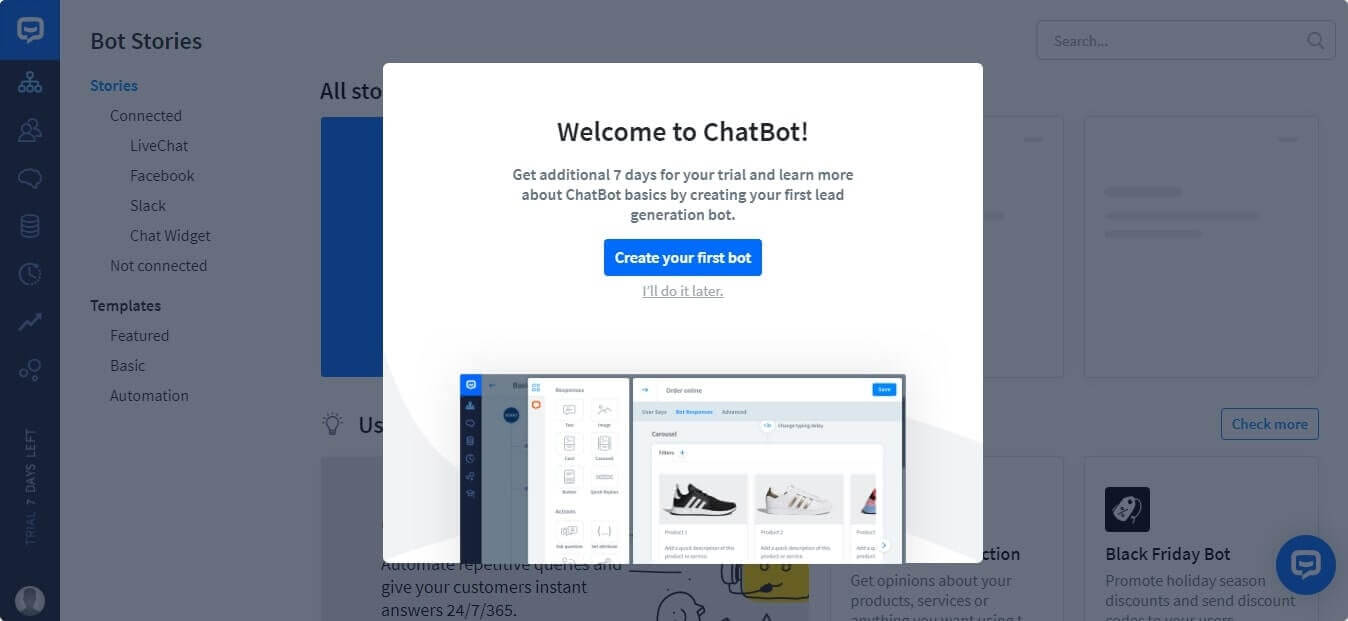 The job that the product is designed to do is to engage users and provide customer service. Chatbots created using it can both qualify leads and cover the first support line.
Its functionality makes it easy for you to:
configure a triggered message campaign;
add images and buttons to it;
conduct human like conversations with AI;
send messages to a particular user segment;
route conversation to an agent;
start a ticket or even email a conversation transcript;
enable necessary integrations.
Some hints will help you: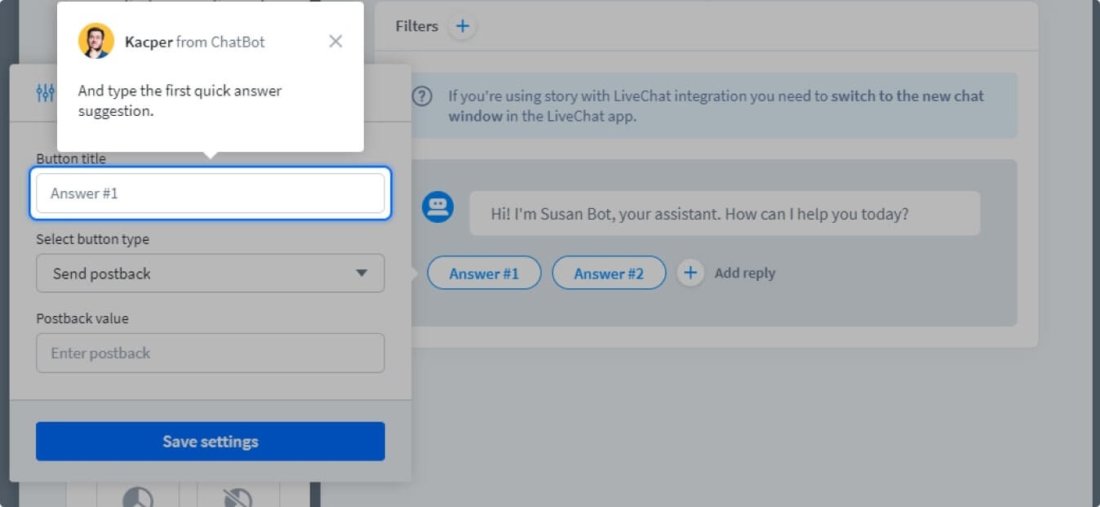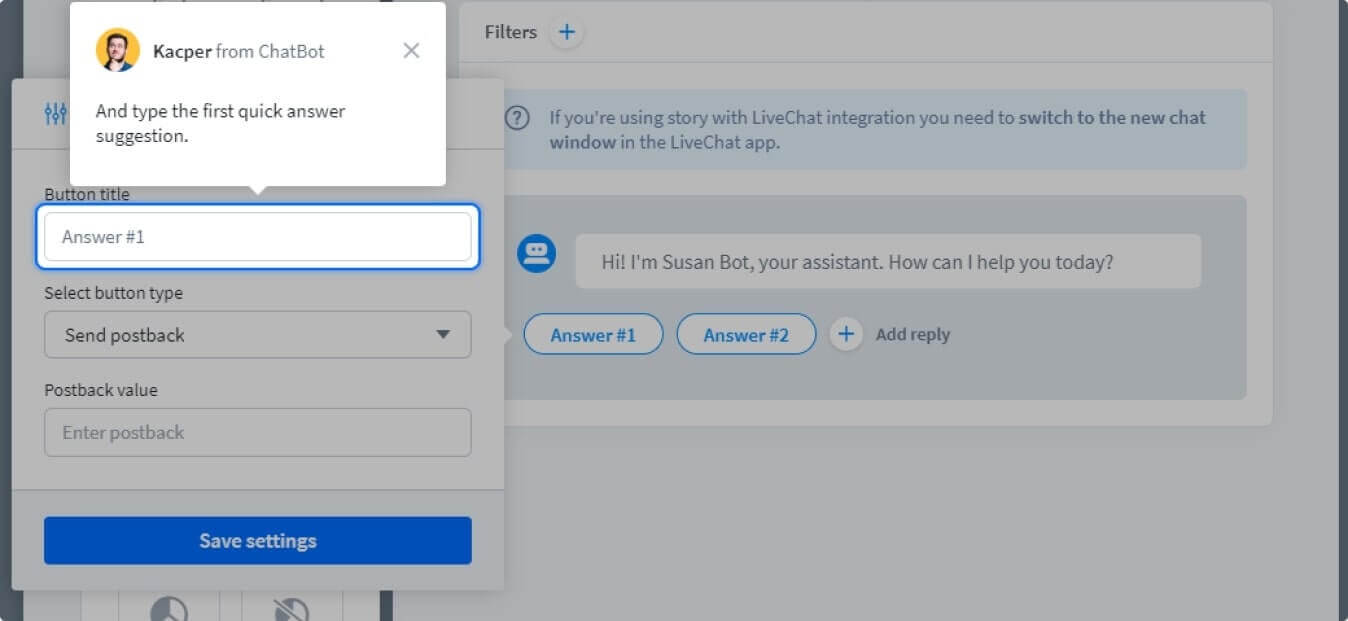 If you want the chatbot not only to automatically send a certain campaign but also to use the neural network to answer users' questions, you will have to train it to do so. You can also do this on your own if you want.
Additional features
LiveChat is a live chat first. It has plenty of features and opportunities, such as:
tickets,
analytics,
integrations with Facebook, Slack, a dozen of CMS, email platforms, etc.
The only thing is, you can't use most features during a trial period, as you'll need to pay for them.
Pricing: from $19 to $59+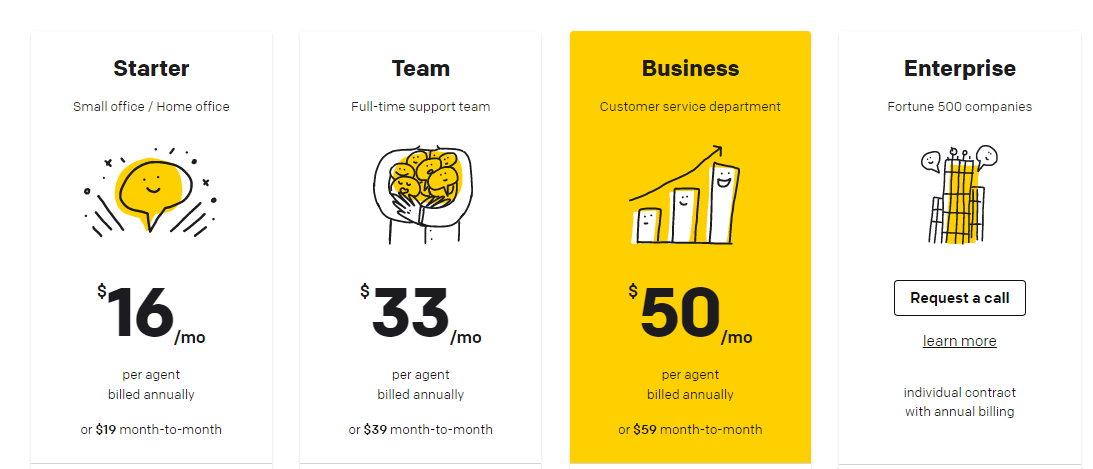 The price depends on the number of agents in a chat. If billed annually, the price is lower. Configuring one chatbot costs from $50, if you use a plan for $499 or above, you can configure limitless chatbots. The exact price depends on the number of conversations per month. The ChatBot is like an additional agent, so you'll have to pay for it using the integration with LiveChat. The price of the basic version of LiveChat starts from $19 per agent.
A free trial
There's a free trial period of 14 days, and most chatbot features are available during it.
Pros:
Cons:
Easy-to-use and launch.
Affordable pricing.
Visual builder.
The mobile app lacks admin tools.
Lack of essential features in the
basic plan: agent grouping,
chat history and tags,
and basic statistics.
User.com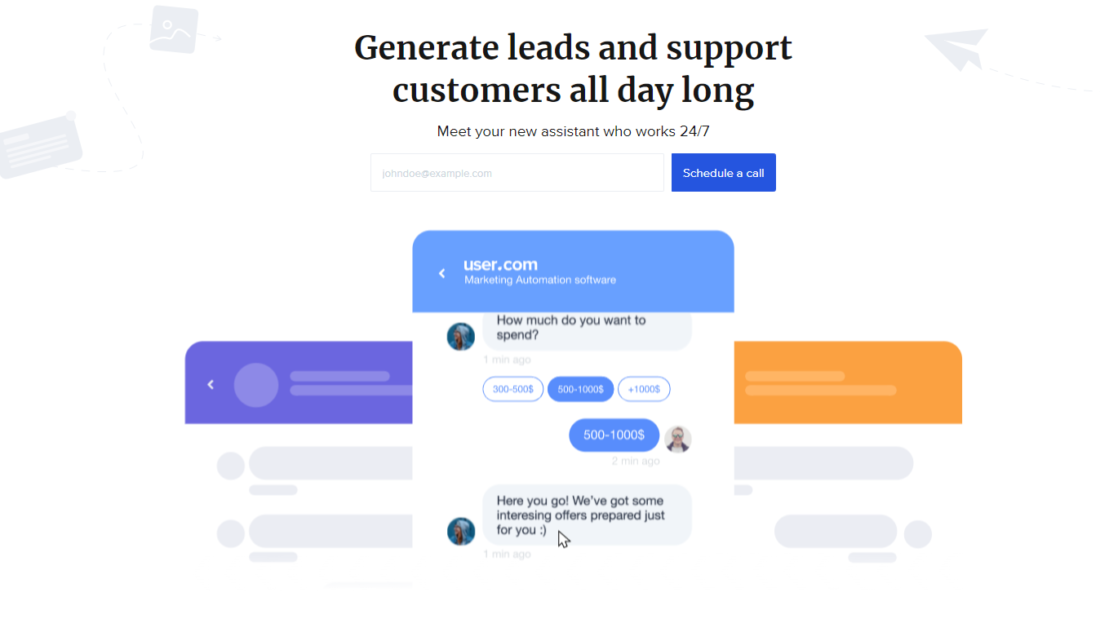 User.com is a platform for user tracking and omnichannel communication with a toolkit for marketing, sales, and support teams.
For whom
Agencies, startups, small and medium-sized businesses. The platform offers ready-made solutions for:
e-commerce,
finance,
car dealers,
web hosting companies,
real estate,
travel,
education,
health care organizations.
What can the User.com chatbot do?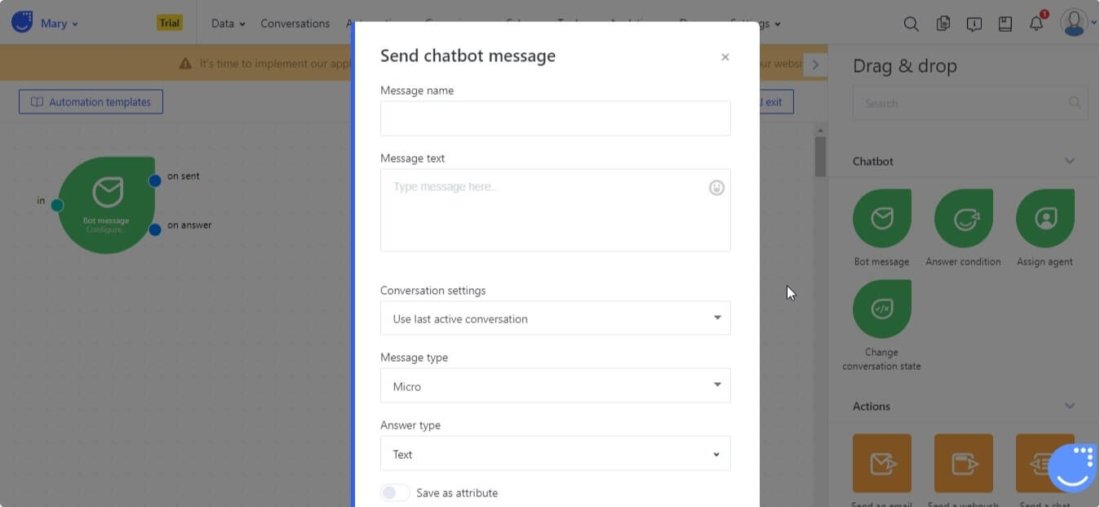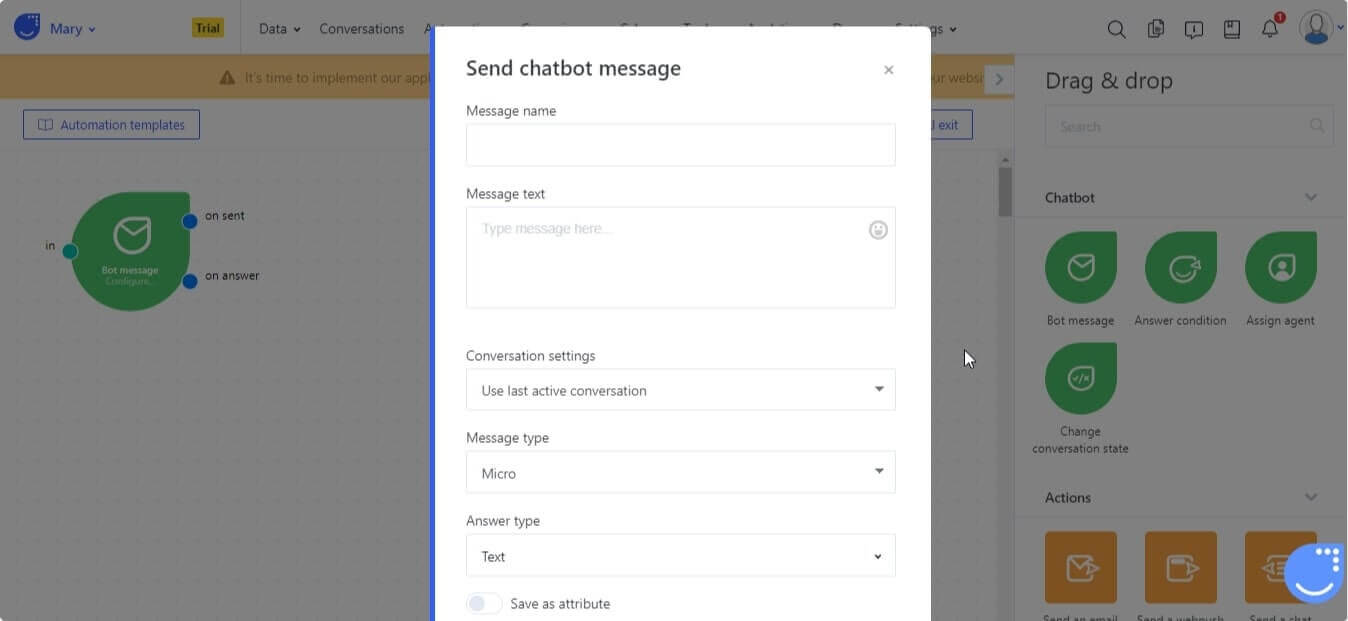 You can configure a simple chatbot offering possible answers as buttons.
Its functionality makes it easy for you to:
configure sending triggered messages;
set a timeout for sending chatbot messages;
ask for user email and send the data to an agent.
You can either configure the chatbot message campaign on your own or use the ready-made templates. There are over 20 ready-made campaigns in the automation section for different companies — from art galleries and wedding agencies to game dev studios and schools. You can also edit any part of your campaign.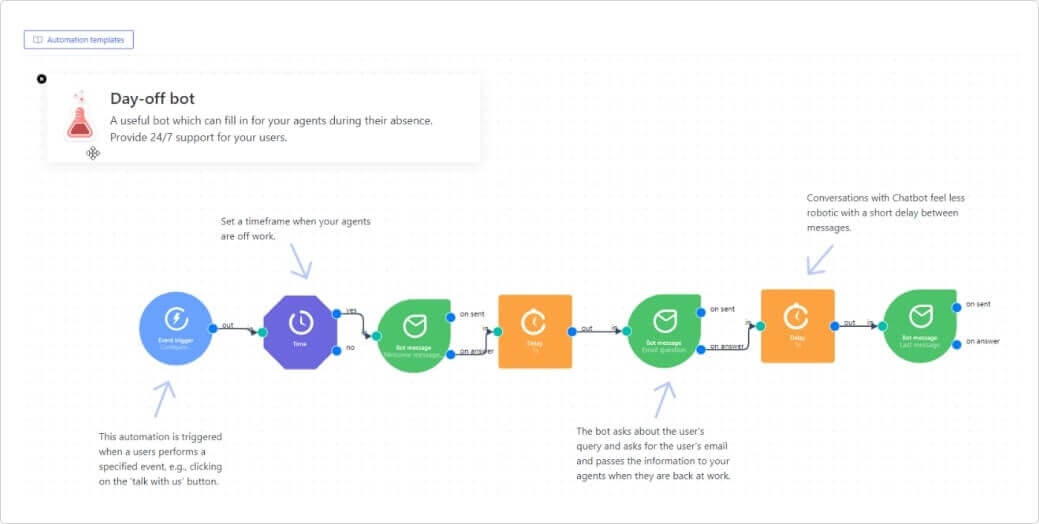 This is a ready-made chatbot campaign — the "weekend" chatbot, which replies to users in a live chat when agents are having a rest.
Additional features
Here's a list of what you get in addition to user.com chatbot:
live chat,
emails,
SMS messages and calls,
push notifications,
a simple CRM system,
helicopter-view analytics.
Pricing: from $249 to $1349/month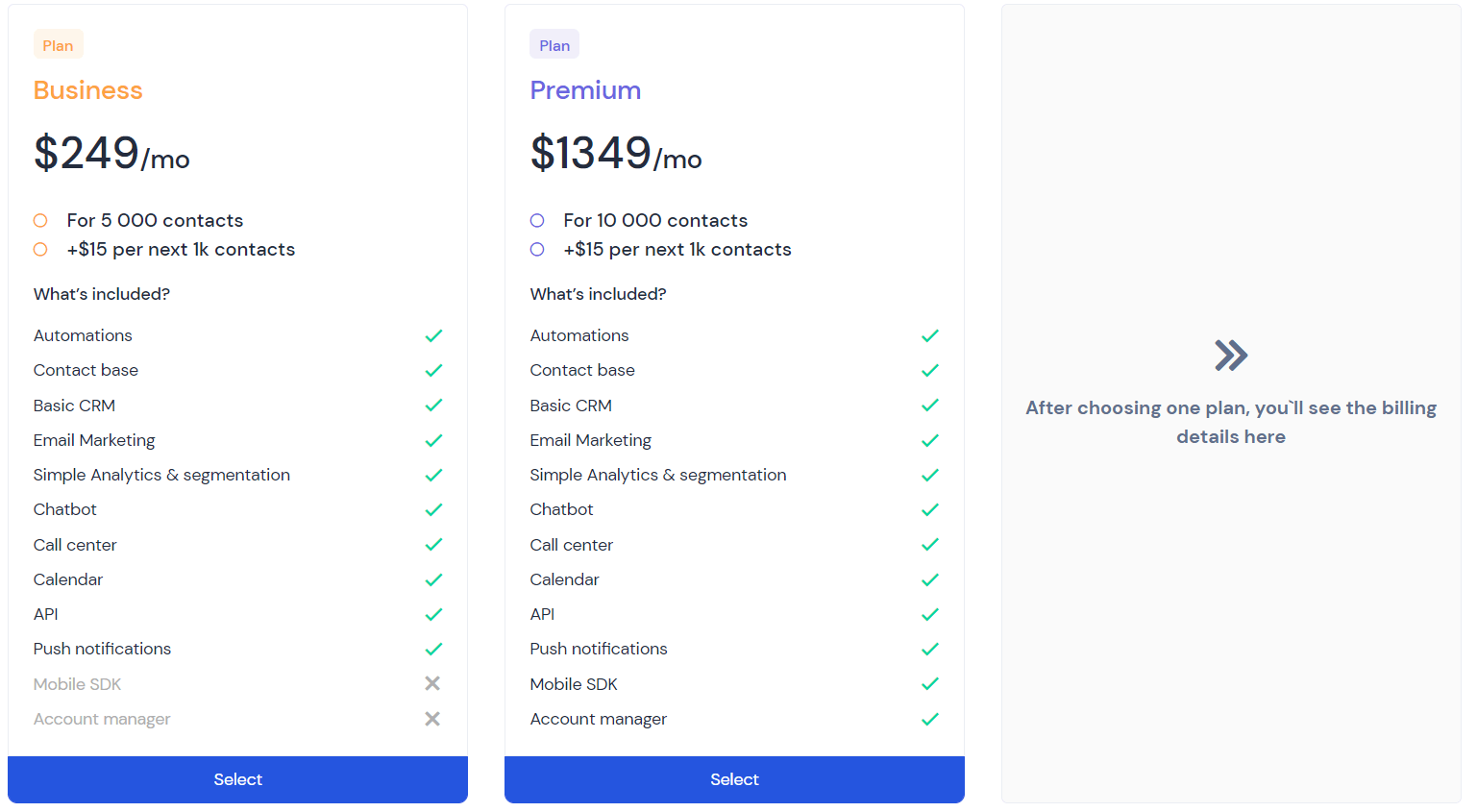 The price depends on the number of contacts. The number of agents is unlimited within any plan.
There is no free plan on User.com.
What's included in the basic plan?
up to 5 000 contacts;
Automation;
Contact base;
Chatbot;
API;
Simple analytics;
Basic CRM
Knowledge base;
calendar integration.
What's not available:
Mobile SDK;
Account Manager.
Free trial
You can test this platform for free for 14 days.
A free trial
You can use a 14-day free trial period.
Freshdesk Messaging (Freshchat) for customer support

Freshdesk messaging entails 12 different products including batch software for various management purposes:
team management,
call center,
customer data management, etc.
One of the software batches is a chatbot. Powered by Ai, it is created to boost the efficiency of your customer service.
For whom
Freshdesk messaging fits both small and enterprise-level companies. It provides a variety of plans for each of them. In terms of functionality, its chatbot will bring the most value to the support team.
What can the Freshdesk Messaging chatbots do?
With the help of ready-made templates and AI, you can build human-like bots to welcome and support your website visitors.
These bots respond to users independently or assign a conversation to an agent. They can qualify the lead and register it in the CRM system.
Besides, the functionality allows you to:
name your chatbot, set a profile pic for it, change colors;
send texts, images, and videos on behalf of the chatbot;
talk on the language of your visitors;
fetch and push data to any of your 3rd party applications and internal systems to improve resolution rates;
set messaging filters — for example, based on the session duration or the number of sessions;
show conversation analytics reports.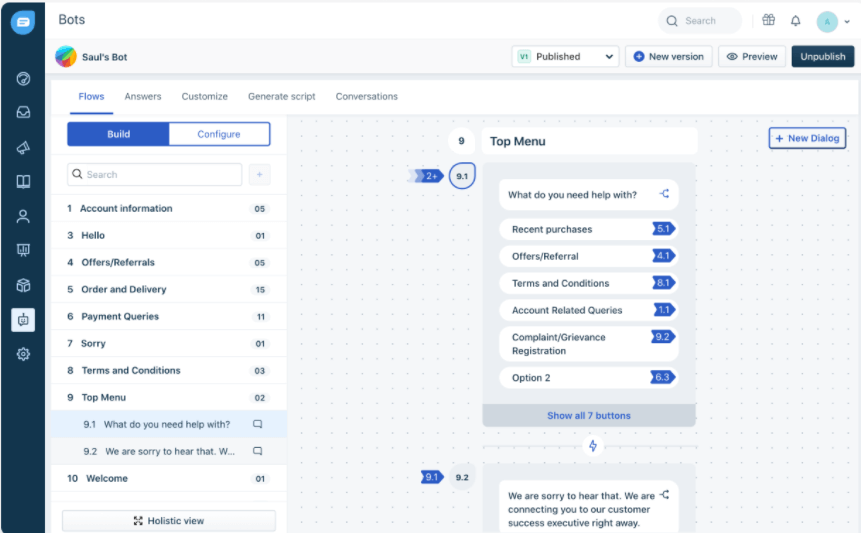 Additional features
Team inbox.
Social media integrations.
Triggered messages.
Mobile app.
Live chat.
Visitors behavior tracking.
Roles management.
Custom reports.
Pricing: from $0 to $99 per agent per month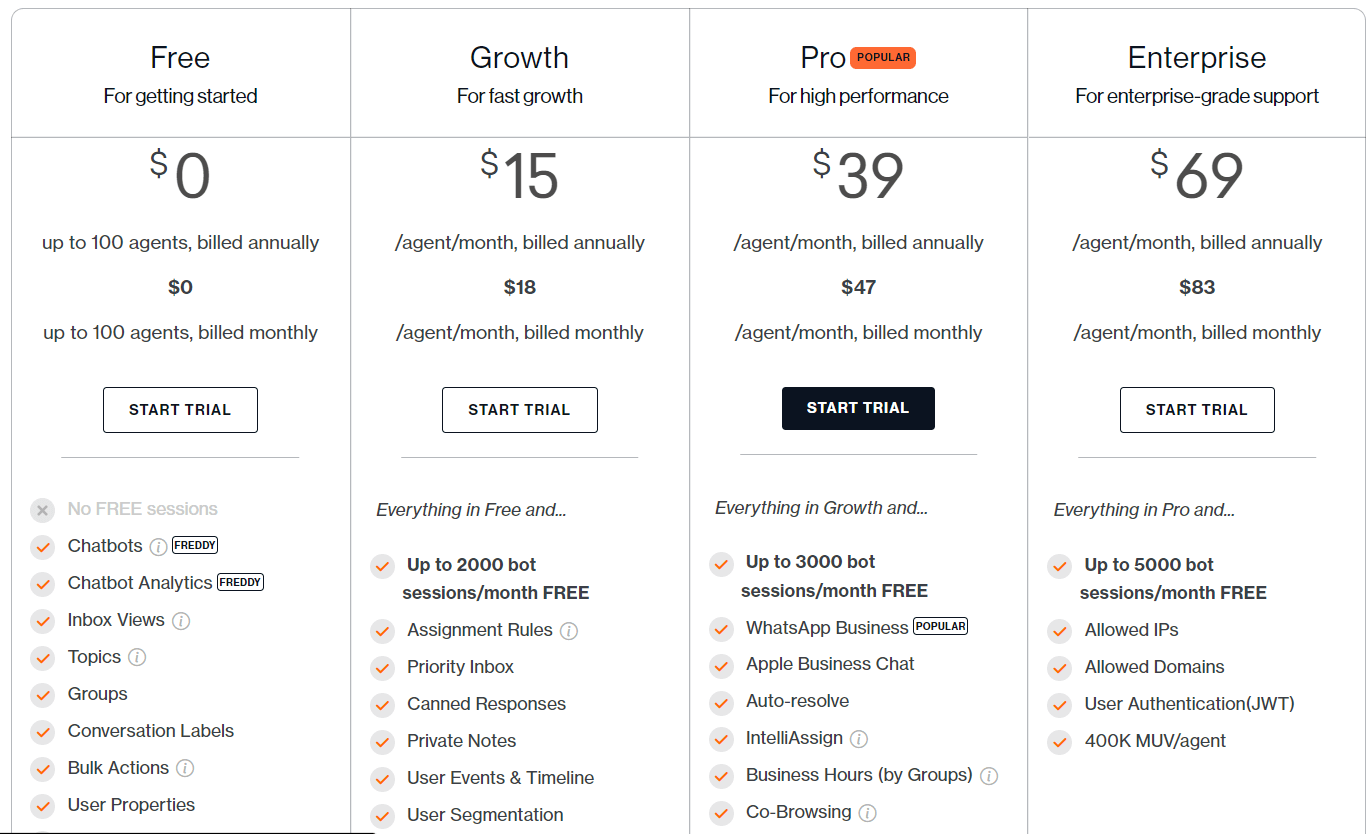 You can test the chatbot on the free plan. There is an opportunity to create a FAQ chatbot Freddy with access to its analytics. But you can't send files in it.
If you want more, try the Growth plan. It includes up to 20K bot sessions and everything from a Free plan, including files sharing. For high-traffic websites, it would be better to choose Pro or Enterprise plan.
Free trial
Your free trial access will last for 21 days.
Pros:
Cons:
― Integrations. There are dozens of them.
― 21 days trial. So much time to assess the platform potential.
― Detailed onboarding. It takes a couple of minutes to sign up and set up the live chat on your website.
― AI.
― Users complain about poor messages notifications — sometimes users simply don't get ones.
― Users also say that customer service could be improved — it takes too long to wait for a support response.
Gist for lead generation

Gist offers no code chatbots for visitors' engagement and converting them into leads. They claim 30% lead growth after the chatbot launch. With its help, you can qualify leads and route them to the right manager or book a meeting with a sales rep automatically.
For whom
Gist fits marketing teams best of all.
What can the Gist chatbots do?
There are several types of Gist chatbots performing simple tasks. They are primarily destined at helping sales teams:
pre lead qualification through questions and possible answers;
article recommendations;
scheduling calls automatically.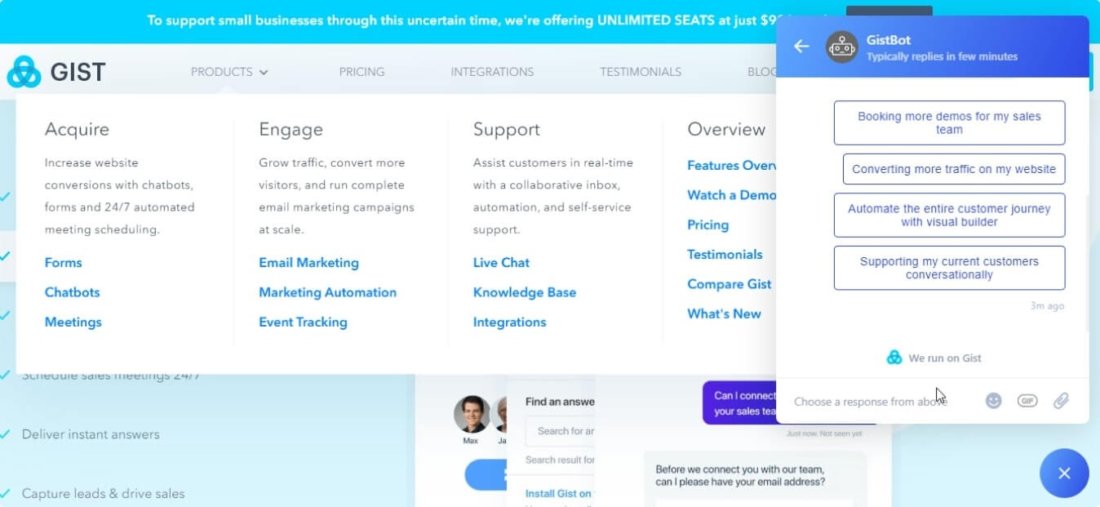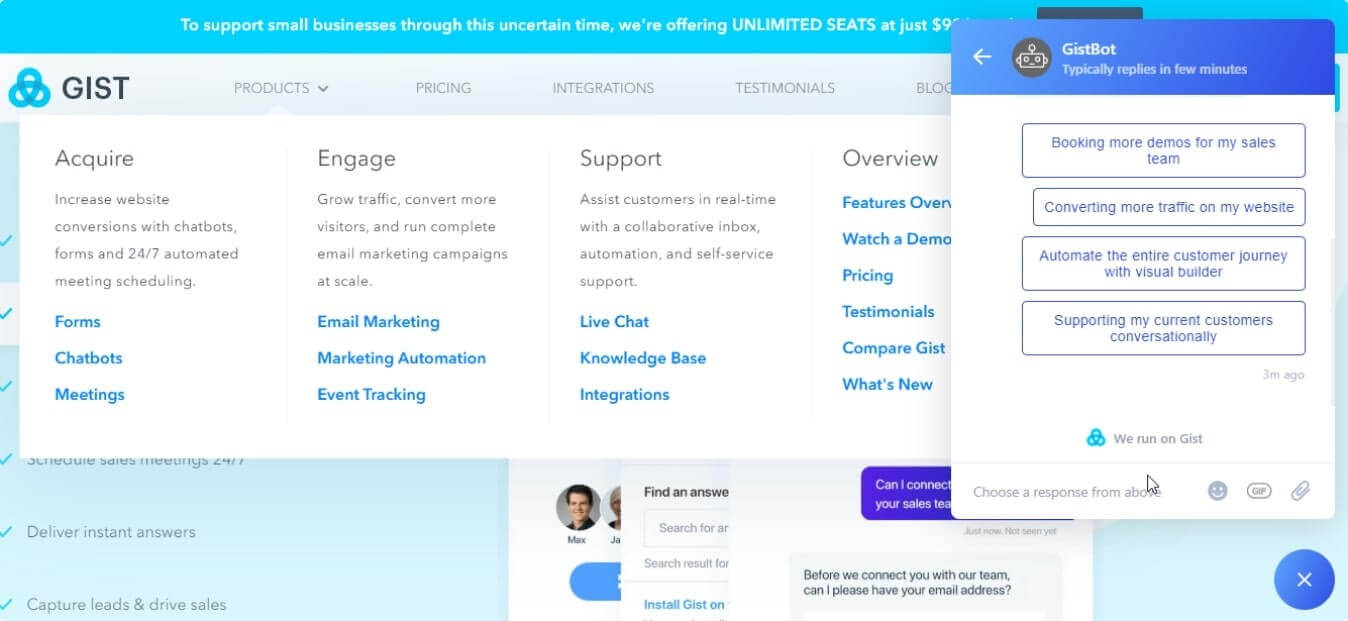 Additional features
Gist has plenty of features, too:
live chat,
email marketing automation,
event tracking,
lead forms,
knowledge base,
A/B tests,
API, social media, CRM integrations,
personalization.
Pricing: from $0 to $499 ($99 temporary special offer)
Bots are available on every plan, but there are limits on functionality. You can start with Forever free plan without lead qualification, custom bots, smart suggestions, and meetings booking chatbot features. The qualification chatbot is available in the professional plan (from $29/month per team of 5 agents), and bots for scheduling calls and content recommendations are only available in the premium plan (it usually costs $499, but now the price is $99).



Free trial
You can create a simple chatbot using a free plan and more complex ones during a 14-day trial period.
Pros
Cons
Perfect lead capturing features.
Helpful support.
Leads tracking and follow-ups
Un-intuitive interface
No in-build CRM
FAQ
What is a chatbot?
Chatbot is a service tool that sends your visitors triggered messages with possible answers or forms to fill in. According to the customer's option, the online bot will recommend them a product, lead them to the website page, assign the conversation to an agent or route it to a particular channel.
Read more info on what is a chatbot in our article.
Why does your business need chatbot software?
– Connect with your business in real-time and get answers to their frequently asked questions
– Avoid getting into support queues and save time when it comes to connecting with your brand instantly
– Receive the assurance that a solution is coming their way, and they'll be connected with an agent in case they need more information
– But more than a customer, businesses end up benefitting from the use of a smart chatbot. With the best AI chatbot on your website, you can:
– Offer 24×7 customer support to customers without being online the entire time
– Reduce multiple people-to-people interactions and make sure customers get direct answers
– Help your agents focus on more urgent queries and improve their productivity
– Target the right audience with the right welcome message via your chatbot and boost engagement
– Save time, money, and even efforts at your operator's end to resolve some frequently asked questions
How to choose a chatbot?
– Check if the chosen tool has:
– Ready-made chatbot templates.
– Intuitive visual chatbot builder.
– It integrates with your CRM, Facebook Messenger, Instagram, WhatsApp, Calendly, etc.
– Affordable price (usually it is under $100 a month).
How to make a chatbot for a website?
1. Create messages sent by a chatbot and answer options (buttons or text). Each reply can trigger the next message: sort them in the correct order and automate conversations from start to finish. Each thread is visualized in a chatbot flow — it makes content creation much more convenient.
2. Set triggers and define a timeline for chatbot service activation.
3. Choose audience: the conversation window can pop up for every visitor or for particular viewers.
4. Set sending status. Define pages on which your users will chat with a bot.
5. Review settings and launch your chatbot.
How long does it take to build a chatbot?
In Dashly builder, it literally takes 5 minutes to create and install a chatbot on your website. You need to copy-paste a code snippet on your website. Then you can use and/or customize a ready-made bot template.
Read also: