4 Extraordinary Chatbot Campaigns in SaaS: The Case of FinTablo Using Dashly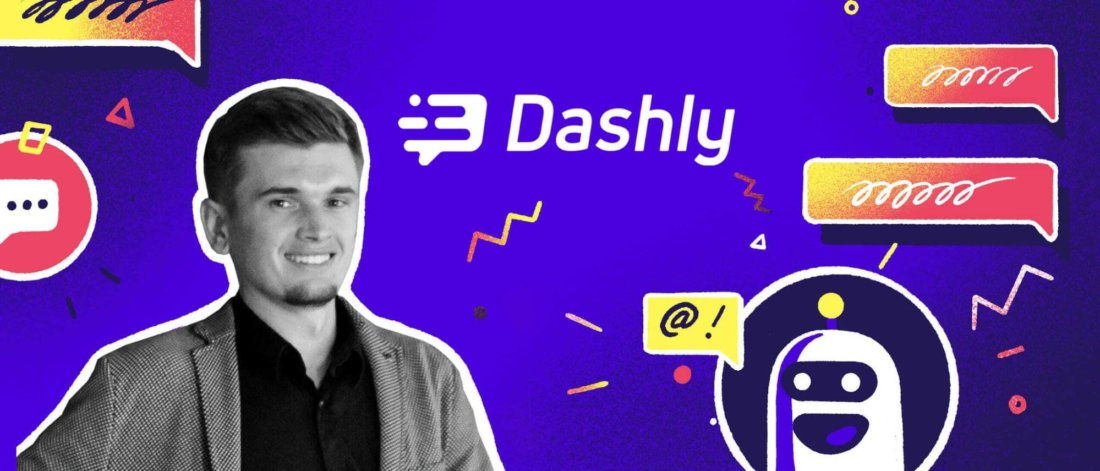 We're publishing this case to share how the FinTablo's financial accounting platform team used Dashly chatbot for:
proactive customer support,
onboarding to new features,
collecting feedback from beta testers,
lead qualification and segmentation.
Type of business: B2B accounting platform
Business segment: SaaS
John, Product manager at Fintablo, has shared 4 extraordinary campaigns with us. He also told us how their support team and platform users benefited from them.
Campaign #1: proactive customer support via a chatbot
The task: telling users about steps they need to take without redirecting them to the knowledge base
When a product is changed, sometimes there are action steps on the user side. Once upon a time, FinTablo updated its integration with one of the banks, and customers needed to update their settings to make sure the integration works correctly. Here is the campaign John has launched: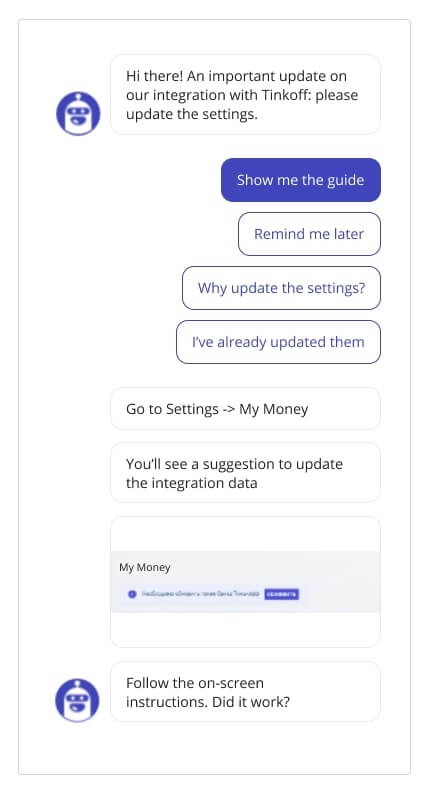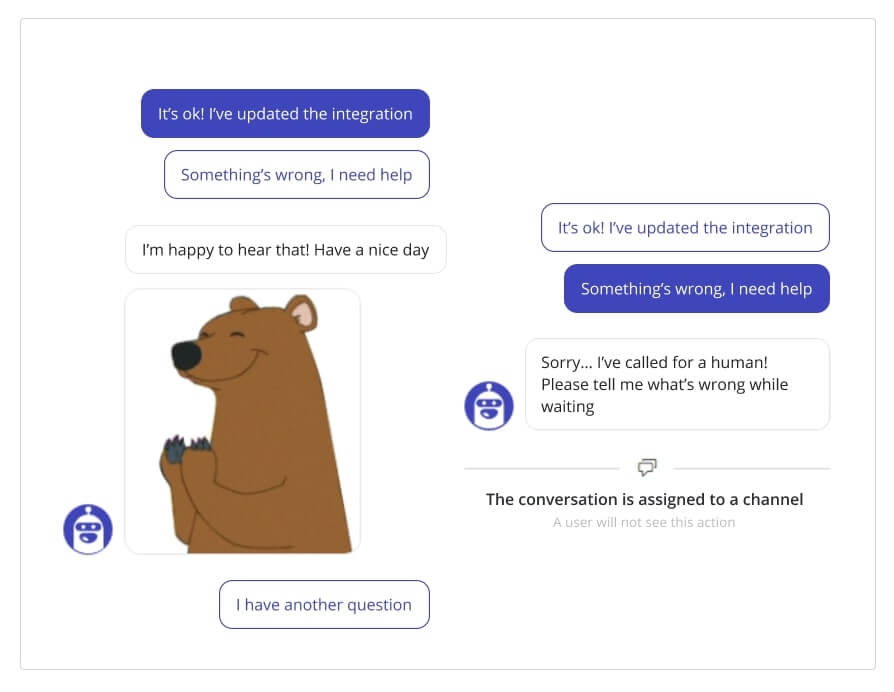 We've run a campaign with information from the chatbot and a call to action. This helped us facilitate support because agents didn't have to send manually written texts asking to update the settings. In the next messages, the chatbot helped update the settings and offered the agent's help if something was wrong.
Campaign #2: onboarding to a new feature via the chatbot
The task: to inform users and make sure they are aware of updates
A chatbot is a perfect way to tell your users about new features. It takes less effort to just press the button. FinTablo launched the onboarding campaign in the admin panel. They tell users about new features and help find out if updates are useful.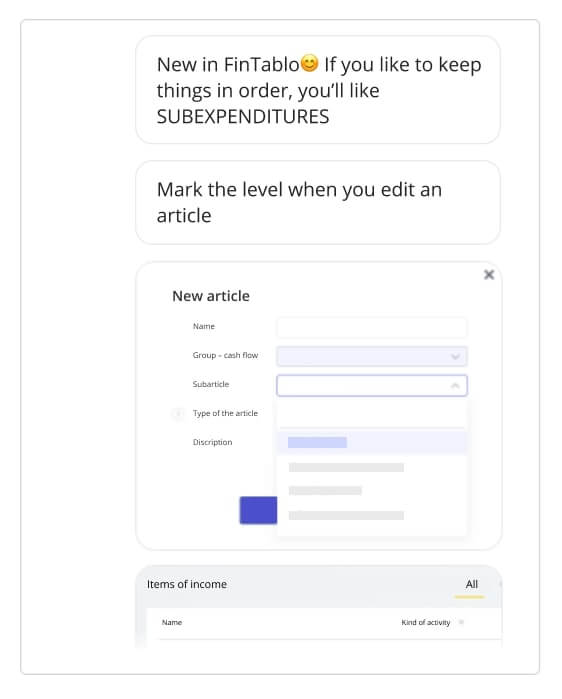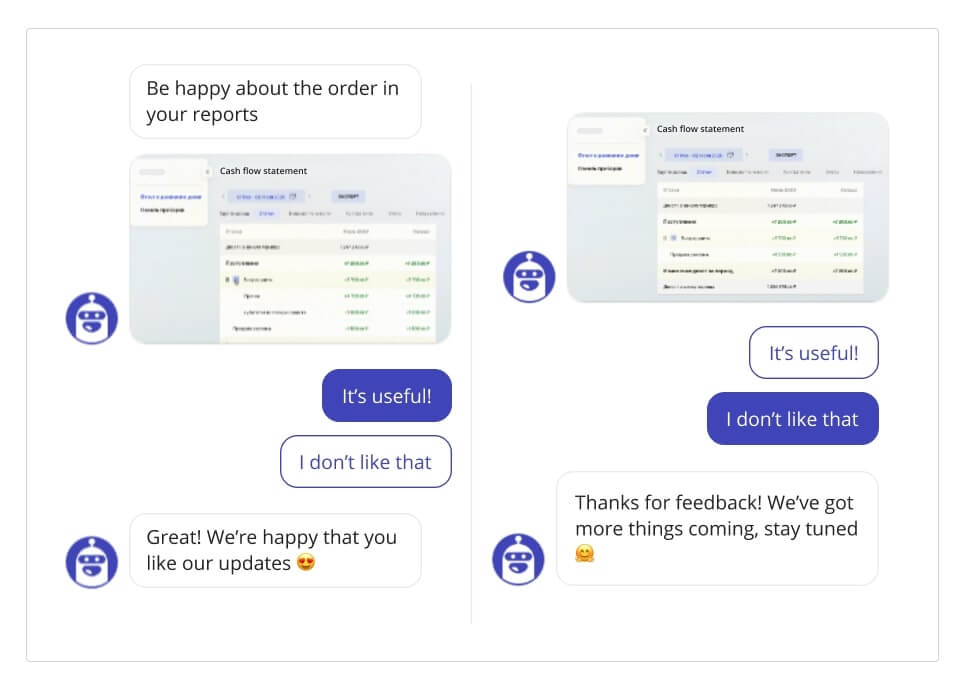 A user reaction means they've read your message and are aware of the new release. Their replies become a precious feedback for your product. Besides, they instantly have all the necessary information to start using the feature right after a conversation with the chatbot.
Campaign #3: feedback collection from beta testers of a new feature
The task: to collect feedback from users who got the new module enabled manually
FinTablo launched a chatbot for beta testers of the new feature to collect feedback and release it later.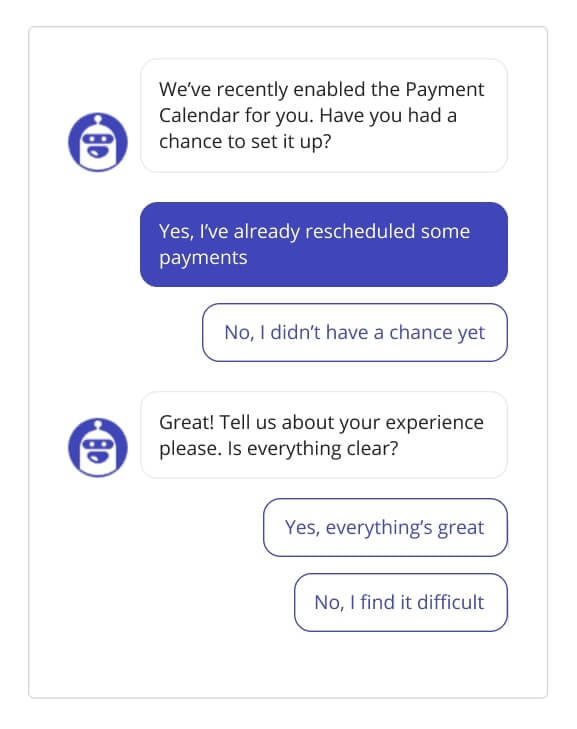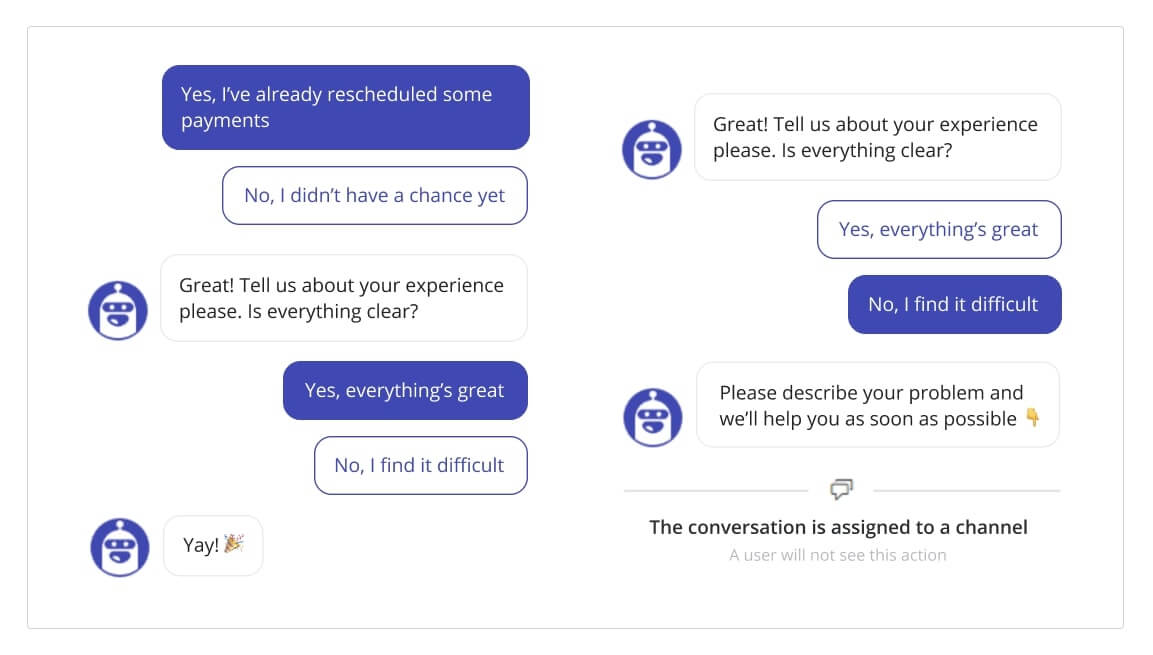 First, a user responds whether they've already tested the new feature, and then says if everything was okay or they experienced problems. If things are less than perfect, the chatbot is asking for more details.
Campaign #4: lead qualification and segmentation
The task: get to know the target audience
Now, when a user signs up, they tell us about what financial accounting platform they previously used. FinTablo uses a chatbot to find out which software paying users employed before. A chatbot is very helpful because some users signed up before lead qualification was introduced. This is important to understand the target audience and what segments cherish the platform the most.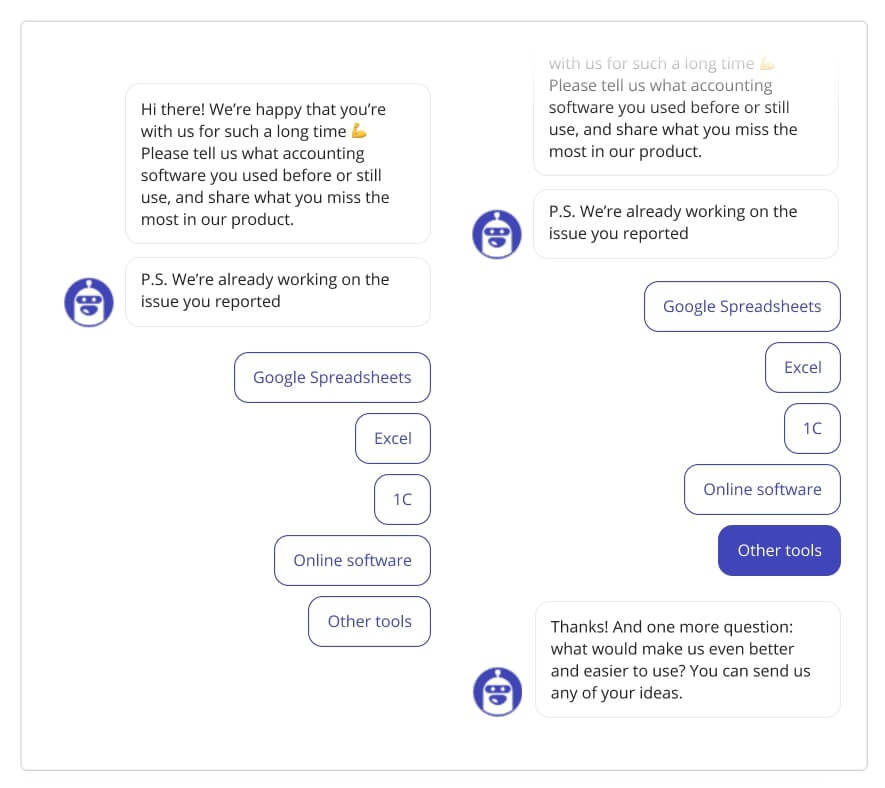 The chatbot asks what accounting software customers used before and offers the most common answer options. We've added an open question about how else we can improve our platform to make sure this campaign doesn't look like a dull questionnaire and brings additional value.
How else FinTablo is going to use the chatbot
When the chatbot functionality is enhanced, for example, when you can schedule a demo or send the knowledge base article directly from the chat, the FinTablo team is going to arrange the first onboarding communication with the signed-up users in several stages:
scheduling demos,
telling about the knowledge base,
giving a step-by-step action plan for the independent platform configuration.