How Syssoft, a software provider, increased proactive sales with Dashly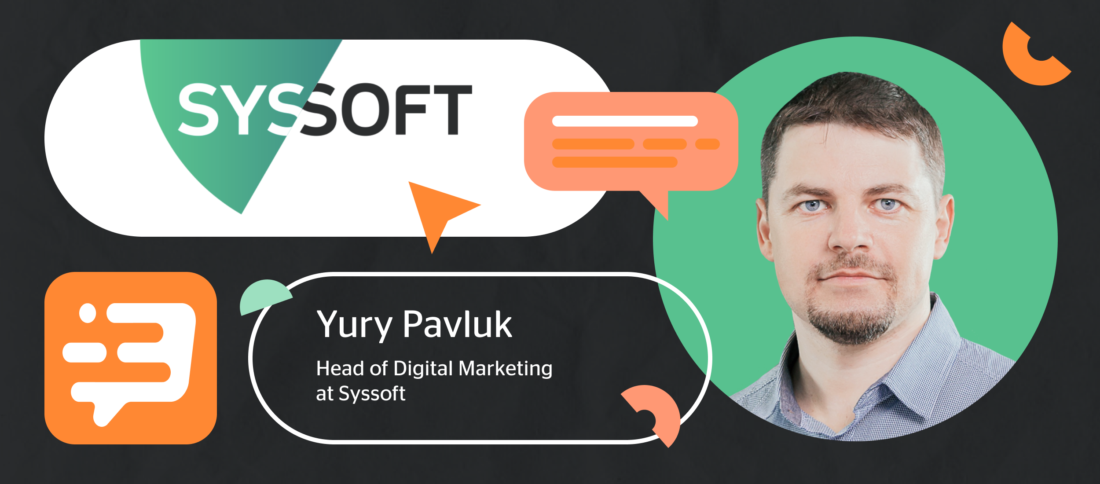 Syssoft is a large IT business with a long sales cycle. But its marketing and sales teams have issues when it comes to mutual processes arrangement.
With Dashly, Syssoft brushed up scattered customer data, rearranged processes, and eventually increased sales.
Here's what Syssoft started doing with Dashly tools:
collect data on user actions on their website;
engage users in a conversation, with the conversion rate of up to 30%;
automatically qualify leads using chatbot;
pass enriched leads to sales and sell proactively;
sell through a live chat;
see how marketers influence the number of leads.
They also put communication channels, including social media, together in one place.
About the client
Syssoft (System software) is Russia's second-largest software provider for cybersecurity, engineering, and graphic design. It has been operating for 14 years now. The company has tens of thousands of client businesses.
Syssoft is the only distributor of Pixar, Foundry, WinRAR, and Ericom software in Russia. Their catalog contains solutions from over a thousand software companies. Syssoft also develops and runs engineering and infrastructure IT projects.
Syssoft employs around 300 people, ⅓ of which are sales managers.
Business segment: B2B, B2G
Target audience: large Russian companies
Monthly traffic: 50 000 unique visitors
Sales channels: in person, on a website
Customer communication channels: email, phone
CRM: Bitrix24
Dashly tools in use: user tracking, live chat, chatbot.
Special features of the business:
― the sales cycle is up to several months,
― direct sales via sales managers,
― many decision-makers.
The Issue: Scattered data prevents clear marketing performance tracking
Marketing and sales teams keep customer data in different places. It is difficult to track which of the marketing campaigns bring sales and which don't. The company can't allocate resources efficiently.
Syssoft finds it hard to combine customers' data. Let's say a thousand people visit the website after seeing an ad. They look through the catalog but don't add anything to the cart. After a while, they may call or text sales reps. However, the traffic sources, catalog views, and other actions previously didn't match closed deals.
The Goal — arranging personalized and proactive sales
The primary purpose was to aggregate user actions and deals, join marketing and sales efforts, and eventually increase revenue.
Syssoft placed a bet on proactive sales. They started a sales team within their marketing department. These managers contacted users before they submit a request. As a result, they should have as much information on existing and potential customers, their actions on the website, and the company landing pages to sell proactively.
With Dashly, marketers started collecting customer information for sales reps: their existing and potential customers, what they did on the website and landing pages.
Here's how sales reps benefited from this information:
― they could personalize communication with customers,
― foresee their expectations,
― offer products that meet their needs.
Data collection and the integration with Bitrix24
Syssoft enabled Dashly and configured data collection on user actions on the website and landing pages. Now, the information on each user and their actions automatically go to the lead card in Dashly:
what sections they visited,
what products they viewed,
what they added to cart,
what they searched for with internal search,
what articles they read,
what webinars and quizzes they took part in.
This data automatically goes from Dashly to CRM.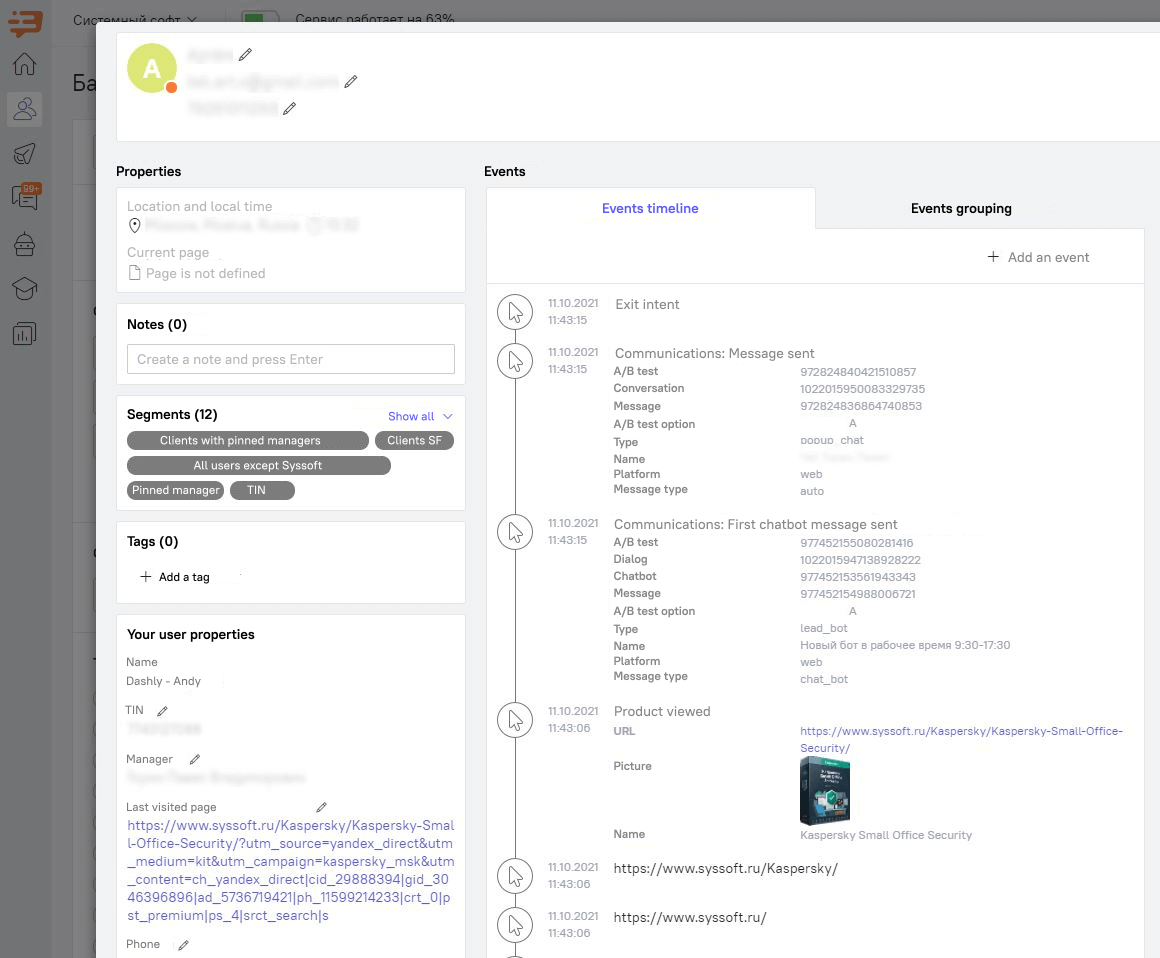 Free consultation with our specialists: get more leads collected in 30 minutes
Thank you!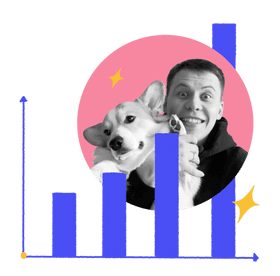 Streamlining complicated sales using data
Data collection helps with complicated sales when the deal cycle lasts for several months or even over a year. In these cases, a sales rep can get better prepared for each conversation with a customer; they can collect as much information and think about their future conversation. They can open Dashly and see this user's actions and other leads with the same corporate domain — their actions may have something in common.
This way, sales reps can learn more about the customer and their company, offers additional products or services.
Leveling up work with existing customers
Syssoft also set up triggered emails for sales reps notifying them that customers viewed software providers' catalogs or webinar recordings. Dashly collects data on sessions on these pages and automatically sends them to Bitrix24 (Syssoft CRM). In the CRM, customers are assigned to reps. When an event is triggered, Bitrix24 sends an email to an agent with what their customer is interested in.
If it weren't for data collection, a rep would hardly know that their customer had recently visited the website. Each weekday, nearly a hundred of these emails are sent. They help with ongoing deals, but more importantly, with proactive sales.
Automating lead qualification with chatbot
With Dashly, Syssoft launched a chatbot on their website that generated nearly a thousand qualification conversations with customers. Now, seven seconds after entering the website, visitors see a chatbot engaging them in a conversation. chatbot asks some questions for qualification:
What's your name?
Are you a company or an individual?
Have you purchased anything at Syssoft before?
What's your tax identification number or a corporate email?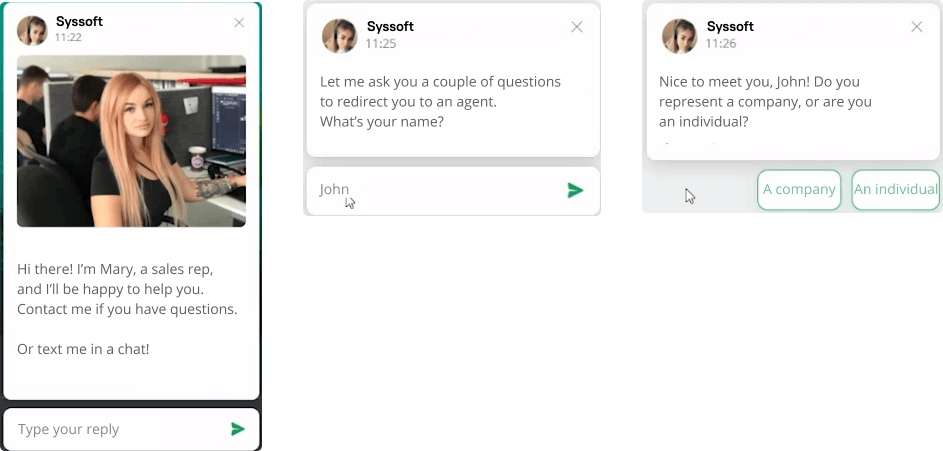 Yury configured the chatbot himself; he didn't need to ask developers to do it.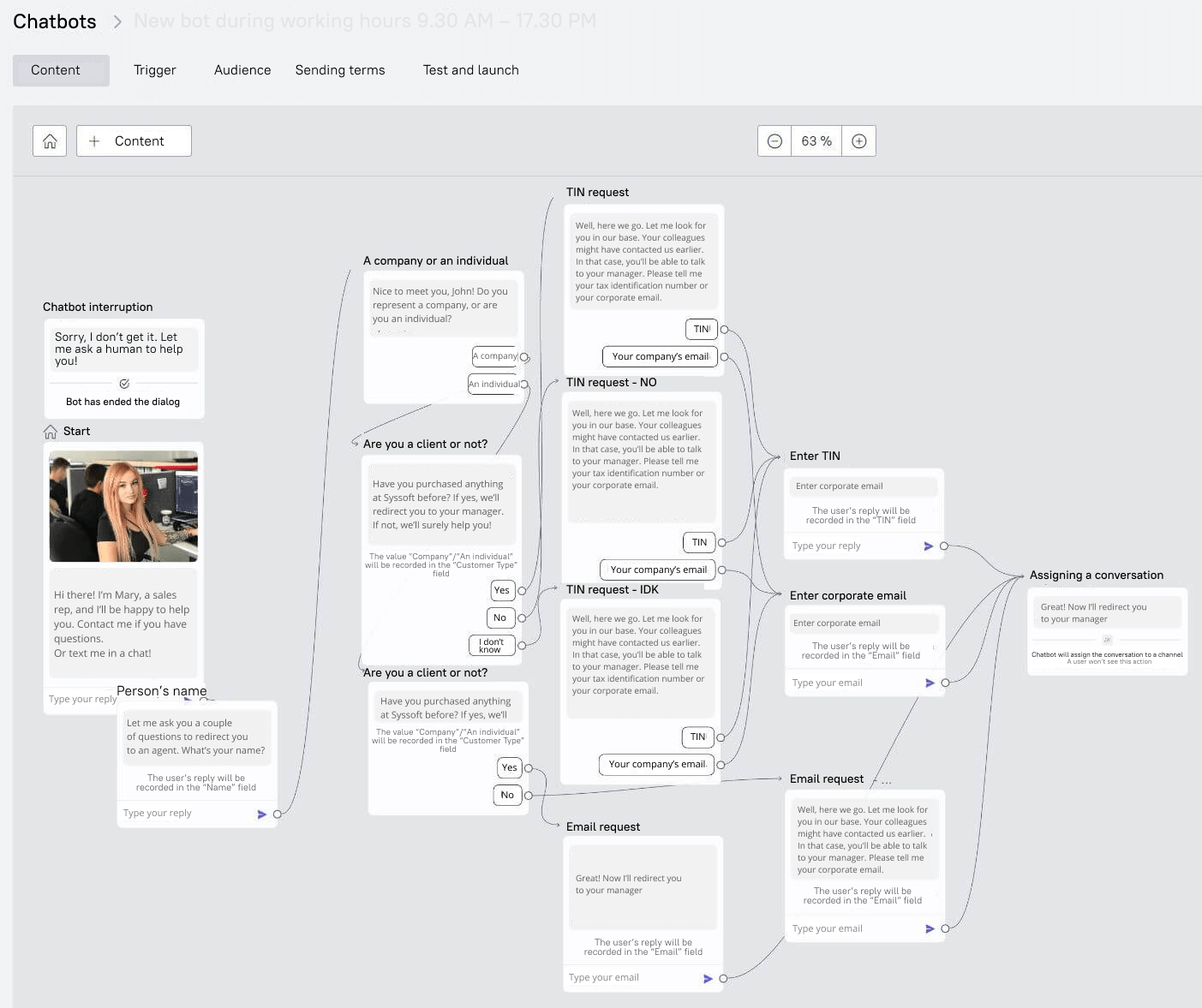 Why is the website chatbot a good idea?
It helps offload simple, routine tasks from sales reps;
It collects customer information at night and on weekends;
A company doesn't lose customers, reaching them beyond working hours.
Adding sales reps to a live chat
The conversion rate to a conversation with an unknown manager is 1.5%
The conversion rate to a conversation with a known account manager is up to 30%
In a live chat, customers can talk to their account manager, not just answer qualification questions. Sales reps started handling customer questions on the products and selling via live chat.
If an existing customer having an account manager texts a live chat, a conversation goes to the manager. And the customer sees that the person replying is someone they know. Thus, a manager maintains contact with a customer, accompanies them throughout the current deal, and nurtures them for further deals increasing the LTV.
A customer also benefits from it because they only have to enter a website and text via live chat to contact their account manager.
If a manager is away, an agent will tell them that their customer wanted to reach them via a live chat, and the manager will get back to them when they're free. Messages from new customers are distributed evenly among agents in a queue.
Integrating with social media and putting all communication means together
The website is a significant customer acquisition channel for Syssoft. However, users also reach Syssoft via social media and ask questions on IT solutions in Direct messages. Dashly integrations with VKontakte and Facebook allowed them to combine social media with a live chat and answer questions coming from various channels in one window.
Syssoft's PR team is responsible for social media communications. However, a relevant agent can easily jump into the conversation if necessary.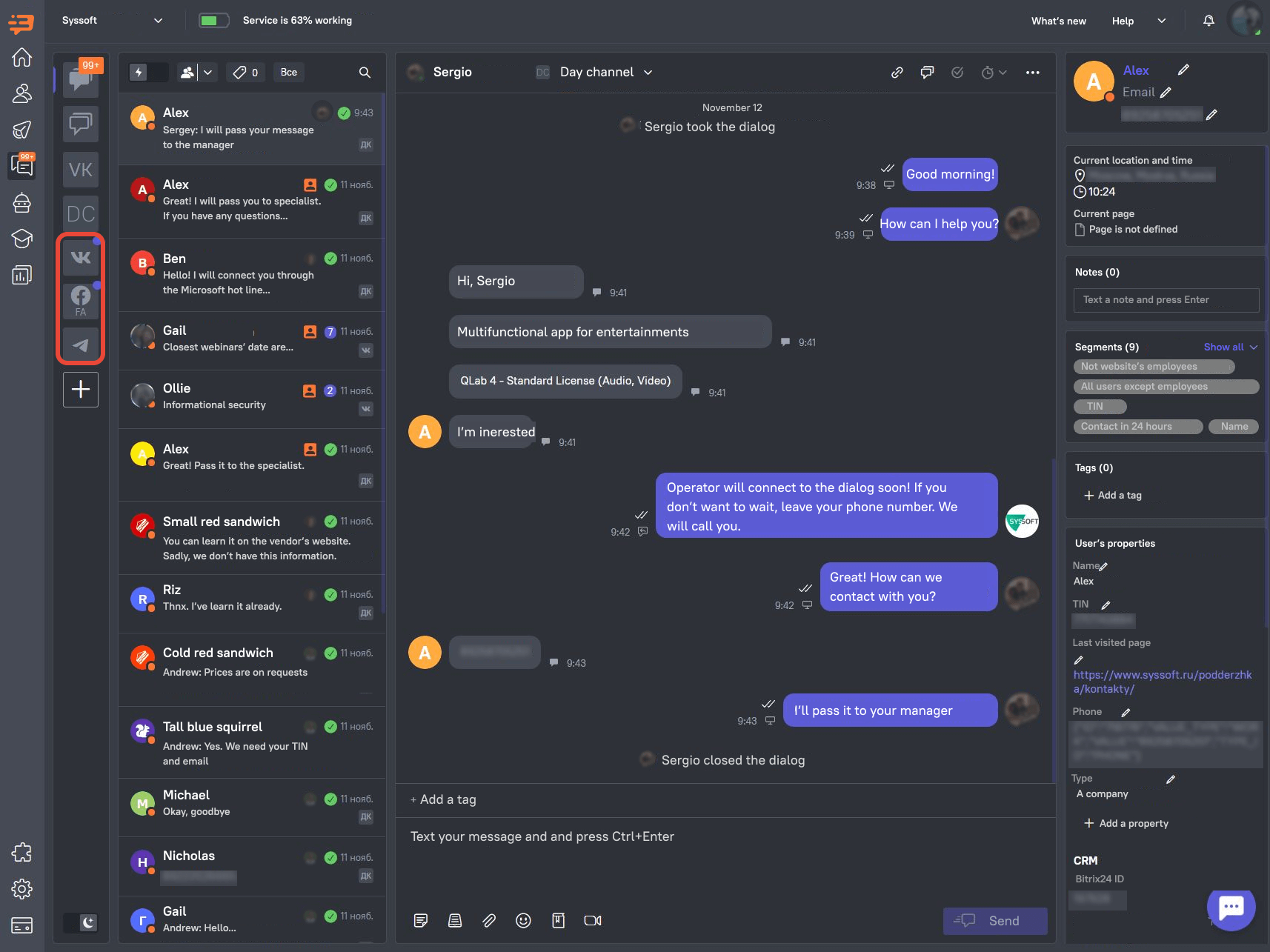 So, Syssoft put user communications in various channels together in one place. It helps them reply faster and not miss anything.
Outcomes
With Dashly tools, Syssoft:
collect leads and the information on them;
talk to their customers from various sources in a single window;
maintain contact with potential and existing customers, and nurture them with personalized emails to close deals;
arranged proactive sales processes;
started tracking marketing communications performance;
joined efforts of marketing and sales teams;
track how each customer goes through the funnel;
evaluate the funnel performance, find and fix its bottlenecks, and increase profits.
What's next?
Here's what Yury and Syssoft are going to do in the future using Dashly:
First, configure narrower customer segmentation to make marketing communications even more personalized.
Improve the conversion rate to a live chat conversation with content personalization: configure engaging chatbot messages considering the existing data on a particular customer, for example, their order history and behavior on the website.
Use Dashly data to build end-to-end analytics and measure the performance of various channels.
Meeting lead KPIs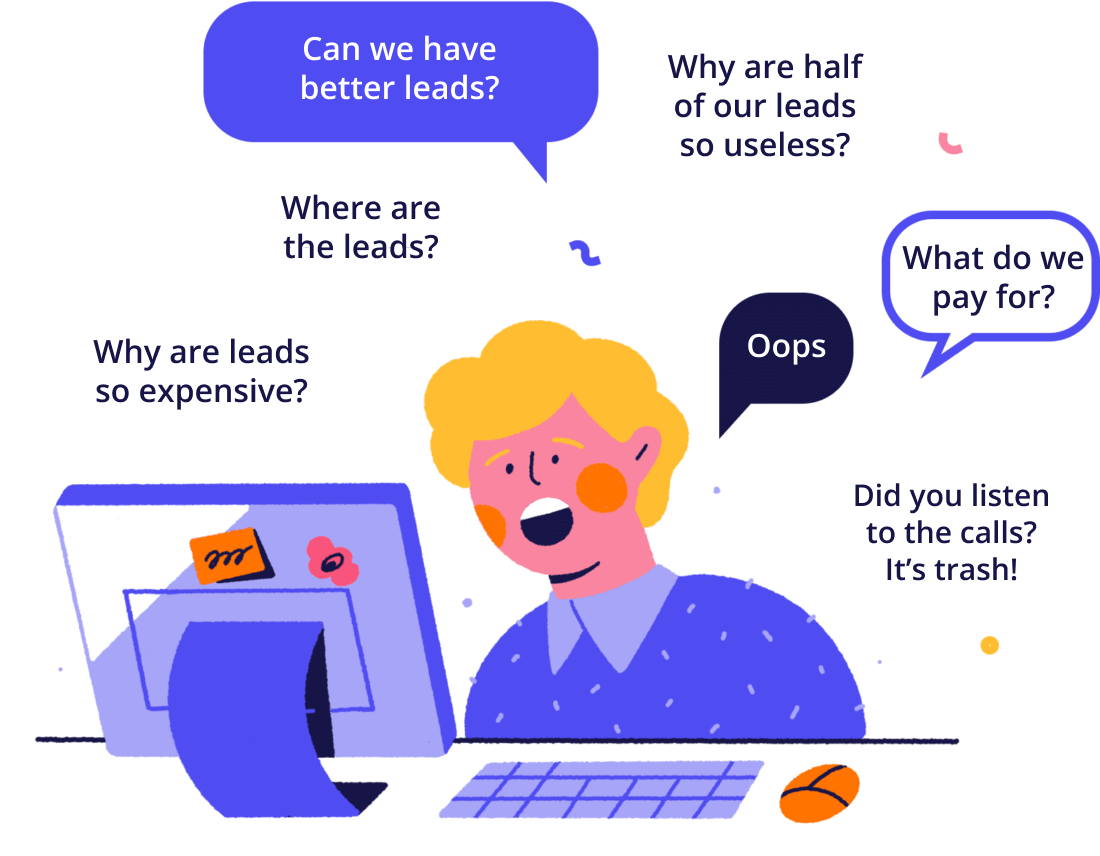 If your website has over 10k of MAU and you encountered some of these issues:
Sales reps complain that they can't sell to leads generated by the marketing team;
Leads are costly;
Leads coming at night and on weekends become cold and don't convert;
Lots of non-targeted leads: they have no budget; they wander around without a purpose;
You can't increase the advertising budget or redesign your website.