How to increase the conversion rate by 2.5 times using pop-ups, emails, and live chat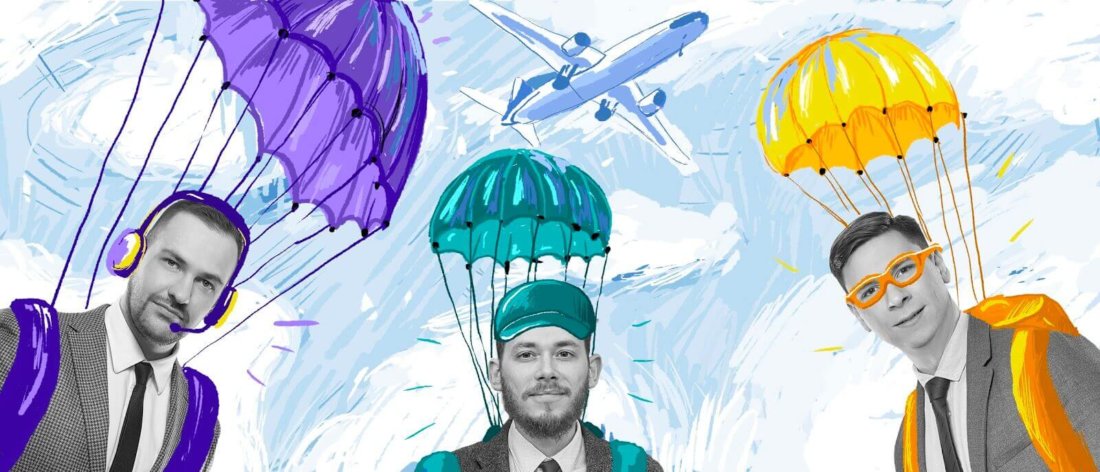 In this case study, we will tell you how Artemy, Constantine, and Sergius from the Skyshop marketing team have boosted the conversion rate.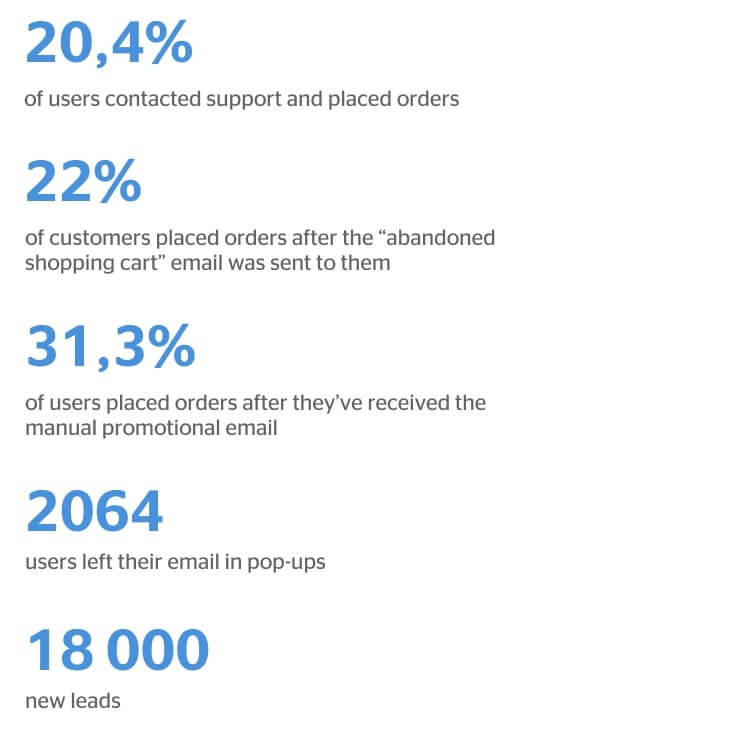 Project Team

The Skyshop team wanted to use Live chat as the main customer retention tool; pop-ups to increase the number of leads collected; and email marketing to increase the conversion rate to purchase.
Let's imagine that the average check in Skyshop is $100. Then, in case the CR increased by 2,5 times, the additional cash would be $30'000. The net profit from using Dashly tools would be about $4'500.
About the Сlient
SkyShop is an internet shop where you can order a wide range of services with home or onboard delivery. The product range varies from toothbrushes to luxury perfume and accessories.

Basically, the Skyshop collects leads when they're placing an order. A customer enters their contact details, and consent to the processing of personal data.
Before skyshop started using Dashly, they had have about 12'000 leads.
The conversion rate to the purchase was 1,72-1,85%.
The challenge: Many Customers Don't Finish Placing Their Order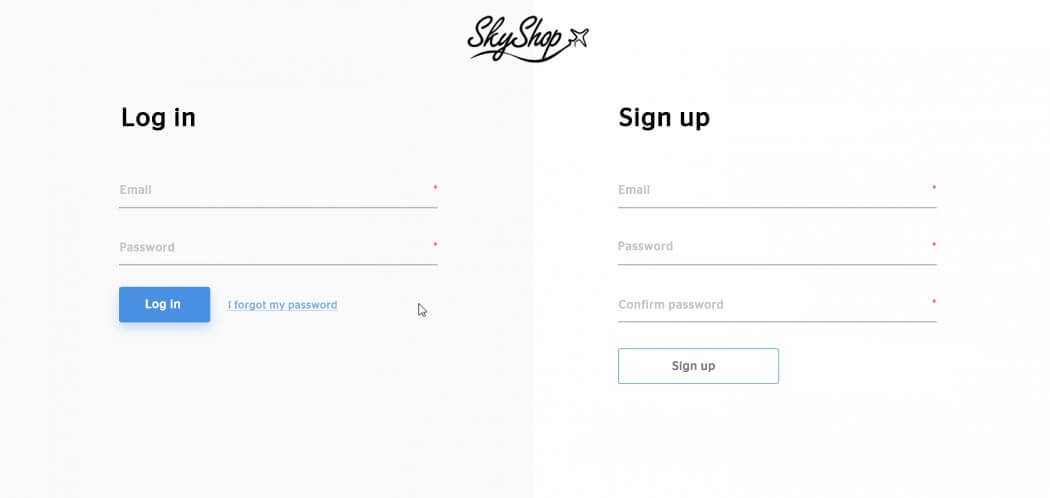 Tasks
to define bottlenecks of the sales funnel;
to find out the reasons for customer churn and eliminate them;
to increase the conversion rate to purchase of those who already visited the website.
Why SkyShop Have Chosen Dashly
The Solution: to configure auto messages sequences using Dashly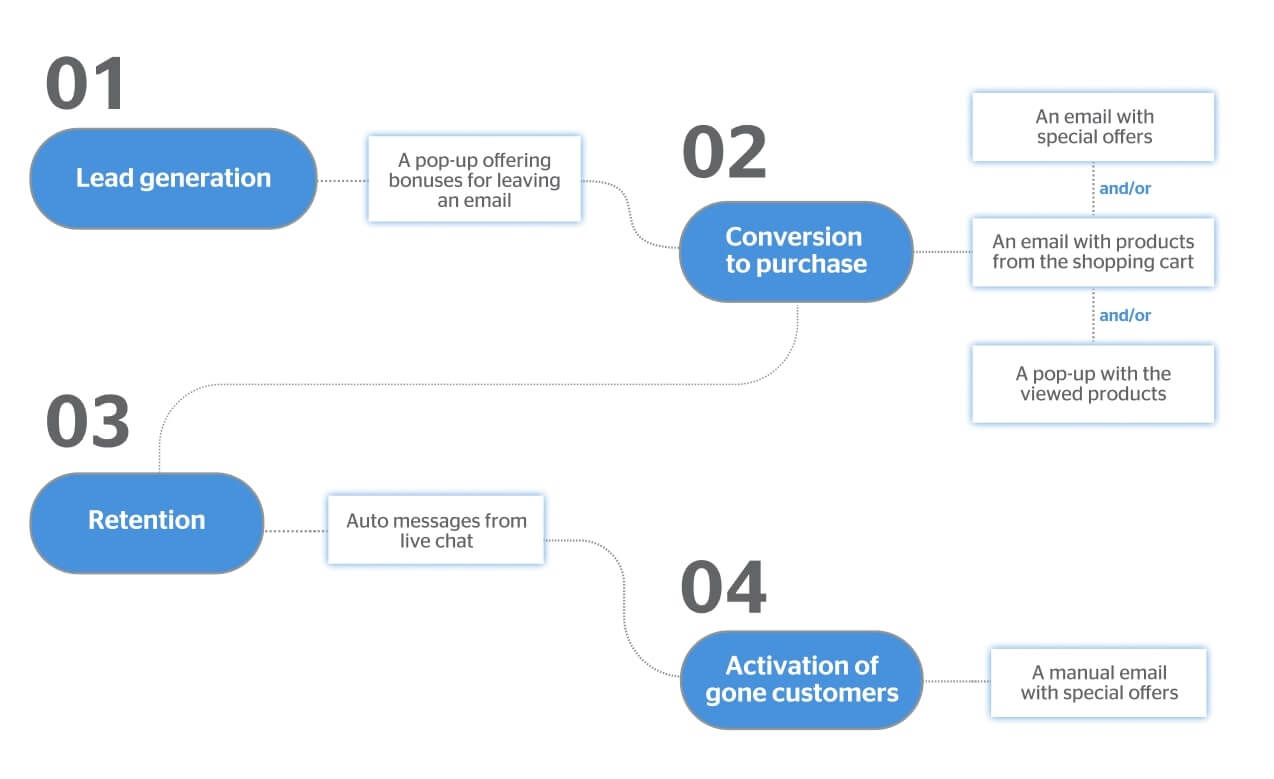 After SkyShop's website was updated and the issue of the customer churn was still unresolved, Artemy and Sergio decided to implement Dashly and use the "deep dive" service. The "dive" lasted from October 1, 2019, to October 30, 2019.
Among Dashly tools, Sergio was primarily interested in email sequence used to catch up with gone customers and data collection on users. First of all, Andrew, Dashly project manager, compiled the campaign map. According to it, he helped formulate hypotheses for customer conversion.
We Helped Customers Place Orders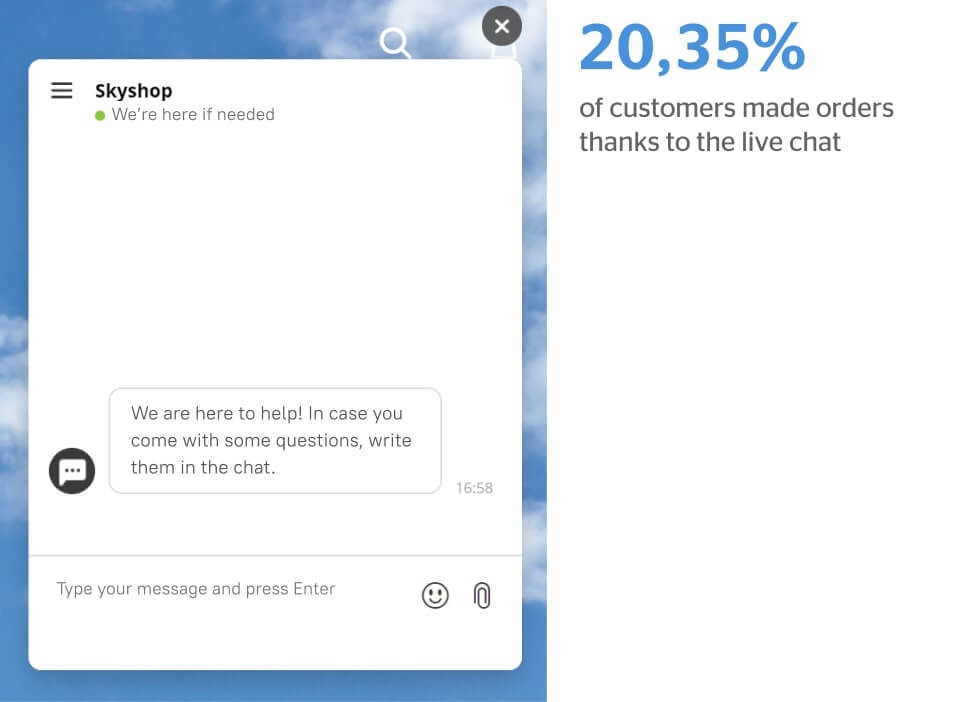 Among all tools of the SkyShop service, we leaned on chat support. User can always write to the chat and receive the quickly answer.
1,75% of Users have Placed Their Order after Receiving the Welcome Sequence

We ran an A/B test to see which message was more attractive when they visit the website for the first time. We offered a bonus for leaving an email. It turned out that a gift motivates more people to leave their emails than a discount.
After a customer left their email, they received this email: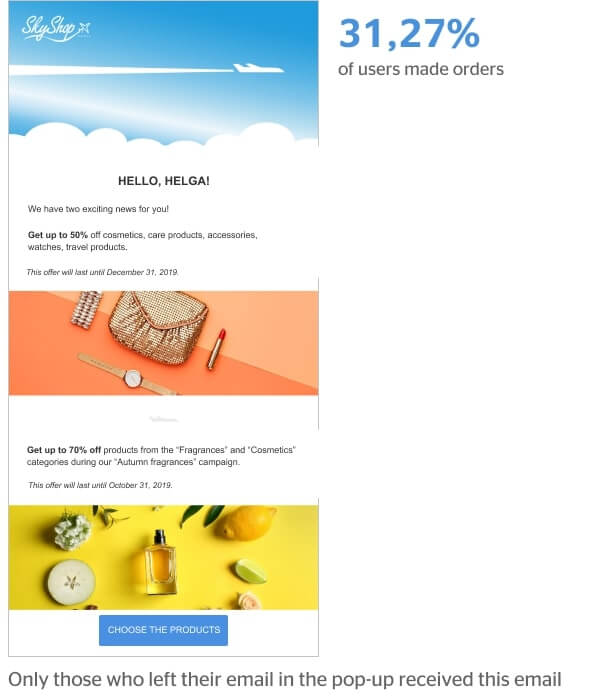 Subscribe to our blog updates and learn how to convert more visitors into sales!
Thanks! Now check your email to confirm the subscription
We Reminded about the Abandoned Shopping Cart, and 22,22% Placed Their Order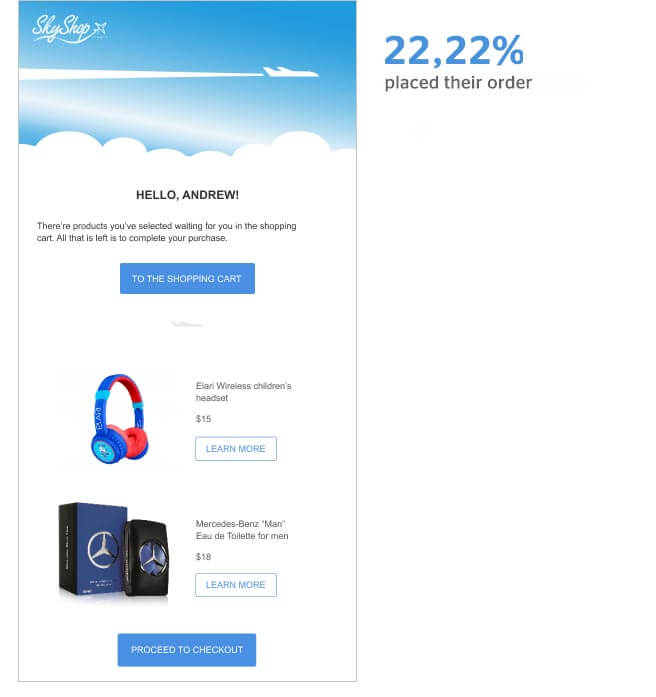 This is a standard campaign for the e-commerce. After a customer adds products to the shopping cart but doesn't place an order, we are following them with a pop-up or an email if we know the address.
We Reminded About the Viewed Products and 3,66% Placed Their Order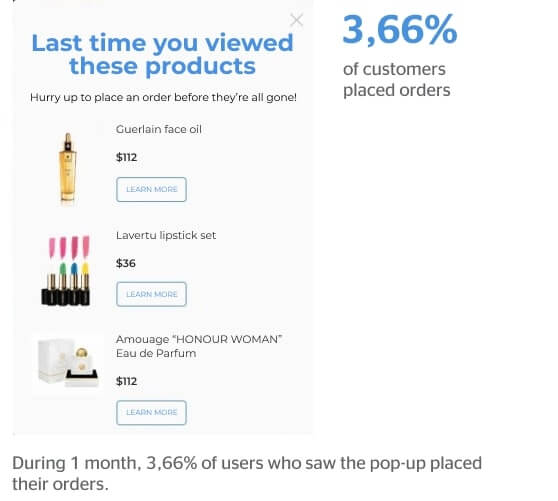 We Got the Gone Customers Back
Sergio called manual emails the best tool for SkyShop in terms of the conversion rate. The store sends promotional emails with UTM tags that are then submitted to Google Analytics. This way, managers monitor that orders come exactly from emails.
During the deep dive, Andrew sent an email with 2 promotions. 31,27% of users who read an email 5 days after it was sent placed their orders.
The main tool that skyrocketed the conversion rate was manual mailing. For instance, email that was sent to clients who didn't visit the Shyshop's website made 31,27% of receivers place an order.
Conclusions and Plans
Using Dashly, the Skyshop team found bottlenecks of the its' funnel and revised the way they work with their customers.
They've launched the campaigns with auto messages that converted the existing base along with manual emails and acquired a new audience,
Captured 18'000 leads,
Made several user segments. This helped them to target their messages,
Increased the conversion rate to order and the number of purchases on the website by 2,5 times.
SkyShop have set several major targets of: to expand the range of extraordinary products, to increase their audience, and to become a popular online store. To do that, SkyShop is planning to:
improve the existing campaigns;
configure campaigns to gather reviews;
implement quizzes and other new tools;
test emails with bonuses on holidays.
Free consultation with our specialists: get more leads collected in 30 minutes
Thank you!