How to move from Intercom: Img.vision + Dashly
Reading time: 6 minutes
13.06.2022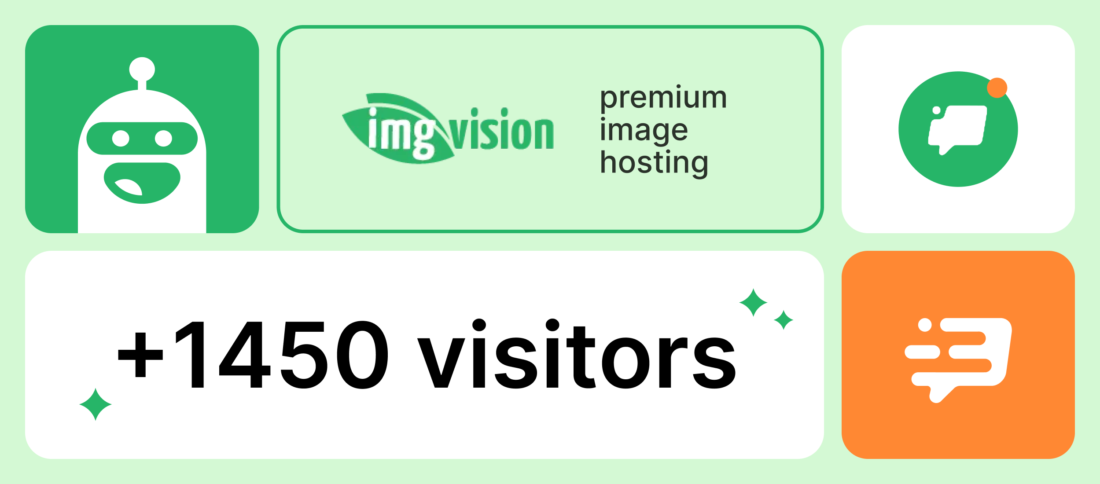 When you have a lot of money, you gonna keep it in the bank. When you have a lot of personal belongings, you'd like to keep them in a garage. But where do you keep your website/forum/Ebay images?
Img.vision is a premium image hosting and our good friends. Upload, resize, edit images online and host them securely. It means that your popular images will never be deleted and all of your images can be embedded online. This is a top tool for online stores and Ebay sellers.
Our acquaintance started about a year ago when Img.vision team was looking for an Intercom alternative.
Img.vision had three main goals for using Dashly:
For auto-messages based on custom properties and custom events;
As a CRM to keep track of custom customer properties that are relevant to measure customer engagement;
To provide support on the go (via the mobile app).
So let's see how Dashly helped here. If you land on Img.vision website, you won't see Dashly's chat widget, but it appears right after you sign up. Dashly is installed inside Img.vision because one of the main goals was to learn more about their existing customers, improve communications with them, and work on conversions via triggered message chains. Moreover, Dashly chat is integrated with Facebook messenger, so no communication from Facebook will be missed.
Hack! Installing Dashly only inside your product may be a good idea if you have huge traffic, but not that much customers. In this case, we'll collect the data only about your users who signed up, so the subscription will be cheaper. But no work with incoming traffic, lead capturing and sign-up conversion at all. ?
The most bothering thing when migrating from one product to another is data transfer. Img.vision already had a pool of customers information about whom they wanted to keep and see in Dashly. All the leads with their properties (sign up date, last payment date, number of images stored, etc) were imported to Dashly and appeared in Leads section. Next time one of these migrated leads signs in their account, Dashly will just merge that lead with the existing lead card, so no data will be lost!
All data collection in Img.vision is made via API — they record custom properties and all the events needed (sign up, payment, trial end, and so on).
Hack! Dashly collects a lot of "out of the box" data about users:
Email
Name
Location
Page visited at the moment
Last activity
Number of sessions, etc.
Along with that Dashly open API allows you to collect absolutely every data about users and their actions and record the data to their lead card.
These are the properties we now track in Dashly for Img.vision users:
Number of uploaded images
Number of unique properties (creating multiple accounts without having to sign up again)
Number of folders created
Last charged date
Signed up date
Company name and industry
Company's website, etc.
From the very beginning we were working very closely with Img.vision's developer Alex.  Founder of Img.vision himself says the following about migrating:
All the migrated and collected data is now used for automated communications with users. In Img.vision several campaigns are created for now that increase engagement, onboard users and remind about important things. Communication with users starts from the welcome message:
Then it goes:
Onboarding in the product;
warning of ending trial period;
request for feedback after 2 days of signing up
thank you emails for paying;
notification of failed payments.
Hack! Use auto messages for your own sake — get feedback to improve your product and make it even better. Send a link to a short survey in one of your auto messages (or embed it right into the email) as Img.vision did.
What do triggered message chains bring to Img.vision? Better customer engagement received from welcome messages, onboarding sequence, etc. involves users into the product, shows the key features and key value of the product and, as a result, increases trial-to-paid conversion and LTV. For instance, 71% of Img.vision customers have been having a paid subscription for two or more months. And visitor tracking makes triggered message chains more effective because of the right segmentation and always on-time emails.
Visitor tracking gives a lot of insights that can be used for better segmentation and more personal relationships. We recommend adjusting auto-messages you send according to the segment's behavior you noticed in Leads section.
And live chat puts the quality of support provided to the next level. Dashly allows to adjust chat widget according to the a website design (its color, position, and animation), configure welcome messages and auto replies depending on operator's working hours.
Data collection and visitor tracking in CRM, communications via auto messages, and support in a live chat together result in higher conversions and longer users' lifetimes.
Hack! Numbers don't lie, so regularly look through the analytics on how the current automation is performing. Use Dashboard for daily review of most important metrics and funnels to go deeper in every step of the funnel.
In the end, migrating from one product to another may seem to be terrifying. However, go deeper and you'll find how easy and smooth it is.  As it is said "Nothing ventured, nothing gained". Don't be afraid to make changes. Write us right now and we will help you keep all the data needed and get the maximum profit for your business out of Dashly. ?
P.S. Let us brag a bit. When we asked Img.vision about what they like most about Dashly, they said:
Thank you Img.vision for your trust in us and for taking your time to have an interview?