Imagine the situation: you have an offline sports equipment store. There are not many customers at first, and you can handle the cash register calmly. You watch the customers and know who and what to offer, when to help them choose and when not to disturb them.
Things are going well, there are more customers, but you can't cope: now you are not in the mood to help, all the time is taken away by the cash register and accounting.
You decide to install an automatic system: you want to help all customers and at the same time maintain a personal approach.
The system monitors customer behavior, remembers and offers what they would be interested in, advises, tells more about the products and collects sets, and even contacts regular customers in time and reminds them to buy ski wax and ski socks when the winter comes.
Everything runs like clockwork.
Marketing automation is a great tool that performs miracles in the right hands. It won't do everything for you, but it will help you get things in order, increase sales, and grow your business.
We asked our users how automation helps their business. This is what Valentina Plotnikova, head of marketing at Yagla, says:
The main benefit of marketing automation is this: firstly, it saves effort/time/resources of both one person (employee) and the company as a whole. Secondly, we have removed the sales department from the SaaS direction. This cannot be done in many businesses, and I do not call for this in any way. But specifically in our case, we have saved on the whole staff, and not only have our sales not dropped, but they have grown.

Valentina Plotnikova
Head of Marketing, Yagla
What is marketing automation
Marketing automation in the broad sense is a way of automating routine marketing tasks.
Read also: How LeadGen App grew sale by +30% without human agent
In a narrow sense, automation is a system of actions to attract, retain, and return users through personalized communication based on data collection and analysis.
Let's take a closer look. Automation works because the correct message is delivered to the right recipient at the right time. This is how it works.
Consolidation of communication channels and lead generation: perhaps a lot of visitors come to your website from the search, from paid ads, and someone might have found you on social media. Collect their contacts in one place.
Lead segmentation and qualification: some visitors rushed to pick goods, and some paused on your blog. Communicating with them is equally inefficient: we need to divide the leads into segments depending on the source, behavior, and goals.
Download an ultimate guide on how to qualify leads on your website
Thanks! Now check your email. We've send your copy there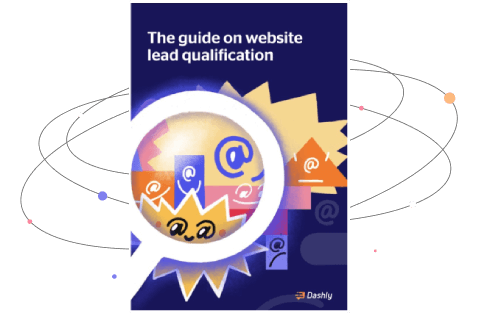 Communication personalization: we send a selection of viewed products to users who chose products but did not make a purchase. As for those who were interested in blog articles, we send a unique useful guide via email.
Hypotheses analytics and testing: at this stage, we are tracking customer behavior and defining the Customer Journey. We design a funnel based on the key customer touchpoints and see where most users are lost. We are testing different types of users' messages: we are comparing training and selling messages with each other, and different offers in pop-ups.
Read also: A Detailed Guide on Hallway Usability Testing
Marketing automation myths
Sometimes people think that automation is about email spam, heartless messages, and it's also something complicated, incomprehensible (almost like artificial intelligence) and needs to be programmed. It is not like that! Let's examine the main myths.
Automation is spam. Auto messages are just a tool, and how to use them is up to you. Anyway, we do not recommend spamming: on the contrary, having correctly selected triggers and timeouts, you will be able to send a message to the user when it is relevant and unobtrusive.
Here is how they were set up in the Vlastah online store: the pop-up window was shown 30 seconds after a user entered the website. The pop-up message is very friendly: a person feels like a part of underwater hunting fans and understands that they are welcome here. Such a pop-up is not annoying.
Automation is depersonalized. It's just the opposite. With high traffic, you will not be able to communicate with each customer personally, but automation helps you learn more about the visitor and form an individual offer based on data about them. You can take care of them, teach, remind and prompt them?
Automation is complicated. Perhaps previously the systems required adjustment and businesses could not do without a developer. But now the interfaces have been simplified and there are many ready-made solutions. For example, we have ready-made campaigns where we have already adjusted all settings; all you have to do is select the design and text and run the campaign.
You can run this beautiful pop-up right from the "Ready-made campaigns" section literally in a couple of clicks.
What are the right businesses for marketing automation?
In a broad sense, automation is suitable for anyone who has a customer touchpoint on the Internet; that is, virtually all types of online business or business with online access.
The more important thing is that everyone needs a different approach, and you need to proceed from the tasks that the business has set itself, find solutions for them, and see how effective the automation tools will be.
Here are some examples of areas in which you can use marketing automation:
eCommerce;
SaaS projects,
real estate;
services — travel agencies, software development, legal, accounting and economic services, etc;
information businesses;
consulting;
b2b;
food delivery, and many others.
There are few exceptions, but if you're in doubt, you can get a consultation in the Dashly chat: we have extensive experience and we will try to help. Or you can highlight the tasks you're facing and see if automation can handle them; that's what we're writing about below.
Marketing automation goals
The goal of any business is to make more money. How do you do that? Identify bottlenecks and work on them. In this section, we will tell you about global goals that automation will help you achieve, and later — what tools and tasks you need to automate your marketing.
SaaS goals:
an increased conversion rate to a lead, a registration, and code implementation;
increase in the number of leads;
increase in the number of registrations;
increase in the number of payments and repeat payments;
an increased conversion rate to using paid features;
LTV increase;
decreased churn rate;
increased loyalty.
The goals of B2B, service, information, and other businesses are not too different. In businesses with long transaction cycles, the ultimate goal of automation is to generate a lead that is already being processed by an offline manager or through an online chat.
So it is important to get the lead and bring it to the purchase, and then this is already another area of responsibility.
Marketing automation tasks
Goals are the ultimate result. There are different ways to come to them, so let's discuss what we can assign to automation services to increase sales.
Marketing automation tasks for SaaS:
lead generation
lead segmentation and qualification
lead nurturing
conversion to registrations
conversion to payments
conversion to using paid features
onboarding
Read also: To use or not to use? 8 Client Onboarding Trends And Their Adoption in SaaS
conversion to repeat payments
upselling and cross-selling based on the customer data
user retention
dealing with churn rate, getting customers back
funnel analytics, bottleneck identification
As you can see, in general, the tasks are similar: this is because marketing automation is mostly funnel automation.
On the way to purchase and beyond, customers go through a funnel from getting acquainted with a product to buying it, and each subsequent step is less and less converted naturally. Therefore, the main way to increase sales is to increase conversion rates at each stage of the funnel. Make sure that more website visitors become leads, and more leads become customers.
If we have user contact information, we can contact them at any time, help them choose products, offer them a great deal or return them to their purchases with a timely message. The main thing is to stay in touch and not lose contact.
At the same time, we don't communicate with each user individually; the message is sent automatically depending on the user behavior: if they stay on the product page for longer than a certain period of time, you can send a message to the chat room offering help and if they want to leave the website, you can ask for their email to send the newsletter later.
Although messages are automatic, the information about user behavior and preferences can make them seem as if the message was written specifically for the user.
Marketing automation tools
When you're diving into the topic of automation, at first, you don't know how it is working. That's why it is hard to make a decision. So let's start by understanding the basic concepts.
Events
These are user actions: a user opened a page, viewed a product, added a product to cart, clicked on the checkout button.
We need this data for further analytics, segmentation, and sending automatic messages.
Triggers
These are events that start sending automatic messages.
For example, a user visits the tariff page for the third time. You automatically send a chat message offering help to this user segment.
Timeout
This is the delay time of the automatic message. It's this magic feature that will help avoid spamming. Imagine: a visitor goes to the website, and you show them the pop-up not immediately (which he automatically closes without even looking at what's there), but after they spend three minutes in the blog (probably, they were interested in the articles).
User properties
This is the information about the user: email, phone, city, UTM tags, tariff plan, paid modules installed, the amount of purchase in the shopping cart. Properties help you learn more about the user and create segments.
Segment
This is a group of users selected by the same properties and events. Segments allow you to customize your personalization.
Automatic messages
The most important automation tool: the triggered messages that we use to contact our customers. Here's what you can send:
triggered and manual emails and newsletters;
chat messages;
push notifications;
pop-ups.
Learn more about marketing automation
Thank you! Go check your inbox to start!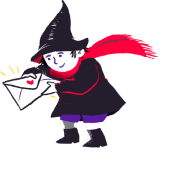 How automation can be used by various teams
Let's move from theory to practice. Our common goal is to generate more sales, but there are several teams working together towards this goal. We'll tell you what everyday tasks they can simplify with the help of automation.
The section is long, so if you are not interested in other teams' tasks, just find the part related to your team.
The marketing team can do the following:
gather more contacts from a website using trigger pop-ups;
qualify leads immediately during contact data gathering;
configure triggered campaigns;
create nurturing email campaigns;
design funnels and evaluate the efficiency of a nurturing email campaign;
design A/B tests and evaluate the efficiency of the email subject, pop-up offer, and many other things;
deal with abandoned carts using triggered emails;
get customers back to purchasing via repeat activation campaigns;
notify customers about discounts, promotions, and sales via emails, web push notifications or pop-ups;
upsell and cross-sell via email;
draw attention to a significant feature, product, content or event using a lead magnet;
configure flexible advertising campaigns and customize any automatic messages for themselves;
analyze advertising campaigns, customize analytics, and respond to precise questions
Product team can do the following:
analyze customer behavior in a service, identify customer journeys;
qualify users via triggered messages to offer them more suitable product versions or tariffs;
convert users to using particular features using triggered messages;
notify users about service updates;
provide awesome personalized onboarding;
quickly test hypotheses and analyze any activities;
carry out CustDev using mailouts to particular customer segments and then communicate with customers in the chat;
gather and systemize feedback.
Convert more visitors to buyers using these ready-made campaigns for product marketers
Thank you! The playbook is already in your inbox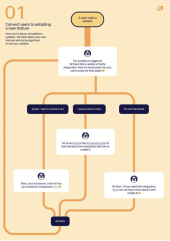 Sales team can do the following:
store customer data in one place;
qualify customers and segment them by various parameters;
track customer behavior on a website and personally sell products to the most perspective of them in a chat.
When marketing automation doesn't work
Let's remember that marketing automation is neither a panacea nor a silver bullet. In some cases, it may just not work, and you can not spend money and time on setting it up. So first, ask yourself why you need it, who will be involved in it and what goals you want to achieve.
In order to run automation, you should have:
a website — we need a foundation on which we will deploy marketing activities and analyze user behavior;
resources — you need someone to do all this: set up automatic messages, analyze marketing activities, and so on. You also need money;
a purpose — it's just useless to start without a clear understanding of what you want to achieve. Decide on your marketing goals prior to running campaigns.
The automation of online communications depends on the goals. Generally speaking, it is directly related to the online economics. An automatic chain of 30 emails is unlikely to fit you if your traffic per month is 100 users and you sell smartphone cases. It is just wasteful. However, if with the same traffic, you have a complex B2B product with a large margin, then such a chain will make sense. It is also suitable for those who like to quickly test hypotheses on the website without involving developers. For example, you can increase the conversion rate into lead generation by 1.5-2 times by simply changing the header in the pop-up which will only take a couple of minutes.

Eugene 
Head of the Implementation team
If you're just getting started and you don't have any customers or time for marketing, it's too early for automation.
And if you are on the horseback and fully aware of what you're doing, you have little left to do: start automating.
You can automate your marketing now by signing up to Dashly and starting testing the functionality.
You're gonna do great. Good luck!