Case study of an online lecture hall: how Dashly helped increase the CR to lead by 11% using pop-ups and emails in one month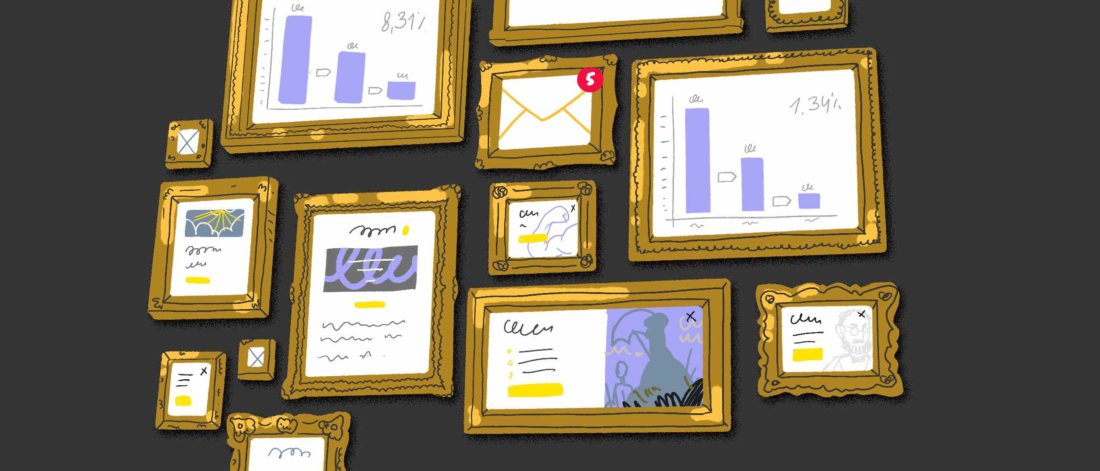 Smart leisure is not just a club of chess players sitting in parks on Saturdays. There are lectures about art, history, and psychology, which can be a great way to spend your free time.
We were lucky to work on a project like this. Let us present the case of "The right-brain of an introvert" to you; these are original lectures on art and psychology, which are held live in St. Petersburg and online.
Issue:
"The right-brain of an introvert" have started to buy traffic, but this traffic has not been handled properly. To prevent these investments from being wasted, you need to work on lead generation, nurturing leads, and converting them to the purchase. That's what Dashly can do.
Campaign one — collecting leads in a playful way
Offering a bonus for the customer's email is working and verified approach. But what if you want even better results? Involve the user in the interaction easily and passionately!
For example, through a simple quiz and several answer choices. In case a user answers correctly, you can offer a discount for the first lesson in exchange for their email.
Pop-ups for new users of "The right-brain of an introvert" from different advertising campaigns looked like this: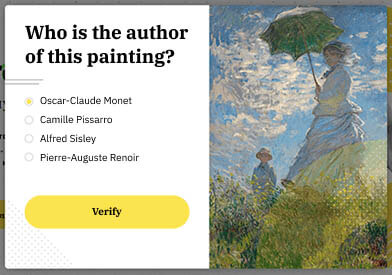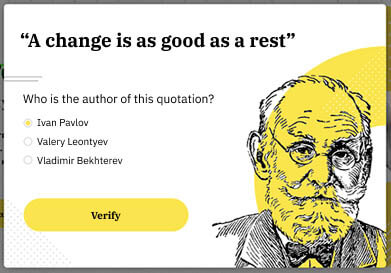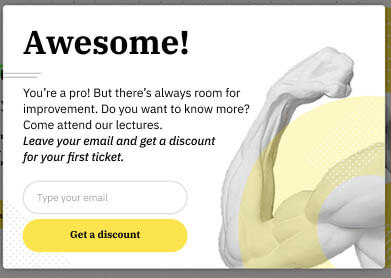 A user spent a little time and effort, enjoyed their small victory and is already more willing to further work with the product. The award is perceived to be more valuable because the customer has got it for a reason. The conversion rates confirm this: 6,20% of the users who received the email made their purchases.
Campaign two — nurturing the leads and converting them to purchase
What could be better than good old-fashioned emails to keep users warm? Only great emails that are easy to interact with because value and a call to action come first.
"The right-brain of an introvert" have decided to draw attention to themselves again to the already engaged users who have watched a lecture on the website. An hour after viewing the lecture, a user received an email with several lecture announcements. The user who received the email could easily add the lecture in their plans for the next free evening and buy a ticket.
The conversion rates are good for such an unexpected email for a user: the Open Rate was 47,14%, and 2,14% of users eventually paid for a lecture.
By the way, you can go beyond just one email to nurture your users. Look at the funnel for the chain of five emails with lecture fragments, delightful stories about heroes and, useful infographics that nurtures the customer's interest in the project. At the end of the fifth email, there was a crucial push to buy a ticket — a promotion code for a 15% discount. The conversion rate to purchase was 1,34%.

Campaign three — upselling
What could be better than customers who decided to buy a lecture ticket? Customers who buy several lecture tickets!
A person who added the lecture ticket to the shopping cart is the hottest lead who is most likely ready to buy. You can work with them by setting up a campaign of automated messages for upselling. For example, website visitors who added one lecture ticket to the shopping cart saw a small pop-up offering to invite friends to the lecture and get a discount for several tickets: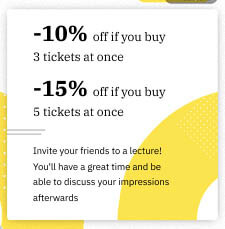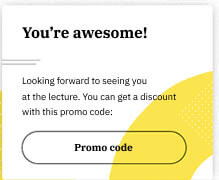 And the truth is, people prefer not to have fun alone: the conversion rate to buying additional tickets was 3,13%.
So what?
The unconventional approach to communication with the customer, the focus on benefits, and comprehensive work on every step of the funnel showed excellent results. The conversion rate into a lead amounted to 11,39% of the total number of website visitors:

8,31% leads were collected using Dashly campaigns:

Free consultation with our specialists: get more leads collected in 30 minutes
Thank you!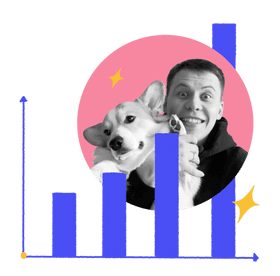 Here's a brief recipe for success:
1. A reward the user receives for a reason feels more valuable. Use this when you offer a bonus for your customer's email;
2. Interactive pop-ups are funnier than usual and collect more leads;
3. Hello from Captain Obvious: in the lead nurturing emails, it is better to put value and call-to-action buttons first. Emails like this are much easier to interact with;
4. Another greeting from Captain Obvious: if a person added a product to the cart, they are an incredibly hot lead and the perfect candidate for upselling.
5. Typically, leisure time is a collaborative activity. Offering a customer to buy a couple more tickets for their friends was a good idea and helped increase sales.